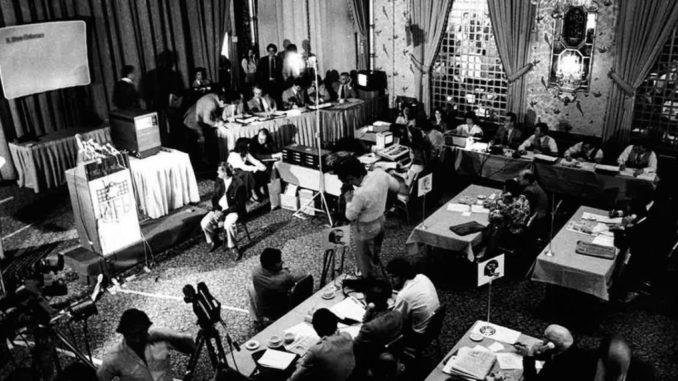 2018 NFL Draft Tracker – Round 4
Pick by Pick Analysis
Round 1 | Round 2 | Round 3 | Round 4 | Round 5 | Round 6 | Round 7
101. Carolina Panthers
Ian Thomas, TE, Indiana – Carolina is being smart by staying ahead of the issue with their excellent TE retiring soon. Thomas showed flashes of elite talent.
102. Minnesota Vikings
Jalyn Holmes, DE, Ohio State – A strong defensive end that uses power and will need to learn more pass rush techniques to develop into a more well rounded pass rusher. Adds depth to a team strength.
103. Houston Texans
Keke Coutee, WR, Texas Tech – Shifty little slot receiver that adds another speed element to an evolving offense that they are building around Deshaun Watson.
104. Indianapolis Colts
Nyheim Hines, RB, NC State – Versatile running back with excellent speed and agility. Should be a big contributor in the passing game and a good outlet option for Luck.
105. Cleveland Browns
Antonio Callaway, WR, Florida – Young players need second chances, but Callaway has had many already. This is a team with one of the most trouble wide receivers in the history of the league. The days of building teams with troubled but talented players are long since over. The Browns don't have the clout to be doing these types of moves.
106. Denver Broncos
Josey Jewell, ILB, Iowa – Known in the Big 10 as one of the best players in the conference, Jewell is an old school football player that is always around the ball. Great value here.
107. New York Jets
Christopher Herndon, TE, Miami – Two things probably caused Herndon to drop- an injury and scheme in college. Getting Sam Darnold a talented tight end as a safety valve is a smart move.
108. New York Giants
Kyle Lauletta, QB, Richmond – Smart, technique sound QB that landed in an excellent situation. He will have the opportunity to develop and learn for a few years and the Giants will know what they have in him by then.
109. Washington Redskins
Troy Apke, S, Penn State – Interesting that Apke is the first PSU safety off of the board. He shined at the combine, and appeared to be a late round selection that could be a special teams ace.
110. Oakland Raiders
Nick Nelson, CB, Wisconsin – Very quick corner with a nose for the ball. Works very well against the small, shifty running backs that get out on patterns.
111. Los Angeles Rams
Brian Allen, C, Michigan State – Played in a pro-style system and just a relentless competitor. Tough and plays with all out effort. Team leader.
112. Cincinnati Bengals
Mark Walton, RB, Miami – Devalued due to injury issues, if he stays healthy, will help provide the Bengals with an exceptional running back stable.
113. Denver Broncos
DaeSean Hamilton, WR, Penn State – Exceptional route runner, with excellent hands. Off the charts character.
114. Detroit Lions
Da'Shawn Hand, DT, Alabama – The Lions get A'Shawn Robinson's college linemate. This is the same defensive scheme as Alabama.
115. Chicago Bears
Joel Iyiegbuniwe, OLB, Western Kentucky – The Bears defense has been fairly solid, but they need more talent at the linebacker core.
116. Dallas Cowboys
Dorance Armstrong Jr, DE, OLB, Kansas – More of a prototypical 3-4 OLB that can pass rush, Armstrong is very athletic and provides excellent pass rush skills.
117. Tampa Bay Buccaneers
Jordan Whitehead, S, Pitt – Excellent rangy safety that cover large areas of space. Bucs appear to be making an overhaul of their secondary.
118. Baltimore Ravens
Anthony Averett, CB, Alabama – Very well coached corner with excellent cover skills, but perhaps not the ideal build.
119. Los Angeles Chargers
Kyzir White, S/LB, West Virginia – Versatile player that can play multiple positions in the secondary and linebacker.
120. Seattle Seahawks
Will Dissly, TE, Washington – Excellent inline blocker. Good move for a team that is rebuilding their offensive line and trying to re-establish themselves as a running team.
121. Buffalo Bills
Taron Johnson, CB, Weber State – Very competitive, and runs with receivers well. Good tackler and can be used in blitzing schemes.
122. Baltimore Ravens
Kenny Young, LB, UCLA – Rangy and athletic linebacker that won't be a matchup issue on defense.
123. Miami Dolphins
Durham Smythe, TE, Notre Dame – A difficult prospect to scout as he played in an offense that did not use tight ends in the passing game much. Excellent blocker both on the line and in space, and looked very comfortable in the passing game.
124. Kansas City Chiefs
Armani Watts, S, Texas A&M – Will be able to play special teams immediately, and used as more of an in the box safety when needed.
125. Philadelphia Eagles
Avonte Maddox, CB, Pitt – Shined during the East West Shrine game, and plays with an edge. Small corner, but will find a place in the Eagle's defense, especially against slot receivers.
126. Atlanta Falcons
Ito Smith, RB, Southern Miss – Short, but powerful running back that can play special teams right from the start. Will be used in the passing game as well.
127. New Orleans Saints
Rick Leonard, OT, Florida State – Very raw offensive tackle, with a high ceiling. They don't need a tackle immediately, so this is a developmental pick.
128. San Francisco 49ers
Kentavius Street, DE, NC State – Dropped a bit due to injury, this is a versatile and tenacious edge rusher. Can move inside on obvious passing downs.
129. Jacksonville Jaguars
Will Richardson, OT, NC State – Very physical right tackle that fell due to some character concerns.
130. Philadelphia Eagles
Josh Sweat, DE, Florida State – If the injury that is rumored is not a big deal, this is a major steal. On a team with a dominant defensive line, this is a pass rushing specialist, or maybe he could be used as an OLB.
131. Miami Dolphins
Kalen Ballage, RB, Arizona State – Power back with surprising agility, but was out performed by another back on his team. Could be a great change of pace back.
132. Baltimore Ravens
Jaleel Scott, WR, New Mexico State – I lanky, vertical weapon that out leap and out run corners and safeties. A bit of a project, but upside is huge.
133. Green Bay Packers
J'Mon Moore, WR, Moore – Checks the boxes of what you want in a wide receiver. Moves well for this size. Plays faster than measurables.
134. Arizona Cardinals
Chase Edmonds, RB, Fordham – Compact and strong. Deep RB class, the fact that he played against lesser competition, and some injuries have pushed him down.
135. Los Angeles Rams
John Franklin-Meyers, DE, Stephen F. Austin – Has the height, length and build to develop into a stuff the run defensive end with some pass rush skills.
136. Carolina Panthers
Marquis Haynes, OLB, Mississippi – Will need some time to develop as an outside linebacker, but is a relentless pass rusher and works best in space.
137. Dallas Cowboys
Dalton Schultz, TE, Stanford – A tight end that slipped through the draft process without much fanfare. Wasn't used much in the pass game, but when asked to do so, did well. Good blocker as well.