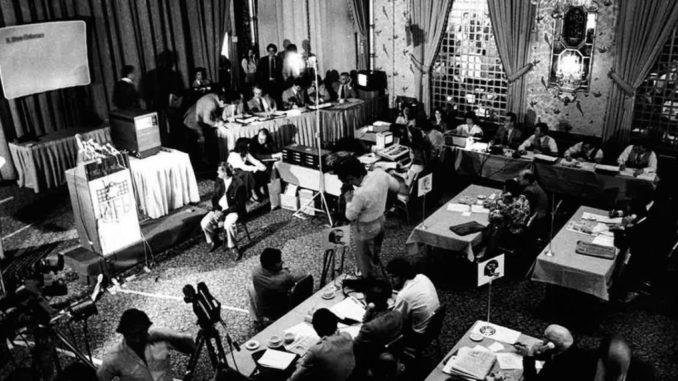 2018 NFL Draft Tracker – Round 5
Pick by Pick Analysis 
Round 1 | Round 2 | Round 3 | Round 4 | Round 5 | Round 6 | Round 7
138. Green Bay Packers
Cole Madison, OT, Washington State – Seasoned player that will probably move to guard. Doesn't have much in terms of power, but a smart, experienced player that should help in pass protection.
139. New York Giants
RJ McIntosh, DT, Miami – One gap specialist. Most likely used as a rotational pass rusher used to spell starters and keep them fresh.
140. Oakland Raiders
Maurice Hurst, DT, Michigan – The Hank Gathers visuals more than anything probably caused Hurst to fall, but we are much further along in medical advancements and care since then. Instant impact player on the defensive line.
141. Seattle Seahawks
Shaquem Griffin, OLB, UCF – Very athletic, high character linebacker that will be an instant special teams contributor. Has the elite speed to contribute immediately in special packages.
142. Washington Redskins
D.J. Reed, CB, Kansas State – One of the many super agile inside corners. Aggressive, but needs some technique work with bringing down bigger players.
143. New England Patriots
Ja'Whaun Bentley, ILB, Purdue – Off the ball linebacker with limited athleticism, but excellent effort. Will be asked to do the dirty work in the middle of the defense with gap-sound play.
144. Tampa Bay Buccaneers
Justin Watson, WR, Penn – Catches everything thrown at him, but not an elite athlete. Still, a dependable WR that should be able to benefit greatly from talent on the Bucs offense and be able to be called upon to move the chains.
145. Chicago Bears
Bilal Nichols, DT, Delaware – Could play 5 technique for the Bears. Didn't play against top competition, but did well during draft process. Tall and long, and should be able to control gaps and has some pass rush ability.
146. Seattle Seahawks
Tre Flowers, S, Oklahoma State – This is a secondary player that fits the LOB profile. In the box safety on paper, but has the ability to improve in coverage.
147. Los Angeles Rams
Micah Kiser, ILB, Virginia – A perfect pick for the Rams… high character, smart, and can settle in the middle of the field and patrol the gaps in front of him. The type of foundational player that the Rams need in their 3-4 defense they are slowly easing into.
148. Pittsburgh Steelers
Marcus Allen, S, PSU – A natural leader and an experienced and proven player that has done well against top competition. Not as physically gifted as the other PSU safety to go early, but could end up being a better pro.
149. Seattle Seahawks
Michael Dickson, P, Texas – A dominant punter changes the game much more than people think. If you can control field position and play great defense, you can win with any offensive scheme. However, they have a lot of great prospects on the board at areas of dire need.
150. Cleveland Browns
Genard Avery, ILB, Memphis – Possibly could see some time on the edge, but most probably thought of to clean up passing lanes as an MLB while everyone else attacks.
151. Cincinnati Bengals
Davontae Harris, CB, ILST – A bit of a project, but has great size and fairly good ball skills. The Bengals secondary is having a hard time staying healthy and cohesive, so adding some depth to develop here is smart.
152. Tennessee Titans
Dane Cruikshank, CB, Arizona – Another inside corner, that is uber athletic. Tough and physical, but needs to work on his awareness.
153. Detroit Lions
Tyrell Crosby, OT/OG, Oregon – The Lions had to deal with multiple injuries on the O-Line last year, and this was a value that couldn't be passed up. Very few teams use a third tackle as much as the Lions, and that is where Crosby will start. The Lions are making major moves this offseason to improve the run.
154. Buffalo Bills
Siran Neal, S, Jacksonville State – Fits the role of the linebacker/safety hybrid that helps with matchup problems caused by creative offensive coordinators.


155. Los Angeles Chargers
Scott Quessenberry, C, UCLA – The Chargers got hit with devastating injuries at the start of last year, and are making sure that they have quality depth across the offensive line. Good value here.
156. Denver Broncos
Tony Fumagalli, TE, Wisconsin – The Broncos have a young tight end in Jake Butt that just started getting healthy and now add another talented, but injured TE. If they can both stay healthy, this is a great young tandem.
157. Minnesota Vikings
Tyler Conklin, TE, Central Michigan – An underrated prospect that is reliable and can block. Good value here and should benefit from the other offensive weapons on the team getting attention.
158. Cincinnati Bengals
Andrew Brown, DE, Virginia – A high effort player that shows moments of promise, but doesn't consistently jump off the tape. Will be interesting to see what he can do with more coaching, has a lot of upside.
159. Indianapolis Colts
Daurice Fountain, WR, Northern Iowa – Excellent value pick and a prospect that got lost in a sea of wide receivers in this draft. Jumps out on tape and excelled during the draft process.
160. Los Angeles Rams
Ogbonnia Okoronkwo, DE/OLB, Oklahoma – A surprise faller in the draft, but that could be because teams are just not sure where he fits. Going to a place with a legendary defensive coordinator should solve that in a hurry. Pops on tape with excellent pass rush skills. Will find a role in this defense.
161. Carolina Panthers
Jermaine Carter, OLB, Maryland – Rangy and athletic, a nice complement to a linebacker core that could use some more youth and athleticism.
162. Baltimore Ravens
Jordan Lasley, WR, UCLA – Supremely athletic wide receiver that dominated at times for UCLA. Has some character concerns, but if he can stay focused is a speedy, play making WR.
163. Washington Redskins
Tim Settle, DT, Virginia Tech – This has been the poor man's Vita Vea, and a great value at this point in the draft. Very athletic for a nose tackle. Primary role will be to two-gap, but can be asked to, and has the ability to pass rush at any given moment.
164. New Orleans Saints
Natrell Jameson, S, Wisconsin – The Saints made great strides on defense last year, and are doing a nice job of putting developmental projects in place behind starters. Jameson has great cover skills.
165. Pittsburgh Steelers
Jaylen Samuels, TE, NC State – If Todd Haley were still in Pittsburgh this pick would be more interesting. This is a player that needs to find a role quickly, and either can be a great matchup problem for defenses, or lost without a true plan on how to use him.
166. Buffalo Bills
Wyatt Teller, OG, Virginia Tech – They probably lost their viscous guard to retirement (maybe), but gained one here. A fierce competitor, Teller likes to punish while blocking.
167. Minnesota Vikings
Daniel Carlson, K, Auburn – Great kicker, but a little high for that with a few other kickers all rated about the same. Still, this team has incredible depth, so if they really liked him, sounds reasonable.
168. Seattle Seahawks
Jamarco Jones, OT, Ohio State – They must have felt that Jones would still be here when drafting a punter just before, but still a decent value at this point. The Seahawks have to fix their offensive line, and adding as much competition to that core to start the season is a good thing.
169. Indianapolis Colts
Jordan Wilkins, RB, Mississippi – Good all around running back to add depth to running back by committee that just got a lot of help in the form of two new guards.
170. Cincinnati Bengals
Darius Phillips, CB, Western Michigan – Another player in the secondary for the Bengals. This one in the form of a very shifty, and smaller corner.
171. Dallas Cowboys
Mike White, QB, Western Kentucky – A very nice spot to grab a backup QB for the Cowboys. White is experienced with a nice arm.
172. Green Bay Packers
JK Scott, P, Alabama – Have other needs, but punting is underappreciated.
173. Oakland Raiders
Johnny Townsend, P, Florida – The Raiders had the best punter of all time, good to have one.
174. Green Bay Packers
Marquez Valdes-Scantling, WR, South Florida – Vertical speedster that can take the top off of defenses.