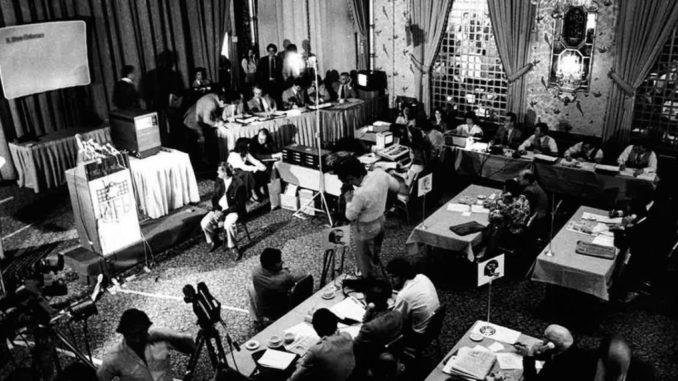 2018 NFL Draft Tracker – Round 6
Pick by Pick Analysis
Round 1 | Round 2 | Round 3 | Round 4 | Round 5 | Round 6 | Round 7
175. Cleveland Browns
Damion Ratley, WR, Texas A&M – Excellent prospect on paper, but didn't produce much at college. Still, worth it to take a chance on here as he may have a lot of upside, as when he did make plays there were big ones.
176. Los Angeles Rams
John Kelly, RB, Tennessee – Could be an excellent complement to Gurley and flashed when given the opportunity at Tennessee. One of the popular sleeper prospects of the draft.
177. Houston Texans
Duke Ejiofor, DE, Wake Forest – The Texans do a nice job of building their defensive line around the particular talents of the players, but have had major injury problems. Ejiofor is a nice depth player that can be used when they go to more traditional 3-4 concepts, and used inside as well.
178. New England Patriots
Christian Sam, ILB, Arizona State – Another inside linebacker to help stop the run for the Patriots. They haven't done a great job with personnel on defense the last few years, surprisingly, but seem to be getting back to their core defensive philosophies and that required inside linebackers that can stabilize as the OLB's provide the pass rush.
179. New York Jets
Parry Nickerson, CB, Tulane – A slight CB with ball skills of a top WR. Great instinct for finding the ball and making a play. Needs to add some bulk to his frame.
180. New York Jets
Folorunso Fatukasi, DT, Connecticut – Just a big, tall tackle that can 2-gap all day long. Could be used on the inside or the outside depending on down, and how they want to develop him.
181. Chicago Bears
Kylie Fitts, DE, Utah – Very much a developmental project, but really flashes at times.
182. Arizona Cardinals
Christian Campbell, CB, PSU – Excellent football character and a tall press corner type. Will have the luxury of learning under one of the great players and mentors at the position.
183. Denver Broncos
Sam Jones, OG, Arizona State – Great competitor, and it appears the Broncos are focusing on having a ball control offense, and don't want to get caught without depth on the offensive line.
184. San Francisco 49ers
Marcel Harris, S, Florida – The secondary for the 49ers has been an issue and it looks like they are going to play much more sub packages by the way they are loading up on safeties.
185. Indianapolis Colts
Deon Cain, WR, Clemson – Great value here for Cain. Nice height weight size WR that can get you big yards on slants. Hard to project Clemson receivers, but Cain has enough good tape that he should have gone higher.
186. Seattle Seahawks
Jacob Martin, DE, Temple – Designated pass rusher that can work his way into the rotation as he continues to add bulk and improve technique.
187. Buffalo Bills
Ray-Ray McCloud, WR, Clemson – A prospect that showed some really nice skills at times, but a bit of a projection here.
188. Cleveland Browns
Simeon Thomas, CB/S, Louisiana-Lafayette – Looks good on paper, but hasn't shown much to determine that he has what it takes to play in the NFL. Lots of raw talent, but a big project.
189. New Orleans Saints
Kamrin Moore, CB, Boston College – This is a type of pick the new New Orleans Saints are making and it is paying off. Moore is the type of player that might barely make the roster and then end up having a 10 year career due to his work ethic and how he always competes, which coaches love.
190. Baltimore Ravens
DeShon Elliott, S, Texas – There must be some reason why Elliott fell this far, as there is always a lot of data that only teams get. Regardless, this is an excellent value pick for a team that is defense first.
191. Los Angeles Chargers
Dylan Cantrell, WR, Texas Tech – Post up type receiver that could help as a possession receiver and in the end zone. 


192. Los Angeles Rams
Jamil Demby, OT, Maine – One of those prospects that has the height, bulk, and length that you want to develop for a year or two and see if you have something.
193. Dallas Cowboys
Chris Covington, OLB, Indiana – Has the physical skills to play in the NFL, but needs coaching. Very agile, and is the new style LB that does well in coverage when offenses are trying to create matchup problems.
194. Atlanta Falcons
Russell Gage, WR, LSU – A star special teamer to start, this is a crazy gifted athlete. Falcons will try to incorporate him as much as they can into the offense, but skillset might not be there.
195. Los Angeles Rams
Sebastian Joseph, DT, Rutgers – An interesting rotational player for the Rams. Has the length to control gaps, but could work on the edge as well.
196. Kansas City Chiefs
Tremon Smith, CB, Central Arkansas – Very aggressive corner that needs to learn more discipline with his technique at the next level. The Chiefs are really working to address their defense in this draft and get tougher.
197. Washington Redskins
Shaun Dion Hamilton, ILB, Alabama – A great value pick here IF he can stay healthy. Looked like the best player on the field at Alabama when he played. The Redskins have allocated a lot of resources to defense in the draft lately, but have to start seeing some results.
198. Kansas City Chiefs
Reginald Kahlil McKenzie Jr., OG, Tennessee – Will be converted to offensive guard for the Chiefs. A gifted athlete for his size, will be an interesting project to see how he does with the conversion.
199. Tennessee Titans
Luke Falk, QB, Washington State – The best preparer (that a word?) of any QB in the class. Exceptional in many facets of playing the QB position, but just might not have the physical skills to be a starter. However, could see him being a long time backup that can fill in when needed, and would be an exceptional guy in the QB room.
200. Atlanta Falcons
Foyesade Oluokun, ILB, Yale – Undersized but very agile linebacker that will need to find a place in sub-packages.
201. New Orleans Saints
Boston Scott, RB, Louisiana Tech – Short but powerful RB that can be used to keep defenses on their toes.
202. Tampa Bay Buccaneers
Jack Cichy, ILB, Wisconsin – The Bucs want to get tougher, and Cichy fits the mold. Recovering from a bad injury, but if healthy can be a reliable cog in the middle.
203. Jacksonville Jaguars
Tanner Lee, QB, Nebraska – A gifted thrower of the ball that makes way too many mistakes in games.
204. New York Jets
Trenton Cannon, RB, Virginia State – Prototypical scat back that has a chance to make the team.
205. Los Angeles Rams
Trevon Young, DE, Louisville – The Rams need OLB's that fit their system and that can provide pass rush. Young is talented, but inconsistent.
206. Philadelphia Eagles
Matt Pryor, OT, TCU – Massive tackle prospect that the Eagles would love to stash and develop.
207. Green Bay Packers
Equanimeous St. Brown, WR, Notre Dame – No idea why he fell this far. ND did not get him the ball enough and when they did he looked like a top end of the draft prospect. Smart, high character and physically gifted WR. Steal here.
208. Dallas Cowboys
Cedric Wilson, WR, Boise State – Linehan is a vertical offense guy that hasn't had the weapons to deploy his system yet in Dallas. Wilson is a vertical WR.
209. Miami Dolphins
Cornell Armstrong, CB, Southern Miss – Good speed and agility, needs development, but good upside.
210. New England Patriots
Braxton Berrios, WR, Miami – Shifty little receiver that is smart and plays with outstanding effort. Will find time catching underneath balls from Brady.
211. Houston Texans
Jordan Thomas, TE, Mississippi State – Massive tight end that can post up and cause headaches for defenses.
212. Baltimore Ravens
Greg Senat, OT, Wagner – A gifted athlete that will be a project for the Ravens. Has the frame and natural athletic ability to play tackle.
213. Minnesota Vikings
Colby Gossett, OG, App State – Another developmental offensive lineman with great natural ability, but with a lot of work to do in terms of technique. No need to play him now, so has time to develop.
214. Houston Texans
Peter Kalambayi, OLB, Standford – Linebacker depth for Houston, and has more strength than most linebackers coming out that are built for the spread and with more sideline to sideline speed.
215. Baltimore Ravens
Bradley Bozeman, C, Alabama – Out of the box and ready to play for the Ravens, Bozeman is well coached and doesn't make mistakes.
216. Oakland Raiders
Azeem Victor, ILB, Washington – Probably too much of an injury risk to draft, he is a playmaker when healthy.
217. Denver Broncos
Keishawn Bierria, ILB, Washington – Interesting to see two players at same position at same school go back to back this late, but neither prospect seemed draftable.
218. Minnesota Vikings
Ade Aruna, DE, Tulane – A draft community favorite, Aruna is a physical specimen that went to the right coach.