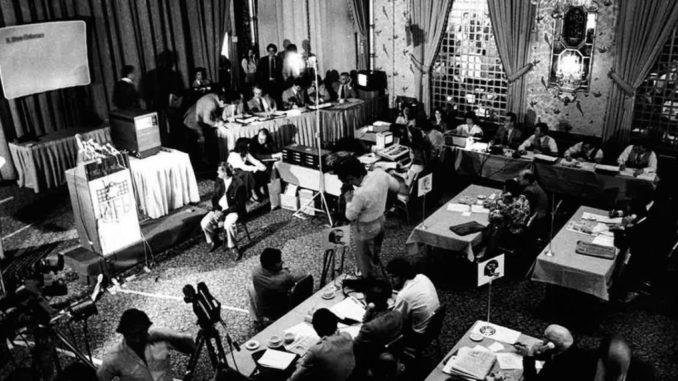 2018 NFL Draft Tracker – Round 7
Pick by Pick Analysis 
Round 1 | Round 2 | Round 3 | Round 4 | Round 5 | Round 6 | Round 7
219. New England Patriots
Danny Etling, QB, LSU – Etling didn't show much at LSU, but the Patriots definitely get the benefit of the doubt. If he starts to thrive in NE, that will say a lot about LSU coaches.
220. Seattle Seahawks
Alex McGough, QB, FIU – The Seahawks definitely could use a young QB, and McGough has some nice skills.
221. Indianapolis Colts
Matthew Adams, ILB, Houston – A great cleanup guy in the middle.
222. Houston Texans
Jermaine Kelly, CB, San Jose State – Lanky corner that might surprise during training camp.
223. San Francisco 49ers
Julian Taylor, DT, Temple – Will have to gain weight to play inside, and can be a stout edge defender.
224. Chicago Bears
Javon Wims, WR, Georgia – Strong chance to make the squad. Excellent athlete and potential vertical weapon.
225. Minnesota Vikings
Devante Downs, ILB, Cal – Has the height and strength to be a run stuffing linebacker.
226. Denver Broncos
David Williams, RB, Arkansas – Strong runner between the tackles.
227. Miami Dolphins
Quentin Poling, ILB, Ohio – Agile and shifty, works well in space.
228. Oakland Raiders
Marcell Ateman, WR, Oklahoma State – Very good value here, but a one dimensional player at this point. Excellent go up and get it wide receiver that will excel in the redzone.
229. Miami Dolphins
Jason Sanders, K, New Mexico – Will compete for the job.
230. Jacksonville Jaguars
Leon Jacobs, ILB, Wisconson – Has an outside chance of making the roster. Well built and smart.
231. Los Angeles Rams
Travin Howard, OLB, TCU – Safety / Linebacker hybrid. Could have a role in sub packages.
232. Green Bay Packers
James Looney, DT, Cal- Could be asked to work the edge, or move inside on passing downs.
233. Philadelphia Eagles
Jordan Mailata, Australia – Massive and athletic. A big development project to play tackle.
234. Carolina Panthers
Andre Smith, ILB, North Carolina – Can control the gaps in front of him, but not much in coverage.
235. Indianapolis Colts
Zaire Franklin, OLB, Syracuse – Old fashioned linebacker that can attack anything moving forward.


236. Dallas Cowboys
Bo Scarbrough, RB, Alabama – Once a highly prized RB that fell off the face of the map halfway through the season. Some maturity issues.
237. Detroit Lions
Nick Bawden, FB, San Diego State – Excellent lead blocking fullback that has some pass catching and even passing skills (converted QB). Lions going all in fixing the run.
238. Baltimore Ravens
Zach Seiler, DE, Ferris State – Very athletic project with lots of upside. Needs lots of work on technique.
239. Green Bay Packers
Hunter Bradley, LS, Mississippi State – If they loved him, why not?
240. San Francisco 49ers
Richie James, WR, Middle Tennessee – A quality 7th rounder; great in space, injury issues, but worth a flyer.
241. Washington Redskins
Greg Stroman, CB, Virginia Tech – Very good value here, surprised he dropped. Smart and instinctive.
242. Carolina Panthers
Kendrick Norton, DT, Miami – Another bigtime value pick here. Needs to be more consistent, but huge talent.
243. New England Patriots
Keoin Crossen, CB, Western Carolina – Longshot to make the team, but has some athleticism.
244. Los Angeles Rams
Justin Lawler, DE, SMU – Once a highly rated prospect, but more of a high effort player that lacks the physical attributes to fit any particular position profile. Will vie for special teams time.
245. New Orleans Saints
Will Clapp, C/OG, LSU – Took a big drop in the draft due to bounty of interior linemen. However, is experienced and dependable.
246. Pittsburgh Steelers
Joshua Frazier, DT, Alabama – 2 gapper that could make the roster as a rotational player.
247. Jacksonville Jaguars
Logan Cooke, P, Mississippi State – Always need a punter.
248. Green Bay Packers
Kendall Donnerson, OLB, Southern Missouri – Start to finish project that is an elite athlete. Packers would love to stash him for a few years and develop him into a pass rusher.
249. Cincinnati Bengals
Logan Woodside, QB, Toledo – Big armed QB that worked well in different systems. A nice pick up here.
250. New England Patriots
Ryan Izzo, TE, Florida State – Mixed draft reviews on him, surprised he fell this far. Will get every chance to compete for a job.
251. Los Angeles Chargers
Justin Jackson, RB, Northwestern – Has a knack for finding holes in the defense. Great vision.
252. Cincinnati Bengals
Rod Taylor, OG, Mississippi – A nice job to grab him here before someone will after the draft ends. Lots of talent, but issues.
253. Cincinnati Bengals
Auden Tate, WR, Florida State – Redzone threat and leaper.
254. Arizona Cardinals
Korey Cunningham, OT, Cincinnati – Has the frame of an OT but not the balance. Worth a shot to see if that can be fixed.
255. Buffalo Bills
Austin Proehl, WR, North Carolina – Son of NFL player, is smart and quick.
256. Atlanta Falcons
Trey Quinn, WR, SMU – Excellent athlete, will make the squad.