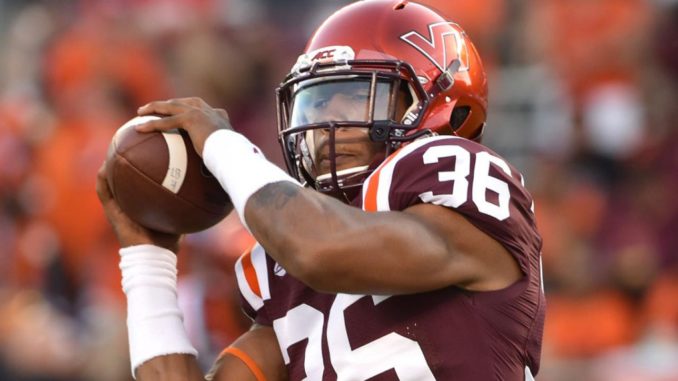 2018 NFL Supplemental Draft Prospects
Adonis Alexander, CB, Virginia Tech
School: Virginia Tech Position: Cornerback Class: Junior Height: 6-3 Weight: 195 lbs Projected Draft Round: 5-7
Scouting Report:
A long, press corner that fits the mold of the bigger corners that NFL teams look for. Good ball skills, tallying six INT's the last couple of years. Has had some discipline issues, so needs to show teams that he is on the right path. Doesn't have good change of direction skills, so needs to find a defense where he can put almost exclusively on team's vertical route runners.
Video Highlights:
Sam Beal, CB, Western Michigan
School: Western Michigan Position: Cornerback Class: Junior Height: 6-1 Weight: 185 lbs Projected Draft Round: 3-5
Scouting Report:
Looks every bit the part of an outside press corner. Has long arms, and a nice sized frame, to go along with fluid hips. His initial punch at the line of scrimmage is effective in knocking receivers off their routes. Not as effective in off coverage or in zone, however, so would need to fight for an outside corner spot on a team that doesn't mix things up too much with their two primary corners. Able to locate the ball well, and can match up with the bigger and faster receivers at the next level.
Video Highlights:
Brandon Bryant, S, Mississippi State
School: Mississippi State Position: Safety Class: Junior Height: 6-0 Weight: 215 lbs Projected Draft Round: 6-7
Scouting Report:
Has prototypical build for a safety, with excellent height / weight / speed measurables. Also has the toughness and willingness to make the hits, even on much bigger ball carriers. However, his production has decreased since having an exceptional redshirt freshman year. Appears to lack football instincts, and doesn't appear to anticipate or diagnose plays. An NFL team might not be able to pass on his elite physical attributes, though, and could find a place for him as a role player in sub packages.
Video Highlights: