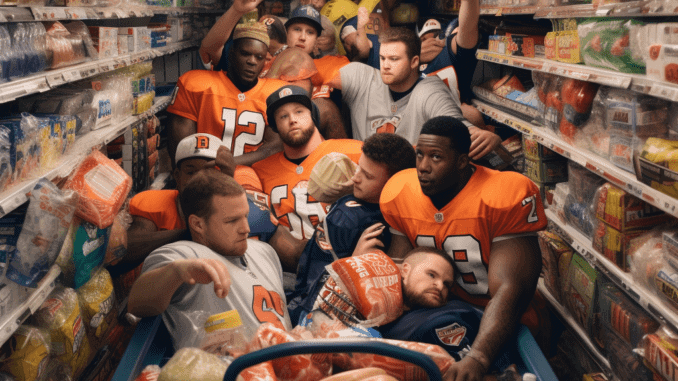 Round 1:
1) Arizona Cardinals – Caleb Williams QB, USC 6'2″ 219 lbs
Williams is the top prospect after winning the Heisman Trophy in 2022. With Kyler Murray out with an ACL till the middle of the season at least this should be a no-brainer. Murray's massive ego & attitude are going to have to change or he'll be playing elsewhere soon. In 2022 Williams hit on 66.6% of his passes for 4537 yards with 42 touchdowns & 5 interceptions.
2) Arizona Cardinals (from hou) – Marvin Harrison Jr. WR, Ohio St. 6'4″ 205 lbs
Most mocks will have these players going 1/2. Harrison is a polished player who runs a great route tree, has strong hands a quiver full of moves & awesome bloodlines. For 2022 he put together 77 receptions for 1263 yards (16.4 avg) & 14 touchdowns.
3) Indianapolis Colts – Jared Verse EDGE/OLB, Florida St. 6'4″ 248 lbs
Verse decided to return to the 'Noles for another season like most of their star players & he is rewarded by being the first ER off the board. The Colts could go in several directions with this pick but EDGE is a big need. For 2022 he had 48 tackles & 9 sacks.
4) Los Angeles Rams – Drake Maye QB, North Carolina 6'4″ 225 lbs
QB Matt Stafford will be 36 years old & missed 9 games in 2022 with a neck injury & a concussion plus, he had a couple of back surgeries during his days with the Lions. So, Maye would make a lot of sense here. They took QB Stetson Bennett out of Georgia this year but he's rather slight being 12 lbs lighter than Bryce Young who raised a lot of eyebrows on his durability. But, Bennett would be an xlnt backup. If Stafford gets injured again early this year the Rams could be picking #1 overall.
5) Tampa Bay Buccaneers – Olu Fashanu OT, Penn St. 6'6″ 323 lbs
The Bucs let LOT Donovan Smith go in FA so a replacement is needed. Fashanu would have been a top-10 selection if he would have come out in the 2023 draft. Possesses long strong arms to keep ER's at bay & has a good solid anchor. Can open up big holes for the rush game & is rock solid in pass protection.
6) Washington Commanders – Michael Penix Jr. QB, Washington 6'3″ 216 lbs
If the Commanders are picking this high their QB plan didn't work out. Penix hit on 65.3% of his throws for 4641 yards with 31 touchdowns & 8 interceptions in 2022 & I think he will have a bigger year in 2023. Goes through his progressions quickly & gets to his 2nd & 3rd options well. The Huskies could have a big year with Penix at the helm.
7) Atlanta Falcons – J.T. Tuimoloau EDGE, Ohio St. 6'4″ 270 lbs
The Falcons still need a premier ER & it's one of their biggest needs. I'm forecasting him to have a massive break-out year in 2023. In 2022 he produced 28 tackles, 3.5 sacks, 4 passes defended, 2 interceptions & 1 forced fumble.
8) Tennessee Titans – Brock Bowers TE, Georgia 6'4″ 239 lbs
The Titans need more at WR & TE. Bowers was arguably the best TE in 2022 & by far the best TE prospect in this draft. In 2022 he had 63 receptions for 942 yards (15.0 avg) & 7 touchdowns.
9) Chicago Bears (from car) – Dallas Turner EDGE/OLB, Alabama 6'4″ 242 lbs
The Bears could use a strong presence on the EDGE & with Turner coming in and taking over for Will Anderson Jr there won't be much of a drop-off in production. He will quickly become one of their defensive leaders. In 2022 he put together 37 tackles & 4 sacks but, those stats should probably double for the 2023 season.
10) Green Bay Packers – Joe Alt OT, Notre Dame 6'8″ 315 lbs
With David Backtiari nearing the end of an illustrious career the Pack decides to bring his replacement on board. Has the frame to put on at least 15 lbs of muscle & weight. Has good bloodlines being the son of John Alt a long-time OT in the NFL. Moves his hands & feet at the same time very well which beefs up his pass protection.
11) Chicago Bears – Emeka Egbuka WR, Ohio St. 6'2″ 205 lbs
QB Justin Fields needs more offensive weapons & the Buckeyes just keep churning out WR's 2 at a time every year. Egbuka & Harrison may not have as big of numbers in 2023 with their 2 time Heisman finalist QB playing for the Texans in 2023. In 2022 Egbuka had 74 receptions for 1151 yards (15.6 avg) & 10 touchdowns.
12) New England Patriots – J.C. Latham OT, Alabama 6'6″ 335 lbs
This is probably the Pat's biggest need. He will help keep QB Jones upright & in the pocket where he can distribute the ball. This is the latest monster OT to come out of Tuscaloosa & he should play up to the hype. Good at opening up nice running lanes for the rush game & is solid in pass protection. HC Belichick loves Nick Saban-coached players.
13) Las Vegas Raiders – Kool-Aid McKinstry CB, Alabama 6'1″ 195 lbs
The Raiders have a hole on one side of their defense & McKinstry will come in & remedy that situation quickly. Is xlnt in cover man but, can play zone too. Plenty of speed to not allow separation & tracks the ball well. In 2022 he produced 35 tackles, 1 sack, an eye-popping 15 passes defended & 1 interception.
14) Houston Texans (from cle) – Michael Hall Jr. DL3T, Ohio St. 6'2″ 290 lbs
The Texans filled a lot of their needs in the 2023 draft but, still need help on the interior of their DL. Here's a hot prospect who is just starting to scratch the surface of his potential. He only had 19 tackles in 2022 to go with 4.5 sacks which is a good number coming from the interior. Actually, he's averaging a sack about every 4.5 tackles which is outstanding.
15) Denver Broncos – Kalen King CB, Penn St. 5'11" 190 lbs
King is going to be a real up & comer in the 2023 season. He's best at cover man but, can contribute in zone also. Has all the tools to be successful at the next level. In 2022 he accumulated 30 tackles another eye-popping 16 passes defended, 3 interceptions & 1 forced fumble.
16) New Orleans Saints – Maason Smith DT/DL3T/NT, LSU 6'6″ 310 lbs
Smith didn't play in 2022 due to an injury so no stats on him but, scouts & coaches are big on him. He can contribute up & down their defensive line. This player is dripping with athleticism & upside. And, you know how much the Saints like LSU players.
17) Pittsburgh Steelers – Jack Sawyer EDGE, Ohio St. 6'4″ 267 lbs
The Steelers have always had a crush on Buckeye players & here's another one at a position of need. This player would pair well with T.J. Watt to form a powerful EDGE combo. In 2022 he had 24 tackles, 4.5 sacks & 1 pass defended.
18) Miami Dolphins – Jeremiah Trotter Jr. ILB/OLB, Clemson 6′ 230 lbs
The Dolphins decide to grab an aggressive LB who can tackle from sideline to sideline. He has good speed for an LB & can backpedal into pass coverage. In the 2022 season he produced 89 tackles, 6.5 sacks, 5 passes defended, 2 interceptions & 1 forced fumble.
19) Minnesota Vikings – Quinn Ewers QB, Texas 6'2″ 207 lbs
QB Kirk Cousins is in the last year of his contract so HC McConnell brings in a prospect to develop for the future. In 2022 he hit on 58.1% of his passes for 2177 yards with 15 touchdowns & 6 interceptions. He needs some polish but, with the proper coaching, he could pan out nicely.
20) Los Angeles Chargers – Raheim Sanders RB, Arkansas 6'2″ 237 lbs
Even if the Chargers re-sign Ekeler it will only be for 1 year so they will need a RB in 2024. Sanders is a bruising RB who can drag tacklers with him downfield. For the last season he had 1443 yards rushing (6.5 avg) & 10 touchdowns. Also, he had 271 receiving yards & 2 touchdowns.
21) New York Giants – Romeo Odunze WR, Washington 6'3″ 211 lbs
The G-men grabbed a good speed WR in Jalin Hyatt in this year's draft. Now they select a good possession WR who can move the chains & has enough speed to take it to the house on any touch. This player is going to have a huge year catching passes from Michael Penix Jr. In 2022 he put together 75 receptions for 1145 yards (15.3 avg) & 7 touchdowns.
22) New York Jets – Kingsley Suamataia OT, BYU 6'6″ 319 lbs
The Jets decide to grab QB Rodgers some more pass protection. Suamataia can play on either side a contribute in his rookie year. Outstanding upper body strength & a solid anchor. He can open up nice holes for the ground game & is solid in pass protection.
23) Detroit Lions – Bralen Trice EDGE, Washington 6'4″ 267 lbs
I think Brice is going to have a dominating year off the EDGE for the Huskies. Has a very quick 1st step to get him around OT's & into the backfield where he can cause havoc, get sacks & tackles for loss. Would pair well with Hutchinson to make a formidable duo off the EDGE for the next few years. In 2022 he had 38 tackles & 9 sacks.
24) Jacksonville Jaguars – Denzel Burke CB, Ohio St. 6'1″ 190 lbs
The Jags could use some help on the corner & Burke is the next Buckeye CB to have a good year & make a solid name for himself. Might be better in zone but, can contribute playing cover man too. Doesn't allow separation & is a xlnt tackler in the open field. In 2022 he produced 34 tackles & 5 passes defended. He shows a lot of promise.
25) Dallas Cowboys – Xavier Worthy WRS, Texas 6'1″ 164 lbs
Here's an action WRS for the Cowboys. He could tandem up really well with Cee Dee Lamb & give the Cowboys another shot of adrenalin. Possesses good speed & has some juke moves to get him by DB's for chunk gains. In 2022 he had 60 receptions for 760 yards (12.7 avg) & 9 touchdowns.
26) Baltimore Ravens – Jer'Zhan Newton DL3T, Illinois 6'2″ 295 lbs
Here's a real disruptor for the Ravens. He had more tackles than any other DT coming back for 2023. He has a good 1st step & looks rather slippery shooting between offensive linemen & causing havoc in the opponent's backfield. In 2022 he compiled 61 tackles, 5.5 sacks which is a good number coming from the interior & 3 passes defended. Looks like a Raven's kind of player.
27) Seattle Seahawks – Leonard Taylor III DL3T, Miami 6'3″ 305 lbs
The Hawks have been drafting great for the last 2 years but, still need some new juice
on the interior of their DL. Taylor is getting some positive early press from scouts & coaches. I look for him to have a break-out year in 2023.
28) Buffalo Bills – Treveyon Henderson RB, Ohio St. 5'10" 214 lbs
The Bills need a better run game to help out QB Josh Allen. He's a slashing runner with some good power to break tackles and pick up yards after contact. Good receiver out of the backfield & a decent blocker for his QB. In 2022 he produced 571 yards (5.3 avg) & 6 touchdowns.
29) San Francisco 49'ers – Cooper DeJean CB/S, Iowa 6'1′ 209 lbs
DeJean would be a good chess piece for HC Shanahan to move around his secondary. By the way, the best player on the Hawkeye's defense in 2022 wasn't Lukas Van Ness but DeJean who was all over the field for the Hawkeyes making tackles. In 2022 he compiled 75 tackles, 8 passes defended & 5 interceptions. A secondary player with some good size & speed.
30) Cincinnati Bengals – Calen Bullock FS, USC 6'3″ 182 lbs
The Bengals lost both starting Safeties to FA & need to re-load both of those positions. This player could be the key ingredient to their secondary coming together. Has good speed & is a hard hitter. In 2022 he had 48 tackles, 5 passes defended & 5 interceptions.
31) Philadelphia Eagles – Javon Bullard FS, Georgia 6′ 180 lbs
Imagine this GM Howie Roseman selecting another Georgia Bulldog to fill out his secondary. He keeps that midnight train from Athens to Philly running on time. For 2022 he put together 46 tackles, 3.5 sacks, 3 passes defended & 2 interceptions.
32) Kansas City Chiefs – Cooper Beebe G, Kansas St. 6'4″ 332 lbs
HC Andy Reid & GM Veach like to take players in the trenches early. Beebe was all Big-12 in 2022 & should be a 1st team All- American in 2023. More pass pro for electrifying QB Patrick Mahomes. The rich get richer.