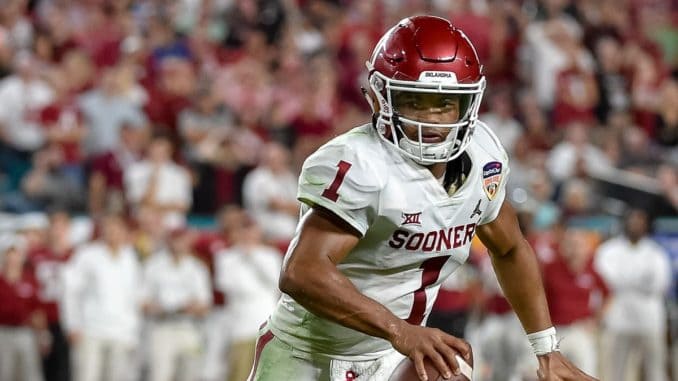 Scouting Report: Kyler Murray
2019 NFL Mock Draft
DraftGeek's Mock Draft
School: Oklahoma Position: Quarterback Class: Junior Height: 5-10 Weight: 195 Projected Draft Round: 1-2
Scouting Report:
2018 Heisman winner for a reason, he just might be the best dual threat quarterback ever at the college level. As a runner, he shows excellent vision, is speedy and elusive. As a passer, he can make any throw on the field. He has excellent timing and is very accurate, especially in short zones. He plays with poise and looks like a true leader.
The most obvious drawback, of course, is his size; he's very slight, not only several inches shorter than his predecessor, Baker Mayfield, but built small without much room to add bulk to his frame. Will the additional rules changes that provide even more protection for the QB make an impact on how he projects in the NFL or how teams view him?
While he can't work on his size, Murray will have to work to show he can move through his progressions to find the open receiver, something he hasn't been asked to do much in Oklahoma's offense, and yes, something that will be hard due to his height limitations. He will also need to develop a little in terms of pocket presence and ability to throw receivers open and to throw into tight windows, though these seem like skills he can develop with the right coaching.
Video Highlights: