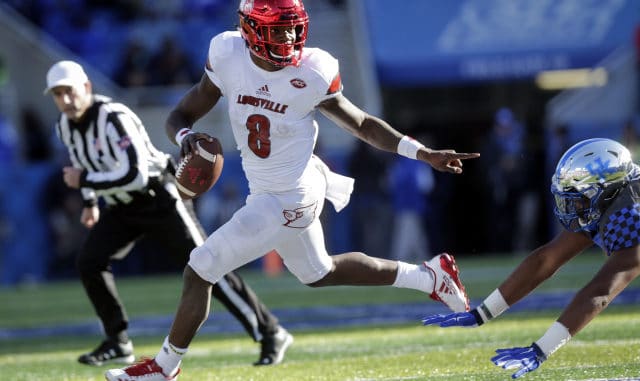 Lamar Jackson: Quarterback or Wide Receiver?
If Lamar Jackson had come out in 2014, when the read option was new and fresh and no one had an answer for it yet, he would have been near the top of our Big Board and maybe even the #1 QB to go in the draft. A lot of things have changed since then, and we offer this point by point breakdown of why he should embrace the possibility of being drafted at a position other than a quarterback.
The discussion of whether Lamar Jackson should be a quarterback or wide receiver has gotten off the rails. It lasted as a thoughtful debate for maybe 5 minutes before some bloggers and hate-baiters started assigning ill intentions, even making claims of racism, to anyone suggesting he should be a wide receiver.
Lamar Jackson: Quarterback or Wide Receiver? – Keeping an Open Mind
We submit that we believe that he shouldn't be specifically drafted as a quarterback, but rather as a wide receiver as his primary position, at least for the start of his NFL career. To get ahead of those who may apply wrong intentions to this opinion, please note that before the Combine last year, and for most of the draft process, we had Deshaun Watson as the top pick in our mock draft. We decided to post that point on a third-party tool (Reddit) to save that point for future reference. BTW, prior to that we had Mitch Trubisky as the top pick. We only changed it to Myles Garrett before the draft because we had no indication that the Browns were going to pick Watson. Furthermore, we did grade out as one of the more accurate mock drafts last year, and we don't even get paid for this!
Are there people out there downgrading Lamar Jackson because of prejudice? Of course there are, but you can say that about most any talking point. There are far more people assigning "racism" and throwing out flippant comments without backing up their opinion very well. And racism is certainly not the M.O. of people like Bill Polian, who is one of the finest men covering the NFL. Hopefully, the discussion can get back to being respectful and more about X's and O's than black or white.
We will start with some basic stats that outline Lamar Jackson's passing proficiency in college. Following that will be a discussion of major talking points regarding his potential in the NFL. One aspect to the coverage of the Lamar Jackson issue is how his college stats measure up. What is written in most places are just some raw numbers to try to paint an overly positive picture, such as, "Last year, he threw for 3,660 yards and 27 touchdowns, and rushed for 1,601 rushing yards and 18 touchdowns." Sounds great, but lots of college QB's have impressive stats. So how does he look in terms of rankings compared to other college QB's?
Lamar Jackson: Quarterback or Wide Receiver? – Stats
Passing Rankings for Lamar Jackson for the 2017 season:

15th in passing yards
68th in completion percentage (59.1%)
17th in TD's
32nd in passing efficiency
However, he was 6th in rushing, and that is for all players, not just QB's.

If there is talk about Bobby Petrino's system, let's look at his last 7 QB's completion percentage:

2010: Arkansas Ryan Mallett 64.7%
2011: Arkansas Tyler Wilson 63.2%
2013: Western Kentucky Brandon Doughty 65.8%
2014: Louisville Will Gardner 57.5%
2015: Louisville Lamar Jackson 54.7%
2016: Louisville Lamar Jackson 56.2%
2017: Louisville Lamar Jackson 59.1%

The last big name QB at Louisville before Lamar Jackson was Teddy Bridgewater. His completion percentages:

2011: 64.5%
2012: 68.5%
2013: 71%

So now let's look at Deshaun Watson's 2016 Rankings (then take a look above to compare to Lamar Jackson's):

3rd in Passing Yards
10th in completion percentage (67%)
3rd inTD's
20th in passing efficiency
157th in Rushing
The stats above are not deeply-analytic, "Moneyball," or "advanced metrics" anything. These are bare bones stats that have been used for decades to evaluate quarterbacks. They don't tell the whole story, but what they do is come at the argument in various ways. Lamar Jackson vs. other QB's in the country, Lamar Jackson vs. other QB's that Bobby Petrino coached, Lamar Jackson vs. other QB's from same school, Lamar Jackson vs. Deshaun Watson (last year's top spread offense QB from college).
Over-Compensating and Manufactured Indignation

An interesting exercise, and no names will be mentioned here, is when you hear someone pounding the table that Lamar Jackson has to be a QB and that people who suggest he should be a WR are doing so because of nefarious reasons… well, take their name and Google along with "Deshaun Watson" and look for results from a year ago. We have done this for several people in the media that cover the draft and most did not have anywhere near the praise for Watson last year, and were often critical of him coming into the draft. Now they are over the moon for Lamar Jackson's passing skills despite very clear evidence that he is nowhere near the passer that Watson was coming out of college. That is "manufactured indignation", and over-compensating for missing last year. Again, we were of the opinion last year that Watson should have gone first overall.
Lamar Jackson: Quarterback or Wide Receiver? – Important Questions
Now let's take a look at a few arguments for Lamar Jackson being one of the top QB's taken in the draft, which is an exercise he deserves with his college accomplishments, and we will present our arguments, one by one:
Lamar Jackson could run the read option and be utilized in other ways that will revolutionize the league:
There is more evidence that this window passed around 2014, and that the defenses in the league have full adapted, perhaps even over-adjusted, to the read option. Coming off of Superbowl LXVII, the 49ers lost, but the league was put on notice that the read option can work in the NFL. Kaeperick tore up the playoffs, and defenses had a very difficult time adjusting to this type of offense.
What have teams done to counter the read option? They are now using lighter, faster linebackers, and are in nickel and dime defenses much more. In 2012, teams used 5 DB's or more 54.4% of the time. This number for 2017 is in the 70%'s by most stats services, and into the 80%'s for several teams. Teams increased the use of the read option, but it has become less and less effective as defenses have become smaller and faster. The read option is still utilized by NFL teams, but with far less effectiveness than when it burst onto the scene, and almost never as the primary offense, but more situational. Finally, the two best QB's to use the read-option were both extremely solidly built – Colin Kaepernick and Cam Newton, able to take the hits that read option QB's do – and Lamar Jackson is not built anywhere as strongly as those two.
Further Reading: The Decline of the NFL's Read-Option Offense (MMQB)
Deshaun Watson thrived last year, and he is an accomplished college spread QB; Lamar Jackson was even better.
The keyword today in the NFL is "matchup." Offensive coordinators are trying to use tight ends and running backs in the passing game to get "matchup nightmares" against defenders, and RPO's to keep defenses honest. Houston adapted their offense to work around Deshaun Watson's skills, but the key here is that he is a far more accomplished passer than Lamar Jackson. Being an elite running threat at the QB position is nice, but there has to be the counter threat of consistent passing, just as with a closer in baseball. Watson might not be the running threat that Lamar Jackson is, but he is a potent threat, and more importantly, his success has revolved around the balanced threat of passing and running, which causes a matchup issue for defenses.
In terms of the passing skill evaluation of Lamar Jackson, it is important to discuss the fact that college spread offenses have a wide variation of what they expect from their QB's. Do they ask their QB's to go through a number of progressions? How much do they have to read defenses? Watson simply did much more related to what NFL teams expect when he was in college, and showed that against two of the best defenses in college on his way to a National Championship. Each time a defense focused on a part of Watson's game, Clemson would counter with a different approach, asking something else out of him, and it worked. Jackson is in the discussion for one of the greatest running QB's in college history, but there hasn't been enough in the passing game to show NFL teams that they can utilize him as a pass / rush threat to the level of Deshaun Watson.
There is talk that Lamar Jackson is "slight" and even "short." What is that about?
Height is not a factor, he has a good height for the position. "Slight" is a big concern, but in total fairness, it shouldn't be thrown out there without more qualification. There are a number of QB's that got drafted high in which slight build has proven to be an issue. Sam Bradford, RGIII, Derek Carr, and Teddy Bridgewater all had this as part of their evaluations, and teams took them high in the draft anyway. They had a variety of injuries for different reasons, but the discussion of "slight" needs to be a broader discussion that includes an alarming amount of star QBs lately. You also can't have this discussion without mentioning that Deshaun Watson also went down with a season ending injury.
A team should take Lamar Jackson and build their offense around them. Why don't teams have the "courage" to do this?
So, a team should entrust their billion dollar business on a player that is 68th in completion percentage, to be used in an offensive scheme that is drastically on the decline, where more often than not the QB gets injured? That is not courage, that is stupidity. Words like "courage" and "foresight" are used in terms of whether a team will draft Lamar Jackson, when in fact that window was more around 2014. The prototypical "running" QB in the NFL today needs to be a passer first and foremost, regardless of how gifted they are running in space.
He won the Heisman Trophy as a QB, that proves he should be an NFL QB.
Seriously, enough of this. Andre Ware, Ty Detmer, Gino Torretta, Charlie Ward, Danny Wuerffel, Chris Weinke, Eric Crouch, Jason White, Matt Leinart, Troy Smith, Johnny Manziel…
If he is so gifted, and still showed some impressive QB skills at the very least, why relegate him to WR?
Now this is a very fair point. Lamar Jackson is one of the great talents to ever come out of college, so why are people saying he can't be a QB and needs to be a WR? This debate has been way too much about door #1 and door #2, "Let's Make a Deal" logic. Let's break it down;
Drafting Lamar Jackson and sitting him on the bench to "develop" is a sin against football. This man needs to be a big part of an NFL offense.
Wherever Lamar Jackson is going to be lined up, he is going to demand special attention from defenses.
In today's game, there are many, and increasing amounts, of players that have stat lines that look quite blurred. Running backs that are essentially hybrid wide receivers, and tight ends that haven't blocked in years. Just saying "wide receiver" in terms of Lamar Jackson is a disservice to what he could be. "Offensive Weapon" is an old term that needs to be brought back out.
This player is electric with the ball in space. He is not electric (but not bad, mind you) as a passer.
Lamar Jackson is not ready to be an NFL QB in terms of the passing game. That doesn't mean he might not improve this part of his game to take the next step there, but in terms of measuring him against other prospects entering this draft, he is middle of the road or worse in terms of passing.
The type of running plays that he thrived on in college have been implemented in the NFL and have been schemed against heavily since 2014.
The CBA really hurts a player coming into the league like Lamar Jackson. Before the new rules were implemented, teams could work with him much more in the offseason. Many teams had informal QB skills development time where they would just work on QB skills. He could have participated in those, as well as work with other parts of the offense.
The key question to ask completely honestly and without any bias is: If Lamar Jackson stated that he is open to playing any position and also did all workout asked at every event, would he go higher in the draft, and have a chance at being better positioned for that all important second contract? That question raises concern as to whether all the rah-rah anger about him only being a QB is hurting him in the long run. He has stated explicitly that was a reason not to do certain workout at the Combine.
So if the Read Option (and similar QB based running schemes) is dead, what is the latest trend in the NFL right now?
The read option, and other forms of options, and play action, etc., are not dead at all.  It is just that each has a major burst in success rate and then blend into the DNA of the game. But it is true that over the last five years defenses have used nickel and dime packages much more, teams are prioritizing 1-gap penetrating defensive tackles over 2 gap anchors, and linebackers are getting smaller and quicker. This has two obvious effects:
Read options and other similar approaches have reduced in success rate because teams are specifically scheming to defend it with both different prospect profiles (smaller and faster linebackers) and with scheme (more nickel and dime packages).
There is, as there always is, an opposite reaction to this: defenses are weaker up the middle. There is so much talk about the running back resurgence, but it is simply the fact that 220 lbs+ power backs are feasting on mismatches. Watch for an increased value in bigger, road grading guards, bigger centers (which are also getting bigger because the shotgun allows this), and running backs over 220 lbs.
Lamar Jackson: Quarterback or Wide Receiver? – What's Best for Him
The NFL Draft, with all of its third-party prognostications (guilty as charged) still all comes down to what teams decide to do, pick by pick. As the expression goes, "It only takes one team…" This is about human beings and the draft is as much about watching people go through the most important career day of their lives as it is about football. Evaluations of prospects should always be honest, have integrity, and with the unspoken intention of hoping the best for each player. In this case, we believe that Lamar Jackson should pursue one path that will lead to the optimal amount of success for him for his NFL career. Hopefully, it has been expressed here well enough to trigger constructive, respectful debate.