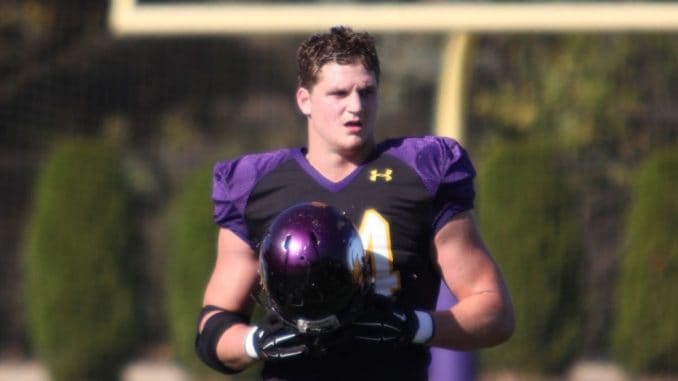 As the draft process is underway, here is a list of prospects that are rising fast up draft boards.  Most are from smaller schools, but some are just lower profile, and gaining attention fast:
Zay Jones, WR, East Carolina – Zippy receiver that burst onto the radar during All Star Week.
David Njoku, Tight End, Miami – Everyone's favorite new tight end. Combine performance will be telling.
Haason Reddick, OLB, Temple – Absolutely shined during his All Star performance.  Combine should tell a lot when he will work in space during drills.
Nathan Peterman, QB, Pittsburgh – A prospect that people will compare to Kirk Cousins.  Could this be the first "next tier" of quarterbacks that a team can use in a low risk offense that needs a smart, reliable signal caller?
Cooper Kupp, Wide Receiver, Eastern Washington – Caught everything during his All Star experience.  Might sneak into first round.
Gerald Everett, Tight End, South Alabama – Combine will be huge for him.  Athletic, smooth pass catcher.
Antonio Garcia, Offensive Tackle, Troy – Position at the next level is questionable, but he is a monster and might be a steal in round 3.
Obi Melifonwu, FS, Connecticut – This guy flew all over the place at the Senior Bowl.
Taquan Mizzell, RB, Virginia – Playmaker in space.  This guy might not have a long career, but could be an explosive offensive weapon for someone who runs a creative offensive scheme.
Tanoh Kpassagnon, DE, Villanova – A monster defensive end prospect.  Still somewhat raw but huge upside.
Trey Hendrickson, DE, Florida Atlantic – Dominated Shrine Game. A great prospect for a team after the top-tier defensive ends are taken in the draft.
Joe Mixon, RB, Oklahoma – A guy that acted in a horrible way and that did something that should never be done. So far he seems to have acted better since.  The reason he is here is that he is probably going to drop considerably in the draft.  But, if he can prove he just made a mistake and makes good from it, he could be a steal.  This is an incredibly talented running back that someone might steal in the draft.
Teriyon Gipson, RB, New Mexico – Another offensive weapon.  Might not last long in the league, but if he can make it through into his second contract, could be an explosive playmaker.
Jerod Evans, QB, Virginia Tech – Should not have come out of college, needed another year.  Will not be included at the top-tier with other quarterbacks, but he showed a lot in the last year.  He could be drafted and stashed for a year or two, learning the position better. Supreme athletic specimen.
Stevie Tu'ikolovatu, DT, USC – Very specific prospect… could be the anchor of a 3-4 for years to come.
Adam Shaheen, TE, Ashland – One of the most deceiving prospects in the draft.  Looks like a lumbering, blocking tight end while just standing there, but on tape is an athletic, post up style tight end that is going to make people stop and stare at the combine.