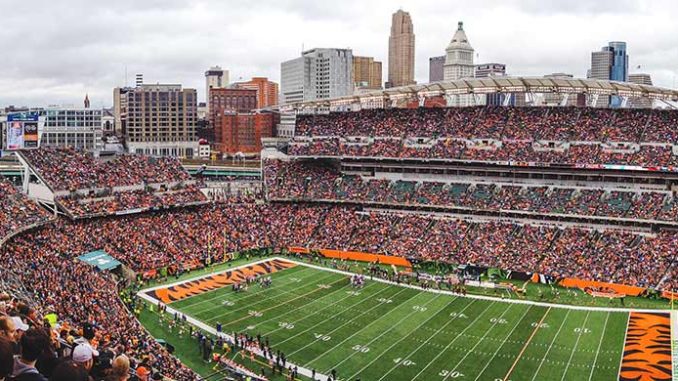 Cincinnati Bengals 2019 NFL Draft Grade and Analysis
Cincinnati Bengals 2019 mock drafts, last year draft recap, Cincinnati Bengals draft needs, 2019 draft trades.
2019 Cincinnati Bengals Draft:
1-11: Jonah Williams, T (Alabama)
2-52: Drew Sample, TE (Washington)
3-72: Germaine Pratt, LB (North Carolina State)
4-104: Ryan Finley, QB (North Carolina State)
4-125: Renell Wren, DT (Arizona State)
4-136: Michael Jordan, OL (Ohio State)
6-182: Trayveon Williams, RB (Texas A&M)
6-210: Deshaun Davis, LB (Auburn)
6-211: Rodney Anderson, RB (Oklahoma)
7-223: Jordan Brown, CB (South Dakota State)
Draft Grade: Mostly Hits
The Bengals, starting last year and through this draft should have the pieces in place to put together a solid offensive line with the extra bonus of an excellent blocking tight end. That is a long time coming.
They had two other major questions: can they fix their defense without overhauling their roster, and who will be the QB moving forward? Pratt and Wren are both under-rated prospects and both could see a lot of time this year. They both jump out on tape.
Finley is probably the most pro-ready QB in this draft, and the Bengals showed a lot of interest in him. This could be a real QB competition this fall. The Bengals won't get hurt financially if they make a change there.
They also got two high ceiling RBs late in the draft. Williams and Anderson both fell in the draft, and they got them both at a great value.
GM: Mike Brown
Head Coach: Zac Taylor
Offensive Coordinator: Brian Callahan
Defensive Coordinator: Lou Anarumo
Offensive Scheme: Air Coryell
Defensive Scheme: 4-3
Cincinnati Bengals, Last Year's Draft:
1-21: Billy Price, C (Ohio State)
2-54: Jessie Bates, S (Wake Forest)
3-77: Sam Hubbard, DE (Ohio State)
3-78: Malik Jefferson, LB (Texas)
4-112: Mark Walton, RB (Miami)
5-151: Davontae Harris, CB (Illinois State)
5-158: Andrew Brown, DT (Virginia)
5-170: Darius Phillips, CB (Western Michigan)
7-249: Logan Woodside, QB (Toledo)
7-252: Rod Taylor, G (Ole Miss)
7-253: Auden Tate, WR (Florida State)