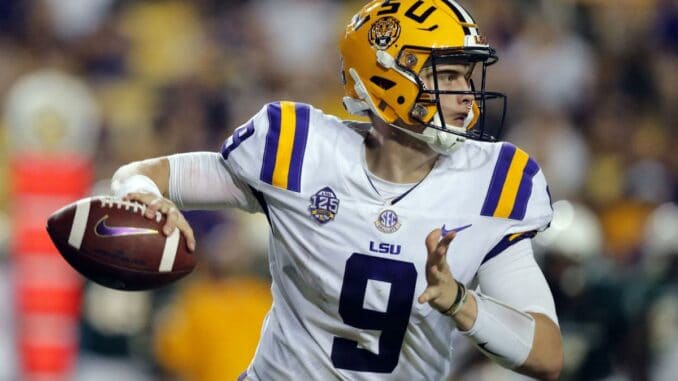 Round 1 | Round 2 | Round 3 | Round 4 | Round 5 | Round 6 | Round 7
Round 1:
Updated: April 4
1) Cincinnati Bengals – Joe Burrow QB, LSU 6'3″ 221 lb
Since he stated he would play for whoever drafts him this is a done deal.
2) Washington Redskins – Chase Young EDGE/DE, Ohio St. 6'5″ 264 lbs
Pound for pound this is the best overall player available in this draft. The Skins already have 3 1st round picks on their DL & this will take it over the top. This could be the best DL since the " Steel Curtain" if they can afford to keep them.
3) Trade – Miami Dolphins (from det) – Tua Tagovailoa QB, Alabama 6′ 217 lbs
The Fish have been scouting & evaluating Tua for 1 1/2 years. He looks like he's on a good time table for his recovery & being able to work out. They just need to watch out for the Chargers they like him too. In return the Lions get The Dolphins #5 overall pick, their 3rd round pick #70 & their 1st round pick in 2021.
4) Trade – Los Angeles Chargers (from nyg) – Justin Herbert QB, Oregon 6'6″ 236 lbs
With QB Philip Rivers leaving town for Indy the Chargers grab his replacement. 3 year starter for the Ducks. Led them to Pac-12 championship & Rose Bowl. Pretty much owns all the passing records at Oregon. In return the Giants move down to # 6 overall. Plus they get the Chargers 3rd round pick #71 overall & their 1st round pick in 2021.
5) Trade – Detroit Lions (from mia) – Jeff Okudah CB, Ohio St. 6'1″ 205 lbs
He's been the top rated CB all season but is starting to feel heavy pressure from C.J. Henderson who along w/ QB Jordan Love of Utah St. are sky rocketing up draft boards. The Lions traded Darius Slay so incoming talent is needed.
6) Trade – New York Giants (from lac) – Tristan Wirfs OT/G, Iowa 6'5″ 320 lbs
The G-men have decided this pick will be OT or CB not WR in this round. He was the 1st true freshman to start at ROT for HC Kirk Ferentz in his tenure. Had a dynamite combine highlighted by a very fast 40 time (4.85). The Giants have to get QB Daniel Jones some solid protection if they want him to develop Into a star player.
7) Carolina Panthers – Derrick Brown DT/NT, Auburn 6'4″ 326 lbs
This is the best interior defensive lineman available by a bunch. He was the heart & soul of the Auburn defense the last 2 seasons. The Panthers lost their 2 starting DT's to FA so here comes the big boy to fix things.
8) Arizona Cardinals – Jedrick Wills II OT/G, Alabama 6'4″ 312 lbs
The Cards signed both of their starting OT's but neither of them can hold a candle to this player. Young QB Murray needs some quality protection & they get that here.
9) Jacksonville Jaguars – C.J. Henderson CB, Florida 6'1″ 204 lbs (4.39)
This player could be the 1st CB off the board on Thursday night. The Jags finally get their replacement for Jalen Ramsey. Great local pick. Terrible tackler but can cover WR's like smothering them. Likes to live in WR's jersey.
10) Cleveland Browns – Isaiah Simmons OLB/SS, Clemson 6'4″ 238 lbs (4.39)
Best all around defensive player in this draft. I think he could play anywhere on defense except NT & be an awesome contributor. Sideline To sideline LB who is a heavy hitter. The Brownies defense just got a whole lot better.
11) New York Jets – Mekhi Becton OT, Louisville 6'7″ 357 lbs
The Jets could go in a few directions w/ this pick but QB Sam Darnold needs some pass protection more than any thing else. Had a very good combine. So nimble on his feet & can handle his hands & feet at the same time very well. Just throws DL out of the way in his pursuit of QB.
12) Las Vegas Raiders – Jerry Jeudy WR, Alabama 6'1″ 193 lbs
This is the best WR in this class. Best route runner that I have seen in several years. Has sticky fingers, plenty of speed to separate from CB's. Look for the Raiders to grab another receiver a little later.
13) San Francisco 49'ers (from indy) – Javon Kinlaw DT/NT, South Carolina 6'5″ 315 lbs
The Niners traded pro bowl DL Buckner to the Colts for this pick & the Niners just reload the position. They will strongly consider WR Lamb here but this is a much deeper draft at WR than DT & they can select a WR a little later.
14) Trade – New England Patriots (from tb) – Jordan Love QB, Utah St. 6'4″ 224 lbs
The Pats need a new QB now that Brady has left town for sunny Florida. Love has been motoring up draft boards all off season. Had a good combine & measured out to have the biggest hands of all QB's (10 3/8″). This player can really spin the ball just needs some good coaching & proper development & he has the right HC for that.
15) Denver Broncos – Cee Dee Lamb WR, Oklahoma 6'2″ 189 lbs
The Broncos need another WR to complement their possession WR Courtland Sutton & this should be a good fit. Makes acrobatic receptions over CB's & S's. Has strong hands to just snatch the ball out of mid air. Has plenty of speed & moves to take it to the house on any touch.
16) Atlanta Falcons – Trevon Diggs CB, Alabama 6'1″ 205 lbs
The Falcons need CB, EDGE & RB early. Diggs is a solid cover CB who has soft hands being a former WR. Good bloodlines w/ his brother Stephon a #1 WR now for the Bills.
Very well coached by HC Nick Saban & his staff in Tuscaloosa.
17) Dallas Cowboys – K'lavon Chaisson EDGE/OLB, LSU 6'4″ 254 lbs
This is another player who is having a strong off season & steadily moving up draft boards. The Cowboys need a good ER opposite Demarcus Lawrence. They also need a CB to replace Byron Jones & TE to replace Jason Witten.
18) Miami Dolphins (from pitt) – Andrew Thomas OT, Georgia 6'5″ 315 lbs
All SEC & 3 year starter in Athens. The Dolphins need more than one OL out of this draft because their OL is in shambles. This is a fortunate fall for the Fish. I've had him going earlier but in this scenario they get lucky.
19) Las Vegas Raiders (from chi) – Kenneth Murray ILB/OLB, Oklahoma 6'2″ 243 lbs
Another sideline to sideline LB who is a real thumper. The Raiders acquired LB's Littleton & Kiatwoski which really upgrades this LB corp but this pick gives them one of the top if not the best group of LB's in the NFL.
20) Jacksonville Jaguars (from lar) – Ross Blacklock DT/3/4 DE, TCU 6'4″ 290 lbs
Yet another player who has helped himself this off season. The Jags need some new blood on the interior of their defensive line. Has several good moves to help him penetrate between OL to get into back field where he can cause havoc & get sacks & tackles for loss.
21) Philadelphia Eagles – Henry Ruggs WR/SWR, Alabama 5'11" 188 lbs (4.27)
Here's the speed ball WR the Eagles really need. Fastest player at the combine. This player can take it to the promised land on any touch anywhere. Makes quick moves so he jukes DB's out of their socks on his way to the end zone. Talk about lightnin' in a bottle. This guy could have coined the phrase.
22) Minnesota Vikings (from buf) – Yetur Gross – Matos EDGE, Penn St. 6'5″ 265 lbs
The Vikes need some help on their DL after losing Everson Griffen & Linval Joseph to FA. He's has had 2 solid seasons in Happy Valley. Had 40 tackles & 9.5 sacks in 2019. Had 54 tackles, 20 tackles for loss & 8.5 sacks & 2 forced fumbles in 2018.
23) Trade – Tampa Bay Buccaneers (from ne) – Joshua Jones OT, Houston 6'5″ 319 lbs
With Tom Terrific coming to town HC Bruce Arians needs to load up on pass protection. Jones is a smooth glider w/ a nice kick slide. Real solid in pass protection. Could be more aggressive in his run blocking. Needs a nasty streak. The Bucs need an ROT & that's what they get here.
24) New Orleans Saints – Justin Jefferson WR, LSU 6'1″ 202 lbs
Here's a smokin' WR who can take the top off a defense at any time. WR Michael Thomas needs some help & this is what the Dr. ordered. Had 111 receptions for 1540 yds & 18 td's in 2019. In 2018 he produced 54 catches for 875 yds 7 6 td's. Also had 4 td catches in the 1st half of the national semi final vs Oklahoma.
25) Minnesota Vikings – A.J. Terrell CB, Clemson 6'1″ 195 lbs
The Vikes have lost a couple DB's to FA so here's a CB to help out. Got torched in the championship game but made up for it w/ a strong combine. Has good speed (4.42) to not allow separation.
26) Miami Dolphins (from hou) – D'Andre Swift RB, Georgia 5'8″ 212 lbs
The Dolphins had pretty much zero ground game in 2019. In comes Swift who can rip off large chunks of yardage & break tackles too. Has quick darting moves to get by LB's & into secondary where he can cause damage. Played in a committee at Georgia so he hasn't been ran into the ground.
27) Seattle Seahawks – Xavier McKinney FS/SS/CB/NCB, Alabama 6′ 201 lbs
Best all around DB in the country. Can play anywhere in the secondary & be just as effective while getting results too. The Seahawks struggled with their secondary in 2019 & this player will help patch things up. Had 95 tackles, 3 int's & 3 sacks in 2019. Had 78 tackles, 10 passes defended, 2 int's & 1 forced fumble in 2018.
28) Baltimore Ravens – Patrick Queen ILB/OLB, LSU 6'1″ 229 lbs
The Ravens had a great season but came up a little short. Had problems in the middle of their defense with missed tackles at crucial times. In comes the Queen to help solve problems. Has enjoyed a nice off season since his awesome performance in the championship game. Talk about striking while the candle's hot. Fast sideline to sideline LB who can lay some heavy hits. Ravens kind of player.
29) Tennessee Titans – A.J. Epenesa 3/4 DE/DE, Iowa 6'6″ 275 lbs
The Titans lost some players to FA off their defense mainly Jurrell Casey who was a stalwart of their DL. Epenesa is a strong athlete who can bowl over OL & shove them right into the back field on his way to the QB. Also powerful vs the run game. Had a bad day at the combine but his stats & tape from the last 2 seasons is quite impressive.
30) Green Bay Packers – Jalen Reagor WR, TCU 5'11" 206 lbs
Here's another WR who can take the top off the defense at any time. The Pack has a couple possession WR's in Scantling & Adams but need a blazer to make QB Rodgers offense go. Didn't have the combine I thought he would. ran a 4.47. 40 & I thought he would run in the mid 4.3's. Actually showed up in what looked like gym shorts & t shirt. Not the skin tight combine uniforms. Too bad he couldn't have had a pro day to run again. I'm sure it would have been a much quicker time.
31) San Francisco 49'ers – Tee Higgins WR, Clemson 6'4″ 216 lbs
Here's the WR the Niners need to complement rookie sensation WR Deebo Samuel. Has the height & strength to go up a get 50/50 balls & will be awesome in the red zone. Jimmy G's new best friend. Has enough sneaky speed to get by DB's for large gains and occasional td's.
32) Kansas City Chiefs – Jonathan Taylor RB, Wisconsin 5'10" 226 lbs (4.39)
This is the RB HC Andy Reid needs to carry the mail. Had 2003 yds , 21 td's for a 6.3 avg. Also had 26 receptions for 252 yds & 5 td's in 2019. In 2018 had 2194 yds & 16 td's for a 7.1.avg. In 2017 had 1977 yds, 13 td's for a 6.6 avg.
Round 1 | Round 2 | Round 3 | Round 4 | Round 5 | Round 6 | Round 7