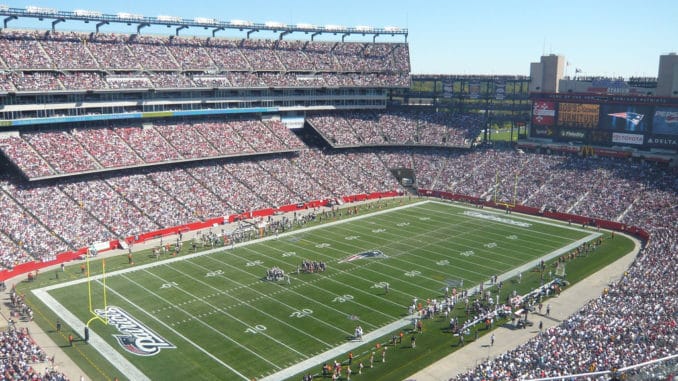 New England Patriots 2020 NFL Draft
New England Patriots 2020 NFL Draft: New England Patriots 2020 mock drafts, last year draft recap, New England Patriots draft needs, 2020 draft trades.
Salaries / Contracts
Up to Date Salary Cap Info | Up to Date Contract Info
New England Patriots 2020 NFL Draft Grade: "See Need, Fix Need"
2 (37). Kyle Dugger, S, Lenoir-Rhyne
2 (60). Josh Uche, LB, Michigan
3 (87). Anfernee Jennings, LB, Alabama
3 (91). Devin Asiasi, TE, UCLA
3 (101). Dalton Keene, TE, Virginia Tech
5 (159). Justin Rohrwasser, K, Marshall
6 (182). Mike Onwenu, G, Michigan
6 (195). Justin Herron, G, Wake Forest
6 (204). Cassh Maluia, LB, Wyoming
7 (230). Dustin Woodard, C, Memphis
The Pats needed linebackers and tight ends desperately in this draft, and they attacked those needs ferociously. They use three safeties often, and had a need there as well, but addressed that with their first pick.
The key to the Patriots' draft prospect overall profile is something that was mentioned in the broadcast often – versatility. This is especially prominent with their linebackers and tight ends. Linebackers are expected to play north south east and west, and need to be smart. Tight ends need to be versatile in terms of being matchup nightmares in coverage. They can't just be big inline blockers and smaller move tight ends. All of the prospects that they drafted at those positions fit the bill.
An interesting aspect of the draft was the double dipping on guards. It isn't a pressing need, but it does illuminate a bit on how New England values interior offensive line play, much like the Saints.
New England Patriots 2020 NFL Draft: Last Year's Draft
1-32: N'Keal Harry, WR (Arizona State)
2-45: JoeJuan Williams, CB (Vanderbilt)
3-77: Chase Winovich, DE (Michigan)
3-87: Damien Harris, RB (Alabama)
3-101: Yodny Cajuste, T (West Virginia)
4-118: Hjalte Froholdt, G ( Arkansas)
4-133: Jarrett Stidham, QB (Auburn)
5-159: Byron Cowart, DT (Maryland)
5-163: Jake Bailey, P (Stanford)
7-252: Ken Webster, CB (Ole Miss)
New England Patriots 2020 NFL Draft: 2018 Draft
1-23: Isaiah Wynn, T (Georgia)
1-31: Sony Michel, RB (Georgia)
2-56: Duke Dawson, CB (Florida)
5-143: Ja'Whaun Bentley, LB (Purdue)
6-178: Christian Sam, LB (Arizona State)
6-210: Braxton Berrios, WR (Miami)
7-219: Danny Etling, QB (LSU)
7-243: Keion Crossen, CB (Western Carolina)
7-250: Ryan Izzo, TE (Florida State)
Draft Grade: It's All Economics
The Patriots use the principles of economics in team building better than anyone. You can look at this draft and see some nice prospects at various positions, but for the Pats, this was a draft of lowering their expenses at position units across their roster.
New England doesn't like to get locked into expensive players, so always like to have up and coming players that can step in while still cheap. That is why they spread around their draft picks. This draft will save their team millions by allowing them to insert guys on rookie contracts over 2nd and 3rd contract players.
N'Keal Harry was a favorite of ours throughout this entire draft year. Always considered him one of the best WRs and never understood why he wasn't getting enough hype. He is a big, reliable WR that can be used all over.
Harris available at 87 was how you draft a RB. They took a gamble last year on a late first round RB, and it paid off, but they were in a unique situation. Now they add another piece to their already deep RB core.
Stidham was wildly inconsistent, but at times looked like the best pure passer in college. Will be interesting to see how he develops in the next few years.
GM: Bill Belichick (De facto)
Head Coach: Bill Belichick
Offensive Coordinator: Josh McDaniels
Defensive Coordinator: –
Offensive Scheme: Erhardt-Perkins
Defensive Scheme: 3-4, Multiple