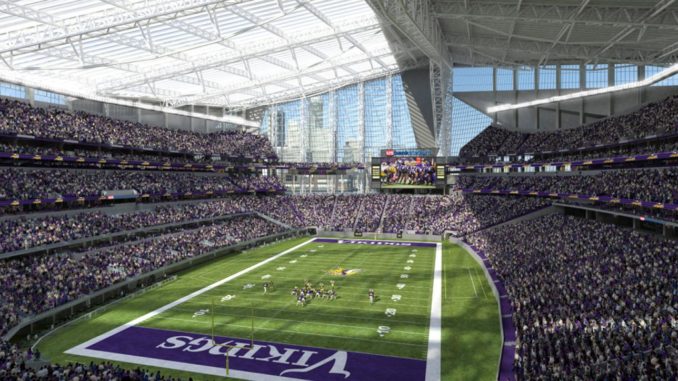 Minnesota Vikings 2020 NFL Draft
Minnesota Vikings 2020 NFL Draft: Minnesota Vikings 2020 mock drafts, last year draft recap, Minnesota Vikings draft needs, 2020 draft trades.
Salaries / Contracts
Up to Date Salary Cap Info | Up to Date Contract Info
Minnesota Vikings 2020 NFL Draft Grade: "Manna from Heaven"
1 (22). Justin Jefferson, WR, LSU
1 (31). Jeff Gladney, CB, TCU
2 (58). Ezra Cleveland, T, Boise State
3 (89). Cameron Dantzler, CB, Mississippi State
4 (117). D.J. Wonnum, LB, South Carolina
4 (130). James Lynch, DE, Baylor
4 (132). Troy Dye, LB, Oregon
5 (169). Harrison Hand, CB, Temple
5 (176). K.J. Osborn, WR, Miami (FL)
6 (203). Blake Brandel, G, Oregon State
6 (205). Josh Metellus, S, Michigan
7 (225). Kenny Willekes, DE, Michigan State
7 (244). Nate Stanley, QB, Iowa
7 (249). Brian Cole II, S, Mississippi State
7 (253). Kyle Hinton, G, Washburn
You can actually have too many draft picks. The Vikings absolutely found some excellent prospects in this draft, some falling to them inexplicably, but at a certain point you are going to see better returns if you bundle some picks and move up rather than spray and pray a bunch of late round picks that have little chance of making the roster.
The Vikings draft started out with a gift from the skies, as Jefferson fell to them at the 22nd pick. Even if they got calls when their pick came up, they surely would have had to have been offered quite the haul to pass up on him. Within a few months, they got younger, less expensive, better mannered and maybe more talented at their WR core.
Gladney is a twitchy, very athletic corner, but it is fair to say there were a few better prospects at that spot. However, Zimmer knows what he likes at corner, and must have found qualities that fit his desired traits at the position.
The Vikings must have been ecstatic again to be able to get Cleveland at the 58th pick. Together with Jefferson, these two picks really make for a successful draft.
Reading through the Vikings' draft, Jefferson and Cleveland stand out, with a number of "blah, blah, blahs", but two other names really stand out. Lynch is a relentless pass rusher that can play on the outside or move inside. Also, Willekes was a tremendous value where they got him. He has a lot of Jared Allen type qualities, and could thrive in Zimmer's defense.
Minnesota Vikings 2020 NFL Draft: Last Year's Draft:
1-18: Garrett Bradbury, C (North Carolina State)
2-50: Irv Smith Jr., TE (Alabama)
3-102: Alexander Mattison, RB (Boise State)
4-114: Dru Samia, G (Oklahoma)
5-162: Cameron Smith, LB (USC)
6-190: Armon Watts, DT (Arkansas)
6-191: Marcus Epps, DB (Wyoming)
6-193: Oli Udoh, T (Elon)
7-217: Kris Boyd, CB (Texas)
7-239: Dillon Mitchell, WR (Oregon)
7-247: Olabisi Johnson, WR (Colorado State)
7-250: Austin Cutting, LS (Air Force)
Minnesota Vikings 2020 NFL Draft: 2018 Draft
1-30: Mike Hughes, CB (UCF)
2-62: Brian O'Neill, T (Pittsburgh)
4-102: Jalyn Holmes, DE (Ohio State)
5-157: Tyler Conklin, TE (Central Michigan)
5-167: Daniel Carlson, K (Auburn)
6-213: Colby Gossett, G (Appalachian State)
6-218: Ade Aruna, DE (Tulane)
7-225: Devante Downs, LB (California)
Draft Grade: Mission Accomplished
With a loaded roster except at one place- the offensive line, the Vikings had a clear mandate for this draft. They ended up with the best center, a proven and NFL ready guard, and an additional developmental tackle, they attacked that need with authority.
Sprinkled in between these offensive line prospects were a few extra prospects that can help them right away. They grabbed one of the best TE's, and that can only help their offensive line woes.
They will also be able to have a healthy competition for the third and fourth WR spots, as they added two prospects late.
Watts is a beast, and allows them to have a little more meat for when they need to stop the run.
GM: Rick Spielman
Head Coach: Mike Zimmer
Offensive Coordinator: Gary Kubiak
Defensive Coordinator: Adam Zimmer & Andre Patterson
Offensive Scheme: West Coast
Defensive Scheme: 4-3, Attacking