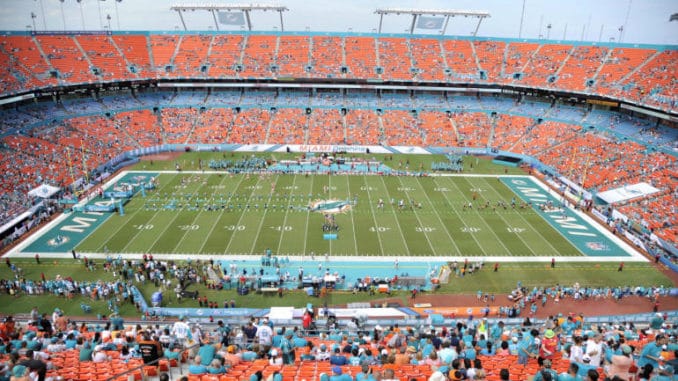 Miami Dolphins 2020 NFL Draft
Miami Dolphins 2020 NFL Draft: Miami Dolphins 2020 mock drafts, last year draft recap, Miami Dolphins draft needs, 2020 draft trades.
Salaries / Contracts
Up to Date Salary Cap Info | Up to Date Contract Info
Miami Dolphins 2020 NFL Draft Grade: "Take a Second Look"
1 (5). Tua Tagovailoa, QB, Alabama
1 (18). Austin Jackson, T, USC
1 (30). Noah Igbinoghene, CB, Auburn
2 (39). Robert Hunt, T, Louisiana
2 (56). Raekwon Davis, DT, Alabama
3 (70). Brandon Jones, S, Texas
4 (111). Solomon Kindley, G, Georgia
5 (154). Jason Strowbridge, DE, North Carolina
5 (164). Curtis Weaver, DE, Boise State
6 (185). Blake Ferguson, C, LSU
7 (246). Malcolm Perry, WR, Navy
The Miami Dolphins draft is not being viewed as it should be. First, their move to stay put at the fifth pick and not move up to secure Tua was poorly conceived. Yes, it worked out beautifully, but they should have played it smarter and not taken any chances on losing out on their future franchise players.
Next, their other two first round picks are steps backward. They had one of the best young left tackles in the league and had the money to sign him. They traded him for a very good, but still unproven, and with question marks prospect. Next, after trading away one of the best young, and proven, defensive backs, they then signed one in free agency. They use more salary on their top two corners than any other team in the league, and THEN use another first round pick on an unproven prospect to play as their third corner? All they did with their other two first round picks was to trade apples for worse apples.
The Dolphins' picks after the first round were a nice match of value to need, and Hunt and Kindley, in particular, should both compete for starting jobs sooner rather than later.
With all of their draft picks, it was peculiar that they didn't draft a running back. This would have been an excellent usage of their third first round pick. They do have Jordan Howard, which was a nice pick up in free agency, but could use a dynamic talent there. Instead they made a trade with San Francisco for Breida. This is fine, but Breida is most likely the product of a Shanahan scheme where RB's thrive, and go elsewhere and fizzle.
Miami Dolphins 2020 NFL Draft: Last Year's Draft
1-13: Christian Wilkins, DT (Clemson)
3-78: Michael Deiter, G (Wisconsin)
5-151: Andrew Van Ginkel, LB (Wisconsin)
6-202: Isaiah Prince, T (Ohio State)
7-233: Chandler Cox, FB (Auburn)
7-234: Myles Gaskin, RB (Washington)
Miami Dolphins 2020 NFL Draft: 2018 Draft
1-11: Minkah Fitzpatrick, DB (Alabama)
2-42: Mike Gesicki, TE (Penn State)
3-73: Jerome Baker, LB (Ohio State)
4-123: Durham Smythe, TE (Notre Dame)
4-131: Kalen Ballage, RB (Arizona State)
6-209: Cornell Armstrong, CB (Southern Mississippi)
7-227: Quentin Poling, LB (Ohio)
7-229: Jason Sanders, K (New Mexico)
Draft Grade: Can Only Get Better
The story of the Dolphins' draft is the trade for Rosen. The fact that they didn't give up much to get him and aren't paying him much, and have him under control for several years is a low risk move. But, this team could very well be drafting first in the draft next year.
The Dolphins are going to need a lot more draft picks and a lot more salary cap space to take the next step. They got two really nice players in the trenches with Wilkins and Deiter, but they needed double the amount of draft picks that they had in this draft.
The good news is that there is a big benefit to being bad in the NFL. Next year could be an exceptional one for QBs and they could be in a much better situation with their salary cap and have all season to work on getting more draft picks.
Gaskin was a real bargain in the 7th. He is a do it all RB and fell to them where they just couldn't pass him up.
GM: Chris Grier
Head Coach: Brian Flores
Offensive Coordinator: Chan Gailey
Defensive Coordinator: Josh Boyer
Offensive Scheme: Erhardt-Perkins
Defensive Scheme: 4-3, Attacking