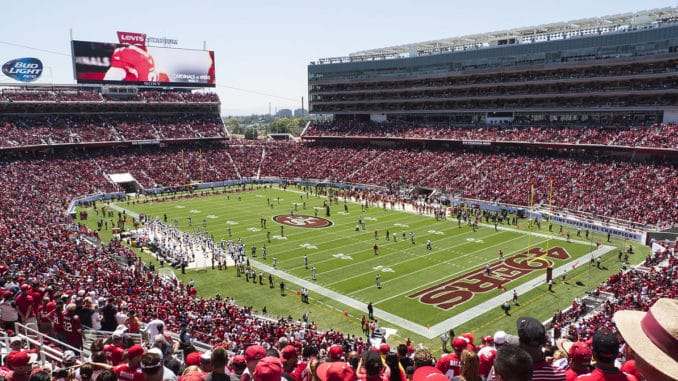 San Francisco 49ers 2020 NFL Draft
San Francisco 49ers 2020 NFL Draft: San Francisco 49ers 2020 mock drafts, last year draft recap, San Francisco 49ers draft needs, 2020 draft trades.
Salaries / Contracts
Up to Date Salary Cap Info | Up to Date Contract Info
San Francisco 49ers 2020 NFL Draft: Last Year's Draft:
1-2: Nick Bosa, DE (Ohio State)
2-36: Deebo Samuel, WR (South Carolina)
2-67: Jalen Hurd, WR (Baylor)
4-110: Mitch Wishnowsky, P (Utah)
5-148: Dre Greenlaw, LB (Arkansas)
6-176: Kaden Smith, TE (Stanford)
6-183: Justin Skule, T (Vanderbilt)
6-198: Tim Harris, CB (Virginia)
San Francisco 49ers 2020 NFL Draft: 2018 Draft
1-9: Mike McGlinchey, T (Notre Dame)
2-44: Dante Pettis, WR (Washington)
3-70: Fred Warner, LB (BYU)
3-95: Tarvarius Moore, S (Southern Mississippi)
4-128: Kentavius Street, DE (North Carolina State)
5-142: D.J. Reed, CB (Kansas State)
6-184: Marcell Harris, S (Florida State)
7-223: Jullian Taylor, DT (Temple)
7-240: Richie James, WR (Middle Tennessee)
Draft Grade: A Final Piece
There are some question marks with this draft, but because they added a final super elite prospect to their defensive line, that is enough to give it passing marks.
Bosa was the pick all along, and should have been. They now have a loaded defensive line, and already have their QB in place. That right there is enough to build a team around.
In such a deep WR class, going for two with the next couple of picks was probably not a great allocation of resources. Perhaps they are thinking of Hurd as more a RB that also catches a lot of balls, which would help clarify that decision.
Kaden Smith feels like a "Stanford" pick by the GM. He just didn't stand out in any way as an NFL prospect, and that was the general opinion that was formed during the draft process.
GM: John Lynch
Head Coach: Kyle Shanahan
Offensive Coordinator: Kyle Shanahan
Defensive Coordinator: Robert Saleh
Offensive Scheme: West Coast
Defensive Scheme: 4-3