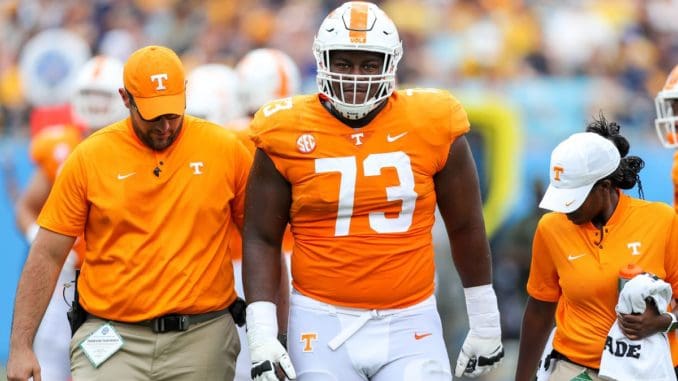 2021 NFL Draft Offensive Guard Rankings includes a prospect ranking, a breakdown of scouting for the position, key questions about the position, and a link to learn more.
Offensive Guard Rankings:
Alijah Vera-Tucker, USC
Wyatt Davis, Ohio State
Trey Smith, Tennessee
Alex Leatherwood, Alabama
Quinn Meinerz, Wisconsin-Whitewater
Ben Cleveland, Georgia
Ed Ingram, LSU
Aaron Banks, Notre Dame
Jack Anderson, Texas Tech
Zion Johnson, Boston College
Deonte Brown, Alabama
Cade Mays, Tennessee
Chris Owens, Alabama
Ben Brown, Mississippi
Tommy Kraemer, Notre Dame
2021 NFL Draft Offensive Guard Ranking
High level guard prospects normally have to have one of two qualities: Exceptional base and power- known as "mauler" or "road grader" in the run game, -or- a rare athletic freak that is versatile, able to play center or guard… sometimes even able to play any position on the line.
Strong "base" or "Solid Anchor" good for ability to hold up against NFL pass rush.
Hand placement and ability to "lock on" to defenders.
Some guards are "pulling guards" but not too common in college, where they take a step back at the snap, slide down the other side of the line and become a lead blocker in the run game.
Top guys are normally very physically gifted with big measurables. Mid round guys tend to be more typical build but often have a lot of experience and dependable.
How many sacks did they give up?
Did they or do they have a strong RB or overall running game behind him?