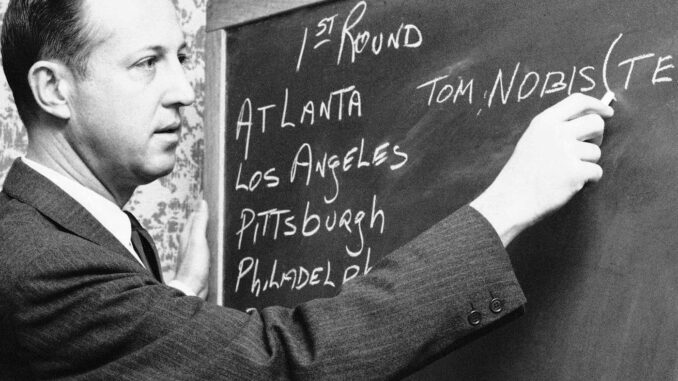 Updated September 21st
1. Detroit Lions
Kayvon Thibodeaux, OLB, Oregon
The Lions are in rebuild mode, but the cupboard is not empty. They have exceptional talent on the offensive line, but no depth. They have some very promising young defensive linemen, and perhaps found the steal of the draft at inside linebacker. There have been many insinuations that they are moving toward a defense similar to what the Rams ran last year. In that defense, they ran with light boxes (less than 6 lineman/linebackers), and in quarters coverage more than 80% of the time. What that means is that this team needs secondary help bigtime. The Lions are going to have to see how the season progresses, but this draft and with their first pick seems an ideal time to get the QB of the future– if Goff doesn't seem to be that person.
2. Houston Texans
Malik Willis, QB, Liberty
The Texans are in the middle of perhaps the most unusual rebuild in NFL history. From a draft perspective, they would be best to put all efforts to playing young players, shedding contracts, and trading away any players toward the end of their contract that are assuredly leaving town to get draft picks. No team in recent history needs this top pick and it seems all but certain to pen in the top QB in the draft.
3. New York Jets
Derek Stingley Jr., CB, LSU
The Jets have put together one full excellent year of team building. –Well, except for the boneheaded decision to get cute with their QB's contract.– It would be surprising to see the Jets pick at 2, but for now they "deserve" it more than anyone else. If they have indeed found the QB of the future and fixed their offensive line, they would be in line for the best defensive back in the draft.
4. Jacksonville Jaguars
Evan Neal, OT, Alabama
The Jags have had a lot of draft picks and salary cap to spend and still to spend, but it doesn't appear they have really locked down their left tackle spot yet.
5. Atlanta Falcons
Sam Howell, QB, North Carolina
Of all of the QB shuffling and drafting the last few years, Ryan seems to be the guy getting negative press for no reason. For goodness sake, the guy has thrown for over 4,000 yards the last 10 years. Yes, you read that correctly. The Falcons may very well go with a new QB as they have a new HC and GM, but maybe they should be grateful for what they have and just build their team for now with the best talent at each draft slot.
6. Philadelphia Eagles
Kyle Hamilton, S, Notre Dame
It is true that the Eagles haven't hit on WR's lately in the draft, but moving around last year to grab one when an elite LT was sitting there for the taking was confounding. Add to that the awful move that probably cost them a dominant defensive tackle in the third round, and it is a little rough watching their GM do everything he can to save his job.
7. Cincinnati Bengals
Kenyon Green, OL, Texas A&M
Why on earth did the Bengals pass on Sewell last year in the draft? Their QB was hurt because of offensive line woes, and they already had two very good wide receivers. Maybe they get it right next year.
8. Carolina Panthers
Aidan Hutchinson, DE, Michigan
The Panthers are going to be one of the most interesting teams to watch this year. They brought in a new QB that never get a fair shake in New York, and have a young and very talented defense. Their all world running back is healthy again, and they still have one of the more creative offensive coordinators in the league.
9. Denver Broncos
Spencer Rattler, QB, Oklahoma
The Broncos need to draft a QB and get that position settled so, for the love of God, lazy announcers and journalists will stop saying "If you have two quarterbacks, you have none!". Snark, snark, snark.
10. New York Giants
DeMarvin Leal, DE, Texas A&M
The Giants have a sneaky good defense, but they let their very talented young corner go because they simply didn't allow the facts of an incident unfold fairly. They could use some help on the outside.
11. Miami Dolphins (from San Francisco)
Zion Nelson, OT, Miami
The Dolphins have one of the most top to bottom solid rosters in the league. With a left handed QB, the tackle position has been a little tricky for them to get set.
12. Dallas Cowboys
Charles Cross, OT, Mississippi State
Dallas went all in on defensive players in the draft last year, but is it fair to say that their defensive scheme is a little out of date? Regardless, they need to do one thing and one thing more than any other- keep their QB healthy.
13. Minnesota Vikings
Matt Corral, QB, Ole Miss
Cousins has been better than is talked about, but the refusing to get a shot thing might cause a big issue this season, having the Vikes thinking about trying something different at QB for the future. Getting cheaper at the position would be nice as well.
14. New England Patriots
Chris Olave, WR, Ohio State
They went QB last year early, so why not go WR early this draft?
15. Los Angeles Chargers
Drake Jackson, DE, USC
If the Chargers take a step back this year, it could test the patience of people always giving them the benefit of the doubt. They do have an exceptional young QB, and a talented roster, but there is always something that seems to be a "yeah, but". They made the choice to go in a different direction with their coach, and their new one is full of confidence, but this has to be a playoff team this year or the rumblings will deservedly start.
16. Las Vegas Raiders
Christian Harris, LB, Alabama
The Raiders have not drafted well under Mayock and Gruden, and their offense is needlessly complex. They are a good team, but not great, and probably need a change of their front office and coaching staff if they really want to become a perennial playoff team.
17. Arizona Cardinals
Trent McDuffie, CB, Washington
Just draft some secondary, will you please Arizona? This is an exciting team to watch, but not one that can be to root for week in and week out.
18. Philadelphia Eagles (from Miami)
Kenyon Green, OG/OT, Mississippi State
The two, or possibly three first round picks that the Eagles have in the draft cover up the fact that the moves to get them made them worse in the short and long term. This is a GM flailing all over to save his job, and making mistake after mistake in the process.
19. Washington Football Team
Justyn Ross, WR, Clemson
It doesn't seem like Washington is really into fixing their QB situation, but their defense is awesome.
20. Chicago Bears
Garrett Wilson, WR, Ohio State
Justin Fields is the NFL's media darling of the year, and the "victim of the year" for anyone that dare criticize him. He simply looked like two different quarterbacks at times in college. Was this due to medication he was taking for his very serious medical condition, or does he have issues with certain types of defenses.
21. Tennessee Titans
Derion Kendrick, CB, Clemson
The Titans loss at OC and DC the last few years might catch up with them this year. However, they have a strong offensive line, a stud RB, great WRs, and seemingly have fixed their pass rush.
22. Philadelphia Eagles (from Indianapolis)
Jalen Green, CB, Texas
Will Indy's QB play three quarters of the season to keep this a first rounder? We shall see.
23. Pittsburgh Steelers
Jordan Battle, S, Alabama
The Steelers seem to be going uncharacteristically all-in this year and maybe the next, but why not? Look for them to still keep an eye on the future with an eye on improving the secondary.
24. New York Jets (from Seattle)
John Metchie III, WR, Alabama
Right about here is the start of where WR's SHOULD go. No earlier. The draft has become so supply-heavy on WR's, it is shocking to see why any team would draft one earlier than this. Smart teams will go for corners every time due to them being in such short supply.
25. Detroit Lions (from LAR)
Kaiir Elam, CB, Florida
The Lions have a lot of needs, and in particular a need for another outside corner.
26. Baltimore Ravens
Bubba Bolden, S, Miami
Maybe after this year the Ravens and people in the media will see that the WRs themselves aren't the problem with their passing game.
27. Cleveland Browns
Treylon Burks, WR, Arkansas
What a turn around for the Browns in a few seasons… this is talking about their roster. They went from by far the worst roster in the league to maybe the most complete. Now the QB and head coach need to put it all together.
28. New Orleans Saints
George Karlaftis, DE, Purdue
The Saints have a QB problem. In the meantime, they can work on replacing some lost pass rush talent.
29. Buffalo Bills
George Pickens, WR, Georgia
The Bills have one of the best WRs in the game, and a deep roster. They can wait and go in many directions here.
30. Green Bay Packers
Isaiah Spiller, RB, Texas A&M
Hmm… what will Aaron Rodgers want to do here?
31. Tampa Bay Buccaneers
Sevyn Banks, CB, Ohio State
The Bucs all in for this year has been refreshing to watch. They are headed toward salary cap and contract hell, but why not? If you have a team able to win the Superbowl, why not go all in?
32. Kansas City Chiefs
Darian Kinnard, OT, Kentucky
The Chiefs lost the Superbowl due to their offensive line. They have done all that they can to rebuild it. Now it is time to get a few young guys in place so that debacle doesn't happen again later.