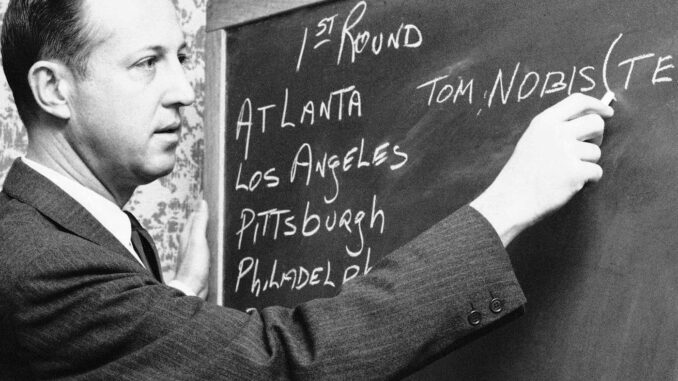 Updated April 28th, 2022
Final 2022 NFL Mock Draft Note: Take a moment to read about "Pascal's Wager" if you want some insight on how the NFL mock draft work works. In short, it is about the shallow way that humans rationalize their beliefs. It is the guiding force behind how almost everyone discusses the draft. Consider this: is there any downside about being wrong about Malik Willis if he isn't drafted super high or doesn't have a stellar NFL career? None. Zip. That is safety in the herd. But what if you are high on Kenny Pickett and he isn't drafted high or doesn't do well in the NFL? That is catastrophic. The scarlet letters will appear and you will be deemed out of touch, not in on the future of the NFL, racists, etc. This logic disease in the NFL draft world blew up last year with Justin Fields / Mac Jones and has taken on even greater absurdity this year. And if the Panthers take Pickett? Well, that will be deemed only because of the Pitt connections or that they don't know what they are doing. The herd has all of the answers. Just take a moment and think about what you have read all draft season long and how you yourself have come to your draft opinions.
That being said, almost everything about NFL mock drafts is utter nonsense. There is the formal entity of the NFL and then there is this illusion of doing mock drafts. You realize that, correct? From the NFL Network to ESPN to every blogger to every last Tweet, it is just a frivolous exercise, and yes, we know that includes us.
If you think this is a "predictive contest", or if you are engulfed in this endless effort to be the first on a "take" that actually hits, we suggest you just get out now. All of these NFL mock drafts, and shows, and Tweets, and how you approach them is like so many things… what is important is how it reflects on you. Most of this is "comfort in the herd" mentality, narratives, repeating what you hear without thinking, personal bias, and pandering. We urge you to try to do what we have always tried to do… find trusted sources that have been reliable over the years, understand trends, do your own research, and most importantly… don't ever just follow what the masses think. Find your voice and have integrity with what you put out there. The NFL draft "world" use to be just a silly, harmless distraction, and a fun community, but, like most things nowadays, has just turned into idiotic groupthink.
We hope that people thinking of getting into mock drafts get out of that concept. There needs to be new concepts with how the NFL draft is talked about during most of the year. Endless mock drafts, big boards, and prospect rankings are not the answer. Perhaps someone reading this will lead the way and come up with something that challenges readers more. We are working on it as well. Until then, enjoy our last mock of the year:
1. Jacksonville Jaguars
Travon Walker, DE, Georgia
2. Detroit Lions
Aidan Hutchinson, DE, Michigan
No, the Lions aren't "running this up to the podium. Yes, Aidan Hutchinson is an excellent prospect, but Kayvon Thibodeaux and Jermain Johnson II will be strongly considered here and are superb prospects. None of the edge rush prospects in this year stand out as much as a Chase Young or Bosa, so this pick comes down to the Lions' value system. The interesting thing about this slot is that one of three prospects will land here, and the other two could slide a bit due to team needs ahead.
3. Houston Texans
Ikem Ekwonu, OT, NC State
The Texans don't have as big of a need at tackle as some of the other teams in the top 10, but this is a rare opportunity for them to put together an exceptional offensive line. Ekwonu can start at guard or right tackle and they can figure things out from there.
4. New York Jets
Kayvon Thibodeaux, DE, Oregon
Kayvon Thibodeaux might very well be the most talented player in this draft. He did not give good effort the last several games of the season and THAT is why and when his stock started to drop in the mock draft world. After that, there were some grumbles about some things he has said. To be very clear here… the things he said came weeks, even months after the concerns arose by people that actually watch college football and were concerned over his last few games. Check the schedule of Oregon. Look up the last few games. Now try to find highlight video clips of those games. Even better if you can find the full games somewhere.
Let's clarify the timeline here, so we are not caught in false narratives that most NFL draft coverage is in:
He was injured very early in the year
His effort was excellent WHILE being injured for most of the year
About 4 games left in the season, without any event other than learning that his coach was leaving, his effort greatly reduced. We watched three of these games primarily watching him. Re-watch the Pac 12 championship game if you can. All you see is Lloyd from Utah jump out of the screen. Thibodeaux was a non factor, play in and play out.
THIS is when his draft stock started to drop in the NFL media world
Later, reports of bad interviewing and unfortunate remarks came out. This was NEVER the impetus for him to drop down media generated draft boards
What is at play here with this prominent false-flag, straw-man argument that he is falling due to bad interviews. It is very clear- this is a typical framed up argument so that the meek fanboys that make up most of the "mock draft world" including many of the content producers on NFL shows make so that they can have an "Ok, Boomer" moment. It's lazy, and it's another example of how draft coverage is eroding rapidly in quality.
The Jets have Lawson coming back, but after that have big concerns over edge rushers with a defensive scheme that likes to roll 4 guys throughout the game.
5. New York Giants
Evan Neal, OT, Alabama
The Giants must just be sitting back and hoping that one of the top tackles fall for them here. Even if the top two higher profile guys go before here, Cross would still be an excellent pick. The Giants have had dreadful coaching of their offensive line the last few years, so many of their problems there might simply be due to how they have been coached and schemed. Regardless, they could use a tackle that could help just stabilize this position. Perhaps then they can see what their QB and RB can do.
6. Carolina Panthers
Kenny Pickett, QB, Pittsburgh
Very, very important note here before going in on Pickett vs Willis. Almost every mock draft you will read is based on writers, that when it comes to prospects outside of the major programs, watch YouTube highlight clips and not the games.
Facts that you will discover here and that you can check out on your own:
Willis was not good in 2021. By any metric
Willis was on an excellent trajectory after 2020 season, but then took 10-1 team to 8-5 team
Pickett fumbled 4 LESS times than Willis over the last two years
Willis' last year stats are drastically worse than Zach Wilson, Russell Wilson, Justin Fields, Patrick Mahomes, Trey Lance, etc. Those are lazy comparisons. Google it yourself.
The QB before Willis at Liberty had same head coach, same scheme, and…. better stats.
Pickett re-wrote ACC record books and broke records at Pitt held by… Dan Marino.
Major Network programs and analysts when it comes to the draft are more often than not wrong on QB evaluations due to need to follow "narratives" (you can do a trick and take that analyst's name apply it to a past QB prospect) It is shocking how bad they are at it.
Superbowl winning quarterbacks far, far more often have these qualities: consistent, reliable, productive. Not "super traits".
As a little refresher on how complex playing QB, and how the evaluation process has nothing to do with cherry picked highlight clips, watch Peyton Manning break down a game of Mac Jones this year:
Next, when this card is turned in, and it is Pickett, and he is the first QB of the draft, watch the automatic "cognitive dissonance" of the lazy NFL mock draft world ignite. Two themes: 1) the Panthers don't know what they are doing 2) the NFL is racist. When it is in reality 1) almost everyone providing content for the NFL draft starts at their own biased conclusions and works backwards from there.
Ridiculously obvious point to make, that for some reason needs to be stated: YOU DRAFT QUARTERBACKS TO WIN SUPERBOWLS. Not win regular season awards, or to win your fantasy football league, or to make you seem "in" on the "future of football" or to give you street cred as enlightened. Superbowl winning quarterbacks read defenses, make progressions, move well IN the pocket, make pre and post snap reads, etc. Hyper mobility and hyper arm strength are traits that are almost completely irrelevant.
Just as a reminder, this was the general consensus in the NFL Draft media last year:
Bucky Brooks: 'I just don't see Mac Jones as a first-round talent'
Justin Fields got some criticism from someone on ESPN, and almost all of the draft world decided that Justin Fields was the next Tom Brady and that Mac Jones was a low talent product of his system. If you think that was an anomaly, you are wrong. Any criticism of Lamar Jackson and his inability to make reads and effectively pass outside the numbers was deemed racist. Josh Rosen was an enlightened and refreshing prospect that spoke the truth. Except, he was actually just a spoiled brat that happened to share the same political views of those in the media. The NFL draft world is simply filled with people that are very much removed from how teams actually scout players. There are very, very few voices out there that have integrity. If you want some confirmation on this analysis, look at your favorite NFL draft writer or host and Google their name + Justin Fields or Mac Jones or Josh Rosen or Josh Allen, etc. You won't be disappointed. Anyway, on to the pick that brings all of this up…
Head Coach Ruhle once recruited Pickett to be his QB at Temple. The owner of the Panthers is from Pittsburgh and did his undergrad at Pitt. Oh, and Kenny Pickett is leaps and bounds a better NFL prospect than the QB prospect darling of the year, Malik Willis. This is similar to the way that Justin Fields was last year over Mac Jones, Josh Rosen was for different reasons several years ago, and in that same year, the way analytics sites drooled over Baker Mayfield.
To start off why Pickett should and probably will be drafted before Willis, you will need to almost completely ignore what you hear in the "NFL Draft Community". It has developed its own culture that follows false logic and has quite the mob mentality. Here is the logic course you should follow:
NFL teams draft Quarterbacks for one reason: To win Superbowls.
Superbowl winning quarterbacks have a very reliable set of common traits: read defenses, get the ball where it needs to go at all three levels of the field, be accurate, don't make mistakes.
Kenny Pickett is very, very good at the traits that Superbowl winning quarterbacks share. He is consistently, reliably effective.
Malik Willis is not very good at the traits that Superbowl winning quarterbacks share. He has two elite tools: arm strength, and mobility.
If you believe in the concept of "future of football", just know that has been going on for over a decade.
QB's like Malik Willis, Baker Mayfield, Sam Darnold, and yes, you can throw in Lamar Jackson have one thing in common- the inability to quickly and effectively read defenses and getting the ball to the right receiver. No matter how prodigous your level of talent is with certain elements of being a QB, if you can't do that, you won't go far in the playoffs and will never win a Superbowl.
If you surmise that this is a black/white thing, it is not. We have been proponents, of, and higher in rankings and mock drafts on Watson, Mahomes, Wilson.
There is some Malik Willis euphoria and Kenny Pickett dismissing going on in the draft media world, but don't get fooled, these two prospects are a long ways apart. The laziest take is that Willis has the "higher ceiling". That is illogical. Being an NFL QB means being able to make throws to all three levels with accuracy, timing, and touch. You have to read defenses, make pre and post snap reads, and go through progressions. Pickett does all of these things beautifully and put together a year similar to what Burrow and Jones did. Willis is a scrambler that bails on the pocket at the first sign of distress. Someone will take him in the first round, but he is just another run-first athlete that has very little in discernable NFL QB skills.
For the Malik Willis fan club, let's review some data:
2021 Kenny Pickett Stats: 4,319 Yards / 42 TDs / 7 INTs / 67.2% Completion Rate / 165.3 Rating.
2021 Malik Willis Stats: 2,857 Yards / 27 TDs / 12 INTs / 61.1% Completion Rate / 151.1 Rating.
Fumbles in 2021: Willis and Pickett tied at 3. Fumbles in 2020: Willis had 11, Picket 7 *this is a false narrative going around that Pickett's small hands cause him to have a fumbling problem at Pitt, and I bet none of you reading this knew that Willis actually fumbled 4 more times than Pickett over the last 2 years.
Senior Bowl: Kenny Pickett- 6 for 6. 89 Yards. 14.8 Avg. 1 TD, 0 INT.
Senior Bowl: Malik Willis- 2 for 4. 11 Yards. 2.8 Avg. 0 TDs 0 INT.
One of those prospects re-wrote the ACC record books. The other had a "meh" season as an FBS Independent. For some perspective, Liberty is joining Conf USA in 2023. They have 12 teams. Willis would have placed 8th in that conference this year in completion percentage. Anyway, they both played in the Senior Bowl. One was perfect. The other was 2 for 4 for 11 yards. If you don't think there are major, major issues on how the media hypes certain prospects in the NFL draft, you are living on Mars.
Combine: Malik Willis sailed two passes over a wide receiver simply running down the field and vs air. Kenny Pickett was perfect. In fact, Pickett did not let the ball hit the ground in the Senior Bowl or the Combine. You can find a video for each of them showing all of their throws at the Combine. I would wager that anyone that actually didn't watch the Combine and just get info from the main networks thought Willis was perfect on all of his throws and Pickett was just blah. In fact, Willis threw some nice passes but sailed two and was off on several others, even at short range. Pickett threw beautifully and had no incompletions.
Also, you have all probably seen the extremely convenient and perfectly framed and timed video of Willis giving money to a homeless man? Fair enough, he seems like a good kid. Did anyone also hear that Kenny Pickett gave all of his NIL money to charities and to people in need right from the start?
More shadiness: did you know that the NFL got rid of the Wonderlic tests this year at the Combine? Teams can work out on their own for a prospect to take it. Every year previous to this, you can find most of the main prospects' Wonderlic scores even before the Combine is done. Try to find that this year. You will find just one score, reported by only one reporter: Ian Rapoport reported that Willis scored a 32. Remember, this is not a part of the Combine anymore, that is an agent, picking up the phone to a trusted reporter that counts on him for scoops. No other player has a reported Wonderlic score, and no other reporter announced Willis' score.
If you are wondering how so many national and local NFL media types have Willis as the top prospect (due to the infamous "upside" moniker), research each of their names and search on how they viewed Mac Jones, Justin Fields, Patrick Mahomes, Josh Allen, etc. You will get your answer there on how lazy the mob mentality is with the NFL draft world.
To review, remember these criticisms of QB prospects that were absolutely lambasted as racist, or biased, or whatever lazy dig by the NFL media mob:
Josh Rosen has personality problems
Kyler Murray can be distant, has issues with teammates and immature
Lamar Jackson can't process defenses well, doesn't go through progressions well and not accurate outside the numbers (fine, he has a regular season MVP, but also has one of the lowest QB ratings of any QB in NFL history through 4 playoff games, and there are major signs defenses figured him out in regular season as well)
Baker Mayfield is a one-read QB that has a high completion % due to his pitch and catch offense at Oklahoma and can't process defenses well or go through progressions
Justin Fields can be immature and also doesn't read defenses well and doesn't go through progressions
If you think Mac Jones is a good prospect, you are not a good evaluator because he clearly is a product of a system
Quick note on match that is not discussed at all in 2022 NFL draft coverage: The Panthers brought in Ben McAdoo to be their new offensive coordinator. He is a died in the wool West Coast Offense offensive scheme guy. Kenny Pickett? A died in the wool West Coast Offense Quarterback.
There is a fairly important issue with Pickett's fundamentals, which has surprisingly not been pointed out during all of the draft talk. It is a bad habit, and one that can be corrected that should yield more arm strength. Below is a video of his highlights from last year. Highlight videos on YouTube are often misleading, but only watch this with each pass just before he releases. You golfers out there will notice something right away. Far too often he is leaning back and not driving the ball and shifting his weight toward the target. He was stunningly productive with this issue last year, but it is certainly something that will need to be corrected, and could yield an increase in ball velocity:
7. New York Giants (from Chicago)
Jermaine Johnson II, DE, Florida State
The Giants at 7 might very well have their choice of the top overall cornerback, safety or the generally considered 4th best edge rusher. It just doesn't seem feasible that Johnson would fall out of the top 10, whereas one of the top corners or the top safety could very well conceivably drop. Jermain Johnson II has been an under the radar "elite" prospect this entire draft season.
8. Atlanta Falcons
Matt Corral, QB, Ole Miss
Matt Corral is a totally forgotten prospect in this draft. Because he hasn't been around for much of the draft process, he hasn't been given much attention as a top QB prospect. But make no mistake, this is a guy that can make all the throws. He comes from a family of Marines, and is as tough as nails. His football character is through the roof and he is just starting to scratch the surface with his arm talent. He is a heck of a scrambler as well.
9. Seattle Seahawks (from Denver)
Charles Cross, OT, Mississippi State
There is a lot of push to put Malik Willis here, and he might very well land here… but don't make the comparisons with him and Russell Wilson when they both were coming out. Later in this mock, we list both of their stats from their last year in college. Russell Wilson was an elite passer in his last year, and let's just say Willis is no where close. Wilson is a true scrambler… he uses his legs only after the pass play breaks down, AFTER he has gone through the reads, or if the pocket breaks down. Willis very, very quickly decides to run. These are very important distinctions to make when evaluating QBs.
Anyway, getting an elite tackle here would be ideal. Yes, Cross is not mentioned as much as the other two tackle prospects, but he is elite. The Seahawks have had a difficult road with drafting offensive line prospects, but you have to keep trying.
10. New York Jets (from Seattle)
Ahmad "Sauce" Gardner, CB, Cincinnati
There was a time during the last few months where "Sauce" was considered as high as a top 2 pick, but after more analysis of prospect scarcity and a fairly high supply of excellent cornerbacks, him falling to 10 is quite reasonable. These two picks by the Jets could set up this defense for the next decade.
11. Washington Commanders
Garrett Wilson, WR, Ohio State
The Commanders need to get their offense going. They have a disgruntled WR and a lot of question marks behind that. Wentz is a big gamble, but he has talent. The defense just collapsed last year, but there is loads of talent there. CB would be tempting here, but one of the top WR's here is just too good to pass up on.
12. Minnesota Vikings
Derek Stingley Jr., CB, LSU
The Vikings are in a quasi-reboot, but nowhere near to what most people think would have taken place. They are moving on from a well established defensive minded coach, whose scheme and play calling might have just become too outdated to an innovative, young offensive minded head coach. They were a team defined by their secondary for years, but just missed on a few prospects in that group. They could use a young talent upgrade.
13. Houston Texans (from Cleveland)
Kyle Hamilton, S, Notre Dame
This pick seems like one of the more trade-able during the draft. Hamilton is one of the biggest wildcards in terms of projected draft position, and if he were still available here, you would have to think the Texans would have to think long and hard about any offers.
14. Baltimore Ravens
Devin Lloyd, ILB, Utah
There has never been a team that has been so close and yet so far from being a Superbowl team. This paradox is going to enhance as soon as they sign Lamar Jackson to a long term contract. Regular season MVP's, fantasy football stardum, and media adoration will continue to feed fans that aren't concerned with reality.
15. Philadelphia Eagles (from Miami)
Jordan Davis, DT, Georgia
15 is probably too low for Davis. The only thing that might keep him from going higher is the question of if he is an every down player. …and does that even matter? After a stellar year, he had one of the great combine workouts of all time.
16. New Orleans Saints (from Philadelphia)
Jameson Williams, WR, Alabama
The Saints, with the first pick they acquired from the Eagles get a much needed elite WR. They have to know they can't count on Thomas for sticking around for much longer.
17. Los Angeles Chargers
Trent McDuffie, CB, Washington
It is only one year, but the Chargers have improved greatly. They want to run the defense that the Rams did last year, and that means lots of good corners.
18. Philadelphia Eagles (from New Orleans)
Drake London, WR, USC
The Eagles, in a very deep WR class last year, moved up a few spots in the first round and grabbed DeVonta Smith. Now, Smith is a fine player, but they gave up a lot to move up to get him, and missed out on superstar Micah Parsons. But somehow, someway, year after year of these moves and Howie Roseman is still lauded by the media. It's baffling.
19. New Orleans Saints (from Philadelphia)
Daxton Hill, S, Michigan
The Saints lost their star left tackle in free agency, and that has to be a very serious consideration here. However, Daxton Hill might be the most under-rated player, at least in the mock draft world. In fact, Daxton Hill might very well be the best safety in this draft. We generally watched Michigan games for the two edge rushers, but went back as we read more and more that teams might be much higher on Hill than most think. After watching more games, Hill is simply remarkable and can be a true "super safety" that can do it all… cover all three areas in the passing game, cover both shifty and bigger receivers, and defend the run. If you are looking for a surprise on draft day, Hill may provide it.
20. Pittsburgh Steelers
Malik Willis, QB, Liberty
Malik Willis seems like a great human being, but what he is in the NFL draft world is "trait-bait". This is a player that isn't particularly good at his position, but has a secondary trait or two that blinds a large segment of the draft community into thinking he is something he is not. If you want to win a Superbowl, you need a QB that can read defenses, quickly process and get the ball where it needs to be accurately. And CONSISTENTLY. Willis does not possess any particular talent at doing these things. But… he can scramble and has a powerful arm.
We put Willis here a few weeks ago, and it seems like there is a general feeling out there in the mock draft world that this is a perfect fit for him. There is going to be a big part of a fan base next year that doesn't watch the Senior Bowl or watch Liberty games, but just gets tidbits from some sports writers/ hosts that are going to be very disappointed to find out the bona fide superstar QB they were promised is just not very good. The Steelers are in a weird place right now as a franchise, and can seem him landing here.
Malik Willis ranks in college football in 2021: Yards- 45th. TDs- 18th. RTG- 48th. Completion %- 73rd.
As a comparison, let's look at the QB before Willis at Liberty and compare him to Willis. That was someone named Stephen "Buckshot" Calvert (same amount of games, btw):
2021 Malik Willis Stats: 2,857 Yards / 27 TDs / 12 INTs / 61.1% Completion Rate / 151.1 Rating.
2019 Stephen Calvert Stats: 3,663 Yards / 28 TDs / 7 INTs / 57.8% Completion Rate / 147.4 Rating.
Buckshot went undrafted. He had more yards, more TDs, fewer INTs than Willis. Same scheme. Same coach. Obviously not saying he was better than Willis, but seriously, what are we doing here with this Willis mania?
A very common trope going around (especially when linking Willis to Seattle) is that Willis is just like Russell Wilson coming out. Umm… really:
Russell Wilson last year in college: Yards 3175 TD 33 INT 4 Completion %: 72.8 RTG: 191.8
Malik Wilson last year in college: Yards 2857 TD 27 INT 12 Completion %: 61.1 RTG: 151.1
What did Kenny Pickett do in comparison to previous QB's at Pitt (including Dan Marino)?
"Pickett finished his career as Pitt's all-time leader in passing yards (12,303), pass completions (1,045), total offense (13,112), touchdown responsibility (102) and passing touchdowns (81)…he has the most 300-yard passing games (16) and 400-yard passing games (five) in Pitt history…Pickett also had 20 career rushing touchdowns, a new standard for a Pitt quarterback…he finished as the winningest starting quarterback in Pitt history with 32 victories…in 49 career starts, Pickett fashioned a 32-17 record."
21. New England Patriots
Chris Olave, WR, Ohio State
A QB then WR in back to back years in the first round for the Patriots?
22. Green Bay Packers (from Las Vegas)
Treylon Burks, WR, Arkansas
The Packers can actually build a much more well rounded offense with draft assets and through free agency. Picking a WR in the first round will be a beaten down chestnut up until the draft, but it seems quite clear the Packers will have to go after one or two early in the draft.
23. Arizona Cardinals
George Karlaftis, Edge, Purdue
The Cardinals get a little youth with their pass rush with the Purdue edge rusher here. Despite what their delusional QB that gets bad advice says, the Cardinals have been adding all sorts of pieces for them to win now the last few years. They now are in a position where they need to get younger and cheaper at several positions.
24. Dallas Cowboys
Trevor Penning, OT, Northern Iowa
Say whatever you want about the skill position players on the Cowboys, this team operates and goes as the offensive line goes. They need depth here because when one of their key pieces goes out, they start to break down.
25. Buffalo Bills
Breece Hall, RB, Iowa State
Have seen this matching in several recent mock drafts, and it makes sense. The Bills are absolutely loaded from top to bottom, but they could take the biggest step forward by adding a true star at running back. The question is do they wait until the more reasonable next round, or just say screw it and go after the top RB on their board here?
26. Tennessee Titans
George Pickens, WR, Georgia
Tennessee seems to be the odd man out in the AFC after a wild free agency. They probably have to look at their QB position soon, and could consider one here if one they like falls. They could use some help in making their offense a little less one dimensional.
George Pickens is arguably the most talented all around wide receiver prospect in this draft. There are some injury and other concerns, which probably will keep him out of the first round, but his ceiling is through the roof.
27. Tampa Bay Buccaneers
Zion Johnson, OG, Boston College
The "all in" team is normally a moniker for 1 or 2 teams at most for the NFL draft. This year, there seems like a quarter of the league is in that category. That drastically changes how these teams draft. The Bucs lost both of their guards and so this is an opportunity for them to get one here and just hope he is ready for the show.
28. Green Bay Packers
Devonte Wyatt, DT, Georgia
This is the type of draft move that the Packers have been making year after year, but has been hidden due to the histrionics of their dramatic quarterback.
29. Kansas City Chiefs (from Miami)
Jahan Dotson, WR, Penn State
Kansas City traded away the Cheetah, and got a bounty of picks back and now have some salary cap relief. They can instantly pivot their team back to the future by getting younger and less expensive at several positions.
30. Kansas City Chiefs
Andrew Booth Jr., CB, Clemson
The Chiefs use their first pick this round to add a talented WR, but with their second pick they attack a need that has been persisting for some time- the secondary.
31. Cincinnati Bengals
Boye Mafe, Edge, Minnesota
The Bengals don't have a lot of needs that are super pressing, but this could even be another addition on the offensive line. However, as the draft falls, there should be excellent value on an edge rusher.
32. Detroit Lions (from LAR)
Nakobe Dean, LB, Georgia
The Detroit Lions have one primary goal for this draft: to find a linebacker to run their defense for the next decade. No, they can't address this with the second overall pick in the draft, but make no mistake, this is the singular focus of this team for this draft. Dean could fall here. They have met with him, and they would love it if this happens.