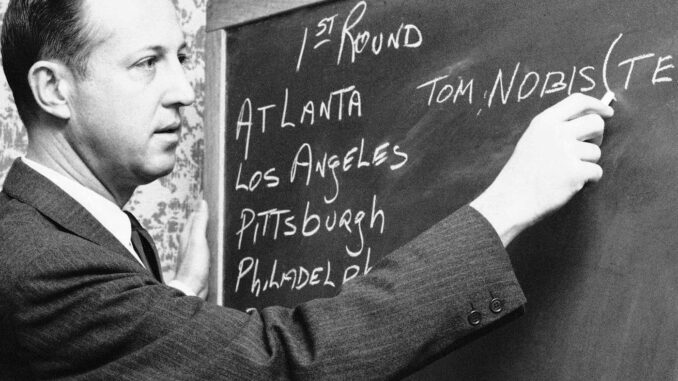 Updated January 12th, 2022
1. Jacksonville Jaguars
Evan Neal, OT, Alabama
The default here is to slot in the top edge rusher, but this is a deep class in that department. Even if the Jags pass on an edge rusher here, they can pick up an excellent one in the top of the next round, and it is not exactly their biggest need. Their biggest need happens to be one of the most value positions in the NFL in left tackle. Evan Neal is the clear cut top left tackle and should be a serious consideration if they keep the top pick.
2. Detroit Lions
Kayvon Thibodeaux, DE, Oregon
This pick might throw the draft into a little chaos. Goff has played well, but QB is going to be a consideration. The two elite edge rushers have their flaws, and are no Chase Young. Hutchinson should have a complicated draft process. His intangibles are superb, and interviews should be very well. However, he is going to be going head to head with Thibodeaux throughout the process, and Thibodeaux might just come on top as a the one with more upsided.
3. Houston Texans
Kenny Pickett, QB, Pittsburgh
The Texans should be intrigued by their rookie QB, and could get a QB in a trade for Watson. If this pick was made today in this scenario would be a toss up between a QB and Thibodeaux.
4. New York Jets
Aidan Hutchinson, OLB, Michigan
Hutchinson had a fair game vs. Georgia, but didn't stand out on tape. And no, he was not being chipped and double teamed on every play. Watched the game twice and focused almost exclusively on him, and that was not the case. One game doesn't make or break a prospect, but there are other games where he didn't pop as well. Many will scoff at considerations like arm length, but it is an incredibly reliable data point. This may seem like splitting hairs, but these are considerations that are simply there to determine how the top 5 prospects should fall.
5. New York Giants
Derek Stingley Jr., CB, LSU
Giants up again, and there are needs all around. If this works out similar to how it is now, they can wait and stay true to their board. The top corner on the draft would be a great get here.
6. Carolina Panthers
Charles Cross, OT, Mississippi State
Perhaps a QB here? Ownership has to have doubts creeping in about their hire of the exuberant college coach as the QB fails keep stacking up. This should be a prove it year for all of the coaches, and that means it is just too late to fix the QB position through the draft. Get an exceptional offensive line prospect and hope the new OC can stabilize the offense.
7. New York Giants (from Chicago)
Matt Corral, QB, Ole Miss
The Giants have a huge decision to make here. They will probably be a new GM, possibly a new HC (but probably not) and will have a different OC than he started with the last few years. With two top ten picks, a QB has to be a serious considertation.
8. Atlanta Falcons
Kyle Hamilton, S, Notre Dame
The Falcons would love to have a prospect like Hamilton fall to them here, but QB might be a serious consideration here.
9. Denver Broncos
Desmond Ridder, QB, Cincinnati
You have to think that Aaron Rodgers is going to land in Denver or New Orleans next year. As that is impossible to project, let's assume they will draft a QB with their first pick.
10. New York Jets (from Seattle)
Nakobe Dean, ILB, Georgia
This would be an excruciating decision for the Jets in this draft order. There are a few legit options here that are sexier, but Dean is a player that can change a defense from day one. He can play in all four directions, and do it all for this defense, and can be groomed to be the defensive leader. Dean might end up being the defensive player in this draft.
11. Washington Football Team
Carson Strong, QB, Nevada
The WFT has a scrappy QB that is doing quite well, so they might not want to go QB here. Strong should be a riser in the mock draft world as people catch up on his story. He carried Nevada on a bum knee, and that will have to pass the medicals. If so, don't be surprised if he is a top 10 pick.
12. Minnesota Vikings
Andrew Booth Jr., CB, Clemson
The Vikings do have some young talent in the secondary, but they have to keep adding talent here. This defense is built upon the secondary.
13. Cleveland Browns
Ahmad Gardner, CB, Cincinnati
The Browns could use a WR, but like the last few drafts, there are plenty of them to be found throughout the draft. Their secondary could use some help, and QB could be a sneaky possibility here.
14. Baltimore Ravens
Ikem Ekwonu, OG/OT, NC State
The Ravens play a unique offense, and it requires an absolutely dominant offensive line for it to have a chance to work. Trading away your best players at that position probably has not been the best idea.
15. Philadelphia Eagles (from Miami)
George Karlaftis, DE, Purdue
There was a joke about one of the new passenger airlines years ago that it was so advanced that all you needed was a pilot and a dog… the pilot to start the plane and the dog to bite the pilot if he touches anything for the rest of the flight. The Eagles need that for this draft. If they can stay disciplined, they can build this team by not being tempted by fun skill position players with their first two picks.
16. Philadelphia Eagles (from Indianapolis)
Garrett Wilson, WR, Ohio State
Ok, if the Eagles start the draft with core players, they should be allowed to go after a skill position here.
17. Los Angeles Chargers
Roger McCreary, CB, Auburn
It is only one year, but the Chargers have improved greatly. They want to run the defense that the Rams did last year, and that means lots of good corners.
18. New Orleans Saints
DeMarvin Leal, DE, Texas A&M
This pick is contingent on the Saints either sticking with Winston, or landing Rodgers in free agency next year. Their defense is becoming a big issue, and it wasn't thought of to be an issue going into the season. At least not to this degree.
19. Philadelphia Eagles
Devin Lloyd, ILB, Utah
When Lloyd met Thibodeaux in their final game of the season, most people were turned in to watch Thibodeaux, only to see the revelation of Lloyd for Utah. If the Eagles could get a combo like is laid out here, they would have the foundation of what could become a top NFL defense.
20. Pittsburgh Steelers
Sam Howell, QB, North Carolina
The Steelers and a QB is a perfect match, but if they keep winning, is the one they want going to be here?
21. New England Patriots
Jahan Dotson, WR, Penn State
A QB then WR in back to back years in the first round for the Patriots?
22. Miami Dolphins (from San Francisco)
Drake London, WR, USC
Tua could be there to stay, and this is a different Miami team than the last time this mock was updated. They are at their best when they build through the draft, and need to sit out free agency next year and just add talent around their young QB.
23. Las Vegas Raiders
Jameson Williams, WR, Alabama
No one could imagine the nightmare of a year the Raiders are enduring. Now that Gruden is gone, it will be interesting to see if it was he, or Mayock that was primarily responsible for their awful drafting the last few years. Williams will probably not last until year, but a WR overall is a very strong possibility.
24. Arizona Cardinals
David Ojabo, OLB, Michigan
The Cardinals are playing excellent football, but have some age at key positions.
25. Cincinnati Bengals
Tyler Linderbaum, OG/C, Iowa
The Bengals have kept their young QB relatively healthy, but he has been sacked a lot and all of the extra things they do to keep him upright shouldn't be a long term solution.
26. Buffalo Bills
Kaiir Elam, CB, Florida
It looks like the Bills have started to get into light boxes and in quarters coverage, but probably don't have all of the secondary talent that they need to run this defense.
27. Detroit Lions (from LAR)
Chris Olave, WR, Ohio State
With Goff playing well, the Lions will probably sit out the QB position for this draft. That has been a surprise. They probably would prefer to wait on WR just because there are so many to be had throughout the draft, but if a talent like Olave falls to them, they would have to seriously consider it.
28. Dallas Cowboys
Trevor Penning, OT, Northern Iowa
Say whatever you want about the skill position players on the Cowboys, this team operates and goes as the offensive line goes. They need depth here because when one of their key pieces goes out, they start to break down.
29. Kansas City Chiefs
Nicholas Petit-Frere, OT, Ohio State
The Chiefs new offensive line was awful, and then pretty good, and then really good this year. It is slapped together, and needs a key piece in place to develop.
30. Tampa Bay Buccaneers
Trent McDuffie, CB, Washington
The Bucs will keep going all in until it all crashes down, and why wouldn't they? They can just sit and get the best overall player available.
31. Tennessee Titans
Jordan Davis, DT, Georgia
Davis could go much higher than this as he is an absolutely game wrecker on defense. The problem some teams might have with taking him as high as the top 10 is that he is pretty much a two down DT that also needs to sit out series here and there to stay fresh. Look for a legit contender to add him in the back of the first round and for him to be proclaimed the steal of the draft as his career moves on.
32. Green Bay Packers
Treylon Burks, WR, Arkansas
Rodgers will surely be gone, and so they can move on and build their team without all of the whining and Northern California fake enlightenment nonsense.