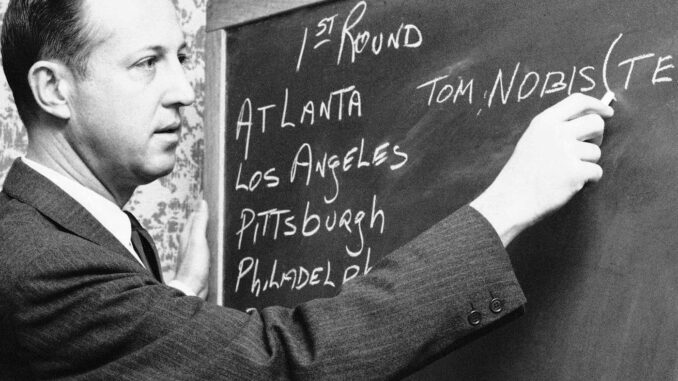 Updated December 7
1. Detroit Lions
Kenny Pickett, QB, Pittsburgh
It's about the quarterbacks, stupid. No, this is not a down year for college QB's coming into the draft, it is simply that time of year when the big network draft experts haven't "blessed" a few of the top QB's, so the herd hasn't caught up yet with how the NFL draft works. Kenny Pickett is a better NFL draft prospect than most prospects coming out in the last 5 years. He has a ton of starts, reads defenses, goes through progressions like a pro, has superb footwork and pocket presence, makes accurate and powerful throws to all levels, is smart, has off the charts football character, has the prototypical physical build, etc. etc. Problem is that he doesn't play in a wide open spread offense at one of the super elite QB schools with inflated offensive numbers due to scheme and talent around him. Lock it in.
*Almost every analyst on every sports network that covered the draft last year whiffed on their Mac Jones evaluation. Enjoy the ride as they make all of the same mistakes on Kenny Pickett
2. Jacksonville Jaguars
Evan Neal, OT, Alabama
Need meets value here as the Jaguars set their left tackle position up for years to come after a long time of being it a need. Pass rusher here will, of course, be of consideration.
3. Houston Texans
Matt Corral, QB, Ole Miss
With a mega-trade looming, the Texans should be stacked with draft picks this year. Will a QB be a part of that trade? Is there mid round QB pick from last year a potential franchise QB?
4. New York Jets
Aidan Hutchinson, DE, Michigan
Let's be clear here- neither Hutchinson nor Thibodeaux are Chase Young. Both have had excellent seasons, but neither can be seen as the "generational talent" as an edge rusher. Also, the concept of supply and demand kicks in here with a very deep and talented edge rusher class. Still, Hutchinson plays with an exceptional motor and is very well polished in terms of technique. The Jets would take a big step forward if Hutchinson fell to them here.
5. New York Jets (from Seattle)
Derek Stingley Jr., CB, LSU
The Jets could really improve their team in this draft with probable multiple top 10 picks. This is where you concentrate on just getting the best player that falls as long as reasonably aligned with your needs.
6. New York Giants (from Chicago)
Kayvon Thibodeaux, OLB, Oregon
Thibodeaux has been locked in as the top pick on most mock drafts through most of the season. He has all of the talent and physical characteristics you want in an edge rusher. However, there are too many games and too many times within games he simply looks average. Watching the last few games of the season you can see a player that does not look like a first round pick, let alone the top pick. But… there is enough elite level tape on him, plus he will test off the charts during the draft process which will make him an easy top 10 pick in the draft.
7. New York Giants
Kyle Hamilton, S, Notre Dame
It would involved a lot of assumptions to know how the Giants will pursue the offseason, so to be safe, let's assume they will work on adding talent to their defense, while fixing scheme and approach on offense.
8. Atlanta Falcons
Nakobe Dean, ILB, Georgia
What is going on with Ridley? Could the Falcons actually maybe need a WR? Let's put that aside and do something to shore up their woeful defense.
9. Carolina Panthers
Carson Strong, QB, Nevada
As predicted by this last mock draft, the Panthers figured out that their OC was a huge problem with their offense. Perhaps a new OC can fix their output at QB, but to be safe, let's consider a QB here. It is highly doubtful that most mock drafts that you will see involve people that actually have taken the time to watch Strong play this season, but for ones that have you will see him mocked as a top 15 pick.
10. Minnesota Vikings
Devin Lloyd, ILB, Utah
Lloyd absolutely outshined Thibodeaux in the PAC 12 championship game. This guy can instantly reshape a defense, and his leadership is off the charts. This could be the player that rejuvenates the Vikings' defense.
11. New Orleans Saints
DeMarvin Leal, DE, Texas A&M
This pick is contingent on the Saints either sticking with Winston, or landing Rodgers in free agency next year. Their defense is becoming a big issue, and it wasn't thought of to be an issue going into the season. At least not to this degree.
12. Philadelphia Eagles
George Karlaftis, DE, Purdue
It would be impressive to see if the Eagles can just stay disciplined and not reach for any "toys" with their three first round picks. They can instantly make both lines elite with a focused draft.
13. Philadelphia Eagles (from Miami)
Charles Cross, OT, Mississippi State
The Eagles' offensive line has come together, but with several first round picks, they can afford to splurge here on an elite and versatile talent.
14. Denver Broncos
Sam Howell, QB, North Carolina
You have to think that Aaron Rodgers is going to land in Denver or New Orleans next year. As that is impossible to project, let's assume they will draft a QB with their first pick.
15. Las Vegas Raiders
Jameson Williams, WR, Alabama
No one could imagine the nightmare of a year the Raiders are enduring. Now that Gruden is gone, it will be interesting to see if it was he, or Mayock that was primarily responsible for their awful drafting the last few years.
16. Cleveland Browns
Roger McCreary, CB, Auburn
The Browns could use a WR, but like the last few drafts, there are plenty of them to be found throughout the draft. Their secondary could use some help, and QB could be a sneaky possibility here.
17. Philadelphia Eagles (from Indianapolis)
Chris Olave, WR, Ohio State
Well, at some point with three first rounders you have to think the Eagles are going to go after a "fun" position.
18. Pittsburgh Steelers
Garrett Wilson, WR, Ohio State
The Steelers need a QB, and that has to be a serious possibility for them here. However, let's assume they find a quality QB in free agency (Minshew?) and use the draft to add talent around him, while they win games with their defense.
19. Miami Dolphins (from San Francisco)
Jahan Dotson, WR, Penn State
Tua could be there to stay, and this is a different Miami team than the last time this mock was updated. They are at their best when they build through the draft, and need to sit out free agency next year and just add talent around their young QB.
20. Washington Football Team
Malik Willis, QB, Liberty
The WFT has a scrappy QB that is doing quite well, so they might not want to go QB here. Many mocks have Willis going much higher, but we have concerns about his decision making. This could very well due to scheme and coaching and he could be a huge wildcard in the NFL with low floor and very high ceiling.
21. Buffalo Bills
Kaiir Elam, CB, Florida
It looks like the Bills have started to get into light boxes and in quarters coverage, but probably don't have all of the secondary talent that they need to run this defense.
22. Cincinnati Bengals
Ikem Ekwonu, OG/OT, NC State
It was only a matter of time until the Bengals lack of talent on the O-line would bite them. Now they can get an excellent key piece to help protect their franchise QB.
23. Los Angeles Chargers
Ahmad Gardner, CB, Cincinnati
It is only one year, but the Chargers have improved greatly. They want to run the defense that the Rams did last year, and that means lots of good corners.
24. Detroit Lions (from LAR)
David Ojabo, OLB, Michigan
Lions fans will be screaming from the rooftops for a WR here, but they will probably have the top pick in the next round with plenty of elite WR prospects to select from. This team needs to continue to build their pass rush and secondary. Look for them to add a WR in free agency, draft one, and let their existing core fill out the rest of the WR group.
25. Dallas Cowboys
Tyler Linderbaum, OG/C, Iowa
Say whatever you want about the skill position players on the Cowboys, this team operates and goes as the offensive line goes. They need depth here because when one of their key pieces goes out, they start to break down.
26. Kansas City Chiefs
Nicholas Petit-Frere, OT, Ohio State
The Chiefs new offensive line was awful, and then pretty good, and then really good this year. It is slapped together, and needs a key piece in place to develop.
27. Baltimore Ravens
Jaquan Brisker, S, Penn State
Maybe after this year the Ravens and people in the media will see that the WRs themselves aren't the problem with their passing game.
28. Tampa Bay Buccaneers
Trent McDuffie, CB, Washington
The Bucs will keep going all in until it all crashes down, and why wouldn't they? They can just sit and get the best overall player available.
29. Tennessee Titans
Jordan Davis, DT, Georgia
Davis could go much higher than this as he is an absolutely game wrecker on defense. The problem some teams might have with taking him as high as the top 10 is that he is pretty much a two down DT that also needs to sit out series here and there to stay fresh. Look for a legit contender to add him in the back of the first round and for him to be proclaimed the steal of the draft as his career moves on.
30. Green Bay Packers
Kenyon Green, OL, Texas A&M
Rodgers will surely be gone, and so they can move on and build their team without all of the whining and Northern California fake enlightenment nonsense.
31. New England Patriots
Drake London, WR, USC
A QB then WR in back to back years in the first round for the Patriots?
32. Arizona Cardinals
Daniel Faalele, OT, Minnesota
The Cardinals are playing excellent football, but have some age at key positions.