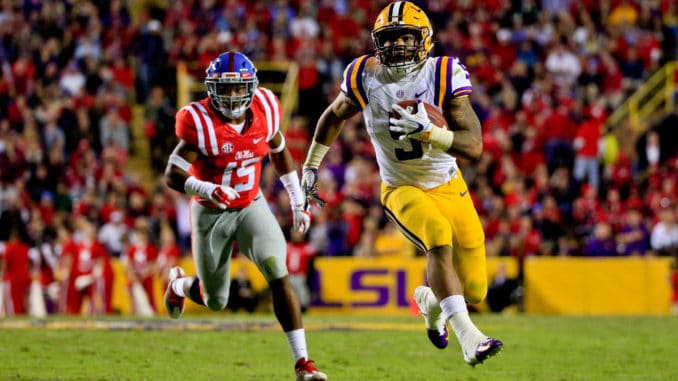 Top 10 Prospects to Watch at the NFL Combine
To be clear, this is the top 10 prospects to WATCH at the NFL Combine. There is a lot of activity going on behind the scenes that is going to be critical to the future of many prospects, but that info slowly leaks out after the event. This is about performances on the field. Note: there are no quarterbacks in this list. Here is our list of the 10 prospects that we are most interested in seeing perform:
Courtland Sutton, WR, SMU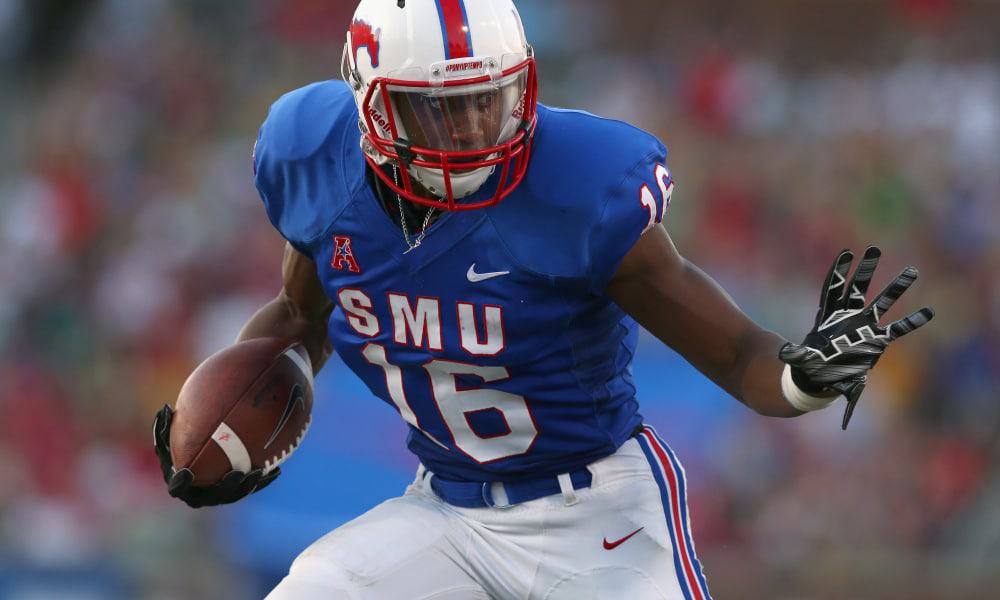 The recent history for first round wide receivers has been, in general, a disappointment. Prospects are not coming out prepared enough in terms of the where they need to be in pro style systems. Furthermore, with the spread offense continuing to gain momentum at the college level, there is a plethora of wide receivers coming into the draft each year. Because of supply and demand, teams can simply wait until mid rounds and get a quality receiver. What is the rare is the true X receiver, elite prospect. Yes, there is a grouping of some excellent wide receivers prospects at the top of this draft: Calvin Ridley, James Washington, Christian Kirk, Dante Pettis, D.J. Chark, etc., but perhaps Courtland Sutton is the truly unique prospect. There are some questioning his initial burst, and how he has performed against top corners. The combine will be his first opportunity to show that he deserves to be considered a different type of prospect than the rest of the group.
Arden Key, DE, LSU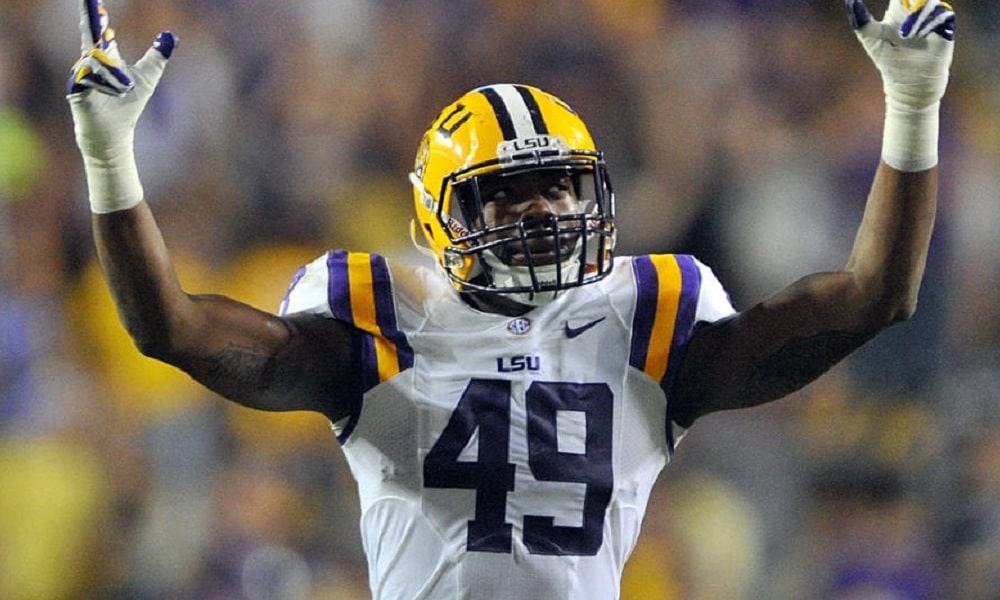 Throughout the college season, Arden Key had been considered a viable candidate for the top overall pick in the draft. He is overcoming a considerable bump in the road, where he left football for a time. This is not a deep class for true elite level defensive ends, and Bradley Chubb has deservedly ascended to the top of the list. However, perhaps no other prospect has the physical skills that Arden Key possesses. There were flashes of this ability during the season, but scouts would like to see more. If he can showcase his potential at the combine, particularly with explosiveness, he can get back into first round consideration.
Desmond Harrison, OT, West Georgia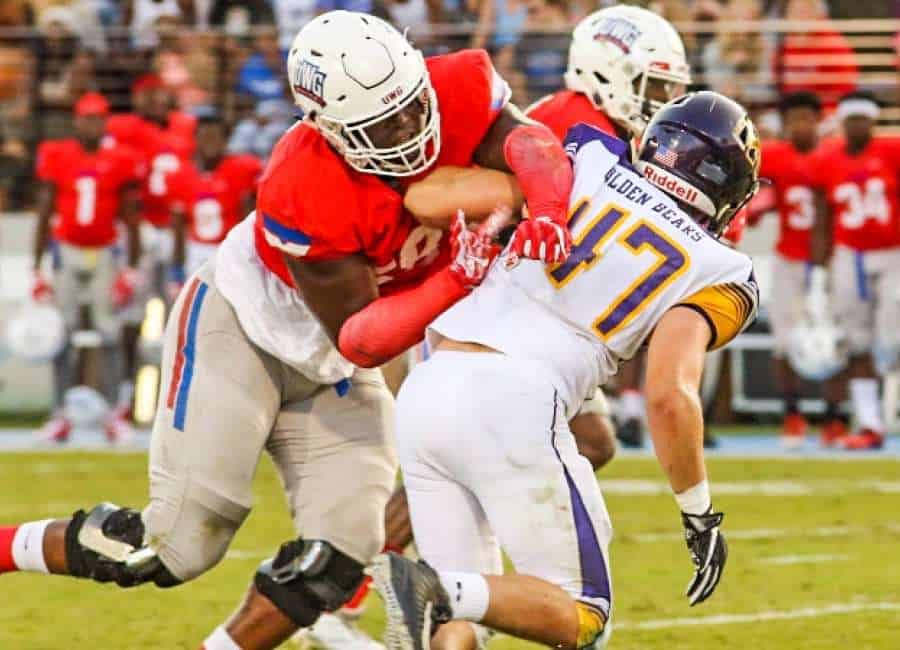 This is a much better left offensive tackle class than last year, but there is definitely debate on the order of the top 5 prospects. Among the bunching of top tackle prospects is Desmond Harrison, a player that bounced around schools and finally found a home at Division II West Georgia. The tape appears to show the most dominant and physically gifted tackle prospect available for the draft, but against competition that makes it difficult to judge correctly. The combine is going to allow him to compete on an even playing field.
Vita Vea, DT, Washington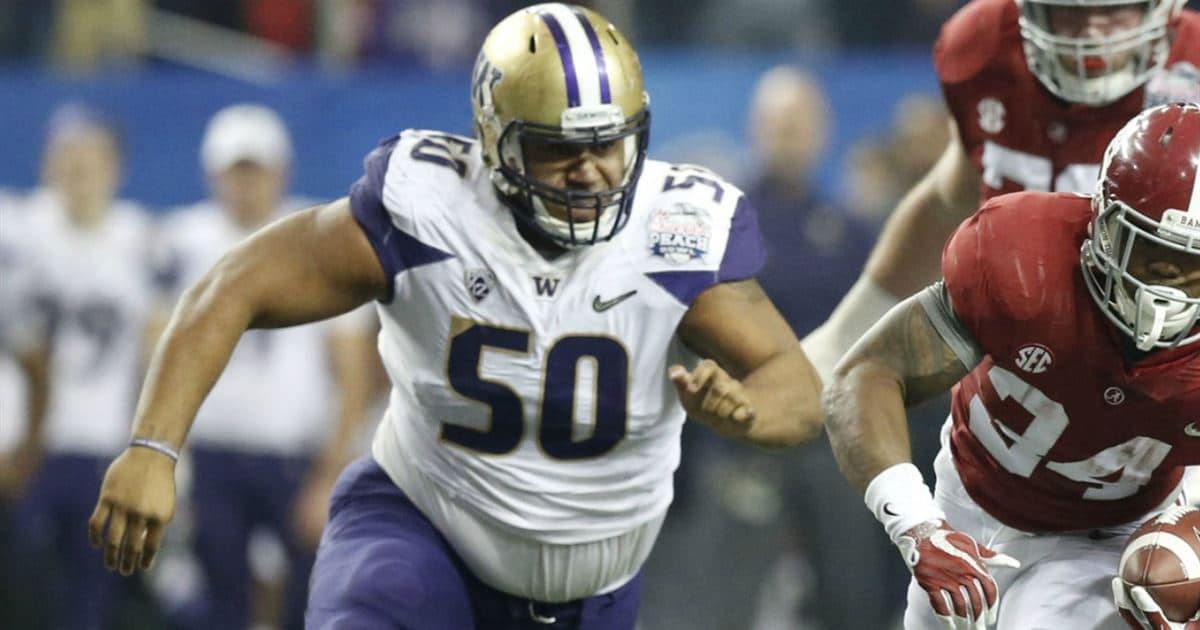 We describe Vita Vea as a potential Vince Wilfork in a New England style defense, but the fact of the matter is that he can fit in any type of defensive scheme. Built like a traditional 2-gap, anchor-type nose tackle, that is what you are expecting when you start any game film. Then, as you watch, you see a very athletic, high motor, penetrating tackle with explosive moves off of the snap that is always in the backfield. Can a defensive tackle his size really move into the top 10 of the upcoming draft? The combine could very well validate the high-grade that many are giving him.
Dallas Goedert, TE, South Dakota State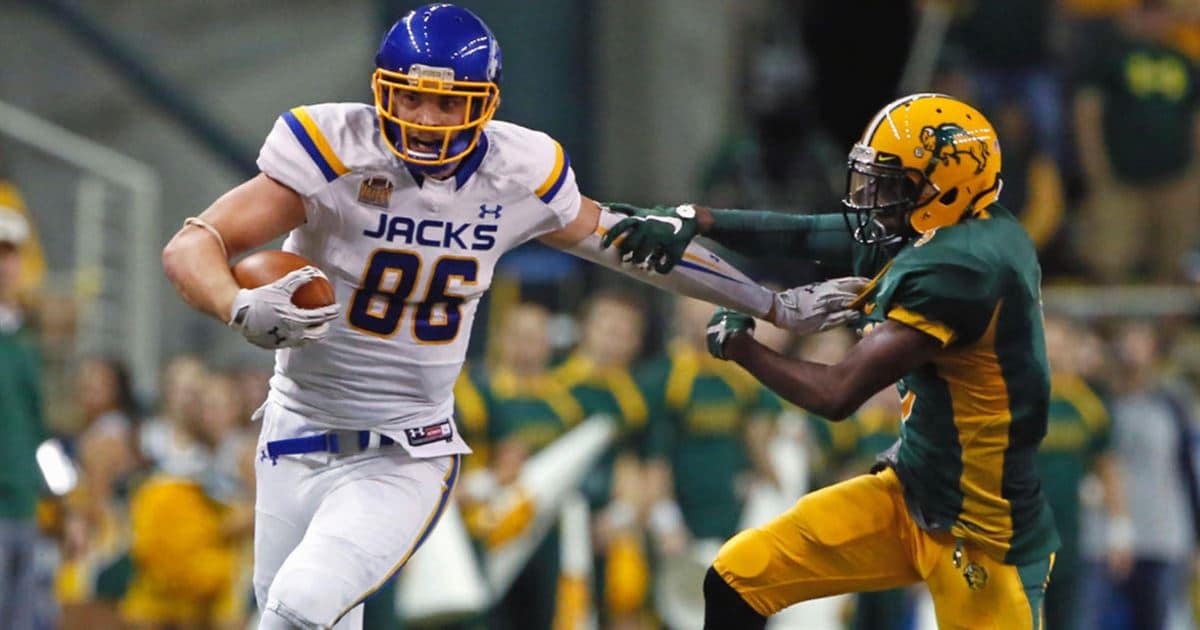 Since the start of this year's draft process, Dallas Goedert has been at, or near the top of most prospect rankings for tight ends. He is exactly what many NFL teams are looking for- a "move" tight end that can cause major matchup problems for nickel corners and linebackers. His game film backed up those lofty expectations, but there is still the one concern that needs to be overcome- the level of competition that he was playing against. The combine is going to be an excellent first step to show what he can do when all variables are equalized.
Hayden Hurst, TE, South Carolina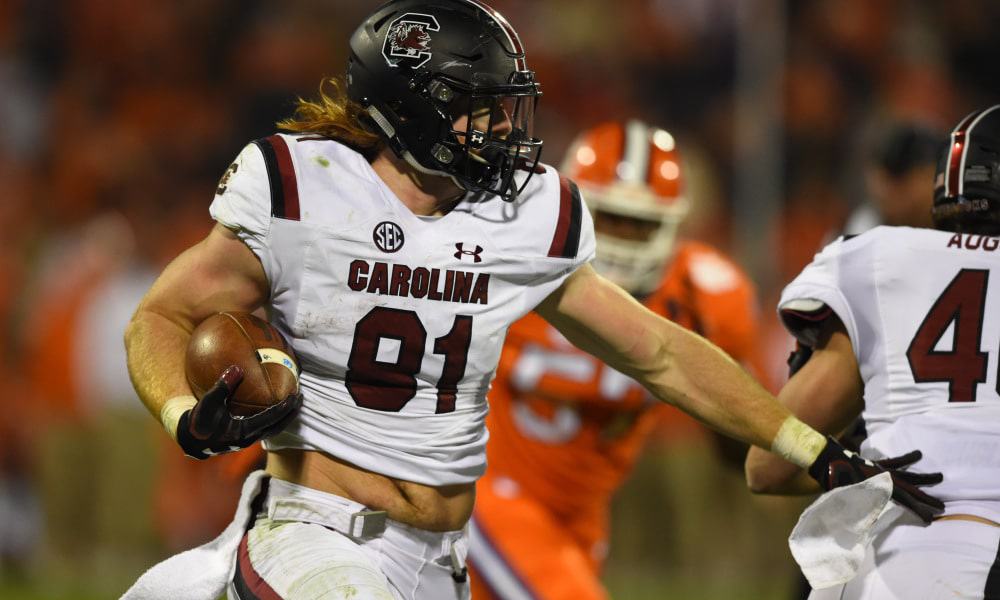 As feisty as Hayden Hurst appears to play on the field, such can be described his move up draft boards. Week by week he has made inroads to near the top of prospect rankings for tight ends. An ex minor league baseball player, Hurst has an unbridled competitive spirit, along with some extra experience in life and in the world of pro sports that other prospects don't possess. Mark Andrews could still have a chance at being the top TE taken, but the combine should make this a neck and neck race between Hurst and Goedert.
Chad Thomas, DE, Miami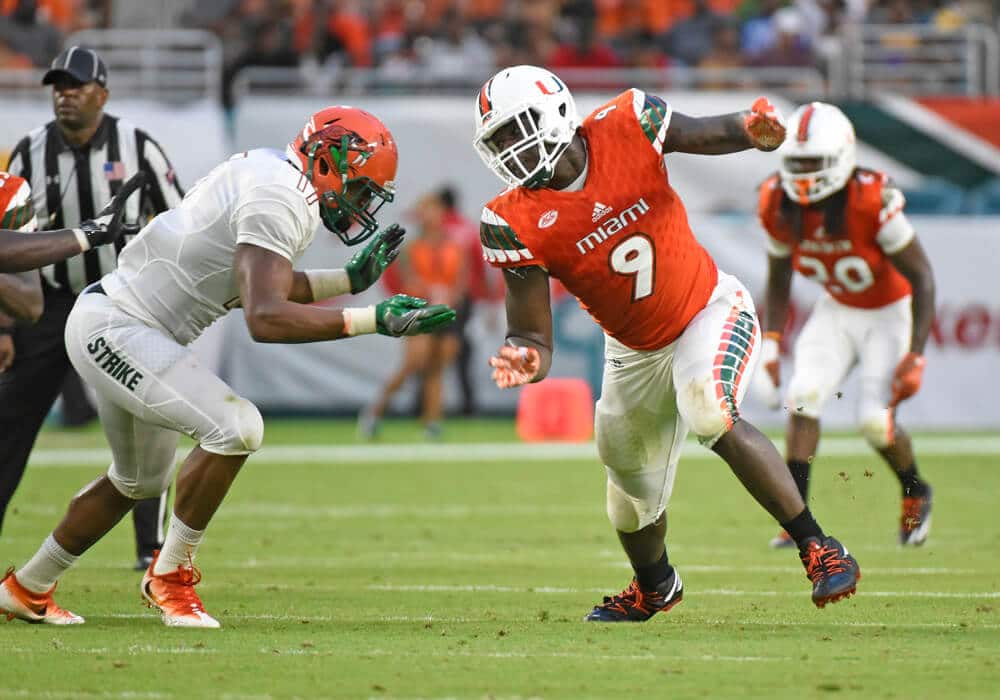 If you cut up a highlights tape of Chad Thomas, you could paint the picture of being one of the top defensive end prospects in this draft, if not the top prospect. The issue has been consistency. Even within the same game, he can look dominant on some plays, and appears lost on many others. Perhaps no other on the field concern is more "sticky" than a poor play to play motor for defensive ends. It just never seems to get corrected at the next level. Regardless, Thomas can show his elite athleticism and explosiveness at the combine, in hopes that a team will draft him at a point in the draft based on his potential.
Uchenna Nwosu, OLB, USC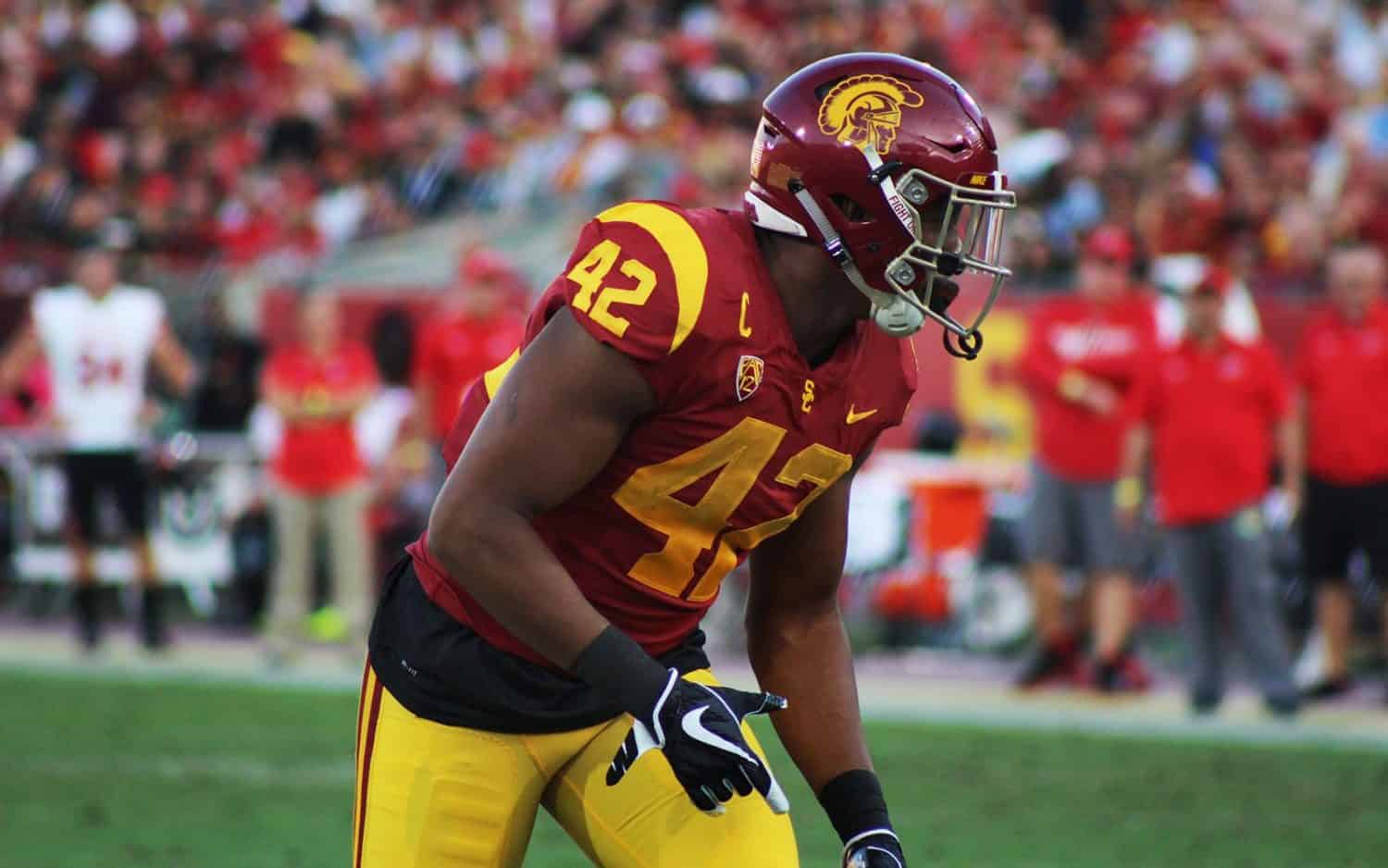 Uchenna Nwosu is, in essence, a symbol of the most valuable on the field component of the combine – sorting out linebackers. Who can drop back in coverage? Who should play inside vs. outside? Who are the top edge rushing guys, etc., etc. Uchenna Nwosu is a perfect example of the value of combine drills. A lot of teams will want to see if he is a linebacker prospect that they can trust in space and in coverage, and many of the drills show what they will have to work with.
Isaiah Oliver, CB, Colorado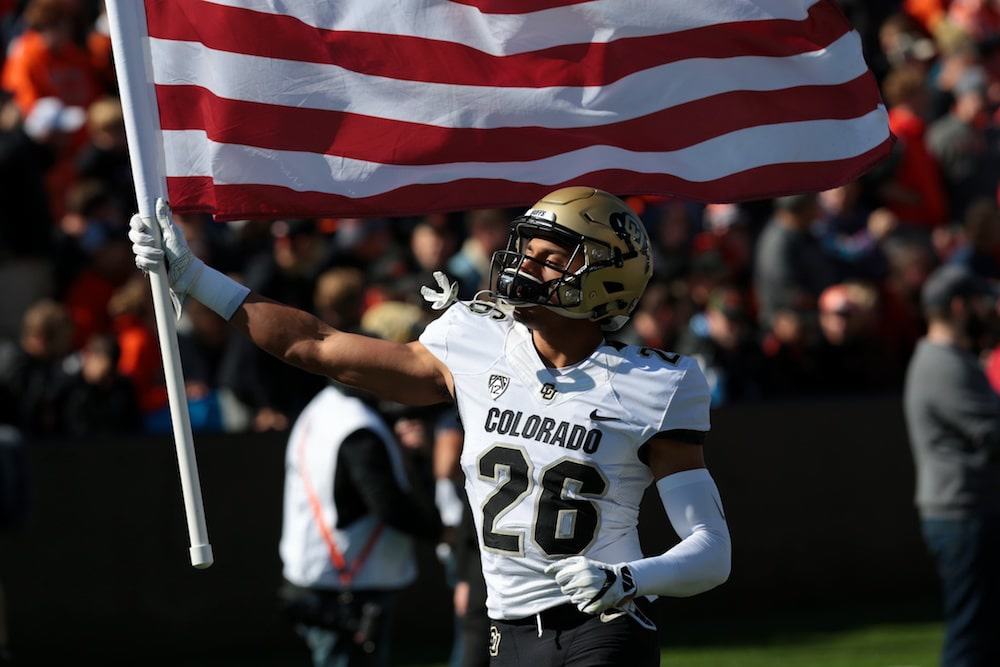 As teams move to more and more creative offensive schemes, utilizing all sorts of different players in the passing game, defenses are in dire need of corners. This position, more than any other, has been linked with specific schools that constantly are churning out pro prospects. Colorado is one of them, and Isaiah Oliver is a prospect that is both prodigiously athletically gifted, and from a school with a good track record at producing quality defensive backs. There are three prospects that look like first rounders in Denzel Ward, Josh Jackson and Mike Hughes, but Isaiah Oliver could put himself into that conversation as well. A track star, Oliver might just be a raw prospect that had to sit behind future NFL players, and teams could see him as a corner prospect with a ceiling as high as any other in this draft.
Derrius Guice, RB, LSU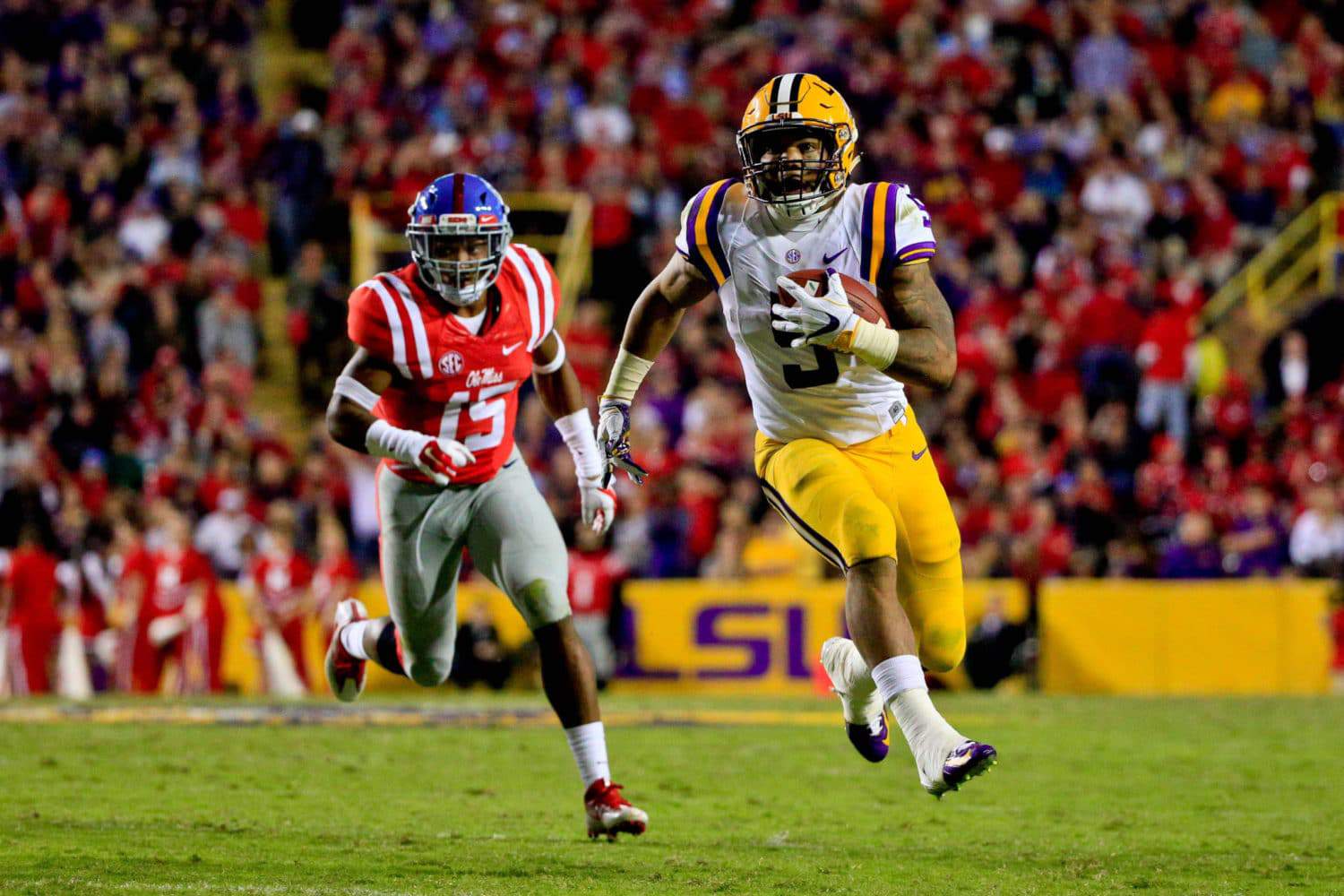 One draft narrative that seems to have already achieved a conclusion among most people who cover the draft is that Saquon Barkley is the best running back in this draft and that he is going to be the best running back in the draft at the next level. Let's face it, he has put up some extraordinary game film, and deserves a lot of praise. But we should also remember that every single year in the draft these type of conclusions are adopted by the draft world, and so many end up being wrong.
Last year, we said DeShaun Watson should be taken with the first pick overall, and received months of criticism. Only close to the draft did we change our picks, simply because our mocks are about what we think teams WILL do, not what they should do. Getting back to Barkley, we think that there should be a lot more discussion about several other backs, especially Derrius Guice. Quite frankly, Guice was a better running back overall for much of the college season. Saquon Barkley should have an exceptional combine, is a high character person, and fits what NFL teams want in a running back- he can run, pass protect, and catch the ball. However, players like Derrius Guice, Sony Michel, and Rashaad Penny, with Guice in particular could be just as productive in the NFL, despite conclusions to the contrary that many people have already arrived at.