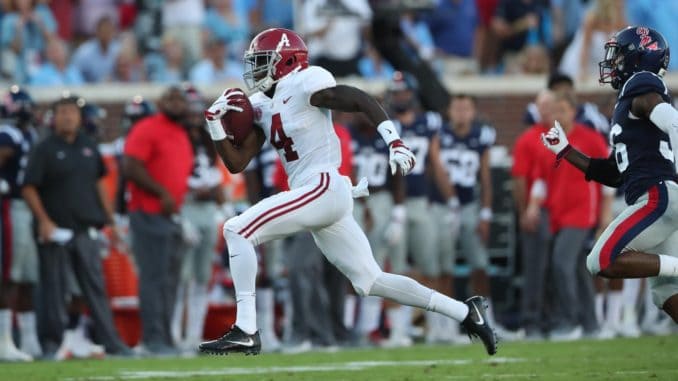 2020 NFL Draft Wide Receiver Rankings includes a prospect ranking, a breakdown of scouting for the position, key questions about the position, and a link to learn more.
Wide Receiver Rankings:
Jerry Jeudy, Alabama
CeeDee Lamb, Oklahoma
Henry Ruggs III, Alabama
Justin Jefferson, LSU
Brandon Aiyuk, Arizona State
Denzel Mims, Baylor
Tee Higgins, Clemson
Laviska Shenault Jr., Colorado
Chase Claypool, Notre Dame
Michael Pittman Jr., USC
Van Jefferson, Florida
K.J. Hamler, Penn State
Devin Duvernay, Texas
James Proche, SMU
Lynn Bowden Jr., Kentucky
Collin Johnson, Texas
Donovan Peoples-Jones, Michigan
K.J. Hill, Ohio State
Jalen Reagor, TCU
Gabriel Davis, Central Florida
Marquez Callaway, Tennessee
Bryan Edwards, South Carolina
Isaiah Hodgins, Oregon State
K.J. Osborn, Miami (Fla.)
Austin Mack, Ohio State
Demetris Robertson, Georgia
Malcolm Perry, Navy
Tyler Johnson, Minnesota
Kadarius Toney, Florida
Mason Kinsey, Berry College
John Hightower Boise State
Stephen Guidry, Mississippi State
Diondre Overton, Clemson
Freddie Swain, Florida
Antonio Gandy-Golden, Liberty
2020 NFL Draft Wide Receiver Rankings
Is he more of a vertical "go-route" "take the top off the defense" receiver, a slot guy, a "possession" receiver that is a bigger guy with sure hands, or a hybrid wr/rb type that is becoming popular.
Speed… shiftiness and top end vertical speed are often two different things
There are two ways a WR gets separation: physically separating through elite speed / shiftiness, and the ability to separate when having a defensive back right on him, such as with leaping ability.
Ability to "high point" balls often referred to as "catching the ball at its highest point"… wherein he can time balls thrown to him, go up and get it over the defenders head.
Strong hands and reliability of catching balls thrown to him.
Able to beat press coverage at line of scrimmage.
Willingness and toughness when going over the middle, catching balls and taking hits.
Able to move all over the line of scrimmage, lining up in different wide receiver positions.
Route running… very important. Able to run crisp routes and accelerate out of breaks.
Some WR's play in pro systems and have that advantage.
Average Yards per catch… will be mentioned with some vertical receivers and stat will be something like % of catches over 20 yards.
Number of touchdowns per year, indicating red zone threat.
Number of years with productivity.
Able to help in punt returns and kick off returns.
Are they a true "X" receiver, which is very rare… Calvin Johnson, Julio Jones types.
Who are the top 2020 NFL Draft Wide Receiver?
Jerry Jeudy, Alabama, CeeDee Lamb, Oklahoma, Laviska Shenault Jr., Colorado, and Henry Ruggs III, Alabama.
What are the key traits for scouting Wide Receiver for the 2020 NFL Draft?
Speed, overall build, ability to make separation in the open field and at the point of a contested catch, hands.
When and where is the 2020 NFL Draft?
In April of 2020 at Paradise, Nevada.