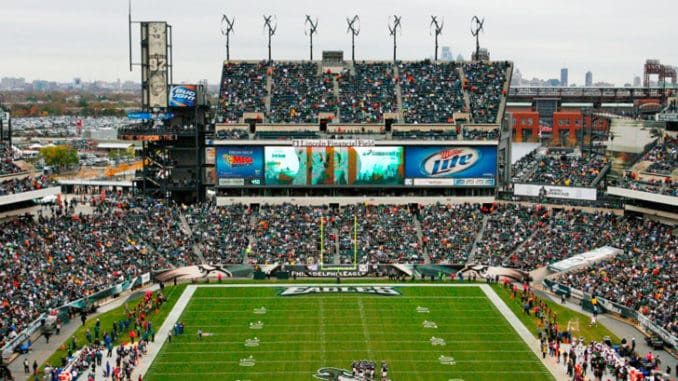 Philadelphia Eagles 2020 NFL Draft
Philadelphia Eagles 2020 NFL Draft: Philadelphia Eagles 2020 mock drafts, last year draft recap, Philadelphia Eagles draft needs, 2020 draft trades.
Salaries / Contracts
Up to Date Salary Cap Info | Up to Date Contract Info
Philadelphia Eagles 2020 NFL Draft Grade: "Risky Business"
1 (21). Jalen Reagor, WR, TCU
2 (53). Jalen Hurts, QB, Oklahoma
3 (103). Davion Taylor, LB, Colorado
4 (127). K'Von Wallace, S, Clemson
4 (145). Jack Driscoll, T, Auburn
5 (168). John Hightower, WR, Boise State
6 (196). Shaun Bradley, LB, Temple
6 (200). Quez Watkins, WR, Southern Miss
6 (210). Prince Tega Wanogho, T, Auburn
7 (233). Casey Toohill, DE, Stanford
Howie Roseman is an exceptional talent evaluator that has won a SuperBowl. But, every great talent evaluator has a weakness… for many it is just kickers, and some great GM's just can't pick a QB. For Roseman, it is wide receivers.
Yes, the Eagles got some very speedy wide receivers, especially if you believe Reagor's miraculous, unofficial improvement in his 40 at his virtual pro day. However, Reagor's career is going to be forever compared to Jefferson's, Aiyuk's, and even Pittman's.
The other point of discussion will be of the second round selection of Hurts. Hurts is an interesting prospect that is a proven winner, but all you have to do is to look at every prospect taken after him and judge that pick on what they could have had. They have a roster, that, with a few updates, can be in SuperBowl contention, and this was a missed opportunity to address a need.
Philadelphia Eagles 2020 NFL Draft: Last Year's Draft:
1-22: Andre Dillard, T (Washington State)
2-53: Miles Sanders, RB (Penn State)
2-57: JJ Arcega-Whiteside, WR (Stanford)
4-138: Shareef Miller, DE (Penn State)
5-167: Clayton Thorson, QB (Northwestern)
Philadelphia Eagles 2020 NFL Draft: 2018 Draft
2-49: Dallas Goedert, TE (South Dakota State)
4-125: Avonte Maddox, CB (Pittsburgh)
4-130: Josh Sweat, DE (Florida State)
6-206: Matt Pryor, T (TCU)
7-233: Jordan Mailata, T (Australia)
Draft Grade: Weaponized
The Eagles took care of their defense for the most part in free agency, freeing them up to attack some holes on the offense in the draft. And that they did.
Dillard is the best pass protector in this draft. They HAVE to keep their QB healthy this year, and getting him at 22 was actually quite shocking. Protecting the QB is paramount in the NFL and it was a surprise he fell that far.
Sanders was considered to be the best RB in this draft by some, and that was not a stretch. Perhaps not the best RB prospect, but he can do it all and at 53, they didn't have to reach. Sanders will also help take the pressure off of the QB, and they really needed a young RB.
Arcega-Whiteside catches everything. He is a release valve, a red zone target, and a chain mover. While many teams are targeting quicker and smaller receivers, the teams that are going far in the playoffs and winning championships are doing it with reliable, consistent WRs like him.
GM: Howie Roseman
Head Coach: Doug Pederson
Offensive Coordinator: Mike Groh
Defensive Coordinator: Jim Schwartz
Offensive Scheme: West Coast
Defensive Scheme: 4-3, Attacking