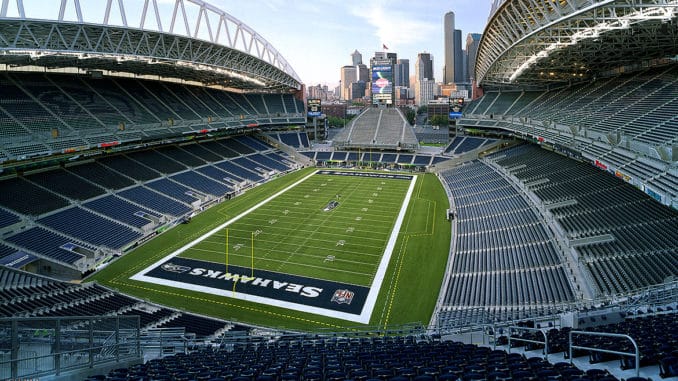 Seattle Seahawks 2020 NFL Draft
Seattle Seahawks 2020 NFL Draft: Seattle Seahawks 2020 mock drafts, last year draft recap, Seattle Seahawks draft needs, 2020 draft trades.
Salaries / Contracts
Up to Date Salary Cap Info | Up to Date Contract Info
Seattle Seahawks 2020 NFL Draft: Last Year's Draft
1-29: L.J. Collier, DE (TCU)
2-47: Marquise Blair, S (Utah)
2-64: D.K. Metcalf, WR (Ole Miss)
3-88: Cody Barton, LB (Utah)
4-120: Gary Jennings, WR (West Virginia)
4-124: Phil Haynes, G (Wake Forest)
4-132: Ugo Amadi, S (Oregon)
5-142: Ben Burr-Kirven, LB (Washington)
6-204: Travis Homer, RB (Miami)
6-209: Demarcus Christmas, DT (Florida State)
7-236: John Ursua, WR (Hawaii)
Seattle Seahawks 2020 NFL Draft: 2018 Draft:
1-27: Rashaad Penny, RB (San Diego State)
3-79: Rasheem Green, DE (USC)
4-120: Will Dissly, TE (Washington)
5-141: Shaquem Griffin, DE (UCF)
5-146: Tre Flowers, S (Oklahoma State)
5-149: Michael Dickson, P (Texas)
5-168: Jamarco Jones, T (Ohio State)
6-186: Jacob Martin, LB (Temple)
7-220: Alex McGough, QB (Florida International)
Draft Grade: Steady
A lot of talk about the Seahawks not finding a replacement pass rusher, but Collier has looked the part. In fact, he looks better as a pass rusher than Clark did coming out of college, without the ugly character issues.
They keep working on rebuilding their secondary, and the two safeties they went after weren't the most talked about prospects at the position, but fit their defense well.
Nobody finds mid round WRs better than Seattle, and Jennings looks like the next great find here. West Virginia was a tough team to determine what prospects shine because of the system, but Jennings stood out in most games.
Burr-Kirven flies all over the field, and could be a cheap replacement at the position if they run into salary cap issues soon. Homer will be a special teams ace early on.
GM: John Schneider
Head Coach: Pete Carroll
Offensive Coordinator: Brian Schottenheimer
Defensive Coordinator: Ken Norton Jr.
Offensive Scheme: Play Action, Two TE
Defensive Scheme: 4-3