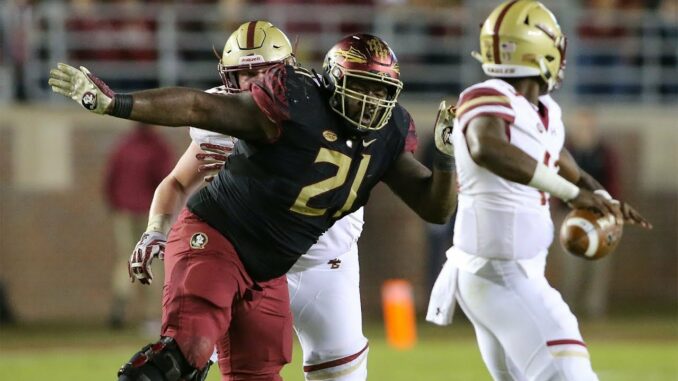 2021 NFL Draft Defensive Tackle Rankings includes a prospect ranking, a breakdown of scouting for the position, key questions about the position, and a link to learn more.
Defensive Tackle Rankings:
Levi Onwuzurike, Washington
Christian Barmore, Alabama
Daviyon Nixon, Iowa
Osa Odighizuwa, UCLA
Alim McNeill, NC State
Jay Tufele, USC
Milton Williams, Louisiana Tech
Tommy Togiai, Ohio State
Tyler Shelvin, LSU
Marlon Tuipulotu, USC
Marvin Wilson, Florida State
Bobby Brown III, Texas A&M
Mustafa Johnson, Colorado
Nyles Pickney, Clemson
Jaylen Twyman, Pittsburgh
Tedarrell Slaton, Florida
DeAngelo Malone, Western Kentucky
2021 NFL Draft Defensive Tackle Rankings
Identify all guys as primarily "one gap" or "two gap" defenders. They are generally more of a one gap, penetrating guy, or a two gap, run defending guy.
One gap skills is the single biggest booster of ranking in the draft. DT's that get after the QB are super valuable.
Number of sacks and Tackles for Loss
Have multiple pass rush moves or just power?
Long arms and able to be a two gap guy defending both gaps around him?
Able to take on double teams allowing guys around him to make plays?
Strength of base. Does he anchor well?
The 3-4 nose tackle is not often clearly stated. But once a player is about 330lbs.+ it is worth mentioning he could possibly play nose in a 3-4. 350 is ideal weight there.
Does he play hard every play and chase down plays?
Ability to play a lot of plays and not get tired.
A lot of DT's in college are not asked to be one gap guys, but that is what they will be at the NFL, so sometimes have to qualify that skill without having stats like sacks to back it up.