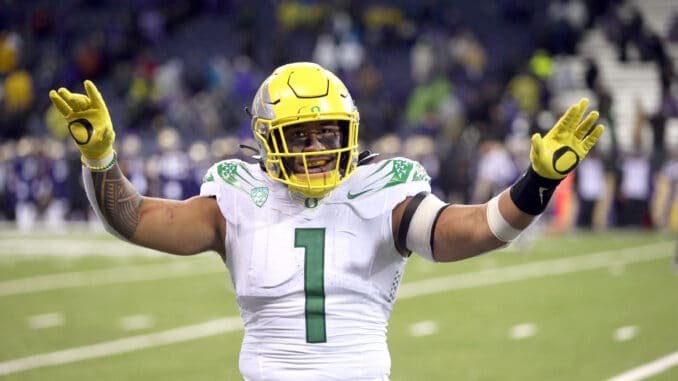 2023 NFL Draft Outside Linebacker Rankings includes a prospect ranking, a breakdown of scouting for the position, key questions about the position, and a link to learn more – outside linebackers, learn more – inside linebackers.
2023 NFL Mock Draft
Linebacker Rankings:
Will Anderson, Alabama
Nolan Smith, Georgia
Andre Carter II, Army
Isaiah Foskey, Notre Dame
Drew Sanders, Arkansas
2023 NFL Draft Outside Linebacker Rankings
First trick is determining the position in the NFL- if possibly a defensive end. Most 4-3 DE's are fairly long and built, but some 4-3 DE's in certain systems are "designated pass rushers" or "pass rush specialists", that might come in on 3rd down or any obvious passing down. That is generally a smaller, speedier defensive end that could be a liability against the run.
Primary skills to evaluate:

Ability to drop into coverage (including covering matchup nightmares like speedy tight ends and running backs that move into the slot to receive).
Run stopping ability.
Blitzing ability (or general pass rush ability).
"Sideline to sideline" agility and range.
Can "break down", which is a tackling technique of stopping before you tackle someone so you don't get beat by last second moves.
Number of sacks / INT's, TFL's
Most of the OLB's in the scouting reports are either middle linebackers in 4-3's or OLB's in 3-4… the skillset is often pretty close. Guys that are destined to play strongside or weakside in a 4-3 are generally a tier below and skew strongly to either better against the run, or better in coverage.
2023 NFL Draft Inside Linebacker Rankings
Maybe the toughest scouting reports to make, because a lot of confusion:

Inside linebackers in 3-4 aren't generally premium players in the draft, but there is always a couple that have exceptionally well rounded skillsets that sneak into early rounds.
The two inside linebacker positions in a 3-4 often have fairly varied responsibilities, one being the move-forward, run stopping, gap-filling player that needs to be a strong, reliable tackler, and the other being the playmaker that has more freedom to roam.
The inside linebackers in the draft that more often get drafted high are really going to be Middle Linebackers in a 4-3.

If a linebacker in college is a tackling machine, is big and strong, a violent tackler that wraps up well, and they seem to be much better moving forward than back, they are probably going to be an ILB in a 3-4 at the next level.
The star Inside Linebackers are most often playing OLB in college, and need certain skills:

Ability to diagnose plays quickly.
Able to call defenses, so smarts and experience.
Chase down running backs and wide receivers.
Move forward to defend the run.
Drop into coverage.
Blitzing ability.
Able to tackle.
Relentless.
Loves football…this is mentioned for this position more than any other (referring to linebackers in general).
Do they "wrap up" tacklers.
Often referred to as "off-ball" linebackers, just another term for a guy suited for ILB in 3-4 or middle linebacker