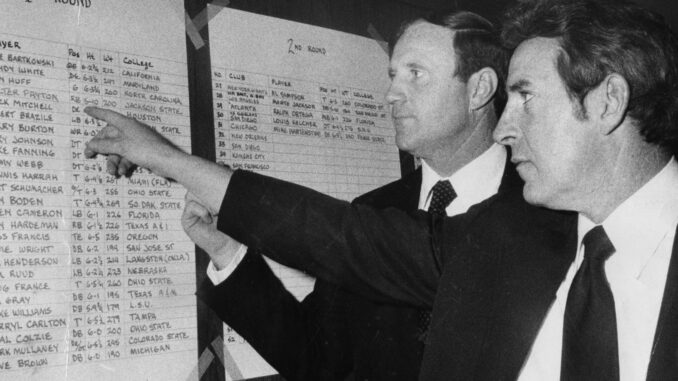 Updated March 22nd
1. Carolina Panthers (from Chicago)
Will Levis, QB, Kentucky
This is going to be a Frank Reich's pick even if it is officially not portrayed that way. It won't be popular, but think this is going to end up being Levis. C.J. Stroud surely is the odds on favorite, with some absurdity with Richardson being the pick as well. Levis is now healthy, and after some workouts and interviews people will see the level of prospect that he is.
2. Houston Texans
C.J. Stroud, QB, Ohio State
Stroud absolutely destroyed it at the combine. Not only that, the game against Georgia really opened some eyes about what he can do with his legs. The problem is twofold- OSU QB's are just system guys. Sorry, it is true. Also, some other QBs have also exposed Georgia when they hyper focused on a particular trait of a QB. Still, could see him going first, but he just fall short of Levis in terms of elite passing skills.
3. Arizona Cardinals
Will Anderson Jr., DE, Alabama
There is a strong chance this pick is traded, but that might even just be with the Colts, so going to just go with the player they will eventually pick if they don't go down too far. The Cardinals need to hit on this pick, and need to start building this team up and eventually replace their pathologically immature QB.
4. Indianapolis Colts
Bryce Young, QB, Alabama
The size thing is a really big deal here. Bryce Young has everything you want in a QB… mental processing skills, accuracy, more than adequate velocity, experience, and just everything you would hope and pray for in a franchise QB. The issue is that this guy is SLIGHT. He bulked up for the combine, didn't compete, and is going to go down to his natural playing weight from this point on. Read any review of anyone that was at the combine and saw him in person, and the concerns are real.
5. Seattle Seahawks (from Denver)
Peter Skoronski, OT, Northwestern
Seattle has their QB, but upon further review it is really just a one year deal. This pick should be highly scrutinized up until the draft, as they might be looking at a QB here.
6. Detroit Lions (from LAR)
Jalen Carter, DT, Georgia
The Lions signed three really, really good players for their secondary, a fact that seems to be missed on major mock drafts the last few days. Carter is going to be have to go through a pretty big turnaround in the next few weeks to make a team like the Lions take a shot on him.
7. Las Vegas Raiders
Christian Gonzalez, CB, Oregon
Jimmy G coming to the Raiders does not keep them from going after a QB in the draft, but that would probably come later. They would want a very smart, accurate, and polished passer, and not a freak athlete at QB if they do take one.
8. Atlanta Falcons
Tyree Wilson, DE, Texas Tech
The Falcons have lit up free agency and will be an interesting team to watch this year. They surely will give their young QB a chance to show if he has the right stuff. Wilson might go as high as 3, and this has to be about as low as he would go.
9. Chicago Bears (from Carolina)
Paris Johnson Jr., OT, Ohio State
The Bears move down to 9 in their trade and absolutely no need to change the pick. They have to get that offensive line improved, and did receive an excellent receiver in the trade, so that become a little less of an emergency.
10. Philadelphia Eagles (from New Orleans)
Nolan Smith, OLB/DE, Georgia
The Eagles brought back both of their star corners, so that is out. They lost their best safety, but there isn't a safety here worthy of the slot. They won't take a RB, just because that is not what their GM does. Smith here would be a really smart pick and would give them a very versatile piece on their suddenly young front seven.
11. Tennessee Titans
Jordan Addison, WR, USC
The Titans seem to be in the midst of a bit of a rebuild. They don't have a QB they are confident in yet, and it almost seems like they are not looking at addressing that and just doing a rebuild year. They really need a WR.
12. Houston Texans (from Cleveland)
Devon Witherspoon, CB, Illinois
This is probably the most wide open pick in this draft. The Texans need help everywhere, so they will look at the board and grab their top player. Witherspoon will probably go in the top 10, but their obvious slot at 6 changed after the Lions' free agency moves.
13. New York Jets
Broderick Jones, OT, Georgia
The Jets will have their QB for next year soon, and absolutely can not let him get hit next year. Imagine the whining.
14. New England Patriots
Jaxon Smith-Njigba, WR, Ohio State
The Patriots got a grown up as OC! Now, they need to get weapons for young Mr. Jones.
15. Green Bay Packers
Michael Mayer, TE, Notre Dame
The Packers are hilariously letting the Rodgers trade linger. Why shouldn't they? Grabbing a pass catcher in the first round would not only be a very smart move at a position of need, but would be a nice parting shot to their jettisoned prima-donna.
16. Washington Commanders
Anthony Richardson, QB, Florida
Talk to a die hard Flordia fan. Not an alumnus that is on TV. Find a Florida fan. Ask about Richardson. Now find a Titans fan. Not a psycho fan. Find a fan. Ask about Malik Willis. Proceed.
Not sold that Richardson is going to go in the first round, but the running talent is definitely there. The middle of the first round is the start of where a surprise QB pick could take place this year. Put a pin it… bet Richardson goes off the board first, but a team that grabs Hooker in later rounds will find that they found the far better QB. Richardson has 13 starts, but saw considerable time in another dozen games. This isn't the case of having a good year, or half a year and then things around him breakdown. He has never been a good passer and is miles away from any of the QB's he is compared to. It's. Just. Not. There.
Not going to do the deep dive we did last year of Malik Willis and Kenny Pickett, where we were right and pretty much everyone else was wrong, but here are some of Anthony Richardson's passing ratings:
10th in Passing Yards
13th in Completion Percentage
tied – 8th in Passing Touchdowns
11th in QBR
Wait, did you think those were his National rankings? Nope. Those are his rankings in the 14 team SEC.
17. Pittsburgh Steelers
O'Cyrus Torrence, OG, Florida
The Steelers are in a transition stage and have to build around their young, talented QB. They have a top RB, but can't open up holes for him, and that is due to lack of talent on the interior.
18. Detroit Lions
Lukas Van Ness, Iowa, DE
The Lions rebuilt their secondary and swapped their running back with another very good one. They take a chance on the best player in the draft, even though he has some red flags, and won't be able to resist adding a pass rusher here to set them up with an elite front four.
19. Tampa Bay Buccaneers
Hendon Hooker, QB, Tennessee
The Bucs brought in Baker Mayfield, but it is going to take a few years to clear out contract mayhem from the previous few years. This will give the Bucs time to develop, a very underrated QB prospect in Hooker.
20. Seattle Seahawks
Joey Porter, Jr., CB, Penn State
The Seahawks struck gold last year in the draft at CB, and they might very well again. They want a shut down defense and a power run game. They might very well have both next year.
21. Los Angeles Chargers
Myles Murphy, DE, Clemson
The Chargers made a disastrous hire at OC awhile back and finally corrected it. That might be the under the radar coordinator move of the offseason. Now they need to finish updating their defense, as the league caught up to Staley's scheme.
22. Baltimore Ravens
Zay Flowers, WR, Boston College
Let's start with this: A team doesn't "sign a player". That is highly misleading and that inference is being used with the Ravens and Lamar. A player does the signing. Lamar hasn't wanted to sign.
Lamar hasn't been the same person or QB since he went on Lebron's show and talked about being the victim of racism as a black QB in the NFL. Now that he has externalized his shortcomings, there is no going back. Odds are they franchise Lamar and they have a disgruntled QB for a year or two and that is no good for anyone. Would love to see them tag and trade him and see what a true pocket passer could do with that defense and run game.
23. Minnesota Vikings
John Michael Schmitz, C, Minnesota
It's center, full stop. Even though this team needs to put in a new defense probably, they have to get that center position stabilized, and the obvious answer is right down the road.
24. Jacksonville Jaguars
Will McDonald IV, DE, Iowa State
The Jags are starting to look like they have everything clicking. They could use an edge rusher, and McDonald is an athletic freak.
25. New York Giants
Quentin Johnston, WR, TCU
The Giants have their QB and are starting to stabilize some of their position players. A WR is in order, and with the addition of an elite TE, could give the Giants a more potent and consistent attack.
26. Dallas Cowboys
Dalton Kincaid, TE, Utah
Dak is a typical "bully" QB. He beats up on lesser teams, inflating his stats, but when another bully shows up, as a strong defense, he withers away. Now that they are installing an outdated offense, expect a s*** show on offense this year, and they will have to have an incredible defense to win games.
27. Buffalo Bills
Bijan Robinson, RB, Texas
The Bills really miss their OC and it showed down the stretch. Yes, they won a ton of games, but that offense looks "loose", and not in a good way. Daboll was able to keep Allen focused and disciplined, but it doesn't look like that is in place anymore. They really could use a top end running back to take some pressure off of Allen.
28. Cincinnati Bengals
Emmanuel Forbes, CB, Mississippi State
The Bengals lost some guys in their secondary and that is going to hurt. This is a great slot to get one of the second tier corners in the draft that should help immediately.
29. San Francisco (from New Orleans)
Calijah Kancey, DT, Pitt
Yes, the 49ers just signed a stud DT, but they love to rotate guys and are constantly bringing in young guys to their defense and then flipping them for comp picks. Kancey is a really hard guy to slot. He could go anywhere from the teens to middle of second round.
30. Kansas City Chiefs
Deonte Banks, CB, Maryland
The Chiefs have a loaded roster, and when that happens, teams tend to backload on one of the four key positions in the draft.
31. Philadelphia Eagles
Jahmyr Gibbs, RB, Texas
The Eagles are loaded and have extra early draft picks. Enjoy.
~Miami Dolphins Pick Forfeited~