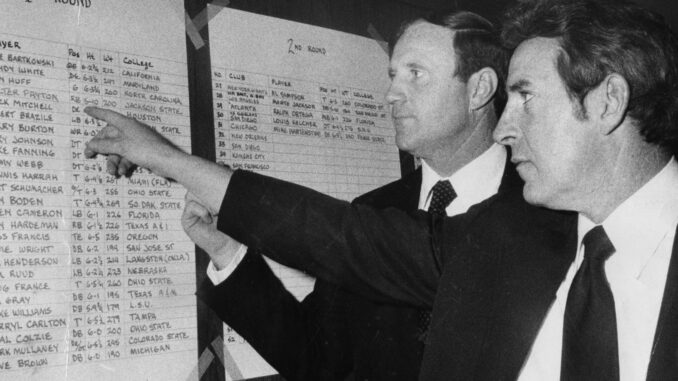 Updated January 25th
1. Chicago Bears
Will Anderson Jr., DE, Alabama
The Bears are putting in a new defense that has a lot of different positional requirements from what they have had for years. They have the resources to quickly rebuild the defense with talent, and starting off the process with a super blue-chip edge rusher is a great start. This draft is deep with edge rushers, and if they can arrange a trade back, they could possibly address both edge rusher and offensive line help in the first round.
2. Houston Texans
Bryce Young, QB, Alabama
Winning the final the game of the season to slip out of the top spot was just classic. Pay attention to this draft season and see if the Bears find a trade partner that moves up to the top spot to get the top QB. If that happens, this is a really bad look for the Texans. If not, no harm-no foul. The size issue will be a thing, and it should be with Young. Murray and Mayfield had those concerns going into the draft and both have had issues with their height and add Young's slight frame and there are reasons for pause. We are a long ways away from sorting out these QB's.
3. Arizona Cardinals
Jalen Carter, DT, Georgia
The Cardinals are stuck with Murray, and unless he gets an attitude transplant, this team is going to be in chaos for awhile. On the bright side, there is a good chance they get the top player in the draft with the third pick. The Cardinals might very well have to concentrate on building an elite defense with an offense focused on the run game for a few years as they overpay a disinterested and fragile franchise QB.
4. Indianapolis Colts
C.J. Stroud, QB, Ohio State
The Colts are trying to cover the mess have made of their team the last few years by interviewing every possible QB candidate that is out there. Whatever happens there won't solve a thing if they can't keep their owner from meddling and finally finding a long term answer at QB.
5. Seattle Seahawks (from Denver)
Peter Skoronski, OT, Northwestern
Seattle needs to get a deal done with Smith and then can sit back and start adding talent all over their roster. They had an exceptional draft last year and need to follow that up with more elite talent. The idea of the Seahawks having a dominant offensive line is within reach, and not something seen in a long time.
6. Detroit Lions (from LAR)
Tyree Wilson, DE, Texas Tech
Wilson is probably not going to last to this spot as the draft process continues. It sounds a bit nuts right now, but don't be surprised if Wilson takes over Anderson as the top edge rusher in the draft. He is simply dominant, has idea size, superb effort, but played in the Big 12 last year which is hurting is stock a bit right now. If he doesn't get the late surge to surpass Anderson, the Lions might just have fell backwards into having the most dominant, young, cheap defensive pass rush in the league.
7. Las Vegas Raiders
Myles Murphy, DE, Clemson
The Raiders have to be looking at a QB in free agency, right? Could they be going all in with Brady next year? Is there another QB out there that interests them? Whatever the case, the Raiders will be very entertaining to follow this offseason.
8. Atlanta Falcons
Paris Johnson Jr., OT, Ohio State
The Falcons have a lot of questions in terms of how much change they will need to make to their defense in terms of personnel. They will give their young QB a year to see if he is the future, and will need to protect him in the meantime.
9. Carolina Panthers
Will Levis, QB, Kentucky
The Panthers need a trusted, qualified head coach to stabilize this franchise. They may very well stick with Darnold and just take a year to build talent around him and see how things go. Then again, if they get an established HC in there, he may want to start the process now of drafting and developing the long term QB.
10. Philadelphia Eagles (from New Orleans)
Bryan Bresee, DT, Clemson
The Eagles had a dominant pass rush last year, but have at least two pieces they will need to replace with younger players. They went all in this year, and it is good that they have extra draft picks, because they will need them with some one and done free agents walking out the door.
11. Tennessee Titans
Jordan Addison, WR, USC
The Titans play hard and run the ball well. Their QB situation is another story. They traded away an excellent WR, and could use another weapon to help make their offense more dynamic.
12. Houston Texans (from Cleveland)
Quentin Johnston, WR, TCU
It will be interesting to see how the Texans approach their second pick. They have a ton of draft picks the next few years, so they might surprise some people by going pure talent over need.
13. New York Jets
Broderick Jones, OT, Georgia
The Jets have some big drama at QB, but it seems they want to give their young QB one more offseason to show what he can do. A huge step forward with this team would be to stabilize their offensive line. This might mean not only using a high draft pick on one, but also a different scheme and OC.
14. New England Patriots
Jaxon Smith-Njigba, WR, Ohio State
The Patriots need new offensive coaches. All of them. Get the young QB some weapons.
15. Green Bay Packers
Michael Mayer, TE, Notre Dame
Enough of this guy… move on Packers. With the narcissist gone, the Packers could afford to actually add more talent through free agency, allowing them to add some weapons on offense. A super elite TE is a perfect gift for a young QB.
16. Washington Commanders
Anthony Richardson, QB, Florida
Not sold that Richardson is going to go in the first round, but the talent is definitely there. The middle of the first round is the start of where a surprise QB pick could take place this year. Put a pin it… bet Richardson goes off the board first, but a team that grabs Hooker in later rounds will find that they found the far better QB.
17. Pittsburgh Steelers
O'Cyrus Torrence, OG, Florida
The Steelers are in a transition stage and have to build around their young, talented QB. They have a top RB, but can't open up holes for him, and that is due to lack of talent on the interior.
18. Detroit Lions
Devon Witherspoon, CB, Illinois
In this scenario, the Lions would have to take a long look at Brian Branch… he has the versatility and toughness that they are looking for in their secondary. However, they have a very big need at corner, and only a moderate need at safety. Free agency will have a major impact on this pick.
19. Tampa Bay Buccaneers
Brian Branch, S/CB, Alabama
This pick will surely fluctuate as the Bucs' situation changes in the coming months. They kicked the can down the road, and now that is starting to catch up with them.
20. Seattle Seahawks
Joey Porter, Jr., CB, Penn State
The Seahawks struck gold last year in the draft at CB, and they might very well again. They want a shut down defense and a power run game. They might very well have both next year.
21. Los Angeles Chargers
Lukas Van Ness, Iowa, DE
The Chargers made a disastrous hire at OC awhile back and finally corrected it. They need to get the right guy in there and let him do his thing. Last year they ran an offense designed for weak armed, but deadly accurate Drew Brees, instead of one actually that matched the talents of their star QB. They also need to adjust their thinking on defense. The league completely caught up to Staley's light box defense two years ago, but he hasn't gotten the memo. Coaches' schematic ego is the top killer of team success in the NFL.
22. Baltimore Ravens
Christian Gonzalez, CB, Oregon
Lamar hasn't been the same person or QB since he went on Lebron's show and talked about being the victim of racism as a black QB in the NFL. Now that he has externalized his shortcomings, there is no going back. Odds are they franchise Lamar and they have a disgruntled QB for a year or two and that is no good for anyone. Would love to see them tag and trade him and see what a true pocket passer could do with that defense and run game.
23. Minnesota Vikings
John Michael Schmitz, C, Minnesota
It's center, full stop. Even though this team needs to put in a new defense probably, they have to get that center position stabilized, and the obvious answer is right down the road.
24. Jacksonville Jaguars
Cam Smith, CB, South Carolina
The Jags are starting to look like they have everything clicking. They could use an edge rusher, but corner is a need as well.
25. New York Giants
Zay Flowers, WR, Boston College
The Giants are going to keep Jones, but by do they need help at WR.
26. Dallas Cowboys
Antonio Johnson, S, Texas A&M
Dak is a typical "bully" QB. He beats up on lesser teams, inflating his stats, but when another bully shows up, as a strong defense, he withers away. They love him, so perhaps they go safety here to address perhaps their biggest need.
27. Buffalo Bills
Nolan Smith, DE, Georgia
The Bills really miss their OC and it showed down the stretch. Yes, they won a ton of games, but that offense looks "loose", and not in a good way. Daboll was able to keep Allen focused and disciplined, but it doesn't look like that is in place anymore. Amazing team, but they need to solve that issue first. Also, when Miller went down, that defense just looked different. They need a dynamic, young pass rusher.
28. Cincinnati Bengals
Dawand Jones, OT, Ohio State
So does the Bengals offensive line need help or don't they? They are confounding in that regard. The great game against Buffalo aside, this teams needs more depth there.
29. Denver Broncos (from San Francisco)
Bijan Robinson, RB, Texas
The Broncos have talent, and might have to just focus more of that on establishing a run game, with Wilson doing his thing from time to time to keep defenses honest.
30. Kansas City Chiefs
Kelee Ringo, CB, Georgia
The Chiefs actually need some help on their defense. The offenses ability to go up early disguises it, but this team could use help all over the D.
31. Philadelphia Eagles
Jahmyr Gibbs, RB, Texas
The Eagles are loaded and have extra early draft picks. Enjoy.
~Miami Dolphins Pick Forfeited~