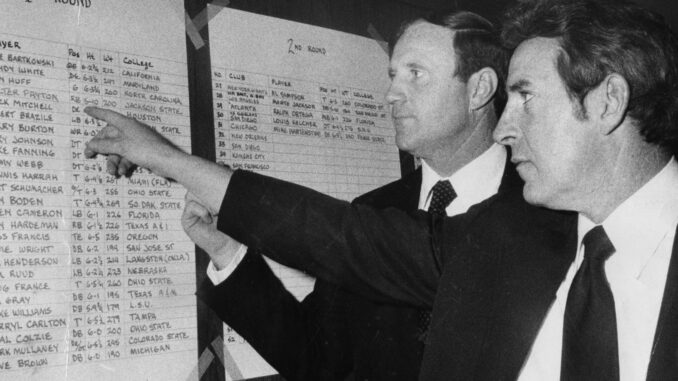 Updated September 20th
1. Houston Texans
Bryce Young, QB, Alabama
Is Davis Mills the long term answer at QB? It is quite possible that the Texans are in the midst of a "long-play" for team building? They didn't go out and get a new, hip, cutting edge head coach, and haven't gone all in at QB yet. This could be the perfect year to get a true franchise QB in the draft.
2. Seattle Seahawks
C.J. Stroud, QB, Ohio State
The Seahawks want to play great defense and run the ball. However, they know they need a long term QB as well. Geno is who he is, and that is not a cornerstone QB.
3. Carolina Panthers
Will Levis, QB, Kentucky
Time is possibly running out for the head coach and front office for the Panthers. Also, doesn't seem that Baker was the savior that some thought he might be.
4. Indianapolis Colts
Tyler Van Dyke, QB, Miami
Who actually is the 4th QB in this draft class? Also, how are the Colts this bad?
5. Atlanta Falcons
Will Anderson Jr., DE, Alabama
The QB first tier could be over by the 5th pick, no matter how much hype has been given to this QB class. So far, only two QB's have graded out as elite for this year's draft.
6. New York Jets
Kelee Ringo, CB, Georgia
The Jets would love to be able to rush without sending any extra defenders, and just have their defensive backs stay in man coverage. That takes 2-3 excellent corners.
7. Chicago Bears
Peter Skoronski, OT, Northwestern
The Bears definitely look better. They have many needs, but none more important than on the offensive line.
8. Cincinnati Bengals
Paris Johnson Jr., OT, Ohio State
How is the offensive line this bad?
9. Houston Texans (from Cleveland)
Jalen Carter, DT, Georgia
Over the next few years the Texans are going to be adding lots of talent through the draft. This could be a very talented roster in a year or two.
10. Washington Commanders
Jordan Addison, WR, USC
The Commanders need some weapons before they can add another bandaid at the QB position.
11. Seattle Seahawks (from Denver)
Bryan Bresee, DT, Clemson
The front four is critical to the Seahawk's defensive scheme.
12. Detroit Lions
Cam Smith, CB, South Carolina
Fans will be screaming for a QB. However, the talent issue for them is in the secondary. It will be hard for the Lions to draft a QB early if they have a top 5 offense, like they have now.
13. Dallas Cowboys
Broderick Jones, OT, Georgia
Just add the best talent on the offensive line no matter what.
14. Jacksonville Jaguars
Kayshon Boutte, WR, LSU
Yes, they added a number of wide receivers through free agency last year. Some of those guys are simply placeholders.
15. New England Patriots
Michael Mayer, TE, Notre Dame
This is about not being able to pass on an elite prospect at a position that is highly valued in this offense.
16. New York Giants
Jaxon Smith-Njigba, WR, Ohio State
Time to start clearing out mistakes from the previous regime.
17. Miami Dolphins (from San Francisco)
Bijan Robinson, RB, Texas
Yikes this would be scary.
18. Tennessee Titans
Myles Murphy, DE, Clemson
The Titans will probably be making a QB change this season. In doing so, the team could be further going toward being a "play defense, run the ball" team.
19. Minnesota Vikings
Jaelyn Duncan, OT, Maryland
If there is a team that is most likely to trade out of the first round, it is the Vikings. They have a new defensive scheme that requires very different players than they have now.
20. Pittsburgh Steelers
Layden Robinson, OG, Texas A&M
There will be a new QB this year, and they need to protect him.
21. Green Bay Packers
Josh Downs, WR, North Carolina
Finally.
22. Arizona Cardinals
Jahmyr Gibbs, RB, Alabama
The Cardinals have to become both more traditional and more balanced on offense or they will continue to fail late in the season / playoffs.
23. Baltimore Ravens
Quentin Johnston, WR, TCU
A weapon for Lamar.
24. Philadelphia Eagles (from New Orleans)
Noah Sewell, LB, Oregon
The NFL's most loaded roster goes with the best player available.
25. Las Vegas Raiders
Anton Harrison, OT, Oklahoma
Needs everywhere for the Raiders. Their last first round offensive lineman flamed out early.
26. Detroit Lions (from LAR)
Siaki Ika, DT, Baylor
The Lions want to make their defensive line on par with their offensive line.
27. Tampa Bay Buccaneers
Ryan Hayes, OT, Michigan
The Bucs could be in a total rebuild. This pick could be anything.
28. Los Angeles Chargers
Cedric Tillman, WR, Tennessee
The Chargers are loaded. They will need to line up with the Chiefs and that means a stable of WRs.
29. Kansas City Chiefs
Nolan Smith, LB, Georgia
The Chiefs have the weapons on offense, but their defense is what what will make the difference if they are to win more Superbowls.
30. Philadelphia Eagles
Antonio Johnson, S, Texas A&M
They have the corners, and two very good safeties, but a third would make this secondary perhaps the best in the league.
31. Buffalo Bills
O'Cyrus Torrence, OG, Florida
This will purely be the best player available.
~Miami Dolphins Pick Forfeited~