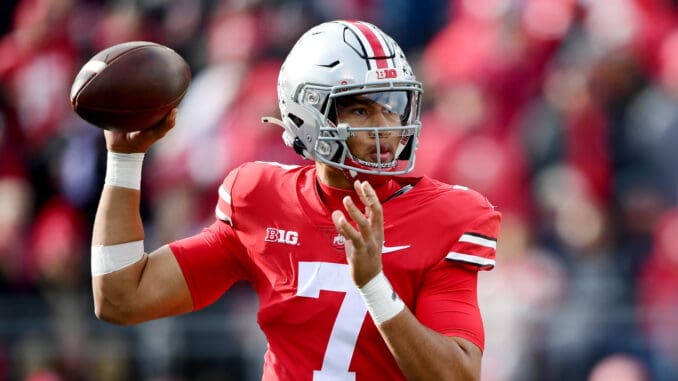 2023 NFL Draft Quarterback Rankings includes a prospect ranking, a breakdown of scouting for the position, key questions about the position, and a link to learn more.
2023 NFL Mock Draft
Quarterback Rankings:
Will Levis, Kentucky
Bryce Young, Alabama
C.J. Stroud, Ohio State
Hendon Hooker, Tennessee
Anthony Richardson, Florida
2023 NFL Draft Quarterback Rankings
What system are they in, and if in a spread does he have to read defenses, work through progressions, make adjustments at the line of scrimmage?
Overall build. 6′-2″+, 215lbs.+ are good starting points, but not absolute.
Hand size. If the QB has a small build it is paramount that they have big hands like Russel Wilson. This one has a strong amount of data behind it. If you lack height as a QB, you need big hands.
Release point for smaller QB's. Philip Rivers has a poor release point, but he is tall. Drew Brees is short, but has a perfect release point, needed as he is not tall.
Number of starts.
Accuracy… this is often different at short, medium, and long passes.
Decision making… often linked to number of interceptions, but not always.
Can he make all the NFL throws like deep outs?
Leadership and maturity.
Level of competition and winning big games.
Pocket presence, and footwork in the process. Not panicking and escaping to run too often, but ability to be a threat in read-option is a bonus.
Wind-up. Called many things, this needs to be efficient and compact. Long, loopy wind-ups for college QB's get instantly exposed in the NFL.