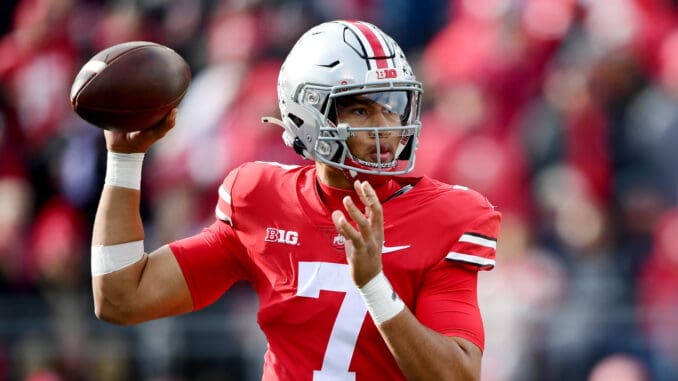 Round 1:
1) Chicago Bears – Will Anderson Jr. EDGE, Alabama 6'4″ 245 lbs
Anderson had a good year in 2022 with 53 tackles, 10 sacks, 1 pass batted & 1 interception. In 2021 he had his break-out year with 101 tackles & 17.5 sacks. This pick is Anderson or Carter & the Bears haven't had a big-time ER since Khalil Mack. But, I am pretty sure they will be trading this pick down for multiple selections.
2) Houston Texans – Bryce Young QB, Alabama 6′ 194 lbs
The Texans won't take long to make this selection. Young had a stellar career for the Crimson Tide & was the 2021 Heisman Trophy winner. He won all the accolades he possibly could & now is ready to take his game to the next level. In 2022 he hit on 64% of his passes for 3328 yards with 32 touchdowns & 5 interceptions.
3) Arizona Cardinals – Jalen Carter DT/DL3T/NT, Georgia 6'3″ 310 lbs
The Cards select the one player who could possibly replace the retired J.J. Watt. This player has been a terror up & down their defensive line for 2 years. Since the last Saturday in October, he's been the best player in college football. He just ate up TCU's offensive line in the CFP championship. Big, fast & strong defensive lineman who can dominate & take over a game.
4) Indianapolis Colts – C. J. Stroud QB, Ohio St. 6'3″ 218 lbs
I think Stroud is the best signal caller in this class, He was dyno in the national semi-final vs Georgia where he showed that he can beat you with both his legs & his arm. In 2022 he connected on 66% of his passes for 3688 yards with 41 touchdowns & only 6 interceptions.
5) Seattle Seahawks (from den) – Will Levis QB, Kentucky 6'3″ 232 lbs
I'm not sure if the Hawks have ever taken a QB in the 1st round before. They took QB Russ in the 3rd round out of Wisconsin. But, they're rarely picking this high. They're usually playoff contenders & the QB's are long gone by then. So why not select one now when they have the chance & let him develop behind Geno Smith for a year then give him the ball. In 2022 he hit on 65% of his throws for 2406 yards with 19 touchdowns & 10 interceptions. He has a good skill set & with proper coaching should pan out at the NFL level quite nicely.
6) Detroit Lions (from lar) – Tyree Wilson EDGE, Texas Tech 6'6″ 275 lbs
Edge isn't the biggest need for the Lions but this player is an athletic specimen. He was the top ER in the Big 12 conference. Put him on the other side from this year's rookie sensation Aidan Hutchinson & the Lions would be set for several years on the EDGE. For 2022 he accumulated 61 tackles, 7 sacks & 1 forced fumble. This player looks just chiseled & he's just starting to scratch the surface of his potential.
7) Las Vegas Raiders – Peter Skoronski OT/G, Northwestwern 6'4″ 294 lbs
The Raiders could use some new blood up & down their offensive line & this player can come in & help them out at 2 positions. What this guy does better than anything is block anyone. If they were counting pancakes this player could have been one of the nation's leaders.
8) Atlanta Falcons – Myles Murphy EDGE, Clemson 6'5″ 275 lbs
The Falcons have needed a presence on the EDGE for a few years. They may have been last in the NFL in sacks in 2022. He didn't have as good of a season as he did in 2021 but, still looks like an early 1st rounder. In 2022 he had 40 tackles to go with 6.5 sacks, 2 passes batted & 1 forced fumble.
9) Carolina Panthers – Anthony Richardson QB, Florida 6'4″ 232 lbs
This would be a good landing spot for him. HC Frank Reich is a good QB guru & they have a starter in place with Sam Darnold who had a good year in 2022. He could carry the clipboard for a year & get acclimated to the Panther's offense then possibly be ready to take the reins in 2024. This player has very strong legs & can break tackles with ease & with a cannon attached to his right shoulder to just sling the ball downfield when he's in the pocket or on the scramble. In 2022 he hit on 54% of his passes for 2549 yards with 17 touchdowns & 9 interceptions. He needs to be coached up but, has a big-time & rare skill set.
10) Philadelphia Eagles (from no) – Bijan Robinson RB, Texas 6′ 215 lbs
There's a strong rumor that RB Miles Sanders whose contract is up this spring is going to go FA & test the market. So, a replacement is needed & this is the cream of the crop. In 2022 he amassed 1580 yards & 18 touchdowns (6.1 avg). He also had 314 receiving yards & 2 touchdowns. He can go off guard in short-yardage situations or around the end on sweeps & take it to the house.
11) Tennessee Titans – Jordan Addison WRS/WR, USC 6′ 175 lbs
The Titans could go in several directions with this pick but, decide to go with an elusive, fast & firecracker receiver who could be a good partner for this year's hot rookie Treylon Burks. He has plenty of speed to go with some dyno juke moves that get him by DB's on his way to the promised land. In 2022 he compiled 59 receptions for 875 yards (14.8 avg) & 8 touchdowns. In 2021 as the go-to WR for QB Kenny Pickett at Pitt he produced 100 receptions for 1550 yards & 17 touchdowns.
12) Houston Texans (from cle) – Quentin Johnston WR, TCU 6'4″ 215 lbs
The Texans took their QB now they get him a solid possession WR who is very fast, runs a good route tree & has sticky fingers. He took TCU to the CFP championship game. In 2022 he had 60 receptions, 1069 yards (17.8 avg) & 6 touchdowns.
13) New York Jets – Paris Johnson Jr. OT, Ohio St. 6'6″ 315 lbs
The Jets have had problems with their offensive line & this player can come in & take over at LOT. Possesses long strong arms that keep ER's at bay & moves his hands & feet at the same time very well. Extremely well coached by HC Ryan Day & his staff in Columbus. Could be an early pro bowler.
14) New England Patriots – Jaxon Smith – Njigba WR, Ohio St. 6′ 198 lbs
The Pats could use a big playmaker who can stretch defenses for chunk gains & can do that now. He had a great year in 2021 that ended with a big game vs Utah in the Rose Bowl. He's very fast, has soft hands, a nose for the end zone & runs good routes. QB Mac Jones needs some help from his WR's.
15) Green Bay Packers – Jalin Hyatt WR/WRS, Tennessee 6′ 186 lbs
This player was the fastest & most exciting player in college football in 2022. For the year he had 67 receptions for 1267 yards (18.9 avg) & 15 touchdown catches that led the nation. In his big game vs Alabama he had 6 receptions for 207 yards (34.5 avg) & 5 touchdowns. This player can tear the top off a defense in a heartbeat. Would pair really well with last year's hot rookie WR Christian Watson.
16) Washington Commanders – Broderick Jones OT, Georgia 6'4″ 315 lbs
Look for the Commanders to take at least 2 offensive linemen from this draft. Jones has been battle-tested playing the last 2 seasons in the SEC & against his own defense every day in practice which has been the best in the country for 2 years. He's strong in opening up good running lanes for the rush game which was vital to the Dawgs offense & is rock solid in pass protection.
17) Pittsburgh Steelers – Joey Porter Jr. CB, Penn St. 6'2″ 194 lbs
Porter has had a stellar career in Happy Valley. Is solid in cover man & can play zone too & be just as effective. Has the speed to not allow separation, tracks the ball well & is a good tackler in the open field. The cool deal here is the family ties to the organization with his dad playing 8 years for the Steelers & being a pro bowler & all-pro player. I think HC Mike Tomlin would like to keep the Steeler family together. In 2022 he had 27 tackles & 11 passes defended. If Paris Johnson slides to here maybe the Steelers pounce.
18) Detroit Lions – Kelee Ringo CB, Georgia 6'2″ 205 lbs
The Lions have Jeff Okudah on one corner but need a running mate on the other side. Ringo has all the tools to be a pro bowler. Has the speed to not allow separation, Can play man or zone but, he's better in cover man. He's an XLNT tackler anywhere on the field. He's the only CB to shut down WR Jalin Hyatt of Tennessee. Against Quentin Johnston of TCU in the CFP Championship, he allowed only 1 reception for 6 yards. In 2022 he produced 44 tackles, 7 passes defended & 2 interceptions.
19) Tampa Bay Buccaneers – Michael Mayer TE, Notre Dame 6'5″ 260 lbs
The Bucs could use an upgrade at TE& this is the best one available for this draft. He would be a great safety valve for whoever is under center. He can run the seam or sideline for big gains & is a good blocker on the offensive line or downfield. Plays clutch in big games & comes through at critical times. In 2022 he accumulated 67 receptions for 809 yards (12.1 avg) & 9 touchdowns.
20) Seattle Seahawks – Christian Gonzalez CB, Oregon 6'2″ 201 lbs
The Hawks could use some more youth & depth for their secondary. Gonzalez has the frame they desire in CB's. He may be the fastest CB in this draft so he won't allow separation, Can play man or zone & contribute. In 2022 he put together 50 tackles, 4 interceptions & 7 passes defended.
21) Miami Dolphins – FORFEIT
22) Los Angeles Chargers – Bryan Bresee DL3T, Clemson 6'5″ 305 lbs.
Bresee was the top-rated player in the country coming out of high school in 2020 but hasn't really lived up to his hype. He plays great in spurts but, is a little inconsistent. He's athletic & mobile with a ton of upside. The Chargers are going to hope he finally blossoms into the player he should be & with the proper coaching that's attainable.
23) Baltimore Ravens – Kayshon Boutte WR, LSU 6′ 190 lbs
This is the Raven's biggest need. Has plenty of speed to beat DB's deep, runs a solid route tree, has a quiver full of moves & knows how to get open. Also,has played well in big games over his career.
24) Minnesota Vikings – Cam Smith CB, South Carolina 6'1″ 187 lbs
It seems like the Vikes are always looking for help in their secondary. That's because they are always at the bottom in giving up pass yards. Smith has benefited from playing the last 2 seasons in the SEC. This CB is a really good in cover man & sticks to WR's like glue. Good tackler in the open field. In 2022 he produced 27 tackles, 1 interception & 5 passes defended.
25) Jacksonville Jaguars – Darnell Washington TE, Georgia 6'7″ 270 lbs
This player has been slowly moving up draft boards. He runs the seam well & has strong hands. One of his real positives is that he can line up next to OT's & is like having another offensive lineman for the run game & he's a decent blocker in pass protection. In 2022 he had 28 receptions for 454 yards (16.2 avg) & 2 touchdowns.They could consider a WR here but, with Calvin Ridley coming back he will ignite their offense even more.
26) New York Giants – Trenton Simpson OLB/ILB, Clemson 6'3″ 228 lbs
Here's a sideline to sideline seek & destroy LB for the G-men. Has very good speed to just run down RB's from behind. Is good at pass coverage on TE's. For the year 2022 he had 72 tackles, 2.5 sacks, 3 passes defended & 2 forced fumbles.
27) Dallas Cowboys – Jahmyr Gibbs RB, Alabama 5'11" 200 lbs
I've heard another rumor that RB Tony Pollard whose contract is up this spring is going to go FA & test the market. Also, Zeke's wheels are getting a little worn. Gibbs had 3 runs for touchdowns over 70 yards in 2022. I think he's the best receiver out of the backfield in the country. Dak will love this player & what he can bring to the field. In 2022 he compiled 926 yards (6.1 avg) & 7 touchdowns. He also had 444 receiving yards and 3 touchdowns.
28) Buffalo Bills – Isaiah Foskey EDGE, Notre Dame 6'5″ 260 lbs
It's pretty clear that the Bills need some new help on the EDGE after their performance vs the Chiefs in the AFC championship. He's the career leader in sacks for the Fighting Irish. This guy is muscle toned from head to foot. Offensive linemen have had their hands full keeping him out of the backfield. For 2022 he totaled 44 tackles, 10.5 sacks & 1 forced fumble.
29) Cincinnati Bengals – Devon Witherspoon CB, Illinois 6′ 180 lbs
The Bengals could use some new blood at CB. This guy plays a lot bigger than he is.
An in-your-face cover corner who lays out some vicious hits for a player his size. Solid tackler all over the field. For 2022 he put together 41 tackles, 3 interceptions & 14 passes defended.
30) New Orleans Saints (from sf via den) – O'Cyrus Torrence G, Florida 6'5″ 347 lbs
The Saints could use a budding star in the interior of their offensive line. This player can open up massive holes for the rush game & is a wall in pass protection. Whoever is under center will greatly appreciate this player. Plus, he pays with a nasty mean streak which the coaches will love. Best interior offensive lineman available for this draft.
31) Kansas City Chiefs – Lukas Van Ness EDGE, Iowa 6'5″ 275 lbs
This player screams Andy Reid at me. He just looks like a Chiefs kind of player. Strong & physical with good upper body & leg strength to power through & around offensive linemen in his pursuit of opposing QB's. Here's another player that is just scratching the surface of his potential & upside. He can also play inside & is solid in run defense. They can put him on the other side from last year's rookie whiz George Karkaftis & be set on the EDGE for several years.In 2022 he produced 37 tackles & 6 sacks.
32) Philadelphia Eagles – Brian Branch FS/CB, Alabama 6′ 193 lbs
The Eagles are another team that is always looking to upgrade their secondary. They're pretty solid at CB but could use some help on the back end. He could come in & contribute to both positions right away. He had 90 tackles, 3 sacks, 7 passes defended & 2 interceptions in 2022.