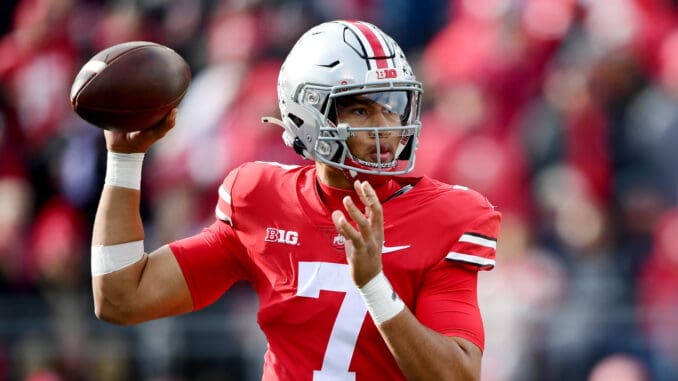 Round 1:

1) Las Vegas Raiders – Will Anderson EDGE, Alabama 6'4″ 245 lbs
This is the best player available at any position for this draft. He has a good chance to be the 1st defensive player to win the Heisman Trophy since Charles Woodson out of Michigan in 1997. Had a big breakout year in 2021 with 17.5 sacks. Most scouts feel the sky is the limit for him.
2) Houston Texans – C.J. Stroud QB, Ohio St. 6'3″ 218 lbs
If the Texans are picking this high maybe the Davis Mills experiment is over. This guy has been lights out so far this season. He had 5 touchdown passes last Saturday vs Wisconsin.
3) Seattle Seahawks – Bryce Young QB, Alabama 6′ 194 lbs
The Hawks don't have a take-charge QB & this former Heisman Trophy winner can come in & take over this offense. The only thing I don't like about him is his listed measurements. I think he would be the smallest QB in the NFL. Sets up fast & has a lightning trigger to get rid of the ball.
4) Atlanta Falcons – Jalen Carter DT/DL3T, Georgia 6'3″ 310 lbs
Plug this guy in next to Grady Jarrett & the defensive line gets a lot better. I think this is a no-brainer.
5) Los Angeles Chargers – Kelee Ringo CB, Georgia 6'2″ 205 lbs
The Chargers have a couple of other big needs but those players available for those positions aren't worthy of this pick so they decide to grab the best CB in this draft. He's an in-your-face cover corner with good speed to not allow separation, has good instincts, XLNT tackler anywhere on the field. They won't have to worry about that side of the field for several years.
6) Arizona Cardinals – Myles Murphy EDGE, Clemson 6'5″ 275 lbs
The Cards don't have much on the Edge since they lost Chandler. Murphy has great size & athletic ability & could explode at the next level.
7) Philadelphia Eagles (from no) – Bijan Robinson RB, Texas 6′ 215 lbs
The Eagles have a stacked roster & don't need much. I know it's early for a RB but it's about their biggest need. This player will help take pressure off QB Jalen Hurts who is having an over-the-top year so far.
8) Carolina Panthers – Will Levis QB, Kentucky 6'3″ 232 lbs
It doesn't look like Baker is going to be the long-term answer. Levis has come along great under HC Mark Stoops & has shown quality leadership skills. The Cats are going to be a tough out for the rest of the season. He's definitely QB #3 in this draft & shows a lot of promise.
9) Miami Dolphins (from sf) – Peter Skloronski OT/G, Northwestern 6'4″ 294 lbs
The Phish need help on their offensive line & he can help out at 2 positions. They are the surprise team of the NFL this season. He needs to get into an NFL strength & conditioning program & team groceries so he can put on 10 – 15 lbs.
10) Tennessee Titans – Michael Mayer TE, Notre Dame 6'4″ 249 lbs
This is the top TE available for this draft & a big need for the Titans. He can really run the seam for big gains & is a solid blocker on the offensive line & downfield.
11) Pittsburgh Steelers – Paris Johnson Jr. OT, Ohio St. 6'6″ 315 lbs
The Steelers could use 2 offensive linemen from this draft. They've also shown a strong preference for Buckeye players over the last few decades.
12) Cincinnati Bengals – Jaxon Smith-Njigba WR, Ohio St. 6′ 198 lbs
He got hurt in the opener & hasn't played since or he would have been long gone by now but should be back in a couple of weeks. They could pair him with Jamar Chase & have possibly the best WR combo in the league. Another big weapon for QB Burrow.
13) New England Patriots – Jordan Addison WR/WRS, USC 6′ 175 lbs
He had a big break-out year in 2021 being QB Kenny Pickett's go-to WR at Pitt & produced 100 receptions for 1550 yards & 17 touchdown passes. Hit the transfer portal to the Trojans for new HC Lincoln Riley. Has plenty of speed & outrageous juke moves to get deep in the secondary. Has 5 receiving touchdowns in 1st 3 games.
14) New York Jets – Bryan Bresee DL3T/DT, Clemson 6'5″ 305 lbs
The Jets need help along their defensive front & this guy will come in a fill a big need. Very fast for a defensive lineman who shows good upper body strength. Athletic & mobile.
15) Washington Commanders – Noah Sewell ILB, Oregon 6'3″ 251 lbs
The Commanders have a hole in the middle of their defense and Sewell will come in and immediately fill that need. Aggressive tackler who can backpedal into pass coverage. Could be one of the national leaders in tackles in 2022.
16) Detroit Lions – Trenton Simpson OLB, Clemson 6'3″ 228 lbs
Lions need LB,CB,QB so they select Simpson 1st. He's a very fast sideline-to-sideline tackling machine LB who has good field instincts. The best off-ball LB available for this draft. Their offense is putting up good numbers & QB Jared Goff is off to a good start in 2022. They just need to get better on D.
17) Indianapolis Colts – Kayshon Boutte WR, LSU 6′ 190 lbs
QB Matt Ryan needs help at WR & Boutte can come in and contribute right away. Possesses good speed to go with a quiver full of moves to get open. Has a nose for the end zone.
18) Chicago Bears – Broderick Jones OT, Georgia 6'4″ 315 lbs
Da Bears desperately need to get better pass protection for young QB Justin Fields or he's going to have trouble developing. Jones has been getting XLNT coaching in Athens from HC Kirby Smart & his staff. Has solid footwork & is good in pass protection & can open up big holes for the rush game.
19) Kansas City Chiefs – Isaiah Foskey EDGE, Notre Dame 6'5″ 260 lbs
The Chiefs need help on the EDGE & Foskey reminds me of an Andy Reid player. Explosive off the line with enough upper body strength to just push OL out of the way in his pursuit of opposing QB's. Smart player with a lot of upside to develop.
20) Houston Texans (from cle) – Quentin Johnson WR, TCU 6'3″ 201 lbs
The Texans & HC Lovie Smith need to get some offensive weapons for whoever is under center. He's a possession WR with enough speed to get deep often. Has some good moves & sticky fingers to just pluck the ball out of the air.
21) New York Giants – Anthony Richardson QB, Florida 6'4″ 236 lbs
This player had a great game in a losing cause to Tennessee. Has thick legs to just break tackles when he's scrambling around with a Winchester for an arm to just sling the ball downfield. He kind of reminds me of a younger Josh Allen & maybe HC Daboll will notice that since he groomed Allen for the Bills. Personally, I don't think he will come out for the 2023 draft but stay with 1st year HC Billy Napier for another year so they can grow together. If he had a big year in 2023 he could potentially go 1st overall in 2024.
22) Buffalo Bills – Antonio Johnson FS/CB, Texas A&M 6'3″ 200 lbs
The Bills just lost to the Dolphins & both of their starting Safeties didn't play due to
injury. Micah Hyde could be out for a while I believe he's on the wrong side of 30 & Poyer is no kid so some new blood is needed on the back end.
23) Dallas Cowboys – Jaelyn Duncan OT, Maryland 6'6″ 320 lbs
The Cowboys really need some help on their offensive line & Duncan is showing good signs of promise for the future. Has quality footwork & moves his hands & feet at the same time very well. Solid in pass protection & has the size to open massive holes for the run game.
24) Green Bay Packers – Jordan Battle FS/SS, Alabama 6'1″ 206 lbs
The Pack would have liked one of the OT's to fall to them here but no dice, so they grab their next biggest need. I like this player a lot. 3 year starter for the Tide & has played in a lot of big games. Can roam the back end & be very effective or come up into the tackle box & lay out some strong hits. Complete S.
25) Seattle Seahawks (from den) – Gervin Dexter DL3T/DT/NT, Florida 6'6″ 313 lbs
The Hawks have been giving up too many yards up the middle & need some more muscle & strength there. They also lost perennial pro bowl, LB Bobby Wagner, to the Rams in the off-season. In comes Dexter who will really help stuff the run & put interior pressure on opposing QB's.
26) Tampa Bay Buccaneers – Cam Smith CB, South Carolina 6'1″ 187 lbs
The Bucs could use some help in pass coverage in their secondary & Smith is getting a lot of positive media press. Has good speed to not allow separation & can play cover man or zone.
27) Baltimore Ravens – B.J. Ojulari EDGE, LSU 6'3″ 245 lbs
The Ravens need ER, G, LB & WR so they grab their biggest need 1st. He's a fast & relentless pass rusher with good speed to just motor around OT's on his way to the QB. He reminds me of a Ravens type of player. Very coachable & gets results.
28) Minnesota Vikings – Joey Porter Jr. CB, Penn St. 6'2″ 191 lbs
It seems like the Vikes are always looking for help in their secondary. Porter is having a strong year for the Nittany Lions in 2022. Has the speed to not allow separation, can play cover man or zone, has good ball skills & a high football IQ plus nice bloodlines.
29) Detroit Lions (from lar) – Eli Ricks CB, Alabama 6'2″ 196 lbs
Ricks was injured in their opener & hasn't played since or he would have been selected already. Would be an awesome pick at this point in the draft for the Lions.
Possesses all the skills to be a successful CB in the NFL.
30) Jacksonville Jaguars – Marvin Mims WR/WRS, Oklahoma 5'11" 180 lbs
The Jags may be the biggest surprise of the year so far. Here's a fly-in-the-ointment receiver for QB Trevor Lawrence & HC Doug Pederson. Very fast with quick moves to get open short or deep. He should surface as a slot receiver at the next level & could be a solid contributor early in his career.
31) Miami Dolphins – FORFEIT
32) Philadelphia Eagles – Nolan Smith EDGE/OLB, Georgia 6'3″ 235 lbs
Like I said earlier the Eagles have a loaded roster & might not need much to get to the big game. Smith has been rock solid for the Dawgs for 3 years. Has a habit of being in the right place at the right time & gets results.