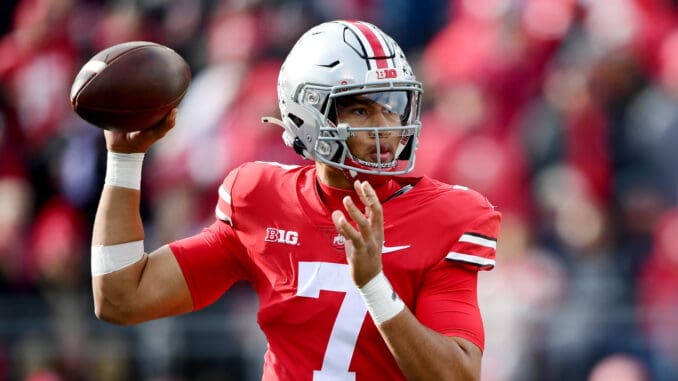 Round 1:
1) Atlanta Falcons – C.J. Stroud QB, Ohio St. 6'3″ 218 lbs
The Falcons selected QB Desmond Ridder in the 3rd round this year. But, this guy is going to be lights out all year. Ridder needs to have an excellent year for them not to take Stroud & I can't see that. He produced 4435 passing yards with 44 touchdowns & only 6 interceptions in 2021. He closed out the year with an over-the-top performance in the Rose Bowl vs Utah. He had about 570 yards passing & 5 touchdowns.
2) Houston Texans – Bryce Young QB, Alabama 6′ 194 lbs
The Texans are big on Davis Mills & so am I but if they're picking this high they have to surround him with more talent or bring in some strong competition which I have them doing here. 2021 Heisman Trophy winner & he'll be in the hunt again in 2022. These 1st 2 selections have a good chance to face off in the National Championship game. My only negative on him is his listed measurements.
3) Detroit Lions – Will Anderson Jr. EDGE, Alabama 6'4″ 243 lbs
The Lions sit tight and grab the best all-around player available for this draft. This player is absolutely oozing upside & potential. They just took Hutch in this year's draft & now Anderson lands in their laps. This will give them the best ER duo in the NFL. This team is starting to get better.
4) Seattle Seahawks – Jalen Carter DL3T/DT/DL1T, Georgia 6'3″ 310 lbs
I read recently that several scouts thought this was the best player on the Dawgs defense in 2021. Think about that for a few seconds. This team was absolutely loaded on defense in 2021. The Hawks have a hole upfront on their DL & this player will come in and exceed expectations.
5) New York Jets – Paris Johnson Jr. OT, Ohio St. 6'6″ 315 lbs
The Jets decide to grab some more premiere pass protection for young QB Zach Wilson. He's moving over from G for the 2022 season & should possibly be All Big 10 in 2022. If Mekhi Becton doesn't start to improve he's going to riding the pine.
6) Jacksonville Jaguars – Jaxon Smith – Njigba WR, Ohio St. 6′ 198 lbs
If this player picks up where he left off he's going to be out of sight in 2022. In the Rose Bowl game, he had 347 yards 4 touchdowns from Stroud. I think this will be similar to LSU in 2019 when it was QB Joe Burrow to Jamarr Chase all the way to the national title. HC Doug Pederson grabs this stud & doesn't look back.
7) Carolina Panthers – Kayshon Boutte WR, LSU 6′ 190 lbs
The Panthers got lucky drafting QB Matt Corral in the 3rd round this year. Now they have to get him a true WR#1 & they can get that here. LSU has become WRU the last few years & this is their latest showroom model. Lots of speed, runs a solid route tree & has a nose for the end zone. He's going to stack up some big numbers in Baton Rouge in 2022.
8) Chicago Bears – Bryan Bresee DL3T/DT/DL5T, Clemson 6'5″ 300 lbs
The Bears need some serious help in their defensive front. This player can help them out up & down their defensive line. He's getting some positive early press. This guy has a way quick 1st step to go with good upper body strength.
9) New York Giants – Michael Mayer TE, Notre Dame 6'4″ 250 lbs
This is a little early for a TE but the G-men need one who can run the seam for big gains & is a good blocker on the line or downfield & they can do that now.
10) Washington Commanders – Peter Skoronski OT/G, Northwestern 6'4″ 294 lbs
HC Ron Rivera decides to select some more pass protection for QB Carson Wentz. He's a little slight but everyone said that about Rashawn Slater last year and he ended up in the pro bowl as a rookie. He's also very solid in opening up nice running lanes for the ground game.
11) Pittsburgh Steelers – Kelee Ringo CB, Georgia 6'2″ 205 lbs
I believe this is the top CB for 2022. Big, fast & physical CB who can play cover man or zone & do an awesome job. A heavy hitter who is relentless. Steelers kind of player.
12) Minnesota Vikings – Jordan Addison WR/SWR, Pittsburgh 6′ 175 lbs
Here's an explosive receiver to pair with Justin Jefferson. Was the go-to WR for Kenny Pickett at Pitt in 2021. Has see -ya speed to go with good jukes to get him loose in the secondary. I think that the Steelers will consider him at #11.
13) Philadelphia Eagles (from no) – Eli Ricks CB, Alabama 6'2″ 196 lbs
This is going to be the Tide's top cover corner for 2022. Is already getting some big press & the Eagles always seem to need help in their secondary. Has plenty of speed to not allow separation & will be a decent ballhawk & a solid tackler in the open field.
14) Las Vegas Raiders – Noah Sewell ILB, Oregon 6'3″ 251 lbs
Here's a real thumpin' LB for HC Josh McDaniels & the Raiders. This guy looks like a 1st team All-American to me. Fast LB who hits like a truck & can backpedal into pass coverage. He could be one of the national leaders in tackles for 2022.
15) Miami Dolphins _ Myles Murphy EDGE, Clemson 6'5″ 275 lbs
This looks like the top ER available for this draft & a big need for the Dolphins. Strong legs to go with good upper body strength. Has a quick 1st step that gets him into the backfield where he can get pressure, sacks & tackles for loss.
16) New England Patriots – Jordan Battle FS/SS, Alabama 6'1″ 206 lbs
The Pats need S, WR, CB & OL. I thought Battle was the best S in the country in 2021 but, went back to school & HC Bill Belichick couldn't be happier. This guy is a real stud in the secondary & he can do it all.
17) Tennessee Titans – Nolan Smith EDGE/OLB, Georgia 6'3″ 238 lbs
The Titans could use a new weapon on the EDGE. Smith was smart to go back to school because it has moved him into the 1st round. Is a solid tackler & can help out a lot at OLB too.
18) Houston Texans (from cle) – Bijan Robinson RB, Texas 6′ 218 lbs
I think he will be the top RB prospect for 2022. It's a little early for RB but, it's about the Texans biggest need. Would also be a great local pick. Hits the hole in a hurry & is in the secondary before the defense knows what's up.
19) Philadelphia Eagles – Brandon Joseph FS, Notre Dame 6'1′ 192 lbs
Joseph hit the transfer portal from Northwestern & ended up in South Bend & the Fighting Irish couldn't be happier. 2 year starter for NW & all Big 10 player. Another piece the Eagles can add to their secondary.
20) Baltimore Ravens – B.J. Ojulari EDGE, LSU 6'3″ 245 lbs
This stud is going to make a lot noise in the SEC in 2022. Fast, strong ER who has a quiver full of moves to propel him into the backfield where can create havoc, get sacks & tackles for loss. Reminds me of a Ravens player.
21) Arizona Cardinals – Joey Porter Jr. CB, Penn St. 6'2″ 192 lbs
The Cards are another team that is always looking for secondary help. Look for Porter to have a big year for the Nittany Lions in 2022. Has enough speed to not allow separation, is a good ballhawk & is always around the football. Has a high football IQ & a good skill set to go with nice bloodlines.
22) Seattle Seahawks (from den) – Tyler Van Dyke QB, Miami 6'4″ 224 lbs
If he falls this far HC Pete Carroll will gobble him up here. Big frame with a cannon attached to his right shoulder. Pocket passer who is not real mobile. Tons of potential with some serious upside.
23) Los Angeles Chargers – Trenton Simpson OLB, Clemson 6'3″ 228 lbs
This is one of the few weak spots that the Chargers have. Sideline to sideline LB who can chase down RB's from behind. Decent in pass coverage & an aggressive tackler. Needs to add a few lbs of muscle. But, looks like the best off-ball LB available for this draft.
24) Miami Dolphins (from sf) – Zion Nelson OT, Miami 6'5″ 316 lbs
The Phish need more help on their offensive line. 3-year starter for the Canes. Moves his hands & feet at the same time very well. Could use a few more lbs to his anchor.
Look for him to have an impressive season with new coaching & a winning attitude starting to go through their locker room.
25) Indianapolis Colts – Will Levis QB, Kentucky 6'3″ 232 lbs
Smart QB with a nice frame. Has come along very well under HC Mark Stoops & his staff in Lexington. He had a solid year in 2021 but, look for him to really break out in 2022. GM Ballard doesn't move far from his draft board very often. This looks like a good fit.
26) Dallas Cowboys – Jalen Catalon FS, Arkansas 5'10" 200 lbs
The Cowboys have a hole on their back end & you know how owner/president/ gm Jerry Jones loves his Razorbacks. He made a good move by returning to school for 2022 & now needs to have an eye-opener year. Covers the back end well & isn't afraid to come up into the tackle box and layout some hard hits.
27) Cincinnati Bengals – Emmanuel Forbes CB/SCB/NCB, Mississippi St. 6′ 180 lbs
The Bengals could use some youth & depth in their CB room. Can help them out in several positions in their secondary. He has a big nose for the football & could possibly be a national leader in interceptions.
28) Detroit Lions (from lar) – Antonio Johnson CB/FS, Texas A&M 6'3″ 200 lbs
I like this player quite a bit & am going to keep tabs on him. Great size & good speed. Can roam the back end & hit like a linebacker or can come up to cover man on the outside. Can also be productive in zone. An exciting player who could be a big help for the Lions.
29) Green Bay Packers – Marvin Mims SWR/WR, Oklahoma 5'11" 180 lbs
Another fly-in-the-ointment receiver for Aaron Rodgers & the pack. Came onto the scene in 2021 with a good season. Lightnin' in a bottle & a blur on the field.
30) Kansas City Chiefs – Robert Scott Jr. OT, Florida St. 6'5″ 315 lbs
HC Andy Reid likes to take players in the trenches early. There's some talk that the 'Noles have some high hopes for him in 2022. Started in 2021 & had a good season. Opens up big holes for the ground game & is solid in pass protection. Reid is a good offensive line coach & he will coach this guy up.
31) Tampa Bay Buccaneers – Henry To'o To'o OLB/ILB, Alabama 6'2″ 228 lbs
This player reminds me a lot of Lavonte David & may end up replacing him. This is another sideline to sideline seek & destroy LB looking for someone to hit. Fast, furious & complete LB who can come in & start early in his career.
32) Buffalo Bills – Malachi Moore FS, Alabama 6′ 190 lbs
The Bills have a loaded roster & don't need much but, could use some help on the back end like a few other teams this year. Another player who is creating a good buzz among the media & could go earlier.