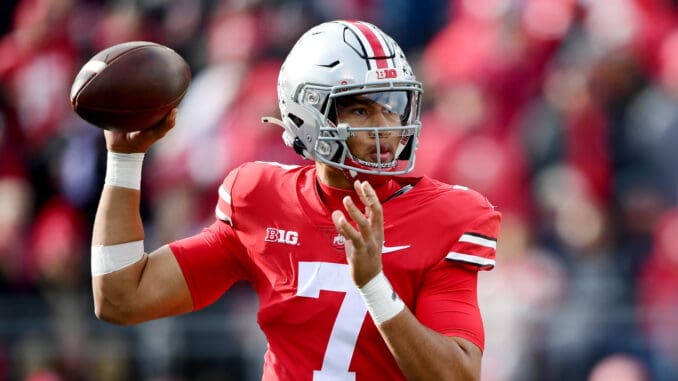 Round 1 | Round 2 | Round 3 | Round 4 | Round 5 | Round 6 | Round 7
Round 1:
1) Carolina Panthers (from chi) – Bryce Young QB, Alabama 5'10" 204 lbs
This is the 1st time I've had Young on top since early October. He's gained all the momentum in the last 7 – 10 days. It seems like HC Reich wants Stroud but owner Tepper wants Young & he gets his way.
2) Houston Texans – C.J. Stroud QB, Ohio St. 6'3″ 214 lbs
The Texans shouldn't overthink this selection just grab him & move on.
3) TRADE- Seattle Seahawks (from az) – Anthony Richardson QB, Florida 6'4″ 244 lbs 4.43
The Hawks & the Raiders are the best teams to move up for Richardson because they have a quality veteran starter in place & he can carry the clipboard for a year at least & when he's ready they can give him the reins to the team. In return the Cards move down to #5 & take the player they would get at #3. Plus, they pick up the Hawks 2nd rounder #52 & a 4th round teaser in 2024 to seal the deal.
4) Indianapolis Colts – Will Levis QB, Kentucky 6'4″ 229 lbs
The Colts don't have much of a choice here. They HAVE to take a QB & this will be the 1st time in draft history that QB's have gone in the 1st 4 selections. Levis is no slouch he goes through his progressions quickly & makes solid decisions with the football. He also has a Winchester attached to his right shoulder to toss missiles downfield. He may end up on the field early in 2023.
5) Arizona Cardinals (from sea) – Will Anderson EDGE, Alabama 6'4″ 253 lbs 4.60
Anderson has been the best overall player on defense for the last 2 years. For his career in Tuscaloosa, he's put together 207 QB pressures, 71 QB hits, 58.5 tackles for loss & 34.5 sacks. This is about the safest player available for this draft.
6) Detroit Lions – Jalen Carter DT/DL3T/NT, Georgia 6'3″ 314 lbs
HC Campbell won't bat an eye here. His legal issues don't outweigh his talent. He was the best player in college football in 2022. Has the athleticism, strength, talent & moxie to dominate the line of scrimmage & take over games. This is the player that can bring their whole defense together.
7) Las Vegas Raiders – Christian Gonzalez CB, Oregon 6'2″ 197 lbs 4.38
Gonzalez is the top CB on my board & a big need for the Raiders. They haven't had a shutdown corner for quite a while. He had a blazing combine to solidify his status as CB#1.
8) Atlanta Falcons – Tyree Wilson EDGE, Texas Tech 6'6″ 271 lbs
The Falcons have been in dire straits for a pass rusher for the last few years. In comes Wilson who is dripping with potential & oozing with upside. Has a lightning 1st step to go with some twitchy moves to propel him into the backfield where he can cause havoc & get sacks & tackles for loss.
9) Chicago Bears (from car) – Paris Johnson Jr. OT, Ohio St. 6'6″ 313 lbs
Johnson is the best blindside tackle available for this draft. He can open up big holes for the ground game & is rock solid in pass protection. This is a very good selection as he will keep QB Fields on his feet so he can make plays downfield.
10) Philadelphia Eagles (from no) – Nolan Smith EDGE/OLB, Georgia 6'3″ 238 lb 4.39
The Eagles have been on the midnight train from Athens to Philly the last 2 drafts early & they continue that trend here. Smith is really bendy & has the speed to get around OTs with relative ease. He needs to get into an NFL strength & conditioning program & put on about 10 – 12 lbs of muscle. Then he will be a handful for offensive linemen.
11) Tennessee Titans – Peter Skoronski OT/G, Northwestern 6'4″ 314 lbs
The Titans need QB, OT, G, WR early in this draft. To take a QB would be a massive reach for Hooker & they have incumbent Tannehill in place for 2023. Skoronski was the highest-rated pass protector for 2022. He could be an NFL starter at OT but, if he moves inside he could be an all pro / pro bowl player. Has good bloodlines being the grandson of Bob Skoronski who played for legendary HC Vince Lombardi & was Bart Starr's blindside protector for 13 years.
12) Houston Texans (from cle) – Jaxon Smith – Njigba WR/WRS, Ohio St. 6'1″ 196 lbs
4.48
This would be a lights-out pick for the Texans being that Stroud & Njigba have been playing & practicing together for 3 years & know each other's moves very well.
13) Green Bay Packers – Michael Mayer TE, Notre Dame 6'5″ 249 lbs
Mayer is the best all-around TE available for this draft. He can run the seam or sideline for chunk gains & is an xlnt blocker on the offensive line or downfield. Possesses strong hands & is hard to take down when he gets up to speed. Makes clutch plays at critical times.
14) New England Patriots – Lukas Van Ness EDGE, Iowa 6'5″ 272 lbs
Van Ness is a big riser through the draft process & a big need for the Pats. He wasn't a starter for Iowa but, had 37 tackles & 6 sacks coming off the bench in 2022. Will be a real handful when he puts on another 5 – 7 lbs of muscle. His best football is definitely ahead of him.
15) New York Jets – Broderick Jones OT, Georgia 6'5″ 311 lbs 4.97
Jones had a dynamite all-around combine highlighted by the fastest 40 time of all offensive linemen. This guy is awesome in opening up major holes for the rush game which was vital to the Dawg's offense & was solid in pass protection too.
16) Washington Commanders – Devon Witherspoon CB, Illinois 6′ 181 lbs 4.40
The Commanders could use a physical CB in their secondary. He hits like an LB & plays with that mentality. Better in cover man than zone. His only ding is not performing at the combine or his pro day.
17) Pittsburgh Steelers – Joey Porter Jr. CB, Penn St. 6'3″ 194 lbs 4.46
If he's still on the board when the Steelers go on the clock this could be a slam-dunk pick. Porter has had a stellar career in Happy Valley. He was the team leader of the defense on the field & in the locker room. Has enough speed to not allow separation, is a good tackler in the open field, and tracks the ball well. Everyone knows the family ties to the franchise with his father being an all pro / pro bowl player with the Steelers.
18) Detroit Lions – Myles Murphy EDGE, Clemson 6'5″ 268 lbs
Murphy has had 3 years of good production at Clemson even though he dragged a bit coming down the stretch in 2022. HC Campbell is a tough coach & will bring out the best in him shortly. Pairing him with Hutchinson on the other side & Carter in the middle will become the best defensive line in the NFC North & one of the best in the league.
19) Tampa Bay Buccaneers – Darnell Wright OT, Tennessee 6'6″ 333 lbs
The Bucs need to re-load their offensive line & this is a good place to start. They could move Tristian Wirfs to LOT & where he would excel & place Wright at ROT where he played in 2022 for the Vols. They aren't done with the offensive line just yet.
20) Seattle Seahawks – O'Cyrus Torrence G, Florida 6'5″ 330 lbs
The Hawks continue to re-load their offensive line too with the best interior offensive lineman available for this draft. Last year they nailed it with LOT Charles Cross & ROT Abe Lucas both exceeding the team expectations in their rookie years. Torrence is a mauler in the ground game & a wall in pass protection. Another team that isn't done addressing their OL.
Miami Dolphins – FORFEITED.
21) Los Angeles Chargers – Bijan Robinson RB, Texas 5'11" 215 lbs 4.47
Robinson has a lot of momentum coming into the draft & could go earlier but, would be a great fit here with RB Eckeler leaving. He had a great year in 2022 with 1580 yards rushing (6.1 avg) and 18 touchdowns. He also chipped in with 314 receiving yards & 2 touchdowns.
22) Baltimore Ravens – Quentin Johnston WR, TCU 6'3″ 212 lbs
The Ravens have added OBJ & have Rashod Bateman now they take Johnston. If they can get QB Lamar back in the building they would be looking good. Johnston carried TCU to the CFP championship game. In 2022 he produced 60 receptions for 1069 yards (17.8 avg) & 6 touchdowns.
23) Minnesota Vikings – Jordan Addison WRS/WR, USC 5'11" 173 lbs 4.49
This pick has to be WR or CB & HC Kevin O'Connell decides to give his star WR Jefferson a new running mate. He didn't have the best combine but tape is tape & stats are stats & he has plenty of that. He has some serious juke moves that get him by DB's on his way to the end zone. He had a solid season in 2022 for the Trojans but, in 2021 when playing with QB Kenny Pickett at Pitt he amassed 100 receptions for 1550 yards & 17 touchdowns.
24) Jacksonville Jaguars – Anton Harrison OT, Oklahoma 6'5″ 315 lbs 4.98
The Jags lost ROT Jawann Taylor to the Chiefs in FA so grab his replacement here. He's been a 2-year starter for the Sooners & an all-conference OT. He also tied for the 2nd fastest 40-time of all offensive linemen.
25) New York Giants – Deonte Banks CB, Maryland 6′ 197 lbs 4.35
The G-men need CB, WR, G & RB so take their secondary player now. Banks is a good cover man corner and if he gets juked out he has the great speed to just catch up. There's a lot to like about Banks & he could go anywhere in the bottom 12 picks.
26) Dallas Cowboys – Jahmyr Gibbs RB, Alabama 5'11" 200 lbs 4.36
The Cowboy's RB room is starting to get lonely. They released Zeke & tagged Pollard
who is recovering from a broken fibula so they need some immediate help at RB. He has the muscle to take the rock inside in short-yardage situations or go off tackle & take it to the house. He had 3 touchdown runs of over 70 yards in 2022. I think he's the best receiver out of the backfield in the country. Dak will love what this player can bring to the field.
27) Buffalo Bills – Zay Flowers WRS/WR, Boston College 5'9″ 182 lbs 4.42
Here's a fast & well-built receiver for the Bills. He runs a solid route tree, has a quiver full of moves & plenty of speed to take it to the promised land. Really good at finding open spaces when running underneath. Also, can play well in cold weather.
28) Cincinnati Bengals – Dalton Kincaid TE, Utah 6'4″ 246 lbs
If he falls this far the Bengals will pounce on him here. TE is about their biggest need. He runs good routes & is a YAC specialist. He isn't the best blocker but, the Bengals aren't taking him to block. Possesses sneaky speed to get behind DBs for big gains.
29) New Orleans Saints (from sf via den) – Will McDonald IV EDGE, Iowa St. 6'4″ 239 lbs
The Saints lost their best ER Marcus Davenport in FA to the Vikes so grab a replacement here. Super fast 1st step to get him around OTs & into the backfield where he can cause havoc, get sacks & tackles for loss. He isn't very good in run support & needs to get into an NFL strength & conditioning program & put on 10 lbs of muscle & weight. When he gets up to 250 lbs he'll be a big problem for offensive linemen.
30) Philadelphia Eagles – Brian Branch FS/CBS, Alabama 6′ 190 lbs
The Eagles were able to re-sign both of their starting CBs but, lost both of their Safeities to FA. Branch is the top FS for this draft & is like a defensive QB on that side of the ball. In 2022 he had 90 tackles, 3 sacks, 7 passes defended & 2 interceptions.
31) Kansas City Chiefs – Jalin Hyatt WR/WRS, Tennessee 6′ 176 lbs 4.40
The Chiefs lost both Juju & Hardmamn to FA so some help is needed. This player has very good straight-line speed but, his football field speed is absolutely ridiculous. Had 15 touchdown receptions in 2022 highlighted by his career game vs Alabama when he had 6 receptions for 207 yards (34.5 avg) & 5 touchdowns. There's a big dropoff in WRs after him so, if you want a WR take him now.
Round 1 | Round 2 | Round 3 | Round 4 | Round 5 | Round 6 | Round 7