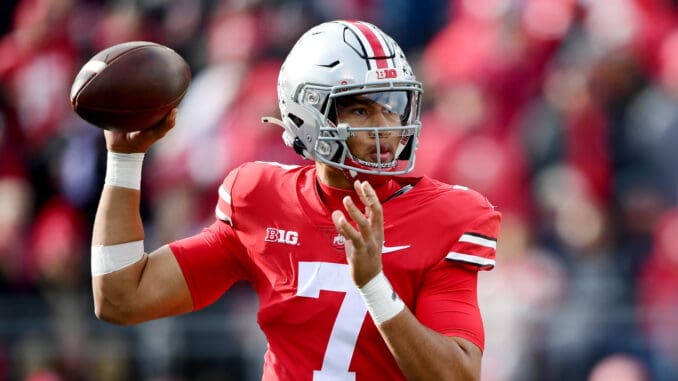 Round 1 | Round 2 | Round 3 | Round 4 | Round 5
Round 1:
1) Carolina Panthers (from chi) – C.J. Stroud QB, Ohio St. 6'3″ 214 lbs
HC Frank Reich could go in either direction with this pick. He's preferred more oversized framed QB's that are pocket passers. But, Stroud showed in the national semi-final vs Georgia that he can beat you with both his arm and his legs.
2) Houston Texans – Bryce Young QB, Alabama 5'10" 204 lbs
Young showed up a little short & 10 lbs heavier at Indy than his listed measurements. Plus, he didn't work out at all. He needs to have a very good pro day to go #1 overall. But, I think the Texans prefer him for the style of offense they want to run.
3) Arizona Cardinals – Will Anderson Jr. EDGE, Alabama 6'4″ 253 lbs 4.60
With new HC Jonathan Gannon in tow and being a defensive-minded coach he decides to stay on that side of the ball & go with one of the safer picks in this class. For his 3 years in Tuscaloosa, he put together 207 QB pressures, 71 QB hits, 58.5 tackles for loss & 34.5 sacks.
4) Indianapolis Colts – Will Levis QB, Kentucky 6'4′ 232 lbs
I believe that Levis is more ready to start in the NFL than Richardson. They have 3 backup level QBs to start the season. Levis has a good chance to start by the mid-point of the 2023 season. Has a Winchester attached to his right should to throw some lazers. Smart QB with a high football IQ.
5) Seattle Seahawks (from den) – Tyree Wilson EDGE, Texas Tech 6'6″ 271 lbs
I think that Wilson has a good chance to surpass Anderson as the top ER available for this draft. He got better in every game in 2022. Having chosen to not participate in the combine his pro day will be highly anticipated. This guy is just chiseled & oozing with potential & dripping with upside.
6) Detroit Lions From lar) – Jalen Carter DT/DL3T/NT, Georgia 6'3″ 314 lbs
HC Campbell is not going to bat an eye here. Carter was not just the best player not playing QB but, the best player in the country period. His legal issues have been resolved with short probation. This is who the Lions need to bring their whole defense together. Can dominate the line of scrimmage & take over games. His skill set reminds me of the Chief's Chris Jones.
7) Las Vegas Raiders – Anthony Richardson QB, Florida 6'4″ 244 lbs 4.43
This is a good spot for Richardson to get off the bus. They have a veteran starter in place in Jimmy G & he can carry the clipboard & get acclimated to the Raiders offense for at least a year. Plus, HC Josh McDaniels has a good offensive mind & has coached up a couple QB's that have done fairly well. When they think he's ready to take charge on the field it will be SHOWTIME in Sin City.
8) Atlanta Falcons – Christian Gonzalez CB, Oregon 6'2″ 197 lbs 4.38
The Falcons need an infusion of talent for their secondary. In comes Gonzalez who is coming off a hot combine to solidify his status as CB#1. In 2022 he produced 50 tackles, 4 interceptions & 7 passes defended.
9) Chicago Bears (from nc) – Paris Johnson OT, Ohio St. 6'7″ 313 lbs
Da Bears have had a very active off-season so far. They acquired a good G in Nate Davis in FA & now take the best OT available for this draft. Johnson has long strong arms that keep ER's at bay & can move his hands & feet at the same time very well. Can open up big holes for the ground game & is rock solid in pass protection.
10) Philadelphia Eagles (from no) – Myles Murphy EDGE, Clemson 6'5″ 268 lbs
The Eagles were going to strongly consider a CB here but, with the re-signing of both Slay & Bradberry they can go in another direction of need. He was awesome 2021 & 1st half of 2022 but, tailed off a little to finish out the season. He needs to have a good pro day to go this early. Lots of talent & upside.
11) Tennessee Titans – Peter Skoronski OT/G, Northwestern 6'4″ 314 lbs
The Titans have a lot of holes to fill & decide to start with the offensive line. Skoronski could start at LOT in the NFL but, if he moves inside to G he could be a Pro Bowl /All-Pro player. This is due to him coming into Indy with under 33″ arms.
12) Houston Texans (from cle) – Jaxon Smith-Njigba WR, Ohio St. 6′ 198 lbs
This pick is contingent on the Texans selecting Stroud with the 1st overall pick. They know each other very well having played & practiced together for 3 years in Columbus. This guy has XLNT speed, runs a good route & has a nose for the end zone.
13) New York Jets – Broderick Jones OT, Georgia 6'5″ 311 lbs 4.97
The Jets are coming together & are anxiously awaiting the arrival of one Aaron Rodgers to help make their overhaul complete. Jones can open up some serious running lanes for the rush game which was vital to the Dawg's offense & is good in pass protection. He had the fastest 40 time of all offensive linemen at Indy.
14) New England Patriots – Joey Porter Jr. CB, Penn St. 6'3″ 193 lbs 4.46
The Pat's have picked up a few useful pieces in FA & now turn their heads to the secondary where an upgrade is needed at CB. Porter has had a stellar career in Happy Valley & can play both cover man and zone & still get positive results. Has enough speed to not allow separation & is a good tackler in the open field, Also, has XLNT bloodlines. Had 27 tackles & 11 passes defended in 2022.
15) Green Bay Packers – Michael Mayer TE, Notre Dame 6'5″ 249 lbs
QB Jordan Love could use a good safety valve. Mayer can run the seam or sideline for big gains. Is a solid blocker on the offensive line or downfield. Has strong hands & is hard to get down when he gets up to speed. Seems to make clutch plays at critical times.
16) Washington Commanders – Devon Witherspoon CB, Illinois 6'1″ 181 lbs
This player has been coming on like gangbusters & if he would have gone through the drills at the combine he would have gone earlier. This guy can lay out some vicious hits for a player his size. Another player who needs to have a good pro day. The scouts & coaches will be in attendance.
17) Pittsburgh Steelers – Quentin Johnston WR, TCU 6'3″ 208 lbs
The Steelers don't have much in their WR room behind Dionte Johnson & last year's rookie whiz George Pickens. Johnston carried the Horned Frogs to the CFP championship game & had a solid year with 60 receptions for 1069 yards (17.8 avg) & 6 touchdowns. Needs to work on his route tree but, everything else is in place.
18) Detroit Lions – Lukas Van Ness EDGE, Iowa 6'5″ 272 lbs
This player is slowly moving up my draft board. He didn't start for the Hawkeyes but, had 37 tackles & 6 sacks coming off the bench. XLNT upper body strength to push OT's backward in his pursuit of opposing QB's. This defense is really coming around with these 1st 2 selections. Plug n play him with Hutchinson on the other side & Carter in the middle & this turns into the best DL in the NFC North & top 3 in the league.
19) Tampa Bay Buccaneers – Calijah Kancey DL3T, Pittsburgh 6'1″ 281 lbs 4.67
This player broke his mentor Aaron Donald's record for a 40 yard dash time for DT's by a 100th of a second. Put him in next to the mammoth Vita Vea & while he takes on 2 offensive linemen Kancey can motor & scoot around everyone else and zero in on sacks & tackles for loss. This player could have an immediate impact on the Buc's defense.
20) Seattle Seahawks – Zay Flowers WRS, Boston College 5'9″ 182 lbs 4.42
The Hawks could use some new juice at WRS. This player has good straight-line speed but, his football speed is ridiculous. Has a decent route tree, has soft hands & knows how to get open. QB Geno will like this new toy.
Miami Dolphins – FORFEITED
21) Los Angeles Chargers – Bijan Robinson RB, Texas 5'11" 215 lbs 4.47
With RB Ekeler going FA the Chargers decide to bring in a replacement. He had a big year for the Longhorns in 2022 with 1580 rushing yards (6.1 avg) & 18 touchdowns. Also, had 314 receiving yards & 2 touchdowns. He can take the rock inside in short-yardage situations or go off tackle and around end on sweeps & take it to the house.
22) Baltimore Ravens – Jordan Addison WRS, USC 5'11" 175 lbs 4.49
This is a must-need for the Ravens. He didn't have the best combine but tape is tape & stats are stats & he has plenty of that. !st off the Ravens have to figure out their mess with QB Lamar. He has enough speed & some serious juke moves that get him by DB's on his way zone.
23) Minnesota Vikings – Kelee Ringo CB, Georgia 6'2″ 207 lbs 4.36
The Vikes have one of the worst pass defenses in the NFL. They're always at the bottom in giving up pass yards. In comes Ringo who can play man or zone but, I think he's better in cover man. Has the speed to not allow separation and tracks the ball well but, sometimes gets turned around. Is an XLNT tackler all over the field. In 2022 he produced 42 tackles, 7 passes defended, 2 interceptions & 1 forced fumble.
24) Jacksonville Jaguars – Darnell Wright OT, Tennessee 6'6″ 333 lbs
The Jags lost ROT Jawann Taylor to the Chiefs in FA so grab his replacement here. Wright had a very good year in 2022. A big OT who is good in pass protection & can open big holes for the rush game. He had a solid all-around combine.
25) New York Giants – Deonte Banks CB, Maryland 6′ 197 lbs 4.35
The G-men decide to grab a cover corner who has great speed & emerged in 2022 with a superb year. The Giants have been having trouble in their secondary for the last 2 years. HC Daboll is slowly putting his team together to be a long-time play-off contender.
26) Dallas Cowboys – O'Cyrus Torrence G, Florida 6'6″ 330 lbs
This is a big need for the Cowboys along with WR. plug n play this player next to last year's rookie sensation LOT Tyler Smith & the Cowboys will be a lot stronger in the rush game as well as in pass protection. Hope that OT Tyron is ok with a move to ROT. Kind of like taking one for the team. This OL can take a big turn for the better with this move.
27) Buffalo Bills – Anton Harrison OT, Oklahoma 6'5″ 315 lbs 4.98
The Bill's top priority has to be getting QB Josh Allen the best pass pro they can get. Harrison has been a 2-year starter for the Sooners & one of the best players on their roster. Is solid at both opening up quality running lanes as well as pass protection.
28) Cincinnati Bengals – Dalton Kincaid TE, Utah 6'4″ 246 lbs
If Kincaid falls this far the Bengals will pounce on him. This is their biggest need. He was the best player on the Utes roster & helped lead them to 2 PAC-12 titles & 2 consecutive appearances in the Rose Bowl. In 2022 he accumulated 70 receptions for 890 yards (12.5 avg) & 8 touchdowns.
29) New Orleans Saints (from sf via den) – Nolan Smith EDGE/OLB, Georgia 6'3″ 238 lbs 4.39
The Saints lost their top ER Marcus Davenport in FA to the Vikes & grab Smith as his repalcement. He was the star of day one at the combine. Tested over-the-top in all the drills. This guy is really bendy & has the speed to get around OT's quickly. Deceptive player who makes a lot of clutch plays.
30) Philadelphia Eagles – Bryan Bresee DL3T/DL5T, Clemson 6'6″ 298 lbs
Bresee was the top-rated player coming out of high school in 2020 but has failed to
play up to expectations. He had a good combine & a solid pro day so maybe he's starting to come around. He's had a couple of injuries & a family tragedy that slowed him down a bit. The Eagles are aging along their defensive front & need some young new talent.
31) Kansas City Chiefs – Jalin Hyatt WR/WRS, Tennessee 6′ 176 lbs 4.40
HC Andy Reid & QB Patrick Mahomes could utilize this player to the nines. Another player who has good straight-line speed but his football field speed is out-of-sight.
Needs to develop a better route tree instead of just blowing by DB's with his speed.
He had the game of his career vs Alabama in 2022 with 6 receptions for an eye-popping 207 yards (34.5 avg) & 5 touchdowns.