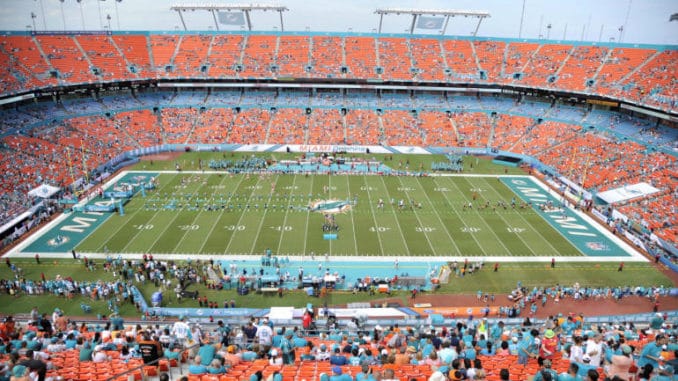 Miami Dolphins 2019 NFL Draft Grade and Analysis
Miami Dolphins 2019 mock drafts, last year draft recap, Miami Dolphins draft needs, 2019 draft trades.
2019 Miami Dolphins Draft:
1-13: Christian Wilkins, DT (Clemson)
3-78: Michael Deiter, G (Wisconsin)
5-151: Andrew Van Ginkel, LB (Wisconsin)
6-202: Isaiah Prince, T (Ohio State)
7-233: Chandler Cox, FB (Auburn)
7-234: Myles Gaskin, RB (Washington)
Draft Grade: Can Only Get Better
The story of the Dolphins' draft is the trade for Rosen. The fact that they didn't give up much to get him and aren't paying him much, and have him under control for several years is a low risk move. But, this team could very well be drafting first in the draft next year.
The Dolphins are going to need a lot more draft picks and a lot more salary cap space to take the next step. They got two really nice players in the trenches with Wilkins and Deiter, but they needed double the amount of draft picks that they had in this draft.
The good news is that there is a big benefit to being bad in the NFL. Next year could be an exceptional one for QBs and they could be in a much better situation with their salary cap and have all season to work on getting more draft picks.
Gaskin was a real bargain in the 7th. He is a do it all RB and fell to them where they just couldn't pass him up.
GM: Chris Grier
Head Coach: Brian Flores
Offensive Coordinator: Chat O'Shea
Defensive Coordinator: Patrick Graham
Offensive Scheme: Erhardt-Perkins
Defensive Scheme: 4-3, Attacking
Miami Dolphins, Last Year's Draft:
1-11: Minkah Fitzpatrick, DB (Alabama)
2-42: Mike Gesicki, TE (Penn State)
3-73: Jerome Baker, LB (Ohio State)
4-123: Durham Smythe, TE (Notre Dame)
4-131: Kalen Ballage, RB (Arizona State)
6-209: Cornell Armstrong, CB (Southern Mississippi)
7-227: Quentin Poling, LB (Ohio)
7-229: Jason Sanders, K (New Mexico)