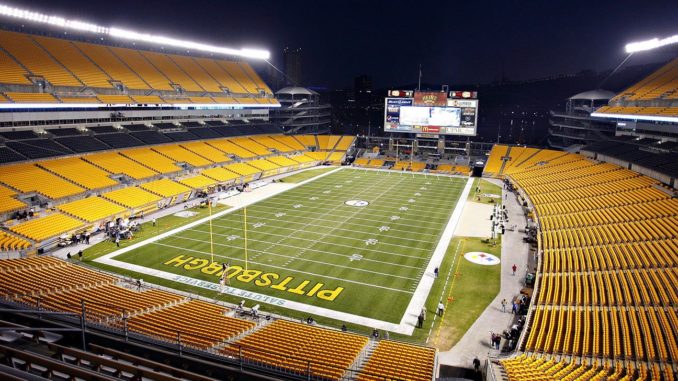 Pittsburgh Steelers 2019 NFL Draft Grade and Analysis
Pittsburgh Steelers 2019 mock drafts, last year draft recap, Pittsburgh Steelers draft needs, 2019 draft trades.
2019 Pittsburgh Steelers Draft:
1-10: Devin Bush, LB (Michigan)
3-66: Diontae Johnson, WR (Toledo)
3-83: Justin Layne, CB (Michigan State)
4-122: Benny Snell, RB (Kentucky)
5-141: Zach Gentry, TE (Michigan)
6-175: Sutton Smith, LB (Northern Illinois)
6-192: Isaiah Buggs, DT (Alabama)
6-207: Ulysees Gilbert III, LB (Akron)
7-219: Derwin Gray, (Maryland)
Draft Grade: Nasty with a Side of Huh?
Huge props for the Steelers to get out of their comfort zone and going to get the perfect prospect for their team. They needed a player with the exact skill set of Devin Bush, and they weren't afraid to go get him. He is extremely physical and not only moves well forward, but moves sideline to sideline very well. They have needed a player like Bush for a few years now, and got him.
Skipping to their third round pick, Layne is another prospect that fits this team perfect. Their second major need was at corner, another position they just haven't hit on. Layne is long and can cover any type receiver.
In the 4th round, they got another physical player in Snell that will complement their RB core very well. When they get the lead, this is the guy that can help close out games.
In between these excellent picks were some real head scratchers. Gentry is not only raw, he is ineffective in every way. There was a whole collection of tight ends that were better at this point.
Buggs just doesn't have "it" when it comes to playing hard week in and week out. The opposite of a Steeler type player they are trying to gather.
GM: Kevin Colbert
Head Coach: Mike Tomlin
Offensive Coordinator: Mark Whipple
Defensive Coordinator: Keith Butler
Offensive Scheme: Erhardt-Perkins
Defensive Scheme: 3-4
Pittsburgh Steelers, Last Year's Draft:
1-28: Terrell Edmunds, S (Virginia Tech)
2-60: James Washington, WR (Oklahoma State)
3-76: Mason Rudolph, QB (Oklahoma State)
3-92: Chukwuma Okorafor, T (Western Michigan)
5-148: Marcus Allen, S (Penn State)
5-165: Jaylen Samuels, RB (North Carolina State)
7-246: Joshua Frazier, DT (Alabama)