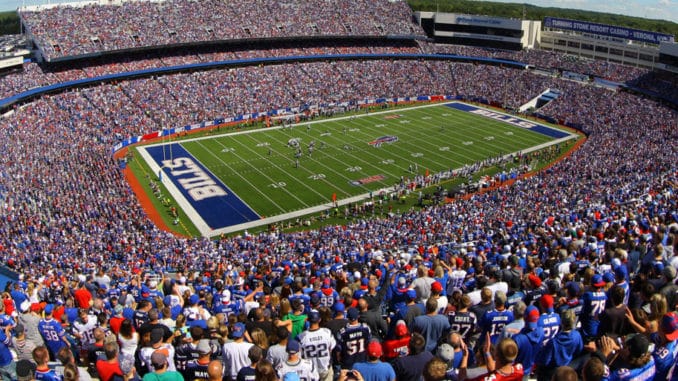 Buffalo Bills 2020 NFL Draft
Buffalo Bills 2020 NFL Draft: Buffalo Bills 2020 mock drafts, last year draft recap, Buffalo Bills draft needs, 2020 draft trades.
Salaries / Contracts
Up to Date Salary Cap Info | Up to Date Contract Info
Buffalo Bills 2020 NFL Draft Grade: "Slow and Steady"
2 (54). A.J. Epenesa, DE, Iowa
3 (86). Zack Moss, RB, Utah
4 (128). Gabriel Davis, WR, UCF
5 (167). Jake Fromm, QB, Georgia
6 (188). Tyler Bass, K, Georgia Southern
6 (207). Isaiah Hodgins, WR, Oregon State
7 (239). Dane Jackson, CB, Pittsburgh
The Bills made their big move in free agency, and had to wait until the second round pick on a player many had going in the first round. The fact is that A.J. Epenesa is not every defense's cup of tea. However, he is perfect for the Bills' defense, and is going to cause trouble for the young QB's in the division.
Running back was not a pressing need, but the Bills want to pound the ball, and Moss is a relentless, powerful weather that will thrive in bad weather.
The Fromm pick could be seen as a questionable pick, but it should be extremely valuable for the Allen. Fromm is a smart, high character QB that can essentially be Allen's #2 man for years to come. If Fromm can accept his role, which all signs suggest he will, this will be a tremendous help to their week by week game planning and prep.
Buffalo Bills 2020 NFL Draft: Last Year's Draft
1-9: Ed Oliver, DT (Houston)
2-38: Cody Ford, T (Oklahoma)
3-74: Devin Singletary, RB (Florida Atlantic)
3-96: Dawson Knox, TE (Ole Miss)
5-147: Vosean Joseph, LB (Florida)
6-181: Jaquan Johnson, S (Miami)
7-225: Darryl Johnson Jr., DE (North Carolina A&T)
7-228: Tommy Sweeney, TE (Boston College)
Buffalo Bills 2020 NFL Draft: 2018 Draft
1-7: Josh Allen, QB (Wyoming)
1-16: Tremaine Edmunds, LB (Virginia Tech)
3-96: Harrison Phillips, DT (Stanford)
4-121: Taron Johnson, CB (Weber State)
5-154: Siran Neal, S (Jacksonville State)
5-166: Wyatt Teller, G (Virginia Tech)
6-187: Ray-Ray McCloud, WR (Clemson)
7-255: Austin Proehl, WR (North Carolina)
Draft Grade: A Second Act
The Bills have had to transform their team in the last year due to all sorts of circumstances, some voluntary, some out of their control. It looks like they found their QB of the future, and now they need to keep him healthy and find him weapons.
How much of that was accomplished in this draft is up for debate, but at least they didn't reach for need. Oliver has some legit questions surrounding him, but you can't pass him up when he is there at 9. They will find a way to use him according to his skills.
Ford was a much needed addition. They brought in a convention center full of offensive line prospects, but besides at right tackle, none are set. Ford will get the opportunity to audition at several positions.
Adding two tight ends will help their young QB. And both should make the team.
Singletary will be real interesting to watch. He looked great on tape, but bad during testing.
This draft was a good second wave of development for the Bills moving in the right direction.
GM: Brandon Beane
Head Coach: Sean McDermott
Offensive Coordinator: Brian Daboll
Defensive Coordinator: Leslie Frazier
Offensive Scheme: West Coast
Defensive Scheme: 4-3