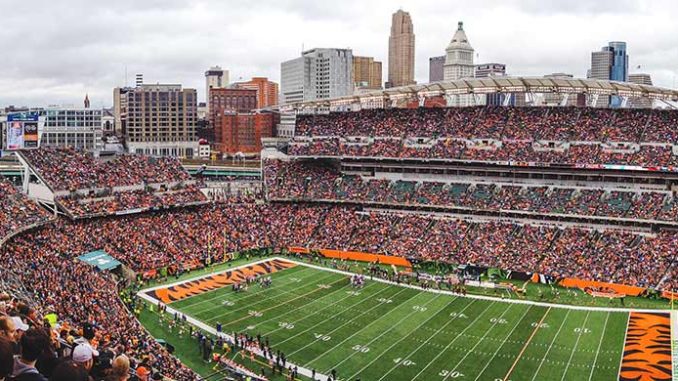 Cincinnati Bengals 2020 NFL Draft
Cincinnati Bengals 2020 NFL Draft: Cincinnati Bengals 2020 mock drafts, last year draft recap, Cincinnati Bengals draft needs, 2020 draft trades.
Salaries / Contracts
Up to Date Salary Cap Info | Up to Date Contract Info
Cincinnati Bengals 2020 NFL Draft Grade: "Methodical"
1 (1). Joe Burrow, QB, LSU
2 (33). Tee Higgins, WR, Clemson
3 (65). Logan Wilson, LB, Wyoming
4 (107). Akeem Davis-Gaither, LB, Appalachian State
5 (147). Khalid Kareem, DE, Notre Dame
6 (180). Hakeem Adeniji, G, Kansas
7 (215). Markus Bailey, LB, Purdue
The Bengals did a lot of under the radar work to prepare for their first pick. They instilled some confidence in Burrow that they are dedicated to winning, and make some big splashes in free agency.
The Burrow to Higgins to Wilson string of picks were all very solid and they didn't overthink the start of the draft. They are getting back their tackle prospect that they lost before ever getting on the field, but it is fair to ask why they didn't add a pick there with their second round pick. Higgins is a fine addition, but they probably could have gotten sound WR prospects in the fourth and fifth rounds.
Overall, the Bengals had a thoughtful, methodical draft with seven prospects that all have a very good chance to make the roster.
Cincinnati Bengals 2020 NFL Draft: Last Year's Draft
1-11: Jonah Williams, T (Alabama)
2-52: Drew Sample, TE (Washington)
3-72: Germaine Pratt, LB (North Carolina State)
4-104: Ryan Finley, QB (North Carolina State)
4-125: Renell Wren, DT (Arizona State)
4-136: Michael Jordan, OL (Ohio State)
6-182: Trayveon Williams, RB (Texas A&M)
6-210: Deshaun Davis, LB (Auburn)
6-211: Rodney Anderson, RB (Oklahoma)
7-223: Jordan Brown, CB (South Dakota State)
Cincinnati Bengals 2020 NFL Draft: 2018 Draft
1-21: Billy Price, C (Ohio State)
2-54: Jessie Bates, S (Wake Forest)
3-77: Sam Hubbard, DE (Ohio State)
3-78: Malik Jefferson, LB (Texas)
4-112: Mark Walton, RB (Miami)
5-151: Davontae Harris, CB (Illinois State)
5-158: Andrew Brown, DT (Virginia)
5-170: Darius Phillips, CB (Western Michigan)
7-249: Logan Woodside, QB (Toledo)
7-252: Rod Taylor, G (Ole Miss)
7-253: Auden Tate, WR (Florida State)
Draft Grade: Mostly Hits
The Bengals, starting last year and through this draft should have the pieces in place to put together a solid offensive line with the extra bonus of an excellent blocking tight end. That is a long time coming.
They had two other major questions: can they fix their defense without overhauling their roster, and who will be the QB moving forward? Pratt and Wren are both under-rated prospects and both could see a lot of time this year. They both jump out on tape.
Finley is probably the most pro-ready QB in this draft, and the Bengals showed a lot of interest in him. This could be a real QB competition this fall. The Bengals won't get hurt financially if they make a change there.
They also got two high ceiling RBs late in the draft. Williams and Anderson both fell in the draft, and they got them both at a great value.
GM: Mike Brown
Head Coach: Zac Taylor
Offensive Coordinator: Brian Callahan
Defensive Coordinator: Lou Anarumo
Offensive Scheme: Air Coryell
Defensive Scheme: 4-3