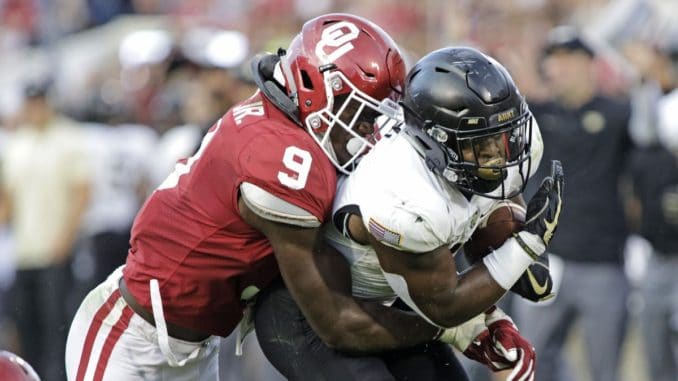 2020 NFL Draft Inside Linebacker Rankings includes a prospect ranking, a breakdown of scouting for the position, key questions about the position, and a link to learn more.
Inside Linebacker Rankings:
Kenneth Murray, Oklahoma
Patrick Queen, LSU
Jordyn Brooks, Texas Tech
Akeem Davis-Gaither, App State
Troy Dye, Oregon
Evan Weaver, California
Willie Gay Jr., Mississippi State
Logan Wilson, Wyoming
Malik Harrison, Ohio State
Kamal Martin, Minnesota
Krys Barnes, UCLA
Jacob Phillips, LSU
Shaq Quarterman, Miami
Paddy Fisher, Northwestern
Joe Bachie, Michigan State
Anfernee Jennings, Alabama
David Reese II, Florida
Francis Bernard, Utah
Shaq Smith, Maryland
David Woodward, Utah State
De'Jon Harris, Arkansas
2020 NFL Draft Inside Linebacker Rankings
Maybe the toughest scouting reports to make, because a lot of confusion:

Inside linebackers in 3-4 aren't generally premium players in the draft, but there is always a couple that have exceptionally well rounded skillsets that sneak into early rounds.
The two inside linebacker positions in a 3-4 often have fairly varied responsibilities, one being the move-forward, run stopping, gap-filling player that needs to be a strong, reliable tackler, and the other being the playmaker that has more freedom to roam.
The inside linebackers in the draft that more often get drafted high are really going to be Middle Linebackers in a 4-3.

If a linebacker in college is a tackling machine, is big and strong, a violent tackler that wraps up well, and they seem to be much better moving forward than back, they are probably going to be an ILB in a 3-4 at the next level.
The star Inside Linebackers are most often playing OLB in college, and need certain skills:

Ability to diagnose plays quickly.
Able to call defenses, so smarts and experience.
Chase down running backs and wide receivers.
Move forward to defend the run.
Drop into coverage.
Blitzing ability.
Able to tackle.
Relentless.
Loves football…this is mentioned for this position more than any other (referring to linebackers in general).
Do they "wrap up" tacklers.
Often referred to as "off-ball" linebackers, just another term for a guy suited for ILB in 3-4 or middle linebacker.
Who are the top 2020 NFL Draft Inside Linebackers?
Kenneth Murray, Oklahoma, Jordyn Brooks, Texas Tech, Troy Dye, Oregon, Patrick Queen, LSU.
What are the key traits for scouting Inside Linebackers for the 2020 NFL Draft?
Ability to diagnose plays quickly, coverage and run stopping skills, sideline to sideline speed, football smarts.
When and where is the 2020 NFL Draft?
In April of 2020 at Paradise, Nevada.