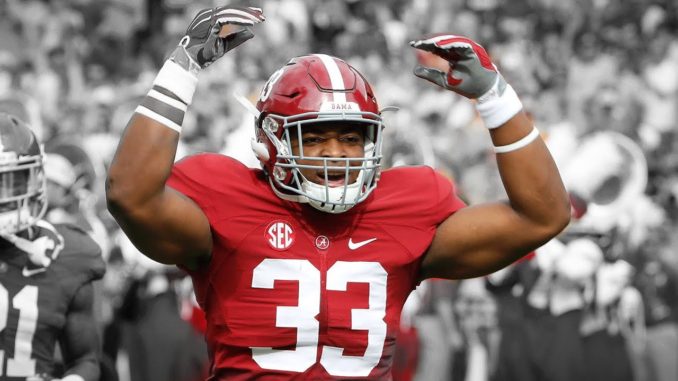 2020 NFL Draft Outside Linebacker Rankings includes a prospect ranking, a breakdown of scouting for the position, key questions about the position, and a link to learn more.
Outside Linebacker Rankings:
Isaiah Simmons, Clemson
Terrell Lewis, Alabama
K'Lavon Chaisson, LSU
Zack Baun, Wisconsin
Curtis Weaver, Boise State
Josh Uche, Michigan
Julian Okwara, Notre Dame
Anfernee Jennings, Alabama
Alex Highsmith, Charlotte
Evan Weaver, California
Jabari Zuniga, Florida
Jonathan Garvin, Miami
David Woodward, Utah State
Willie Gay Jr., Mississippi State
Colin Schooler, Arizona
Jonathan Greenard, Florida
Quincy Roche, Temple
Darrell Taylor, Tennessee
Michael Pinckney, Miami
Malik Harrison, Ohio State
Charles Snowden, Virginia
Michael Divinity Jr., LSU
2020 NFL Draft Outside Linebacker Rankings
First trick is determining the position in the NFL- if possibly a defensive end. Most 4-3 DE's are fairly long and built, but some 4-3 DE's in certain systems are "designated pass rushers" or "pass rush specialists", that might come in on 3rd down or any obvious passing down. That is generally a smaller, speedier defensive end that could be a liability against the run.
Primary skills to evaluate:

Ability to drop into coverage (including covering matchup nightmares like speedy tight ends and running backs that move into the slot to receive).
Run stopping ability.
Blitzing ability (or general pass rush ability).
"Sideline to sideline" agility and range.
Can "break down", which is a tackling technique of stopping before you tackle someone so you don't get beat by last second moves.
Number of sacks / INT's, TFL's
Most of the OLB's in the scouting reports are either middle linebackers in 4-3's or OLB's in 3-4… the skillset is often pretty close. Guys that are destined to play strongside or weakside in a 4-3 are generally a tier below and skew strongly to either better against the run, or better in coverage.
Who are the top 2020 NFL Draft Outside Linebackers?
Isaiah Simmons, Clemson, Terrell Lewis, Alabama, K'Lavon Chaisson, LSU, Zack Baun, Wisconsin.
What are the key traits for scouting Outside Linebackers for the 2020 NFL Draft?
Ability to read and react to plays, coverage skills, ability to get around the edge, run defense, overall speed and strength.
When and where is the 2020 NFL Draft?
In April of 2020 at Paradise, Nevada.