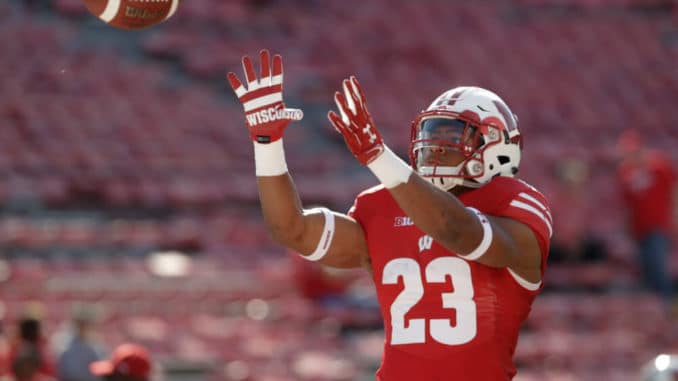 2020 NFL Draft Running Back Rankings includes a prospect ranking, a breakdown of scouting for the position, key questions about the position, and a link to learn more.
Running Back Rankings:
D'Andre Swift, Georgia
Jonathan Taylor, Wisconsin
J.K. Dobbins, Ohio State
Cam Akers, Florida State
Zack Moss, Utah
Ke'Shawn Vaughn, Vanderbilt
Joshua Kelley, UCLA
Lamical Perine, Florida
Anthony McFarland, Maryland
Salvon Ahmed, Washington
James Robinson, Illinois State
Eno Benjamin, Arizona State
Darrynton Evans, App. State
AJ Dillon, Boston College
Darius Anderson, TCU
Antonio Gibson, Memphis
Bennie LeMay, Charlotte
Brian Robinson Jr., Alabama
J.J. Taylor, Arizona
Scottie Phillips, Mississippi
Patrick Taylor Jr., Memphis
2020 NFL Draft Running Back Rankings
How do they do in each of three major skills of being an NFL RB: running skill, passing ability, pass protection?
Are they 220+ and considered a power back?
"Vision" and seeing holes and good decision-making
Ability to put foot in the dirt, make a cut and beat defenders
After making a cut, can he accelerate quickly?
Ability to make people miss in the open field.
Open field "top gear" which allows them turn small runs into big plays.
Hands and able to protect the ball.
Durability.
Experience. It is good for a RB to have enough experience to showcase their talents, but not too much where they already have absorbed a lot of hits.
Who are the top 2020 NFL Draft Running Backs?
J.K. Dobbins, Ohio State, Jonathan Taylor, Wisconsin, and D'Andre Swift, Georgia.
What are the key traits for scouting Running Backs for the 2020 NFL Draft?
Vision, power, ability to contribute in passing game, pass blocking, durability, speed.
When and where is the 2020 NFL Draft?
In April of 2020 at Paradise, Nevada.