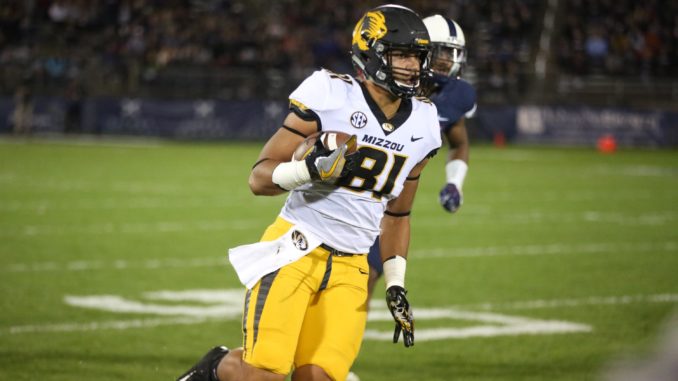 2020 NFL Draft Tight End Rankings includes a prospect ranking, a breakdown of scouting for the position, key questions about the position, and a link to learn more.
Tight End Rankings:
Cole Kmet, Notre Dame
Hunter Bryant, Washington
Harrison Bryant, Florida Atlantic
Adam Trautman, Dayton
Brycen Hopkins, Purdue
Albert Okwuegbunam, Missouri
Jacob Breeland, Oregon
Thaddeus Moss, LSU
Jared Pinkney, Vanderbilt
Colby Parkinson, Stanford
Stephen Sullivan, LSU
Mitchell Wilcox, South Florida
Devin Asiasi, UCLA
Cheyenne O'Grady, Arkansas
Sean McKeon, Michigan
2020 NFL Draft Tight End Rankings
Pure blocking tight ends can be found later in the draft and don't often get scouting profiles.
Tight ends that are scouted get evaluated on two, two-part scales:

Receiving Ability / Blocking Ability
Able to line up outside / able to work inside routes

"Catch Radius" is important… good with tall, big armed TE's. Often refer to these guys as able to "post up" like an NBA power forward… running routes, turning around and having balls thrown to them where defenders don't have a chance. Often offer little yards after catch, but dependable.
"Seam Route" matchup nightmares.  Some tight ends can make an NFL career out of this one skill.
"Matchup Nightmare"… this is often used for a tight end that is basically a bit too big to be considered a WR, but still has speed. Too big to be covered by corner or safety, too quick to be covered by linebacker.
Reliable hands.
"H-Back" qualities… able to act as lead blocking fullback, or even ball carrier sometimes.
Inline blocking skills… able to act as 6th offensive lineman in run game.
Open field blocking skills.
A "Move Tight End" is a tight end that can play both inside and outside wide receiver spots, all over offensive formations.
Who are the top 2020 NFL Draft Tight Ends?
Cole Kmet, Notre Dame, Albert Okwuegbunam, Missouri, Jared Pinkney, Vanderbilt, and Mitchell Wilcox, South Florida.
What are the key traits for scouting Tight Ends for the 2020 NFL Draft?
Catching, route running, blocking, catch radius, ability to catch and run, durability are examples of traits for NFL Tight Ends.
When and where is the 2020 NFL Draft?
In April of 2020 at Paradise, Nevada.