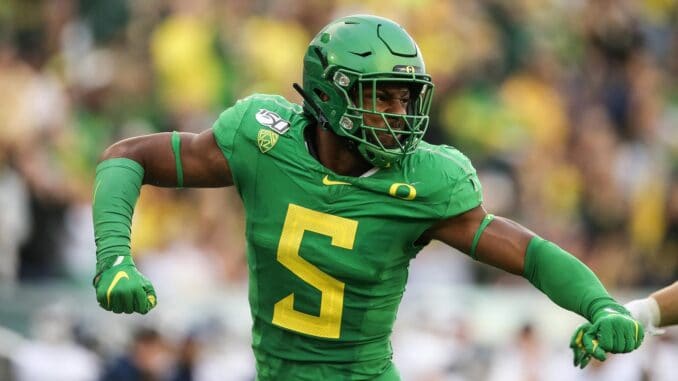 Round 1:
1) Detroit Lions – Kayvon Thibodeaux EDGE, Oregon 6'5″ 258 lbs
He seems to be the consistent #1 overall pick most of the season. Has dominated in the PAC-12 all year. Very agile, athletic & strong ER who has a quiver full of moves to get around OT's & into the backfield where he can get pressure, tackles for loss & sacks.
2) Houston Texans – Matt Corral QB, Ole Miss 6'2″ 205 lbs
The Texans are really struggling at the QB position. Tyrod Taylor is a good vet & Davis Mills could be a good career backup & has shown he can win games. But, neither have the tools to be the starting QB going into the future. Corral has had an outstanding year in 2021. HC Lane Kiffen keeps opening up the playbook a little deeper as the season goes on & Corral is responding quite well. Has the arm to make all the NFL throws & has a good set of wheels to motor around the field & stretch plays for big gains.
3) Jacksonville Jaguars – Evan Neal OT, Alabama 6'7″ 360 lbs
The Jags have to get rookie QB Trevor Lawrence some quality pass protection or he is going to have trouble developing. Played ROT in 2020 & had an awesome year. In 2019 he played RG & was good all year. In 2021 they've moved him to LOT & he's had his best season. He's the cream of the crop for OT's in the 2022 NFL draft.
4) New York Jets – Derek Stingley Jr. CB, LSU 6'1″ 195 lbs
Stingley has been under the NFL microscope since his freshman year when he had an eye-popping 6 interceptions & 15 passes defended. He's the best CB by far in this draft & the best to come out in several years. Sticks to WR's like glue & has the speed to not allow separation.
5) New York Jets (from sea) – Aidan Hutchinson EDGE, Michigan 6'5″ 268 lbs
This player is putting a lot of pressure on Thibodeaux to be the top ER off the board in 2022. Had the best game of his career in their victory vs Ohio St. w/ 3 sacks & numerous pressures. That gives him 13 sacks for the Wolverines in 2021 a new school record. Has good speed for an ER & XLNT upper body strength to push OT's out of the way in his pursuit of QB.
6) New York Giants – Kyle Hamilton SS, Notre Dame 6'4″ 216 lbs
Hamilton has been all over the field for the Fighting Irish in 2021. Was injured & a couple of weeks ago & will miss time but, maybe not out for the year. Another player who has been under the NFL microscope since his freshman year when he had 41 tackles, 4 interceptions & 6 passes defended.
7) New York Giants (from chi) – George Karlaftis EDGE, Purdue 6'4″ 270 lbs
The G-men have to get more pressure on opposing QB's so their CB's aren't worn out by halftime. Was injured in 2020 so his stats were down. But, in 2019 he produced 54 tackles, an eye-popping 17 tackles for loss & 7.5 sacks. So far in 2021 he's been leading the Boilermakers charge on defense.
8) Washington Football Team – Desmond Ridder QB, Cincinnatti 6'4″ 222 lbs
This could be a tad early for him but the WFT has to take a QB here to make more competition for incumbent Heinicke. Has led the Bearcats to an unbeaten season in 2021. Has all the tools to develop into a good NFL starter. Goes through his progressions well as he scans the field. Also, has some quick legs for scrambling around & stretching plays. HC Ron Rivera could mold this player into a solid starter for the future.
9) Philadelphia Eagles – Andrew Booth Jr. CB, Clemson 6′ 195 lbs
Clemson sputtered early on but, has gained a lot of steam over the last few weeks & Booth has too. Possesses enough speed to not allow separation. Is good at cover man or zone. Solid tackler in the open field & a decent ballhawk. Also, this is the biggest need for the Eagles.
10) Philadelphia Eagles (from mia) – Kingsley Enagbare EDGE, South Carolina 6'4″ 270 lbs
Enagbare is having a great year for the Gamecocks & the Eagles need more pressure on opposing QB's. He's also very strong against the run game. Another fast ER who has XLNT upper body strength. The best player on their roster. Leader of their defense on the field & in the locker room.
11) Carolina Panthers – Kenyon Green G, Texas A&M 6'4″ 328 lbs
I think this is the 2nd best offensive lineman available for this draft & the Panthers need help on the interior of their OL. 3-year starter for the Aggies & 2020 All American. Good blocker in the rush game & also, solid in pass protection.
12) Atlanta Falcons – Drake Jackson EDGE, USC 6'4″ 265 lbs
The Trojans are having a down season but Jackson is not. They now have a new HC in Lincoln Riley who is coming over from Oklahoma to take the reins. This could possibly be a turning point for the USC football program. Jackson is a fast, strong & athletic athlete who I think has his best football is ahead of him.
13) New Orleans Saints – Garrett Wilson WR/SWR, Ohio St. 6′ 193 lbs
The Saints need another playmaking WR & have had luck with Buckeye WR's. He has good speed, runs a solid route tree & has responsible hands. Very coachable WR who will only get better with time.
14) Philadelphia Eagles (from ind) – DeMarvin Leal DT, Texas A&M 6'4″ 290 lbs
The Eagles are aging on their defensive line & could use some new blood. 3 year starter for the Aggies & was great in the upset of Alabama. Could use a little more of an anchor against the run game but, puts good interior pressure on opposing QB's.
15) Cleveland Browns – Chris Olave WR/SWR, Ohio St. 6'1″ 189 lbs
The Browns lost OBJ to the Rams so they decide to grab his replacement who has a lot of upside. He has outstanding speed, runs good routes & has sticky fingers. Also, has a nose for the end zone.
16) Pittsburgh Steelers – Kenny Pickett QB, Pittsburgh 6'3′ 220 lbs
The Steelers have to pull the trigger here & grab a homegrown product to groom behind Big Ben. Pickett has led the Panthers to a very good season. He has all the intangibles to make a good NFL starter. Strong arm & can feel when pressure is getting close. Goes through his progressions quickly & finds his second or third receiver well.
17) Denver Broncos – Charles Cross OT, Mississippi 6'5″ 310 lbs
It seems like John Elway & the Broncos brass are always looking for an offensive lineman who can fit into their scheme. Cross has very good footwork & is strong in the ground game & has proven to be rock solid in pass protection. Is only a sophomore so could return for his junior season to get more developed for the NFL game. But, if he gets 1st round grades from the NFL committee he could come out.
18) Las Vegas Raiders – Jameson Williams WR, Alabama 6'2″ 189 lbs
Here's a firecracker, playmaking WR for the Raiders & Derek Carr. Hit the transfer portal from Ohio St. & ended up in Tuscaloosa. Very fast & elusive WR who is averaging over 20 yards per reception in 2021 with speed to burn. Sounds like Henry Ruggs is in hot water so the Raiders select another Tide player to replace him & join in on the fun.
19) Minnesota Vikings – Kaiir Elam CB, Florida 6'2″ 193 lbs
The Vikes lost some secondary players to FA so they decide to reload. Had a slow start to 2021 but has played much better last 6 weeks even though the Gators are going through major changes in their program. Likes to play WR's very tight vested. Actually likes to live in WR's jersey. Can play cover man or zone & be just as effective.
20) Los Angeles Chargers – Drake London WR, USC 6'4″ 210 lbs
The Chargers are aging at WR so decide to reach over the fence into their own backyard. London has had 2 very productive seasons for the Trojans. Recently cracked his ankle & will miss the rest of the season. This should not affect his draft stock though. XLNT red zone weapon with long & strong hands to just pluck the ball out of the air.
21) Miami Dolphins (from sf) – Trevor Penning OT, Northern Iowa 6'7″ 329 lbs
The Phish need help up and down their offensive line. Pennings's only ding could be that he's played against inferior competition but time will tell. Has all the fittings to make a pro bowl tackle. Is a real mauler in the ground game & an aircraft carrier in pass protection.
22) Buffalo Bills – Jaxson Kirkland OT, Washington 6'7″ 300 lbs
The Bills decide to get QB Josh Allen more pass protection. Moves his hands & feet at the same time well to hold edge rushers at bay. Can play on either side and be just as effective. Has the frame to put on at least 25 more lbs of muscle.
23) Detroit Lions (from lar) – Carson Strong QB, Nevada 6'4″ 215 lbs
This player would go a lot earlier but, he's had 3 operations on the same knee since high school. His medical report will have a lot to do with where he gets selected. Has the best arm in the class. Goes through his progressions well & quickly. The Lions should give him the clipboard, let him study behind Jared Goff for a year so his knee can heal completely for the NFL then give him the ball in 2023.
24) Cincinnati Bengals – Ahmad "Sauce" Gardner CB, Cincinnati 6'2″ 190 lbs
The Bengals need help and depth at CB. Here's a great local pick. Can play cover man or zone but might be better in man. Has long arms to swat passes out of the way. Very good tackler in the open field & tracks the ball well. As the Bearcats go unbeaten several of their players are moving up draft boards.
25) Dallas Cowboys – Tyler Linderbaum C, Iowa 6'3′ 290 lbs
The top Center available in this class & one of the Cowboy's biggest needs. Could be the best Center to come out in several years. Smart offensive lineman who with some good coaching could be a pro bowler for years to come.
26) Kansas City Chiefs – Jordan Davis NT/DT, Georgia 6'6″ 330 lbs
HC Andy Reid likes to take players in the trenches early. The Dawgs have the best-run defense in the country & it all starts right here. Immensely strong & massive defensive lineman who will have an immediate impact. This player is right up Andy Reid's alley.
27) Tennessee Titans – Jalen Wydermyer TE, Texas A&M 6'5″ 260 lbs
The Titans don't have squat at TE so select the best one in this class. 3 year starter for the Aggies. Can run the seam or sideline just as well. Very good blocker on the offensive line or downfield. Large & strong hands to go with good speed for a TE. Hard to bring down when he gets up to speed.
28) Tampa Bay Buccaneers – Isaiah Spiller RB, Texas A&M 6'1′ 225 lbs
Best all-around RB available for this draft & one of the Bucs biggest needs. Possesses strong legs to just rip LB's arm tackles & run through and around DB's. Has a good straight arm to pick up yards after contact. XLNT receiver out of the backfield & a dynamite blocker for his QB. Plus, he doesn't put the ball on the ground.
29) New England Patriots – Treylon Burks WR, Arkansas 6'3″ 225 lbs
Don't look now but the Pats are the hottest team in the NFL. Also, it looks like QB Mac Jones could be a shoe-in for rookie of the year. The Pats need a possession WR who has enough speed to take it to the promised land on any touch. This WR is a good package in that he does everything well. Very good weapon in the red zone. Also, a good blocker downfield for his teammates.
30) Green Bay Packers – David Bell WR, Purdue 6'2″ 205 lbs
Bell is probably the most under-the-radar big play WR in this class. He has produced very well for 3 seasons for the Boilermakers. Was completely out of sight vs Iowa earlier with 11 receptions for 240 yards & 2 touchdowns in a big game at the time. Smart WR who runs a good route tree, has responsible hands & a nose for the end zone. QB Aaron Rodgers could utilize this player very well.
31) Baltimore Ravens – Darian Kinnard OT/G, Kentucky 6'5″ 345 lbs
3 year starter for the Wildcats. The Ravens could use him at various positions along their offensive line. Opens up big holes for the run game & is solid in pass protection. The Ravens are aging along their offensive line & could use some new blood. Has improved every year under HC Mark Stoops.
32) Arizona Cardinals – Trent McDuffie CB, Washington 5'11" 195 lbs
The Cards need help on both levels of their secondary. In comes McDuffie who is an in-your-face cover man corner. The Huskies are becoming the new CB U & this is their latest model for the 2022 NFL draft. Has the good speed to not allow separation & is a solid tackler in the open field.