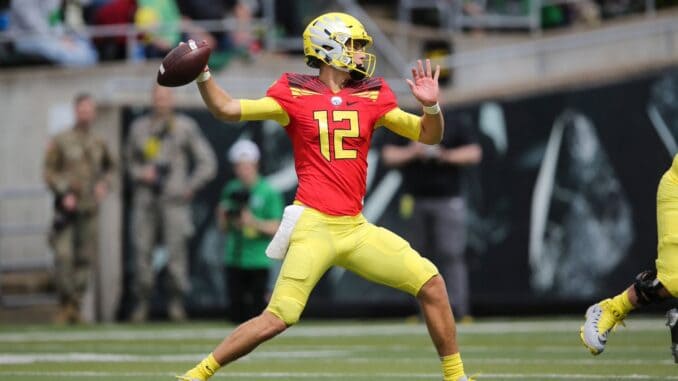 Round 1 | Round 2
1) Jacksonville Jaguars – Evan Neal OT, Alabama 6'7″ 360 lbs
Thibodeaux is the best player but Neal fills the biggest need. The Jags have got to get rookie QB Lawrence some quality pass protection if he's ever going to succeed. Neal can play anywhere on the OL except Center. This gives Lawrence a blindside protector for the next decade barring injury.
2) Detroit Lions – Kayvon Thibodeaux EDGE/OLB, Oregon 6'5″ 258 lbs
This is the best overall player available for this draft. The Lions don't have much on the EDGE & their best pass rusher Trey Flowers will probably test the FA market next spring. They need to take 2 ER's in this draft one early & one on day 3. Or get out the wallet & go shopping in FA.
3) Philadelphia Eagles (from mia) – Derek Stingley Jr. CB, LSU 6'1″ 195 lbs
The Best CB available for this draft & the Eagle's biggest need. Has been under the NFL microscope since his freshman season had an eye popping 6 interceptions & 15 passes broken up. I think this is the best CB prospect to come out in several years.
4) New York Jets – Aidan Hutchinson EDGE, Michigan 6'5″ 266 lbs
The Jets would have loved to get Stingley or Neal but in this mock that's nix so they select an ER who is having a stellar year for the Wolverines. Their only decent ER is Carl Lawson & he's out for the year so they need to restock the shelves now.
5) Houston Texans – Matt Corral QB, Ole Miss 6'2″ 205 lbs
This looks like a no brainer to me. The Texans don't have squat at QB & Deshaun Watson will be adios. Corral is having an awesome season and the Rebels are giving every one of their opponents fits except Bama. He has the arm to make all the NFL throws. Goes through his progressions well. HC Lane Kiffin is bringing him along at a great pace. He continues to open up the playbook a little deeper and Corral is responding well.
6) New York Giants – Kyle Hamilton SS, Notre Dame 6'4″ 216 lbs
This player has been all over the field for the Fighting Irish. The G-men need help at both levels of their secondary. Another player who has been on the NFL radar since his freshman year when he produced 41 tackles, 4 interceptions & 6 passes defended.
7) Philadelphia Eagles (from ind) – Christian Harris ILB, Alabama 6'2″ 243 lbs
The Eagles don't usually draft LB's in the 1st round but Harris is the best in this class. Leader of the Tide's defense. The Eagles don't have enough at the position & this player will bring their defense together. Well respected & liked by his coaches & teammates in Tuscaloosa.
8) Atlanta Falcons – Adam Anderson EDGE/OLB, Georgia 6'5″ 234 lbs
This player is like a speeding bullet with his 1st step speed off the line. I don't think I've seen anyone faster. He gets by OT's & refs before they know what's happening. Once he gets into an NFL strength & conditioning program & on NFL groceries he will add some muscle & bulk. Super talented & just oozing with upside. Would also be a great local pick.
9) New England Patriots – Kaiir Elam CB, Florida 6'2″ 193 lbs
The Pats lost 2 CB's & a Safety to FA & retirement so HC Belichick addresses the biggest need first. He had a slow start but has been contributing the last 4 weeks. Has an awesome skill set & lots of upside to develop. Possesses height, length & quickness.
10) Miami Dolphins (from sf) – Kenyon Green G/OT, Texas A&M 6'4″ 328 lbs
3 year starter & 2020 All American for the Aggies. The Dolphins have some decent players at the skill positions but are lacking on their offensive line. He has the potential to be an early pro bowler. Look for the Phish to go back to their OL a little later in this draft.
11) Philadelphia Eagles – Drake Jackson EDGE, USC 6'4″ 265 lbs
The Trojans are having a disappointing season but Jackson isn't. Strong & powerful pass rusher who can get into backfield where he can cause havoc & get big pressure on opposing QB's.
12) New York Jets (from sea) – Chris Olave WR/SWR, Ohio St. 6'1″ 188 lbs
The Jets need a playmaking WR to help out rookie QB Zach Wilson. Has good speed, runs solid routes & possesses nice hands. Prior to this season he has produced 110 receptions, 1766 yards & 22 touchdowns for a 16.1 avg.
13) Washington Football Team – Sam Howell QB, Noth Carolina 6'1″ 225 lbs
The WFT has to take a QB to give some competition to incumbent Heinicke. Got off to a slow start but has been lights out last 4 weeks. Strong arm & throws a nice deep ball. Good team leader on the field & in the locker room.
14) Pittsburgh Steelers – Desmond Ridder QB, Cincinnati 6'4″ 222 lbs
Ridder is having a red hot year & the Bearcats have a great chance to run the board & end up in the college football playoff. The schedule hasn't been really difficult but when they went on the road to South Bend & upset the Irish he shined brightly. Plus Big Ben is having his worst season & is 39 years old. The Steelers have to pull the trigger here.
15) Minnesota Vikings – DeMarvin Leal DT/DE, Texas A&M 6'4″ 290 lbs
This player should go earlier but I can't find the right spot so the Vikes get a gift here & it fills a huge need. Leader of the Aggie defense & had a great game in the upset of Alabama. Best 3tech available for this draft by a bunch.
16) Kansas City Chiefs – George Karlaftis EDGE, Purdue 6'4″ 270 lbs
Was injured in 2020 so didn't pile up many stats but in 2019 he had 54 tackles & 7.5 sacks. Has bounced back well & is leading the Boilermakers defense with a good charge. I think he's an Andy Reid type of player & this is the Chiefs biggest need.
17) Cincinnati Bengals – Zion Nelson OT, Miami 6'5″ 316 lbs
3 year starter for the Canes & one of the team leaders & co-captains. Rock solid in pass protection & opens up nice running lanes for the ground game. The Bengals have to get QB Burrow better pass protection.
18) New Orleans Saints – Malik Willis QB, Liberty 6'1″ 215 lbs
Another dual option QB with a bag full of potential. Hit the transfer portal from Auburn. Gets the ball out quick & surveys the field quicker. Possesses a great set of wheels to take off & pick up yards on the ground. This could be a good selection to develop behind Winston with Hill often injured.
19) Tennessee Titans – Kingsley Enagbare EDGE, South Carolina 6'4″ 270 lbs
The Titans don't have much on the EDGE & could use 2 picks from this draft at the position. Has had 2 outstanding seasons for the Gamecocks & is the best player on their roster. Has real good upper body strength to just push offensive lineman out of the way in his pursuit of QB.
20) Denver Broncos – Jaxson Kirkland OT, Washington 6'7″ 295 lbs
Seems like John Elway & the Broncos brass are always looking for offensive lineman who can fit into their scheme. Kirkland is very athletic. Could play on either side & be just as effective. Has the frame to add at least 25 lbs of muscle. Can move his hands & feet at the same time well to hold edge rushers at bay.
21) Carolina Panthers – Garrett Wilson WR/SWR, Ohio St. 6′ 193 lbs
The Panthers decide to select a true #1 WR for QB Sam Darnold. Exciting player with good speed, sticky fingers & runs a good route tree. Very coachable player with good football instincts.
22) New York Giants (from chi) – Jalen Wydermyer TE, Texas A&M 6'5″ 260 lbs
For a TE he's been the go to receiver in College Station for the last 2 seasons.
Can run the seam or the sideline & is a solid blocker on the offensive line or downfield. Easily the best TE available for this draft & one of the Giants biggest needs.
23) Cleveland Browns – Zach Harrison EDGE, Ohio St. 6'6″ 265 lbs
Harrison needs to have a strong second half season if he expects to go here or any where else in the 1st round. Has tons of potential & upside but has trouble putting up good numbers on the field. If he bounces back he would be a good fit across from All Pro DE Myles Garrett. Plus the dog pound fans will love the local pick.
24) Detroit Lions (from lar) – Treylon Burks WR, Arkansas 6'3″ 225 lbs
Burks & the Razorbacks got off to a great start in 2021 until they got bulldozed in Athens by Georgia. He's a possession WR with lots of speed to break off long gains. Strong hands & a good red zone target. The Lions need 2 WR's from this draft early or QB Jared Goff is going to struggle again. The Lions have lost a few real close games and need a little boost to turn those losses into wins.
25) Las Vegas Raiders – Jordan Davis NT/DT, Georgia 6'6″ 330 lbs
The best interior defensive lineman available for this draft. Georgia has the best defense in the country & the best run defense for sure in the country & this is where it all starts. The Raiders have a big hole in the middle of their defensive line & this player will fill it in a grand way.
26) Baltimore Ravens – Sean Rhyan OT, UCLA 6'5″ 320 lbs
The Ravens biggest need is at OT & this player is a true mauler in the rush game. The Bruins have averaged over 200 yds a game running behind him & their talented offensive line. Once he gets a little better in his pass protection he will become a complete OT.
27) Green Bay Packers – Justyn Ross WR, Clemson 6'4″ 210 lbs
Another player & team who got off to a slow start. Ross has been playing well but needs to get more targets. XLNT red zone weapon. Long arms, breakaway speed & a good football IQ. Aaron Rodgers could utilize this player well that is if he's on the team next year.Could be a steal at this juncture of the draft.
28) Tampa Bay Buccaneers – Isaiah Spiller RB, Texas A&M 6'1″ 225 lbs
Best RB available for the draft & one of the Bucs biggest needs. Tough RB who has the strength to rip LB's arm tackles. Has a good straight arm to pick up yards after contact. Best overall weapon on the Aggies roster. Also an XLNT receiver out of the backfield & a good blocker for his QB. Plus doesn't put the ball on the ground.
29) Buffalo Bills – Josh Jobe CB, Alabama 6'1″ 190 lbs
Here's a well rounded CB who can play cover man or zone. Has decent speed to not allow separation. The Bills have TraDavious White a pro bowl CB but need a better player on the other side. Well coached by Nick Saban & his staff in Tuscaloosa. Has a nose for the football.
30) Dallas Cowboys – Brandon Joseph FS, Northwestern 6'1″ 192 lbs
The Cowboys need help on the back end & Joseph is a 3 year starter for Northwestern. 2 time all Big 10 player. Smart player who is always around the football. Good in deep pass coverage & not afraid to come up into the tackle box and lay out some hard sticks.
31) Los Angeles Chargers – Drake London WR, USC 6'4″ 210 lbs
Flashy WR who has quietly had 2 good years of production for the Trojans. Has strong hands, runs good routes & enough speed to take it to the promise land on any touch. Slowly moving up draft boards. The Chargers are aging at WR & dip over the fence into their own backyard. Should make young QB Justin Herbert happy.
32) Arizona Cardinals – Andrew Booth JR. CB, Clemson 6′ 195 lbs
The Cards are the biggest surprise of the season so far. Everything is clicking for QB Kyler Murray. The Cards need CB, S, TE, OT. They definitely need help on both levels of their secondary. Booth has had 2 solid seasons for Clemson & can play both cover man & zone but he's better at cover man. Enough speed to not allow separation. Decent ballhawk.
Round 1 | Round 2