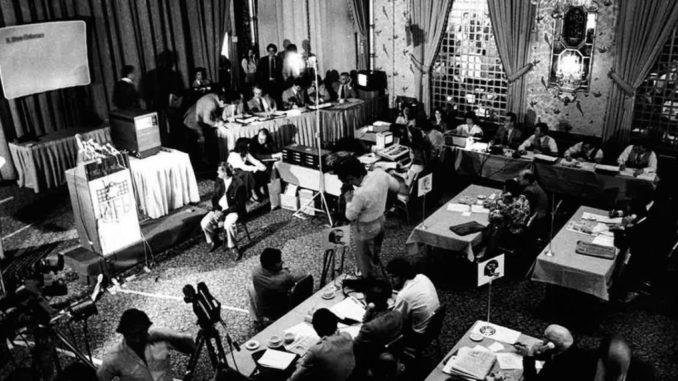 2018 NFL Draft Tracker – Round 2
Pick by Pick Analysis
Round 1 | Round 2 | Round 3 | Round 4 | Round 5 | Round 6 | Round 7
33. Cleveland Browns
Austin Corbett, OG/OT, Nevada – Almost universally viewed as a guard at the next level, Corbett is a bit of a developmental project, but that shouldn't be overstated. This is a very highly viewed player, but not at offensive tackle, and that is what the Browns need very much.
34. New York Giants
Will Hernandez, OG, UTEP – The Giants have done a very poor job in recent years of building their offensive line, and during this offseason and through two picks, have made a very strong effort to develop a run game in a hurry. With three moves, one in free agency to get a proven left tackle, then to get an elite running back AND elite offensive guard now, this is going to be a very balanced offense.
35. Cleveland Browns
Nick Chubb, RB, Georgia – Chubb had an awful knee injury that he was never fully recovered from last year. However, you could see the progress and that he is on his way back to be a power back for many years. Chubb was overlooked to some degree during the draft process, but if you paid attention to the more significant draft analysts, they loved Chubb. This is the first pick for the Browns where they seemed to hit on the trilogy of talent, value, and need.
36. Indianapolis Colts
Darius Leonard, OLB, South Carolina State – Leonard was one of the "sleepers" that developed into a favorite of many draft analysts. He plays with an uncommon purpose and the most relevant part of this selection is the attitude and effort that he brings to a defense that is in dire need of it during the rebuild.
37. Indianapolis Colts
Braden Smith, OG, Auburn – Smith jumped around draft boards all year, and is a safe and sound interior line prospect that is going to playing right off the bat. The Colts are making a strong push to build up both lines, and they are starting with the offensive line to better protect their star QB. In back to back rounds they get two excellent guards that will not only offer better protection, but the the Colts are getting set up to have a more balanced attack with a better run game.
38. Tampa Bay Buccaneers
Ronald Jones, RB, USC – Jones apparently rubbed people the wrong way in interviews, and there are still some question marks about his health, but that should be fine by training camp. and the attitude isn't as important as it would be if this were a QB. The Bucs have been awful at running the ball, but started to fix that in the offseason by getting a nasty center. It is nice to see when a team is fully aware of their deficiencies and they don't dance around fixing them.
39. Chicago Bears
James Daniels, OG/C, Iowa – The Bears allowed their young QB to get pressured far too much last year, and despite their talented runners, they had to bounce outside far too often. Daniels is in the conversation as the best center in this draft and can play all three interior positions.
40. Denver Broncos
Courtland Sutton, WR, SMU – Probably the only true X receiver in the draft, Sutton has the tools to be a dominant player at the next level. Many people, including us, believe he could have been a first round very easily, and if you believe that as well, the Broncos are having one of those drafts where players are just falling in your lap. Neither of the top picks for the Broncos were their pressing needs, but you can't pass up on the talent that has fallen to them.
41. Tennessee Titans
Harold Landry, OLB, Boston College – Landry is perhaps the best pass rushing OLB in a 3-4 for this draft and the Titans trade up to get an absolute steal here. Right from the start, Vrabel gets some pass rush for his defense, and if Landry is back to fully healthy, he is going to contribute immediately. Excellent value here.
42. Miami Dolphins
Mike Gesicki, TE, Penn State – Opinions on Gesicki were pretty varied. There are some opinions that had him as high as a first rounder, and others as far down as the fourth. He tested incredibly well, but how that translates to the field is questionable in terms of his speed because of his crazy long stride. However, what does translate is his phenomenal vertical, which is going to be a major nightmare for smaller players covering him. If he can develop some chemistry with his QB, he can be a move the chains type of pass catcher that keeps the Dolphins offense on the field.
43. Detroit Lions
Kerryon Johnson, RB, Auburn – The Lions had a lot of interest in Kerryon Johnson and made the move up to grab him. There was already a lot of chatter that the Redskins were salivating about drafting him with the next pick. A surprisingly overlooked RB prospect during the draft process, Johnson was one of the toughest players in college football, playing through pain to lead the Tigers to a season not many predicted. The Lions may not have drafted the big names that fans were looking for, but they made a huge commitment to fixing their running game and got unquestionably two of the toughest players in the draft.
44. San Francisco
Dante Pettis, WR, Washington – We had Pettis as a late first rounder for much of the draft season, but never heard much buzz about him going that high. He is an elite route runner that is the extremely rare out of the box wide receiver coming out of college and ready to play without the year or two of technique training that most college WR's seem to need now. He is an excellent return man as well. This is a foundational player for the 49ers, and also fits a need.
45. Green Bay Packers
Josh Jackson, CB/S, Iowa – The Packers, like the Lions and the Giants, looked in the mirror and knew what they had to do with a big problem on their team. Not only did the Packers get two excellent secondary players (can't fully say that Jackson is going to play corner, could be a safety), but they got both later than many saw them going. They have a revamped front office, and are approaching the offseason differently, as seen by their excellent move down in the first round to get a player they were targeting earlier.
46. Kansas City Chiefs
Breeland Speaks, DE, Mississippi – This may seem like a reach, but that is one of the most over-used words in the draft. The Chiefs needed to get better against the run, and Speaks should be able to help firm up the running lanes. They were very aggressive in the last year, so they had the luxury of hyper-targeting an area of need.
47. Arizona Cardinals
Christian Kirk, WR, Texas A&M – When you draft a new QB high in the draft, it is important to get him some weapons that can develop along with him. With a HOF WR at the end of his career, Kirk is going to get the Master Class on how to not only be a WR, but how to be a professional. A prototypical slot receiver / return man, the Cardinals got a player that can help develop the new offense and gets a year (or two?) of internship under one of the best WR's of all time.
48. Los Angeles Chargers
Uchenna Nwosu, OLB, USC – Presumably the Chargers drafted him as an OLB, but Nwosu could be used as a pass rushing specialist defensive end as well. This is an interesting pick as the Chargers have a very talented roster, but have been too one dimensional on defense. Could Nwosu be used both on the line and in coverage to help them be more of a multiple defense?
49. Philadelphia Eagles
Dallas Goedert, TE, South Dakota State – Trading up right before Dallas to get a player that would fit Dallas perfectly? Teams don't trade out of spite, but it is fun to talk about. The fact is, Goedert was falling and someone was getting a steal here. The Eagles had a need at tight end, and Goedert was in the conversation as the best tight end prospect in the draft.
50. Dallas Cowboys
Connor Williams, OG, Texas – Williams could play tackle in many teams' offensive line schemes, this is not a T-Rex with as short of arms as has been talked about. However, for Dallas, he will be a perfect fit inside. Dallas had the best offensive line in football, then allowed it to fall apart a bit, and aren't going to let that happen again. This offense depends on the run, and the threat of the run, and when that line is not at a premium, the whole scheme falls apart. They probably need a TE, but this pick actually does a better job of solidifying the offense.
51. Chicago Bears
Anthony Miller, WR, Memphis – This team has totally flipped the script in terms of their priorities this year. With an offensive minded head coach that brought in a spread offense guru as OC, AND adding WR's and a TE in free agency, this offense is determined to be active and aggressive. Miller just makes plays, and he can develop as the veterans that they just signed establish the team's new offensive identity.
52. Indianapolis Colts
Kemoku Turay, DE, Rutgers – If the Colts didn't have so many picks, this selection might seem risky. Turay is an ultra-talented prospect that is very raw. But with so many picks, it is smart for the Colts to have a "diversified portfolio". Finding elite pass rushers is not easy, and usually done at the top of the draft, but can also be approached by taking chances on under-developed prospects with very high ceilings.
53. Tampa Bay Buccaneers
M.J. Stewart, CB, North Carolina – Ok, the Bucs have made their point in free agency and the draft and have addressed the fact their lines – offense and defense – needed to toughen up. Now, they can start to work on adding talent, and corner was a need. Stewart presumably took a small drop because he didn't measure as fast as he looked on tape, but wisely the Bucs trusted their eyes.
54. Cincinnati Bengals
Jessie Bates III, S, Wake Forest – The Bengals just haven't been getting INT's, and their secondary has been built more on power than ranginess. Bates brings a centerfield type skillset, and provides a nice balance to their bigger, in the box safeties.
55. Carolina Panthers
Donte Jackson, CB, LSU – The first thing that has to be mentioned about Jackson is that he fast, super fast. He should immediately seem time covering speedy slot receivers and running backs and might get some opportunities in the return game to save the health of other more prominent players.
56. New England Patriots
Duke Dawson, CB, Florida – One of the most feisty players in the draft, this fills a big need for the Patriots. Dawson can do the dirty work in the middle of the defense covering tight ends, slot receivers, and running backs, and plays with an edge.
57. Oakland Raiders
P.J. Hall, DT, Sam Houston State – Short, and from a small school, but extremely productive, and plays with extraordinary effort. Could get locked up by bigger offensive linemen, but if they can find ways to utilize his relentless motor, he can provide a big boost of energy and attitude to a defense that has been stuck in the mud lately.
58. Atlanta Falcons
Isaiah Oliver, CB, Colorado – A big, physical press corner that Atalanta covets. The Falcons need to do a better job stopping some of the bigger receivers they see in their division, and getting more robust in the secondary should help.
59. Washington Redskins
Derrius Guice, RB, LSU – The Guice situation this year shows that there is a gap of info between the teams and those that cover the draft. Quite simply, there is a lot of info that we don't know that teams do. During the draft there was starting to emerge reports of investigations, incidents and maturity issues. There couldn't have been anything too crazy, such as charges being filed on something, as everyone would know about, but more of a pattern of behavior that has teams scared off. If those things are true but he can stay on the good path, this could be one of the best value picks of the draft. Guice can soften up the middle of the defense, allowing the pass friendly offense to thrive.
60. Pittsburgh Steelers
James Washington, WR, Oklahoma State – Washington plays faster and taller than he measures, and is true vertical threat in as a receiver. Combined with two other star receivers, secondaries are going to have a very difficult time assigning resources to stop the passing game of the Steelers.
61. Jacksonville Jaguars
D.J. Chark, WR, LSU – The Jaguars let some WR's walk in free agency, but they weren't guys picked by the current guy running the show. They are a power running team first, so why not get a guy that can keep defenses from stacking the box. No player had a better draft process than Chark (well, besides Mayfield apparently), and he looked elite at each stage from the Senior Bowl to the Combine.
62. Minnesota Vikings
Brian O'Neill, OT, Pitt – The Vikings could use an upgrade at right tackle, and O'Neill is a very athletic tackle that is just learning the process. They have a guy that can play the position now, but is better suited at guard, but this does give them a little breathing room to develop him as he learns how to play tackle. One important note is Pitt is one of the few college teams that practice and play like an NFL team, so he is coming in with some quality coaching already.
63. Tampa Bay Buccaneers
Carlton Davis, CB, Auburn – Davis had the chance to be a first rounder if he didn't get injured, so the Bucs apparently get very focused on fixing issues one at a time, and now go again to fixing their secondary. Davis is big and physical, and if he can disrupt the timing of receivers, he could give their revamped defensive line time to do their thing.
64. Indianapolis Colts
Tyquan Lewis, DE, Ohio State – The Colts are in complete overhaul of their defense, and add an underrated defensive end because he is not considered an explosive pass rusher. However, what he does do well is control his gaps and stop the run. And at his size and skillset, he can be moved inside as an additional pass rusher.