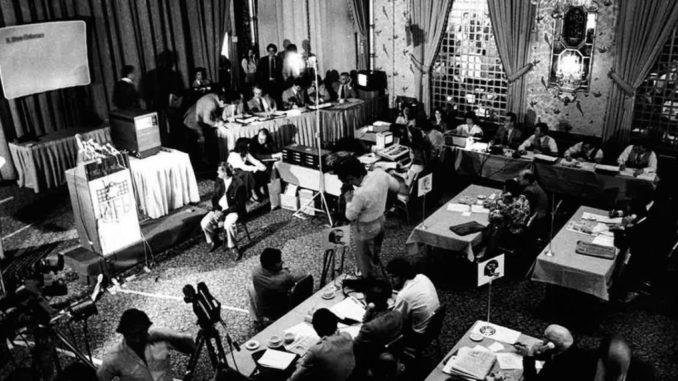 2018 NFL Draft Tracker – Round 3
Pick by Pick Analysis
Round 1 | Round 2 | Round 3 | Round 4 | Round 5 | Round 6 | Round 7
65. Oakland Raiders
Brandon Parker, OT, North Carolina A&T – Parker has a very sketchy past with not being able to settle in during HS or college, but is also possibly the most physically gifted offensive tackle in this draft. A project, but one with huge upside.
66. New York Giants
Lorenzo Carter, OLB/DE, Georgia – The Giants are having one of the best drafts of anyone, and in the last two rounds they must be flabbergasted at the players that got passed on just before them. Carter is a borderline first round talent that many teams considered at defensive end.
67. Cleveland Browns
Chad Thomas, DE, Miami –  The Browns could have had Bradley Chubb in the first, but grab a defensive end here near the top of the third. He is an extremely up and down player that looks elite at times, and disappears for entire games as well.
68. Houston Texans
Justin Reid, S, Stanford – The Texans have be ecstatic to get the extremely athletic Reid at this point in the draft. They need a safety, and got one of the best in the draft without having to reach.
69. New York Giants
B.J. Hill, DT, N.C. State – Hill might have fallen here simply due to the fact that N.C. State had so many excellent defensive linemen, that teams might have discounted his talent. The Giants so far have been able to sit back and grab stars as they fell to them, and now this feels like a more targeted selection.
70. San Francisco 49ers
Fred Warner, ILB, BYU – Warner excels in coverage, and has the awareness of a safety. It will be interesting to see how they move him around in the defense, perhaps as a hybrid LB/S
71. Denver Broncos
Royce Freeman, RB, Oregon – Freeman very much went under the radar during the draft process. But this is right around where the Broncos wanted to draft a RB, and he should excel in their offense, as long as he can continue to excel with his put his make a cut, commit and burst approach.
72. New York Jets
Nathan Shepherd, DT, Fort Hays State – Besided Dallas Goedert, this is the star small school player in the draft. With an exceptional combination of size and athleticism, Shepherd is a developmental defensive tackle with huge upside.
73. Miami Dolphins
Jerome Baker, OLB, Ohio State – This is not only a great value but fits a huge need for the Dolphins. They need defenders that can stop their huge problem with matchups from opposing offenses. Baker is uber-athletic and can cover a very wide variety of receivers that offenses throw at him.
74. Washington Redskins
Geron Christian, OT, Louisville –  Watching Geron Christian on tape is an up and down experience. He shows excellent technique and seems to dominate at times, and looks completely out of place at others. He is a developmental tackle prospect, but one that has put together enough very good tape that shows that he could develop into a very good tackle with the right coaching.
75. Kansas City Chiefs
Derrick Nnadi, DE/DT, Florida State – The Chiefs were soft in the middle on defense last year and are very aware of that fact based on this draft. They need to shore up the rush defense and let their linebackers make plays, but last year teams just pounded it down their throats. Nnadi is probably going to play end for them, and can put a stop to runs going his way.
76. Pittsburgh Steelers
Mason Rudolph, QB, Oklahoma State – We had Rudolph to the Steelers but in the second, and have seen this matchup in the first in many mocks. This is a great spot in the draft to get Rudolph, and they have to be ecstatic to get him here. Rudolph is an excellent vertical passer, and has to be looking at the receiver core and hoping Big Ben retires sooner rather than later.
77. Cincinnati Bengals
Sam Hubbard, DE, Ohio State – Hubbard is a productive, but not elite in any particular area prospect. The Bengals went heavy on DE's last year, so this is a pick where they must have felt they can't pass on the talent.
78. Cincinnati Bengals
Malik Jefferson, OLB, Texas – Jefferson was an up and down prospect in terms of how he was valued, but seemed to simply get lost in a team that was making changes to their defense. He is supremely talented and finds his way to the ball, always in on the play. This is the type of player the Bengals need on their defense.
79. Seattle Seahawks
Rasheem Green, DE, USC – Seattle has a major issue with their secondary, but must feel that their younger players deserve a chance to vie for starting roles. The team has earned the benefit of the doubt with that, but not getting a player in the secondary early is surprising. They do value their defensive line, and Green is a player that most viewed as under-appreciated.
80. Houston Texans
Martinas Rankin, OT, Mississippi – The Texans didn't have early picks in the draft, and this looks like they went after their top OT on their board. He is just coming into his own, and many teams viewed him in a different position, but with the Texans offensive line scheme, he can play tackle.
81. Dallas Cowboys
Michael Gallup, WR, Colorado State – The Cowboys get the WR they needed, and did it very wisely by grabbing prospects first that had big drop offs in positional quality at this point. That is not the case with WR, and they get an excellent piece for Linehan's vertical offense.
82. Detroit Lions
Tracy Walker, S, Louisiana – The Lions needed a safety if you took a few minutes to study how this defense is changing. Matt Patricia uses big nickel about as much as any defensive coordinator, and will need a stable of quality safeties to run that properly. They also have some contracts coming up with safeties. Last year, Bob Quinn grabbed a WR and a corner late that had draft experts scratching their head that both ended up showing excellent promise in their rookie years.
83. Baltimore Ravens
Orlando Brown, OT, Oklahoma – Brown was viewed as the top OT by many at early parts of this draft, but slowly moved down and took a plunge after the combine. The results at the combine by themselves could be overlooked due to good tape, but the red flag is he either didn't take the prep seriously, or he get totally flustered after his first testing event went badly and went into a mental breakdown. Huge talent, huge human, but also some major question marks.
84. Los Angeles Chargers
Justin Jones, DT, NC State – Another one of the great NC State defensive linemen, Jones could either be a steal here and an excellent new piece to their defense, or was the beneficiary of players around them. Seems like the former.
85. Carolina Panthers
Rashasn Gaulden, CB, Tennessee –  The Panthers keep cycling through young CB's, and at some point just need to let some guys develop. Gaulden was a late riser, and will go into a crowded competition for secondary positions that needs to get sorted out once and for all.
86. Baltimore Ravens
Mark Andrews, TE, Oklahoma – Another TE for the Ravens. There seems to be a plan to start putting in place a read-option type offense that will utilize some quick outlet passing. Roman is a part of the offensive coaching staff, but was fired twice since the golden era of the read option in the NFL that existed about 4 years ago and that the NFL has adapted to stop.
87. Oakland Raiders
Arden Key, DE, LSU – This could be the boom or bust prospect of the draft. Quite simply, Key needs to stop smoking weed and fully commit to being a pro. That means getting rid of all the bad influences in his life. If they can assign him a mentor and he dedicates himself to being clean and all about his craft, the sky is the limit.
88. Green Bay Packers
Oren Burks, ILB, Vanderbilt –  A smart, dependable, disciplined team leader. Burks is the type of player coaches don't have to worry about, and that becomes a coach on the field. A very underrated player that does the dirty work on the defense, being super vigilant about doing his job and being gap-sound.
89. Los Angeles Rams
Joe Noteboom, OT, TCU – One of our underrated prospects, Noteboom has the tools to be a ten year starter in the league. He has put up enough excellent tape to make teams overlook some bad tape here and there. This is a great pick in that they have some older offensive linemen and having some young prospects that they can take the time to develop is wise.
90. Atlanta Falcons
Deadrin Senat, DT, South Florida – The Falcons have had an issue being a bit soft in the middle of their defense the last few years and just can't seem to solve it completely. Senat is going to get every opportunity to prove he can help stop the run and add a nasty edge to their line.
91. New Orleans Saints
Tre'Quan Smith, WR, UCF – With a star receiver on the roster, the Saints seem to find supporting role WR's that thrive in this offense. His combination of length and speed make him a matchup problem in the slot.
92. Pittsburgh Steelers
Chukwuma Okorafur, OT, Western Michigan –  The Steelers don't have a specific glaring need on the offensive line, and the way that you keep that from happening is staying ahead of the problem.
93. Jacksonville Jaguars
Ronnie Harrison, S, Alabama – Harrison took an unexpected tumble in the draft and he walks into a position where he won't have to carry the burden of a rebuilding defense. Jacksonville is stacked, so he can work his way into the rotation, but comes already with years of excellent coaching at Alabama.
94. Tampa Bay Buccaneers
Alex Cappa, OT, Humboldt State –  The Bucs signed the nastiest center in free agency, and just drafted the nastiest offensive lineman in the draft. This is going to be an angry offensive line.
95. San Francisco 49ers
Tarvarius Moore, S, Southern Miss –  The 49ers definitely needed a safety, and Moore was one of the popular early sleepers that emerged as a legit process as more was known about him.
96. Buffalo Bills
Harrison Phillips, DT, Stanford –  Super productive and relentless defensive tackle that took a big slide in the draft just due to circumstance and supply and demand. Another front seven improvement for a team that wants to be elite in that regard.
97. Arizona Cardinals
Mason Cole, C, Michigan – The first widely praised offensive line move of the Cardinals since the end of the season. Cole is smart, well coached and ready to step in and play for a decade.
98. Houston Texans
Jordan Akins, TE, UCF –  Deshaun Watson averaged 5.1 rush attempts a game last year, and even with a revised offense, don't expect that number to jump much. Their offense will feature a continued threat of running from Watson, but not scheme many plays for that. However, what they do finally want to incorporate is true 12 personnel sets, creating matchup issues.
99. Denver Broncos
Isaac Yiadom, CB, Boston College –  The Broncos are doing a smooth transition from older vets to young blood in their secondary, but simply had other players drop to them early in the draft rather than to reach for need.
100. Kansas City Chiefs
Dorian O'Daniel, OLB, Clemson – This is an OLB/S hybrid type player that will probably be officially listed as an OLB. He is the type of versatile player that defenses are looking for but are hard to find.