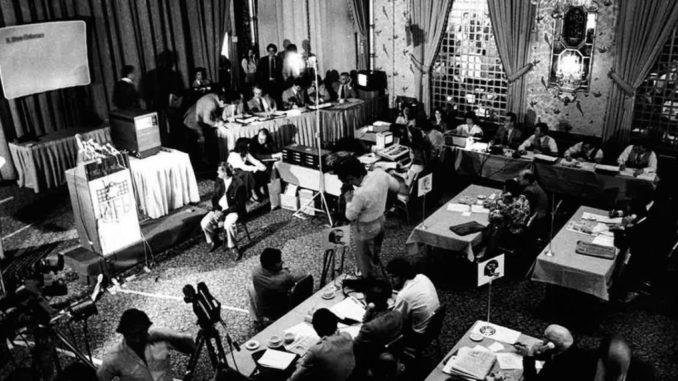 2018 NFL Draft Tracker – Round 1
Pick by Pick Analysis
Round 1 | Round 2 | Round 3 | Round 4 | Round 5 | Round 6 | Round 7
1. Cleveland Browns
Baker Mayfield – Shocking. John Dorsey was fired due to his personality issues and wasn't self aware enough to overcome that flaw. The Browns have went out and got a system QB that has major impulse control problems. Much of the NFL fanbase must start believing that that Browns are truly cursed. Oklahoma was great before and will be great after Mayfield was there. He quit a school because he was afraid of a QB competition. He has been tackled by a police officer in the last year for fleeing. When pressured by a good defense in Georgia he looked like every other pedestrian spread QB. Dorsey is not long for Cleveland with these types of decisions. Cleveland is one of the best sports towns in America. Enough of this nonsense for them.
2. New York Giants
Saquon Barkley – Barkley is a very common sense pick. An argument could have been made to take Chubb here and grab a great RB in the top of the 2nd. He is mostly effective on the perimeter, and should catch a ton of balls in this offense. Doesn't need to be a pound it between the tackles runner. Will need to focus on pass pro.
3. New York Jets
Sam Darnold – The Jets get the steal of the century and Sam Darnold gets to go to a team that seemingly is putting it all together. Josh McCown is the best mentor that there is. The Jets went up and got their QB. Except they didn't expect to win the lottery in the meantime. All the talk last year of the Jets tanking for Darnold, well, in some strange confluence of events, they got him anyway. Jets fans, you got your QB.
4. Cleveland
Denzel Ward – It is lazy to use absolutes, but sometimes it is needed. This is the worst draft we have ever seen by one team with such amazing resources. Denzel Ward is a very good player. But he is short, and probably not able to match up against many of the league's bigger receivers. An elite pass rusher is on the board and you pass him up for a short outside corner. So, so, sorry Cleveland fans. The Browns have now walked away from this draft without Darnold, Allen, Bradley Chubb, or Saquon Barkley.
5. Denver Broncos
Bradley Chubb – The Broncos made a grown up pick here. This is an elite talent and you just don't pass on that. They owe the Browns a gift basket for Dorsey's uninspired selections. This team has a very reliable QB and just added a blue chip player to their already excellent defense.
6. Indianapolis Colts
Quenton Nelson – Another great pick. Nelson might not be the best pass protector but he is a sensational run blocker. That makes for a better run game, a balanced offense, and keeps the defense honest. With extra picks coming up, they can work on adding some interesting prospects in the 2nd while teams fight over the second tier of guards.
7. Buffalo Bills
Josh Allen – The Bills get their QB without giving up as much as they probably thought, another cascading effect from the Browns early on. The strong arm is a factor, but this is a team that is building a strong front seven and a power run game so they can take a year to develop Allen without the pressure to play him. He needs a year to work on his footwork and some timing issues, but this is a good place for that. Great value pick for getting a QB with such a high ceiling. …and they still have their other first rounder!
8. Chicago Bears
Roquan Smith– A fierce sideline to sideline linebacker that fits perfectly into what defenses need today. He can cover the perimeter, hunt down ball carriers and is a devastating tackler. They might not have thought he would be here, and this is an elite prospect that fits a need.
9. San Francisco 49ers
Mike McGlinchey – You invest a ton of money in a young QB, you should keep him healthy. The 49ers have taken this rebuild process seriously, and thoughtfully. McGlinchey doesn't blow people away, but he is a very safe pick. You plug him in day 1, you won't hear about him that much for years, and that is a good thing.
10. Arizona Cardinals
Josh Rosen – The Cardinals have a head coach that will not suffer fools. Rosen is an exceptional talent, but has a lot to overcome in terms of how he deals with people. This could be a perfect spot for him. The bigger issue is that he missed two games with separate concussions and he is the son of a very prominent doctor. Is he one concussion from being out of the league? The Cardinals signed a very injury prone QB in free agency and an injury prone QB in the draft. Do they have the best team doctors in the league?
11. Miami Dolphins
Minkah Fitzpatrick – If the Dolphins are in the process of building with character players, they couldn't have done better with Fitzpatrick. Smart pick at a good value and at a position of need. Tannehill escapes the gallows for another year!
12. Tampa Bay Buccaneers
Vita Vea – A monster 2 gap defensive tackle that can penetrate as well. The Bucs already added a lot to their defensive line in free agency, but why not grab a unique talent like this when you can. The Bucs are going to be very difficult against the run next year.
13. Washington Redskins
Da'Ron Payne – An excellent run stopper in college, that showed pass rush skills late in his college career. The Redskins have spent so much first round capital over the last few years on defensive players, but haven't had much results. With Allen, however, this could be a dominant defensive line.
14. New Orleans Saints
Marcus Davenport – edge rushers of this physical talent are rare, the moving up to get him giving up a first for next year is a bit of a head scratcher. Was fun to hear the analysts suggest Lamar Jackson would somehow ride the bench for the next few years and develop until Brees retires. All that being said, this can help the Saints next year, and they are a team in contention for the SB. At 27 it seems they could have gotten an excellent TE, or corner that would have probably helped them more, however.
15. Oakland Raiders
Kolton Miller – A developmental offensive tackle with a huge ceiling. The Raiders over spent on their offensive line in the last few years and need some cheap options on rookie contracts. Carr has to stay healthy.
16. Buffalo Bills
Tremaine Edmunds – A bit of a surprising fall, and a surprising trade up. This is an elite talent that is very young. Bills love their front 7 players. Bills going with tall talent so far.
17. Los Angeles Chargers
Derwin James – At 17, the Chargers get an excellent value here and a player that is going to have a big impact this year. The Chargers played very well once they got healthy, and have one of the most balanced rosters in the league. They had the luxury of not having to press here. James makes them a more physical defense immediately.
18. Green Bay Packers
Jaire Alexander – Arguably the best corner in the draft, 14 picks later than Ward was taken by the Browns. The Packers needed another corner, and they are going up against some high flying offenses twice a year. They moved back and then back up for him, this is a different front office for sure.
19. Dallas Cowboys
Leighton Vander Esch – Cowboys really needed a linebacker, and they did the smart thing and addressed that here and can wait on WR in the next few rounds. There was some talk about an injury, but that might have been just stuff associated with the draft process. Cowboys have gone about the draft process in a very prudent way the last few years.
20. Detroit Lions
Frank Ragnow – A bit of a surprise here, but still a major need. This is a tall, fierce interior offensive lineman, that can play guard or center. It will be interesting to see who will play center and and who will play guard, but they have finally have 5 solid pieces to their offensive line and a bruising back. Stafford has had 7 total 100 yard rushing yards from running backs in his entire career.
21. Cincinnati Bengals
Billy Price – The Bengals have to get their offensive line straight immediately before anything is going to work on offense. Billy Price has been cleared for training camp and can play anywhere on the interior of the line.
22. Titans
Rashaan Evans – This is one of the most natural fits in the draft. Alabama plays the same defense that they will be now playing in Tennessee, and will be a key part of Vrabel's new defense. A bit of a steal here.
23. New England Patriots
Isaiah Wynn – Considered a guard in most draft circles, his size profile is still within what they can use as a tackle in New England's system. The Patriots desperately needed an offensive tackle. They addressed their key need and can now have more flexibility with their next pick.
24. Carolina Panthers
D.J. Moore – A very good fit here. The Panthers need a wide receiver that can do it all, and that is a very reliable outlet for Cam Newton.
25. Baltimore Ravens
Hayden Hurst – The Ravens needed a tight end and they got with some excellent moving around the board. A perfect spot for Hurst, and they added picks to get here.
26. Atlanta Falcons
Calvin Ridley – A wonderful complement to their offense. Ridley is a do it all WR that doesn't do anything exceptional, but everything very well.
27. Seattle Seahawks
Rashaad Penny – Seattle needs to rejuvenate their running game, and Penny is one of the most explosive, and powerful backs in the draft that can contribute with returns. If they can get their offensive line settled, perhaps they can get their running game back.
28. Pittsburgh Steelers
Terrell Edmunds – A long, physical safety. Not in everyone's first, but fits the Steelers perfectly. They need an inside linebacker, but would have to reach here if they wanted one.
29. Jacksonville Jaguars
Taven Bryan -The Jaguars are building on their strengths. This is a physical team built on both lines. He has some versatility which will make the defensive line even scarier.
30. Minnesota Vikings
Mike Hughes – A bargain here, and another team building on their strengths. He won't be forced into major duty early and they get a great return man right off the bat.
31. New England Patriots
Sony Michel – The Pats don't normally go for RB's early in the draft, but they also always surprise. The Pats are constantly changing up their running backs and now add a rookie. A great fit for their matchup nightmare offense.
32. Baltimore Ravens
Lamar Jackson – We felt this was going to be a match, just not here. Will be very interesting to see how he is used in 2018. Use of the read option has become much less effective since 2015, in contrast to how it is talked about as the future. Hopefully, he is open to being an offensive weapon.