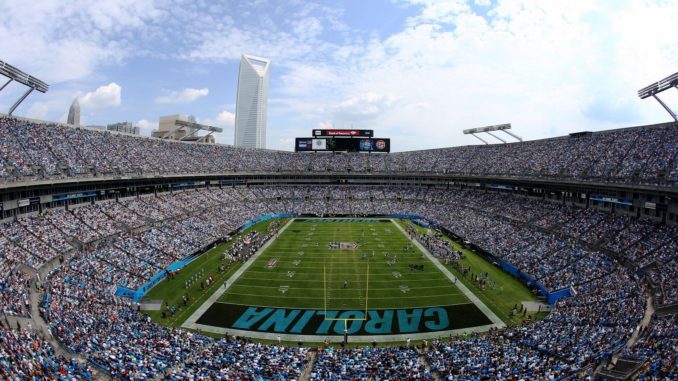 Carolina Panthers 2018 NFL Draft
Carolina Panthers 2018 mock drafts, last year draft recap, Carolina Panthers draft needs, 2018 draft trades.
GM: Marty Hurney
Head Coach: Ron Rivera
Offensive Coordinator: Norv Turner
Defensive Coordinator: Eric Washington
Offensive Scheme: Play Action / Power Run
Defensive Scheme: 4-3
NFL Offensive Rankings
Run: 4 Pass: 28 Total: 19
NFL Defensive Rankings
Run: 3 Pass: 18 Total: 7
2018 Estimated Cap Space
$11,635,502
2018 NFL Mock Drafts
Carolina Panthers Previous Draft
1/8 Christian McCaffrey RB STANFORD
2/40 Curtis Samuel WR OHIO STATE
2/64 Taylor Moton OT WESTERN MICHIGAN
3/77 Daeshon Hall DE TEXAS A&M
5/152 Corn Elder CB MIAMI
6/192 Alexander Armah DE WEST GEORGIA
7/233 Harrison Butker K GEORGIA TECH
Post Draft Thoughts:

"If you review the first few years of the Panthers play, as they eased Newton into the offense, many fans forget that they actually ran an offense similar to New England.  This includes Erhardt-Perkins concepts where they can utilize wide receivers, running backs, and tight ends interchangeably (as much as possible) to create mismatches. They went all in with that concept in the 2017 draft.  McCaffrey and Samuel are the two pure hybrid RB/WR players in this draft and they got both.  They are not redundant. Moton is a right tackle that could play guard as well, but he is going to prove to be a very valuable piece for next year."
2018 NFL Draft
The Panthers added two perfect players for their matchup based offense in McCaffrey and Samuel, and even dealt away Benjamin to start to free up their more versatile weapon. Benjamin is actually a better fit in Buffalo, and they could use more draft picks to improve an offensive line and to find a young pass rusher.
Carolina probably made some bad decisions in regards to their offensive line, and if a top left tackle prospect fell to them in the first round, they will have a tough decision to make. Ideally, they would also like to have two dynamic, pass catching tight ends.
The Panthers have a problem that has been festering and getting worse which is Cam Newton's maturity. He is obviously not the natural leader able to lead a team, but teams have succeeded without having that from the QB position. The team had to break up his close relationship with Benjamin because it was causing problems in the locker room, and he just isn't the same player he was a few years ago. He simply isn't growing up, and that is a problem.
Carolina Panthers 2018 NFL Draft Needs
WR, CB, DE, TE, OG