2018 NFL Mock Draft – 7 Rounds
The 2018 NFL Mock Draft is updated constantly based on changes to team needs through free agency, prospect rankings, and other factors. There are two 2018 NFL Mock Drafts, the "DraftBlaster" 7 Round Mock, and also DraftGeek's Mock Draft.
UPDATE: DraftBlaster will be doing live pick by pick analysis during the draft! DraftBlaster Draft Tracker
DraftGeek's Mock Draft
NFL Mock Draft 2018 – Last Updated: April 26
2018 NFL Mock Draft Round One (1-20) | Round One (21-32) | Round Two | Round Three | Round Four | Round Five | Round Six | Round Seven
1. Cleveland Browns
Cleveland Browns Books | Cleveland Browns Fan Shop
Team Needs: QB, OT, S, RB, WR

2018 NFL Mock Draft, Browns: Sam Darnold, QB, USC
Is this Baker Mayfield? Who knows, but we will stick with Darnold for our final mock. The NFL draft is full of surprises, but this pick has been looking like Sam Darnold for a long time (Rose Bowl of 2017??). The meetings at the Browns headquarters are most likely much more focused on their subsequent selections and they will surely be getting prepared for what to do in the case of many different trade offer scenarios. The Jets moving up to the third pick did them a huge favor, as it guarantees them one of the two star non QB's in Bradley Chubb or Saquon Barkley.
Draft Scenarios: We have had Sam Darnold as the top pick since our first 2018 mock draft last summer, and through ups and downs it still seems like the logical pick. There has been buzz of Allen and now Mayfield, so when the draft starts, we will find out, finally, for certain.
Other Possibilites: Josh Allen, Baker Mayfield

2. New York Giants
New York Giants Books | New York Giants Fan Shop
Team Needs: RB, QB, DE, LB

2018 NFL Mock Draft, Giants: Saquon Barkley, RB, Penn State
If the Giants stay here, which it appears right now that they will unless they get a great offer, they will have to choose between Barkley and Bradley Chubb. There is a lot of logic behind grabbing Chubb and still grabbing a great RB in the 2nd, but there is just too much talk about the Giants taking Barkley here. Barkley may not be the best all around runner in the draft, but his dynamic skills in the short passing game is going to cause major match-up problems for defenses.
Draft Scenarios: Up until a few days before the draft, the idea was that this is "where the draft begins". With all of the leaks, real and fake from the Browns, who knows until the draft starts. The Giants have to measure how much longer they feel they can content, and at what point to pull the trigger on a QB. Very strong possibility they get an offer here to trade down, perhaps from the Bills, the Dolphins, or maybe even the Cardinals. If they stay in this spot, they will have to first decide on if a QB is the best move. Yes, it is great to have Eli's replacement in place, but if they feel like they can content in the next few years with Eli, why not get an elite edge rusher that they desperately need, or the top running back in Barkley.
Other Possibilities: Sam Darnold, Josh Allen, Bradley Chubb
3. New York Jets (from Indianapolis)
New York Jets Books | New York Jets Fan Shop
Team Needs: QB, DE, OT, OG

2018 NFL Mock Draft, Jets: Baker Mayfield, QB, Oklahoma
Is Baker Mayfield already gone at #1? Perhaps. Before that, there was a lot of talk about Baker Mayfield going here, and simply haven't heard anything about Josh Allen going here, but some buzz about Josh Rosen. Mayfield is immature and has an impulse control issue, Josh Rosen could use some time behind a profoundly decent human being that will be the starting QB this year, and Josh Allen needs more time to work on his footwork and to continue to build on the great progress he has made during the draft process with timing and technique.
Draft Scenarios: The Jets have already made a move to get to this point, and you generally only do that to get a QB. Lots of talk about Baker Mayfield being the pick here, and we give it a lot of merit. Josh Rosen is getting hyped by the media, but not by the teams, and could take a little bit of a tumble in this draft. If Darnold goes first, and the Giants go with a non QB, the Jets will be in a nice position to grab the QB here that they think is the best fit: Josh Allen or Baker Mayfield.
Other Possibilities: Josh Allen, Josh Rosen, Sam Darnold
4. Cleveland Browns (from Houston)
Cleveland Browns Books | Cleveland Browns Fan Shop
Team Needs: QB, OT, S, RB, WR

2018 NFL Mock Draft, Browns: Bradley Chubb, DE, NC State
It appears the Giants are leaning toward Barkley at #2, and if the Jets go QB at the next pick, this is a fairly clear selection.
Draft Scenarios: It is starting to look as if Bradley Chubb might be off the board at this point. If that is the case, the Browns have a fairly easy pick to make here. If someone trades up to #2, or if the Giants decide they want to draft the QB of their future, they will have an excruciating decision to make between Bradley Chubb and Saquon Barkley, two players that can instantly help their team.
Other Possibilities: Denzel Ward, Saquon Barkley

5. Denver Broncos
Denver Broncos Books | Denver Broncos Fan Shop
Team Needs: OLB/DE, RB, OT, CB, TE

2018 NFL Mock Draft, Broncos: Roquan Smith, ILB/OLB, Georgia
Perhaps even more so than the Giants at #2, this pick is in flux in a big way. It gets way too messy to start projecting picks, so we don't, but odds are on this not being the Broncos picking, and it being a QB here when another teams does select. What we have done here is to try to project the Broncos' pick after they make a seemingly inevitable trade.
Draft Scenarios: The #5 pick has the most intrigue about it. It seems like Denver is doing everything in their power to bluff that they are very interested in taking a QB here. That is smart, and they have nothing to lose by doing so. The offense they run and the contract they gave to their incoming QB doesn't lend to them taking a QB, and this is probably just excellent gamesmanship by Elway. This draft slot seems destined to be a QB, and not by the Broncos. If they did pick here, they have a choice of some excellent defensive players, including the fast rising Roquan Smith. It is too high for a right tackle prospect, which they can get in the next few rounds.
Other Possibilities: Denzel Ward, Bradley Chubb, Saquon Barkley

6. Indianapolis Colts (from NYJ)
Indianapolis Colts Books | Indianapolis Colts Fan Shop
Team Needs: DE, OT, OG, WR, ILB, OLB

2018 NFL Mock Draft, Colts: Denzel Ward, CB, Ohio State
Sometimes, being "done wrong" can be a blessing in disguise. Some college teams feed upon it, and it can give an organization a rallying focal point. Regardless of all of that, they are just at the start of a rebuild, and especially need to draft difference makers on defense. Furthermore, nothing can be said about the Colts' draft without mentioning Luck and hoping he can come back completely healthy next year.
The Colts could be the most flexible team heading into the draft. They have needs everywhere, have lots of money to spend, and are in key positions in the draft to move down. That has already happened once, and they could be in prime position to keep moving down and gathering picks.
Draft Scenarios: The Colts are in a reactive place here with the 6th pick. We can't see this pick being traded until Denver is on the clock. Here is what the Colts really need here: to have the 4th QB still on the board when they are up. If so, there phone is going to be rining off the hook. If the top 4 QB's are gone, this pick loses a lot of value. For now, let's assume they are stuck with the pick. They have needs all over their defense, and can pick the best defender on their board, in this case, Denzel Ward, the premier outside corner in the draft.
Other Possibilities: Roquan Smith, Minkah Fitzpatrick, Quenton Nelson, Tremaine Edmunds, Derwin James

7. Tampa Bay Buccaneers
Tampa Bay Buccaneers Books | Tampa Bay Buccaneers Fan Shop
Team Needs: RB, OG, OLB

2018 NFL Mock Draft, Buccaneers: Derwin James, S, Florida State
The Bucs have been a major disappointment in 2018, but perhaps that should have been expected with so many young players at key positions. They are a very talented young team that essentially needs to "grow up." They simply couldn't run the ball last year and it caused cascading problems throughout the offense, and they couldn't control the time of possession in games, causing more stress on the defense.
Draft Scenarios: Tampa Bay couldn't run or stop the run last year. They have made a lot of updates on the defensive line and added a tough as nails center as well. Getting possibly the best player in the draft that can help their run game immediately would be ideal, but they have a number of options here. They are sitting in a great place to get an elite safety, corner, or linebacker as well. And what if one of the top QB's is still on the board? In that case, they are in a perfect position to trade down.
Other Possibilities: Quenton Nelson, Roquan Smith, Tremaine Edmunds, Minkah Fitzpatrick

8. Chicago Bears
Chicago Bears Books | Chicago Bears Fan Shop
Team Needs: CB, OG, C, DE, ILB

2018 NFL Mock Draft, Bears: Quenton Nelson, OG, Notre Dame
The Bears have added wide receivers through free agency, so drafting one with their first pick is not as much a pressing need as it once was. There is a large grouping of receivers that will be able to help the Bears starting in the 2nd, and available throughout the draft. The Bears having coaching ties to Nelson, it is a need, and he could very well fall here.
Draft Scenarios: The Bears made a lot of moves in the offseason with players and coaches. They have kept their two primary corners (now at a much higher cost, however) and added some weapons for their young QB. The Bears defense was coming along, and they kept their Defensive Coordinator, but they could use a better pass rush. This is, again, a prime position to be a part of a trade as well, but the Bears will have to be patient and wait for the draft to unfold to see how that goes. As a wildcard, don't be surprised if the Bears grab a corner here. They are not in a great situation contract wise with their two main corners now, and could use a young corner to give them leverage and the ability to drop one of the existing guys next year.
Other Possibilities: Minkah Fitzpatrick, Derwin James, Vita Vea

9. San Francisco 49ers
San Francisco 49ers Books | San Francisco 49ers Fan Shop
Team Needs: OT, OG, DE, WR, RB, S, CB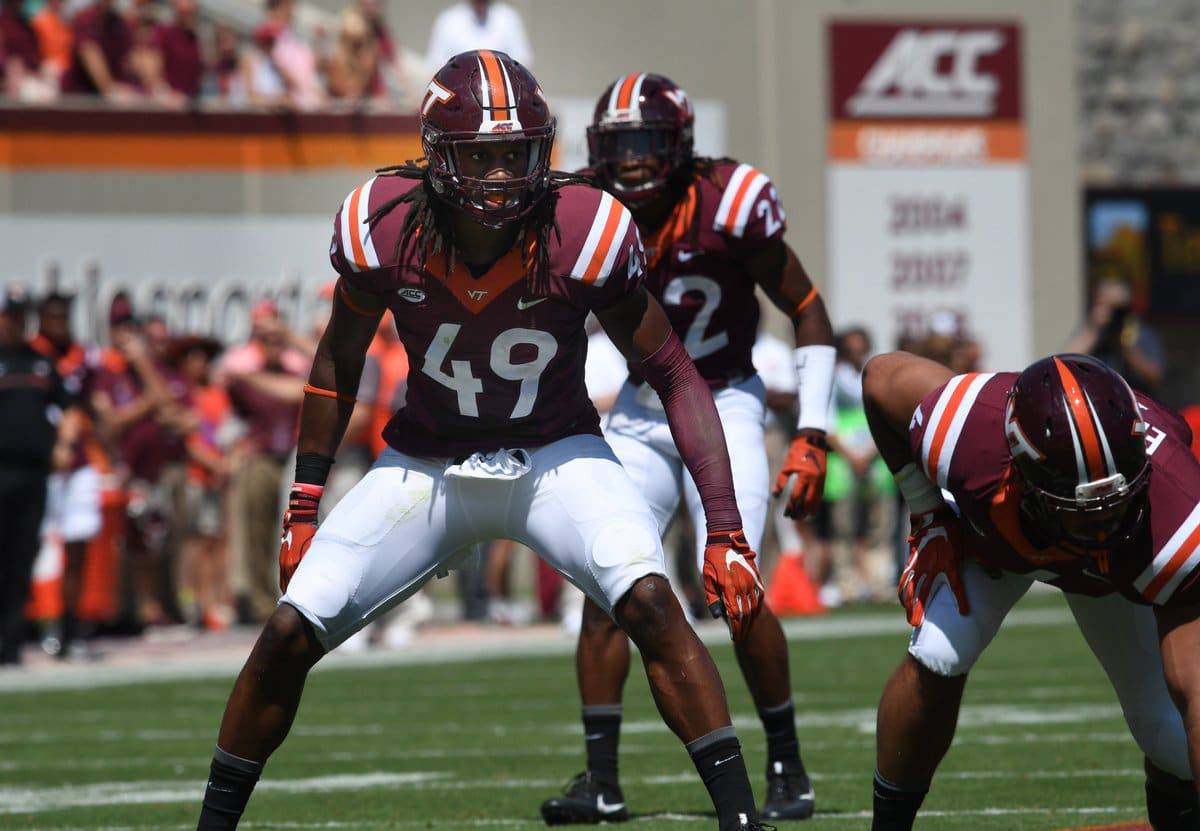 2018 NFL Mock Draft, 49ers: 2018 NFL Mock Draft, Chargers: Tremaine Edmunds, ILB/OLB, Virginia Tech
The 49ers made the first move that really changed the 2018 NFL Draft when they traded for Garoppolo. They are in a position where they can fairly broadly go for best player available in this draft and sort out needs later throughout the draft. The 49ers need to get their linebacker core back to being a strength of their team, and if Edmunds is available, this has to be a strong possibility.
Draft Scenarios: The 49ers have had a massive roster overhaul, and are in a settling down period. This is an interesting spot because the 49ers still have a number of needs and can really just wait to see what top prospect might fall to them. They will surely be tempted to take an offensive tackle here as well.
Other Possibilities: Mike McGlinchey, Derwin James, Minkah Fitzpatrick, Connor Williams, Vita Vea

10. Oakland Raiders
Oakland Raiders Books | Oakland Raiders Fan Shop
Team Needs: OLB, DT, DE, OT, OG, RB, WR

2018 NFL Mock Draft, Raiders: Minkah Fitzpatrick, S / CB, Alabama
Every year there is a team or two that has a huge pile of free agency money to spend to add players on everyone's "top free agents" lists, and the fans get excited and start dreaming of championships. The problem is that just isn't what wins Superbowls. As much as the draft is a process of educated guesses, free agency has a similar success rate, but with much higher financial consequences. That is what has inevitably casued some turmoil with the Raiders, but they hope that they are past that era of having to spend huge in one offseason.
The Raiders have to get their defense to play up to its ability, and could use a piece both in the front seven and in the secondary as fresh blood.
Draft Scenarios: The Raiders have added a lot of "older" veterans, but have mixed in some younger players as well. They have a number of blue chip defenders, but need more depth, particularly in the secondary. There a number of defensive backs that are valued right around the 10th pick, leaving the Raiders in an ideal spot to wait and see who falls here. Vita Vea would be an ideal fit here as well, solidifying the interior of the defensive line and just feels like a Gruden type player.
Other Possibilities: Derwin James, Vita Vea, Tremaine Edmunds, Jaire Alexander

11. Miami Dolphins
Miami Dolphins Books | Miami Dolphins Fan Shop
Team Needs:
QB, WR, TE, OLB, CB

2018 NFL Mock Draft, Dolphins: Josh Allen, QB, Wyoming
The Dolphins could simply be hoping that Tannehill can come back next year healthy and stay healthy. His contract is not actually very troublesome if they decide to move on after next year. With that being said, it just doesn't seem like he is in the long term plans, as he hasn't shown the elite level of play that would allow a team to be so patient with him. The Dolphins have had some interest in Baker Mayfield, but it doesn't appear they are willing to make a move up to grab him.
If Josh Allen somehow takes a tumble, we could see the Bills moving up to grab him here.
Draft Scenarios: The big question here is whether the Dolphins still feel comfortable with Tannehill. The Dolphins have partially hit the reset button, and with a new QB, they could do so all the way. They still have needs all over the place, and are in a "good" situation where they can sit here and have the option of players at many positions. Vita Vea again fits here perfectly, especially after the loss of Suh, but so does the two safeties and top corners.
Other Possibilities: Josh Rosen, Mason Rudolph, Jaire Alexander, Vita Vea

12. Bufallo Bills (from Cincinnati)
Buffalo Bills Books | Buffalo Bills Fan Shop
Team Needs: QB, OLB, ILB, WR, RB

2018 NFL Mock Draft, Bills: Josh Rosen, QB, UCLA
The Bills could be making a slow move up the draft to get their QB of the future. Soon to be the NFL's first "ESPNQB" that will be the poster boy for their viewpoints, Josh Rosen could very well be taking a slide while Mayfield surprisingly goes much earlier. The issue, again, is personality. For all of Mayfield's immaturity, the flaws seem to be inline with a normal growing up process. He is a bit unhinged, but teams feel comfortable with that developing into more "grown up" ways to channel his competitiveness.
With Josh Rosen, and the recent ESPN Mag interview, in particular, he appears locked into an elitist mindset. The problem is not the politics or his desire to express his views, but rather his approach. From everything that he says he still appears deeply entrenched in a belief system that he is somehow enlightened and he is going to wake up those around him. This delusional arrogance is not going to sit well in an NFL locker room, and GM's and coaches appear to be keenly aware of this. Still, this is a prodigious QB talent, and one thing we can take from draft history, is that there is always one team willing to take a chance on talent, regardless of the ancillary nonsense.
An important tidbit to consider as well is that he missed games last year from two separate concussions. His father is a very well known doctor, so how close is he to being one concussion from calling it a career.
Draft Scenarios: There appears to be almost no chance that the Bills stay here, but they started this move up in the draft fairly early, and teams could be trying to fleece them. Strange things happen on draft day, not because necessarily that the actions are strange, but that reports prior to the draft were so off base. What if the hype about this QB class is really just 3 players deep and not 4? What if Mason Rudolph is actually much higher on teams's boards than is reported. These variables could put the Bills in a perfect position, even staying here. Regardless, they have been very clear that they are targeting a QB, but might not have a lot of control over who will be available to them.
Other Possibilities: Mike McGlinchey, Conner Williams, Jaire Alexander, Mason Rudolph, Tremaine Edmunds

13. Washington Redskins 
Washington Redskings Books | Washington Redskins Fan Shop
Team Needs: DT, OT, WR, CB

2018 NFL Mock Draft, Redskins: Vita Vea, DT, Washington
The Redskins had a nice draft last year, but have had a lot of player / coach movement that could use some stability. By adding a dominant defensive tackle, they can start to get an identity as a team with a top defensive line.
Draft Scenarios: If Vea fell here, the Redskins would have to be ecstatic, but it is very difficult to predict what their front office will do. With needs matching a strong supply of players available here, the Redskins should be looking at defense here. Some of their other needs can be addressed in later rounds, such as wide receiver, and even for a right tackle.
Other Possibilities: Calvin Ridley, D.J. Moore, Connor Williams, Derwin James

14. Green Bay Packers 
Green Bay Packers Books | Green Bay Packers Fan Shop
Team Needs: CB, OLB, ILB, DT, WR, S

2018 NFL Mock Draft, Packers: Jaire Alexander, CB, Louisville
Green Bay made a lot of moves in the front office, and have a new defensive coordinator. They have some obvious holes they need to patch up, especially in the secondary.
Draft Scenarios: The Packers have undergone a fairly big turnover in their front office and on defense that has gone relatively unnoticed. This is a team that is revamping their defense and run game. They need corners, but need linebackers more. There are 3 to 4 elite linebackers available in this draft, and they can sit here and see who falls to them. They need a guard as well, but the second and third rounds provide them aplenty. Currently, a corner has to be a big priority.
Other Possibilities: Mike McGlinchey, Mike Hughes, Derrius Guice, Harold Landry, Marcus Davenport





15. Arizona Cardinals
Arizona Cardinals Books | Arizona Cardinals Fan Shop
Team Needs: QB, OT, OG, WR, S

2018 NFL Mock Draft, Cardinals: Marcus Davenport, DE, UTSA
The Cardinals signed Sam Bradford to a short term deal, but they are definitely in play for a QB in the first round. There will be a lot of movement at the top of the draft, and they will have to make a move to get one of the top 3 prospects, but Baker Mayfield or Mason Rudolph could be options here. If they decide to let the QB situation work itself for a year, they are going to have to look at players to fit their new defensive scheme.
Draft Scenarios: The 15 spot is where abouts the "elite" top tier prospects merge into a very big grouping of second tier guys. Being at the aroudn the start of that area, the Cardinals will probably be able to grab one of the elite players that will fall because of the rush on QB's. Will Baker Mayfield be available here when the Cardinals pick? Most likely not, but we are not going to create total chaos by projecting trades. Perhaps the Cardinals are just waiting to see if Sam Bradford can stay healthy, but that seems a bit foolish. Let's assume the top QB's are off the board, the Cardinals have a number of needs to address here, and some top players will be available. This should be the first point in the draft where a WR could come into play. They need a safety, and still need offensive line help, despite a few moves in free agency. 
Other Possibilities: Connor Williams, Kolton Miller, Mason Rudolph, Da'Ron Payne, Jaire Alexander, Mike Hughes

16. Baltimore Ravens
Baltimore Ravens Books | Baltimore Ravens Fan Shop
Team Needs: TE, WR, OT, OG, QB

2018 NFL Mock Draft, Ravens: Lamar Jackson, QB/WR, Louisville
We have had this as Lamar Jackson for over a week, and it seems like others have put together some puzzle pieces in the same way that we have. The Ravens look like they could draft Lamar Jackson for a number of reasons: 1) Joe Flacco has been under-performing for years and there is no clear sign he will get back to the QB he once was, 2) Flacco's could be cut after 2019 without too much pain if they still had a QB on a rookie contract, 3) The Ravens brought in Kaepernick for an interview last year (and then his GF proceeded to post a pic comparing the Ravens owner to a slave owner), which shows some openness to a "duel-threat" QB, 4) The Ravens signed RG3, 5) NFL teams are legendary for over-correcting. 5) The GM and coach of the Ravens are known to have especially close bonds with players. They very well may be able to work with Jackson on being used as an offensive weapon if they give him a chance to be the starting QB in the future. There are so many empty platitudes and general statements about a team adapting their offense for him, but the starting point is determining how to get him from 18 runs (last year in college) to 7 runs per game (Deshaun Watson last year and ceiling for running QB's in NFL) and still be effective.
Draft Scenarios: The Ravens recently signed Willie Sneed, and that might have closed the door on them taking a WR here. The huge question mark is if they have lost faith in Flacco. They have a new GM starting after this year, so how this team will move forward is a mystery. They have needs on the offensive line and at tight end as well.
Other Possibilities: Mason Rudolph, D.J. Moore, Derrius Guice, Hayden Hurst, Calvin Ridley, Courtland Sutton

17. Los Angeles Chargers
Los Angeles Chargers Books | Los Angeles Chargers Fan Shop
Team Needs: OT, OLB, ILB, DT, QB

2018 NFL Mock Draft, Chargers: Mike McGlinchey, OT, Notre Dame
The Chargers suffered some bad injuries early on, but have battled back throughout the year as a lot of their younger players really settled in. They might have overpaid for Okung, but that position is locked in for several years, so no use considering it here. However, they could definitely use an improvement at right tackle, and with their two very talented young guards, could put together an imposing offensive line.
Draft Scenarios: The Chargers have quietly gone about their business in the offseason, and have one of the most well balanced rosters in the league. There is a big need at right tackle, however, and they can address that in the first or second round. In play here as well is one of the top DT's like Hurst or Payne, and they could have an eye on one of the top linebackers if they do indeed fall this far.
Other Possibilities: Connor Williams, Hayden Hurst, Jaire Alexander, Mike Hughes, Harold Landry
18. Seattle Seahawks
Seattle Seahawks Books | Seattle Seahawks Fan Shop
Team Needs: OG, CB, S, WR, RB

2018 NFL Mock Draft, Seahawks: Will Hernandez, OG, UTEP
Seattle needs to reinvigorate their run game, and that does not mean more from their QB. Their offensive line has been a mess for a few years now. As much as Seattle has been castigated for this issue, it is not for a lack of trying. For the amount of success as they have had in drafting guys in the secondary, they have had that much failure with drafting offensive linemen. What they probably need to do is listen to every not-clever business meeting leader and Keep It Simple Stupid. Innovation can be highly overrated, and if they can just go back to more traditional concepts with offensive line play, they should finally stabilize that unit.
Draft Scenarios: Seattle has a lot of young players that will now get the chance to start based on a lot of free agents that left. This is a team that has to get the run game going, and they have made a lot of moves to help that process. Guice is the best runner in this draft and can pound it between the tackles, and would be strongly considered here. Another area of need is all over the secondary, and they should have their choice of the second or third best corners in the draft.
Other Possibilities: Jaire Alexander, Mike Hughes, Hayden Hurst, Derrius Guice

19. Dallas Cowboys
Dallas Cowboys Books | Dallas Cowboys Fan Shop
Team Needs: WR, TE, DT, OT, OG

2018 NFL Mock Draft, Cowboys: Calvin Ridley, WR, Alabama
The Cowboys' offensive line was just not the same this year, but some of that was injuries and developing chemistry. They have enough key pieces that they don't have to panic and address the position early in the draft. With three of their five positions locked down, they should be looking to add two offensive linemen through the draft. They have found their edge guys on the defensive line, but have a big need in the middle. They also will need to find a WR and TE to replace key players at the end of their careers.
Draft Scenarios: The Cowboys have a major need at WR and TE, that both need to be addressed this year or the next. They have also done a lot of work to beef up their defense, but are a little weak in the middle. This is an important draft for Dallas, as they need some cheap starters for the next few years. The good news is that they are in a perfect position to get any of those positions.
Other Possibilities: Leighton Vander Esch, Da'Ron Payne, Maurice Hurst, Will Hernandez, Taven Bryan, Hayden Hurst

20. Detroit Lions
Detroit Lions Books | Detroit Lions Fan Shop
Team Needs: ILB, OLB, DE, DT, RB, TE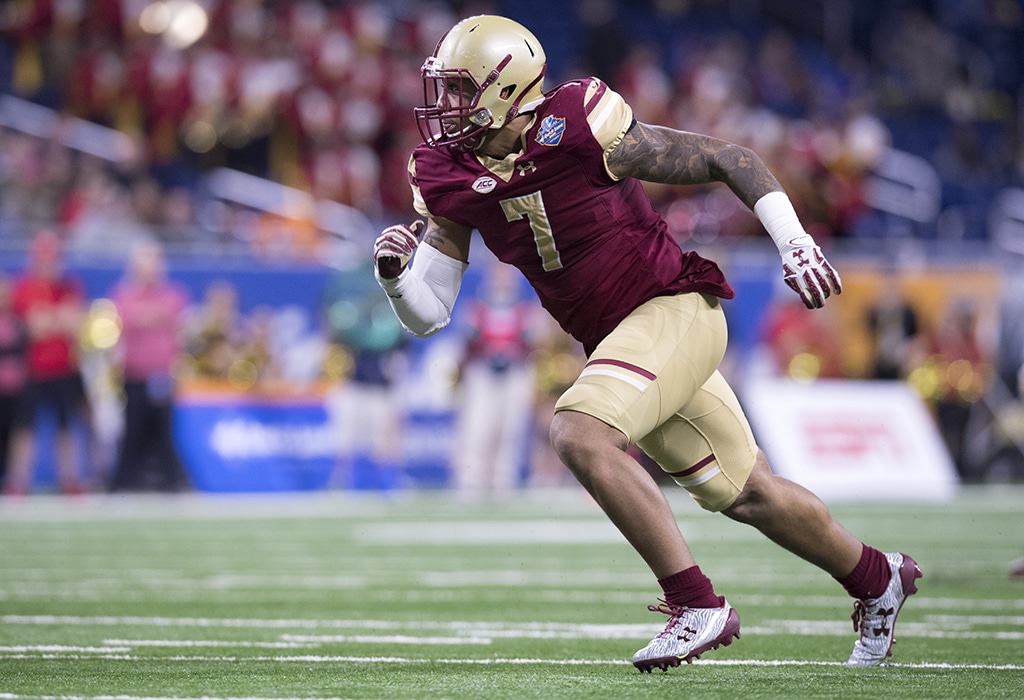 2018 NFL Mock Draft, Lions: Harold Landry, OLB, Boston College
Matt Patricia and Paul Pasqualoni are both very well known as Fairbanks-Bullough 3-4 scheme guys, both of which coming from the greatest 3-4 coaching tree in NFL history – Parcells / Belichick. Pasqualoni is well known for helping Bill Parcells transition the Cowboys 4-3 into a 3-4, starting off as the coach of the linebackers, helping DeMarcus Ware develop into one of the great 3-4 OLB's of all time. He was then tagged as the defensive coordinator for Parcells. He also served as the defensive coordinator for the Dolphins, also utilizing the Parcells' 3-4 defense, and worked with the Houston Texans' as the defensive line coach for their 3-4 defense. He has held other positions, but as an NFL defensive coordinator has only coached the 3-4.
The confusion with what the Patriots have been running the last few years in terms of 3-4 / 4-3 is in the adhering to traditional naming mechanisms. To be most accurate, the Patriots are best defined as a 3-3-5. They are famous for playing big nickel, and are not often in common alignments. However, there is always a core philosophy that guides a defense one way or another, and the 2-gapping 3-4 defensive line philosophy never changed. To further complicate things, 3-4 defenses like the Patriots and what Wade Phillips run will often have 4 players on the line of scrimmage. But look closely, that one edge guy doesn't have his hand in the dirt and he is an OLB that can rush or drop on any given play. Harold Landry would not fit at all as a defensive end in the Lions' scheme, he is a perfect fit as an OLB in Matt Patricia's scheme.
Draft Scenarios: Every move that the Lions have made on defense in the offseason suggests some major changes in their scheme. And not just the multiple scheme that the Patriots have been running recently due to some deficiencies at certain positions, but much more like a base 3-4 that runs in nickel A LOT. It will be interesting to see how they use Ziggy Ansah, and if they try to bulk him up a bit or make him come in a little leaner and quicker. They need pass rushers from their OLB's, and Landry would be ideal here for that role, especially with is familiarity with the DC. They need a RB, but it doesn't fit their MO to go with one this early. A sneaky need could be safety.
Other Possibilities: Rashaan Evans, Justin Reid, Will Hernandez, Connor Williams
2018 NFL Mock Draft Round One (1-20) | Round One (21-32) | Round Two | Round Three | Round Four | Round Five | Round Six | Round Seven