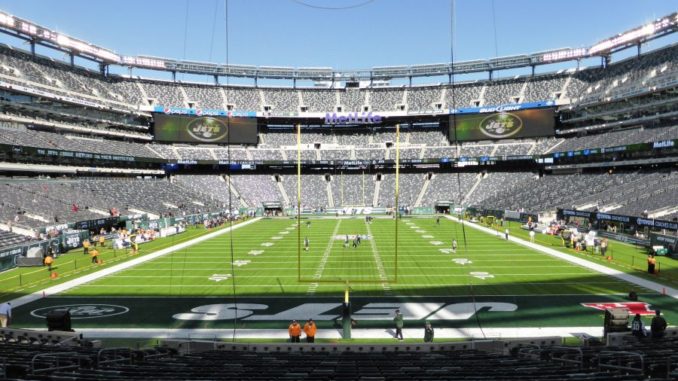 New York Jets 2018 NFL Draft
New York Jets 2018 mock drafts, last year draft recap, New York Jets draft needs, 2018 draft trades.
GM: Mike Maccagnan
Head Coach: Todd Bowles
Offensive Coordinator: –
Defensive Coordinator: Kacy Rodgers
Offensive Scheme: West Coast / Spread
Defensive Scheme: 3-4, Multiple
NFL Offensive Rankings
Run: 19 Pass: 24 Total: 28
NFL Defensive Rankings
Run: 24 Pass: 21 Total: 25
2018 Estimated Cap Space
$36,016,588
2018 NFL Mock Drafts
New York Jets 7 Round Mock Draft
DraftGeek's Mock Draft
New York Jets Previous Draft
1/6 Jamal Adams S LSU
2/39 Marcus Maye S FLORIDA
3/79 ArDarius Stewart WR ALABAMA
4/141 Chad Hansen WR CALIFORNIA
5/150 Jordan Leggett TE CLEMSON
5/181 Dylan Donahue DE WEST GEORGIA
6/188 Elijah McGuire RB UL LAFAYETTE
6/197 Jeremy Clark CB MICHIGAN
6/204 Derrick Jones CB OLE MISS
Post Draft Thoughts:

"How the Jets landed Jamal Adams is beyond even themselves, but it was a pick they had to make.  He will come in and quickly become the leader of that defense, something that they very much need. They didn't deviate from their board in the second, when they grabbed another safety in Maye, but they are cleaning house at that position, and safety is increasing in importance in today's "matchup" league. They doubled up again on a position as they went wide receiver twice, a position that is virtually barren on their roster."
2018 NFL Draft
Before the 2017 season began, the hot take was that the Jets were tanking on purpose to get the top pick in the draft. In reality, the team has committed to a rebuild, casting off aging players and bad contracts, but somehow still won a number of games. McCown has been Mr. Dependable, and there is a lot of young talent getting plenty of playing time this year.
With all of that said, the Jets need a quarterback, and this is the draft to get one. Even though they won't be drafting at the very top of the draft, this draft is probably about 4-5 deep at fairly similarly talented QB's, so they should be able to get their man wherever they draft.
The defense has some good, young talent, and are starting to come together as the rookies are getting a chance to play rather than ride the bench. This decision to get rid of any of their older vets that they could is allowing them to shorten the learning curve, especially at difficult positions to master such as safety.
The offense for the Jets simply need some weapons. They have some good depth at wide receiver, but they need an elite talent both their and at running back. The offensive line could also use some young talent to start developing.
New York Jets 2018 NFL Draft Needs
QB, DE, OT, OG