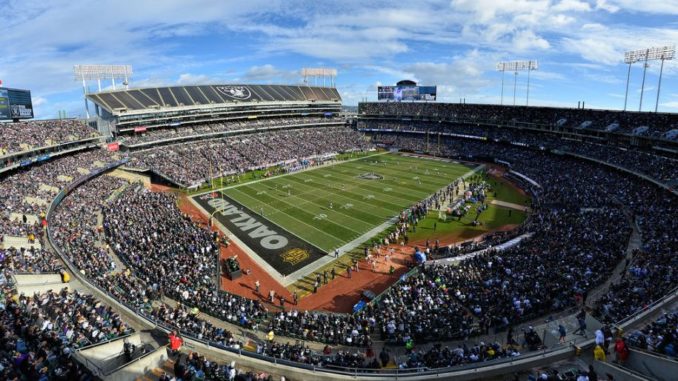 Oakland Raiders 2018 NFL Draft
Oakland Raiders 2018 mock drafts, last year draft recap, Oakland Raiders draft needs, 2018 draft trades.
GM: Reggie McKenzie
Head Coach: Jon Gruden
Offensive Coordinator: Greg Olson
Defensive Coordinator: Paul Guenther
Offensive Scheme: West Coast
Defensive Scheme: 4-3
NFL Offensive Rankings
Run: 25 Pass: 16 Total: 17
NFL Defensive Rankings
Run: 12 Pass: 26 Total: 23
2018 Estimated Cap Space
$15,452,655
2018 NFL Mock Drafts
Oakland Raiders Previous Draft
1/24 Gareon Conley CB OHIO STATE
2/56 Obi Melifonwu S CONNECTICUT
3/88 Eddie Vanderdoes DT UCLA
4/129 David Sharpe G FLORIDA
5/168 Marquel Lee OLB WAKE FOREST
7/221 Shalom Luani S WASHINGTON STATE
7/231 Jylan Ware OT ALABAMA STATE
7/242 Elijah Hood RB NORTH CAROLINA
7/244 Treyvon Hester DT TOLEDO
Post Draft Thoughts:

"There has been a lot of talk about how the Raiders need help getting into the backfield, but much of that could be related to how the defensive was called during the game.  They made some adjustments in how the defense will be managed in-game and, theoretically, that should yield benefits.  Regardless, they needed help in their secondary, and were comfortable enough with the Conley situation to get him as a steal at 24 in the first round.  They immediately followed that up with the extremely athletic and versatile Melinfonwu.  Vanderdoes did not get a lot of draft talk this year, but if he finds the best weight for him to be productive, could work his way into the rotation early."
2018 NFL Draft
You don't see it too often, but the Raiders head coach was fired primarily because of completely illogical handling of his assistants. This essentially doomed their season before it ever began. With an offense emerging as one of the best in the NFL, they let offensive coordinator leave, but kept their defensive coordinator that was not producing and in way over his head. The problems continued from there and changes had to be made after the 2017 season.
With Gruden as the head coach, this is going to be a West coast offense that is going to have a lot of wrinkles. They will need running backs that can block and catch. Their first priority will be to stabilize their defense, however, and they need a pass rush.
The Raiders had one of the largest amounts ever to spend in free agency a few years ago, and they went out and spent bigtime on talent, especially on the offensive line. The trouble with that situation is that you find yourself out of sorts regarding the continuity of experienced vets and young, developing talent. The other side of this is when you scrap all of your vets and go all in with the draft, which is just as dangerous a situation. The best teams have veterans that earned their jobs and young talent that they drafted constantly pushing for playing time. Forcing the chemistry that is needed for success rarely happens.
It is not hard to go out and spend oodles of dough on top free agents, the trick is then having a constant pressure from young players pushing for playing time. If the Raiders don't establish that soon, they are in for a serious decline.
In the short term, the Raiders surprisingly need to address their offensive line. This, along with finding some talent at linebacker should be a priority in the upcoming draft.
The Raiders did not get many INT's and that is a combination of lack of pressure on the QB, and cornerback talent. Upgrades in both areas are needed.
Oakland Raiders 2018 NFL Draft Needs
LB, DT, DE, OT, OG, RB, WR