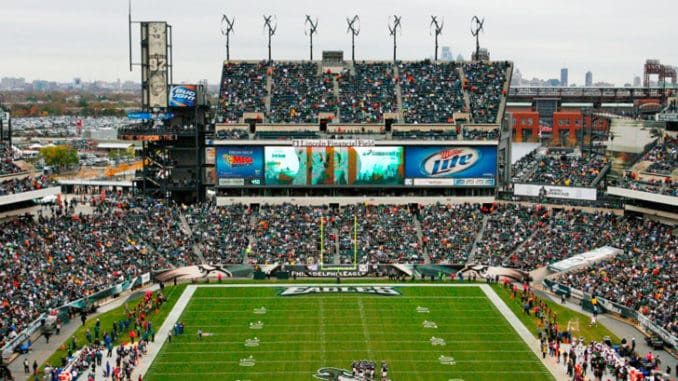 Philadelphia Eagles 2018 NFL Draft
Philadelphia Eagles 2018 mock drafts, last year draft recap, Philadelphia Eagles draft needs, 2018 draft trades.
GM: Howie Roseman
Head Coach: Doug Pederson
Offensive Coordinator: Mike Groh
Defensive Coordinator: Jim Schwartz
Offensive Scheme: West Coast
Defensive Scheme: 4-3, Attacking
NFL Offensive Rankings
Run: 3 Pass: 13 Total: 7
NFL Defensive Rankings
Run: 1 Pass: 17 Total: 4
2018 Estimated Cap Space
$6,233,110
2018 NFL Mock Drafts
Philadelphia Eagles 7 Round Mock Draft
DraftGeek's Mock Draft
Philadelphia Eagles Previous Draft
1/14 Derek Barnett DE TENNESSEE
2/43 Sidney Jones CB WASHINGTON
3/99 Rasul Douglas CB WEST VIRGINIA
4/118 Mack Hollins WR NORTH CAROLINA
4/132 Donnel Pumphrey RB SAN DIEGO STATE
5/166 Shelton Gibson WR WEST VIRGINIA
5/184 Nathan Gerry S NEBRASKA
6/214 Elijah Qualls DT WASHINGTON
Post Draft Thoughts:

"The Eagles are a rising team with an emerging QB and a tough defense.  They are in stage 2 of team building and used the draft to add a lot of talent to their defense, but also some dynamic weapons for their young QB. Barnett was extremely productive in college, but his poor performance at the combine threw some doubt on his potential at the next level. But Schwartz knows how to use defensive ends and should put him out in space to allow him to use his variety of pass rush moves. Jones is probably a redshirt player, but one that was gotten at a great value.  They followed that up with a tough corner that can play right away in Douglas. Hollins, Pumphrey, and Gibson are exciting, fast playmakers."
2018 NFL Draft
Discussion about the Eagles recent surge starts with the most difficult thing to do in the NFL: find your quarterback. They identified the guy they wanted, even though the moneyball guys didn't care for him, and are reaping the rewards. Philadelphia has been very aggressive in targeting the players they want and making sure they get their man. What is understated, however, is that they have also been able to trade away players that didn't fit their plans for the future, allowing them to restock their shelves with draft picks.
The offense for the Eagles will have some interesting decisions to make in the offseason.  They have done some one year prove it deals, and they need to look at each and decide who they want to offer a long term deal to. It is a nice problem to have, as they are not burdened by bad long term deals, and can work the draft first now as their primary team building mechanism.
Philadelphia has been forward thinking, and will probably be quietly one of the teams looking at left tackle early in the draft. This is a much better year for left tackles than last year, and having a guy in place for the future would be another wise move for the Eagles.
Philadelphia Eagles 2018 NFL Draft Needs
OT, OLB, WR, TE, ILB