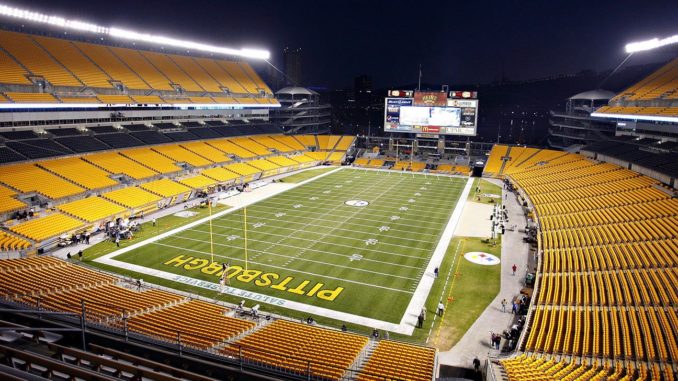 Pittsburgh Steelers 2018 NFL Draft
Pittsburgh Steelers 2018 mock drafts, last year draft recap, Pittsburgh Steelers draft needs, 2018 draft trades.
GM: Kevin Colbert
Head Coach: Mike Tomlin
Offensive Coordinator: Randy Fichtner
Defensive Coordinator: Keith Butler
Offensive Scheme: Erhardt-Perkins
Defensive Scheme: 3-4
NFL Offensive Rankings
Run: 20 Pass: 3 Total: 3
NFL Defensive Rankings
Run: 10 Pass: 5 Total: 5
2018 Estimated Cap Space
$5,084,015
2018 NFL Mock Drafts
Pittsburgh Steelers 7 Round Mock Draft
DraftGeek's Mock Draft
Pittsburgh Steelers Previous Draft
1/30 T.J. Watt OLB WISCONSIN
2/62 JuJu Smith-Schuster WR USC
3/94 Cameron Sutton CB TENNESSEE
3/105 James Conner RB PITTSBURGH
4/135 Joshua Dobbs QB TENNESSEE
5/173 Brian Allen CB UTAH
6/213 Colin Holba LS LOUISVILLE
7/248 Keion Adams DE WESTERN MICHIGAN
Post Draft Thoughts:

"The Steelers needed a linebacker and didn't wait long to get one. Watt is just learning the position but he won't have to be counted on to be a star from day one. Smith-Schuster is a tough, reliable receiver, in the mold of Boldin, and could be the possession receiver that will be an excellent complement to their stars at WR and RB. Is Josh Dobbs the QB of the future?  He is raw, but this is the perfect timing for picking up a QB and seeing how he progresses."
2018 NFL Draft
The Steelers defense has officially made the transition from the legendary Dick LeBeau and found themselves a gem in last year's first round pick of T.J. Watt. This is a linebacker driven defense, and it has been fairly obvious that they need an inside linebacker to make that unit the strength of the defense.
Josh Dobbs is a good backup quarterback, but they might have to seriously look at finding Big Ben's long term replacement. Playing QB in Pittsburgh means having a strong arm, with all three division opponents playing in cold weather stadiums. The Steelers will probably looking at this year's crop of quarterbacks, along with looking ahead at the year after's potential prospects.  This year might be the time to pull the trigger and get a strong armed QB prospect to start grooming.
Having possibly the best trio of WR / RB / QB and with budding stars at WR and RB means that it is important not waste that talent with a sub par offensive line.  The Steelers by no means have a poor offensive line, but should be, and have been careful to keep new talent coming in, and could use some depth on the interior.
Pittsburgh Steelers 2018 NFL Draft Needs
ILB, QB, TE, K, P