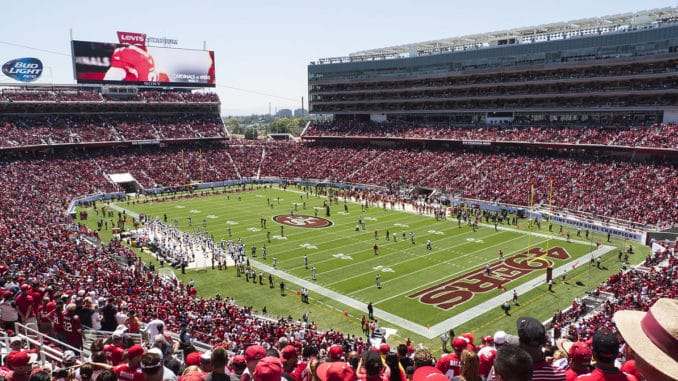 San Francisco 49ers 2018 NFL Draft
San Francisco 49ers 2018 mock drafts, last year draft recap, San Francisco 49ers draft needs, 2018 draft trades.
GM: John Lynch
Head Coach: Kyle Shanahan
Offensive Coordinator: Kyle Shanahan
Defensive Coordinator: Robert Saleh
Offensive Scheme: West Coast
Defensive Scheme: 4-3
NFL Offensive Rankings
Run: 21 Pass: 9 Total: 12
NFL Defensive Rankings
Run: 22 Pass: 22 Total: 24
2018 Estimated Cap Space
$44,690,251
2018 NFL Mock Drafts
San Francisco 49ers 7 Round Mock Draft
DraftGeek's Mock Draft
San Francisco 49ers Previous Draft
1/3 Solomon Thomas DT STANFORD
1/31 Reuben Foster ILB ALABAMA
3/66 Ahkello Witherspoon CB COLORADO
3/104 C.J. Beathard QB IOWA
4/121 Joe Williams RB UTAH
5/146 George Kittle TE IOWA
5/177 Trent Taylor WR LOUISIANA TECH
6/198 D.J. Jones DT OLE MISS
6/202 Pita Taumoepenu DE UTAH
7/229 Adrian Colbert CB MIAMI
Post Draft Thoughts:

"It didn't even seem like a believable bluff. Lynch seems like the good Catholic school boy who is bad at lying, but the Bears took the bait nonetheless. The question out there is what are their long-term plans at QB? C.J. Beathard is experienced in the pro system and it appears he will be the backup for a QB not currently on the roster next year. Their first round netted them two outstanding talents to help rebuild a defense that not only is changing schemes, but that is talent deficient. George Kittle is a tight end that will play more of an H-back role, but they just signed that exact player in free agency and gave him a big contract."
2018 NFL Draft
Garapollo is the 49er's man of the future at QB, which has started setting the pieces on the board for quarterback movement in the offseason and the draft. With that position in place, the attention will turn to solidifying the offensive line first. This is a much better year for left tackle talent in particular, with a couple of elite guard prospects that could work their way into the first round.
Adding a star at wide receiver will be crucial for Garapollo's success next year, and in Shanahan's offense, they need some vertical threats. That doesn't necessarily mean they will need to spend a top pick at WR, but look for guys that can take the top off of defenses with elite speed. Shanahan's offense is predicated on play action, so they will need a running back or two that can gain the attention of defenses to make the play action viable.
San Francisco has added a lot of mid range veterans to act as placeholders for their draft picks, but still have a major need at safety. They could use not only a center field type safety that can cover the deep field, but also a versatile "super safety" that can cover both running backs and tight ends when they get out in the passing game.
It appears that the 49er's have created a blueprint on how to build a franchise back up from the ashes. They don't just "set and forget" personnel groups by throwing a ton of free agency money at it, or drafting all at one position. The entire team was in tryout mode, and they didn't burden themselves with long, risky contracts. This team heads into the draft with extra picks, has lots of cap space, and their QB of the future. They can let the draft come to them and truly draft for talent.
San Francisco 49ers 2018 NFL Draft Needs
OT, OG, DE, WR, RB, S, CB