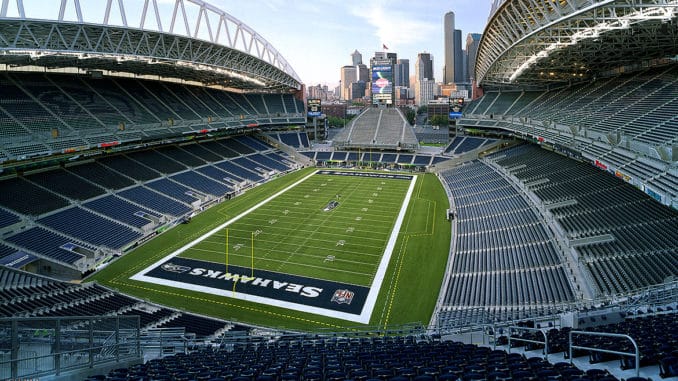 Seattle Seahawks 2018 NFL Draft
Seattle Seahawks 2018 mock drafts, last year draft recap, Seattle Seahawks draft needs, 2018 draft trades.
GM: John Schneider
Head Coach: Pete Carroll
Offensive Coordinator: Brian Schottenheimer
Defensive Coordinator: Ken Norton Jr.
Offensive Scheme: Play Action, Two TE
Defensive Scheme: 4-3
NFL Offensive Rankings
Run: 23 Pass: 14 Total: 15
NFL Defensive Rankings
Run: 19 Pass: 6 Total: 11
2018 Estimated Cap Space
$17,111,601
2018 NFL Mock Drafts
Seattle Seahawks 7 Round Mock Draft
DraftGeek's Mock Draft
Seattle Seahawks Previous Draft
2/35 Malik McDowell DT MICHIGAN STATE
2/58 Ethan Pocic C LSU
3/90 Shaquill Griffin CB UCF
3/95 Delano Hill S MICHIGAN
3/102 Nazair Jones DT NORTH CAROLINA
3/106 Amara Darboh WR MICHIGAN
4/111 Tedric Thompson S COLORADO
6/187 Mike Tyson S CINCINNATI
6/210 Justin Senior OT MISSISSIPPI STATE
7/226 David Moore WR EAST CENTRAL OKLAHOMA UNIV
7/249 Christopher Carson RB OKLAHOMA STATE
Post Draft Thoughts:

"McDowell needed to go to the right situation, where he can continue to mature and learn to become accountable. A lot of mocks had him going to Seattle, and they were able to trade down and still get him. When healthy and motivated he is a top 5 pick in any draft, and if that happens in Seattle, they got an incredible steal. If the issues run deeper, they didn't waste a first rounder on him. The Seahawks run an unusual offensive line scheme, and picked up perhaps the most versatile offensive line prospect in the draft in Pocic. Will he play center, guard, or tackle?  They have needs, so that will be interesting to watch."
2018 NFL Draft
The addition of Duane Brown to the offensive line is just what the Seahawks needed to bolster the awful offensive line.  The problem is that is adding yet another me-first, loud mouth that has been hampering Seattle's ability to play up to their talent level. They simply need to start bringing in higher character players, and start having a more disciplined locker room with guys that are more about the team than themselves.
The offensive line has been the Achilles heal for the Seahawks the last few years, and it is not because they have been ignoring that unit. Wilson's scrambling ability has lessened the negative impact of their offensive line coaches interesting, but ultimately ineffective approach to offensive line blocking. Seattle needs to not only get more talent on the offensive line, but also find a new coach to lead the unit.
The Legion of Boom still is a very effective collection of defensive backs, but they always seem to be one guy short. Finding diamonds in the rough has not been the case the last few years, and they should probably look at spending a high draft pick on a cornerback.
Seattle Seahawks 2018 NFL Draft Needs
OG, CB, S, WR, RB