2018 NFL Mock Draft
Cincinnati Bengals Books | Cincinnati Bengals Fan Shop
Team Needs: OLB, ILB, CB, DT

2018 NFL Mock Draft, Bengals: Mike Hughes, CB, Central Florida
Cincinnati made a move to get a proven left tackle, and moved back 9 spots to get him. They started to fall apart last year, and a lot of that was due to a steady exodus of quality players. They have over-prioritized skill position players and have had overly focused drafts on certain positions. Now they can have a fresh start and begin to draft for talent and grab the best available defender.
Draft Scenarios: The ability to get a starting left tackle is something that bodes well for the Bengals. They got a proven commodity without having to risk a draft pick on one. The Bengals showed a lot of promise at the end of the year after a dismal start to the season. This team needs linebackers, but will there be one of the elite guys on the board when they draft is the question. There very well could be one of the top corners available, and they can look to add other pieces later in the next few rounds where there will be many good quality outside and middle linebackers available.
Other Possibilities: Rashaan Evans, Leighton Vander Esch

Buffalo Bills Books | Buffalo Bills Fan Shop
Team Needs: QB, OT, OLB, ILB, WR, RB

2018 NFL Mock Draft, Bills: Kolton Miller, OT, UCLA
The Bills traded away their starting left tackle, but even so, they need to add more talent to their offensive line, and could be in an interesting position here. Let's face it, the Bills draft is probably going to involve a move in the first round, but if they don't find the deal that they like to move up, a left tackle is a huge possibility.
Draft Scenarios: It would not seem likely that the Bills will be holding to this pick come draft day, but for now, let's assume that they do. They have a sudden need at guard, and there are multiple prospects here that would be a perfect value fit here in the draft. If they still have this pick, they will need to find help on the offensive line in the first round.
Other Possibilities: Tyrell Crosby, D.J. Moore, Derrius Guice, Rashaan Evans
New England Patriots Books | New England Patriots Fan Shop
Team Needs: OLB, DE, DT, WR, CB

2018 NFL Mock Draft, Patriots: Connor Williams, OT/OG, Texas
The Patriots are succeeding despite the fact their high profile free agency moves and trades aren't quite living up to the billing. They draft well, and make a lot of under-the-radar free agency moves and trades that always seem to work out. The lost their starting left tackle in free agency, and will need to find a replacement.
Draft Scenarios: The Patriots have a glaring need at left tackle, and sitting here at 23 after a recent trade is an ideal spot to grab their prospect of choice. With a QB in his twilight years, and no one to fill the position on the roster, they can't afford to get cute here with the blindside protector for Brady. They will most likely get their favorite left tackle here and move on to the next pick they have later in this round.
Other Possibilities: D.J. Moore, Rashaan Evans, Mason Rudolph, Hayden Hurst, Harold Landry

Carolina Panthers Books | Carolina Panthers Fan Shop
Team Needs: WR, CB, DE, TE, OG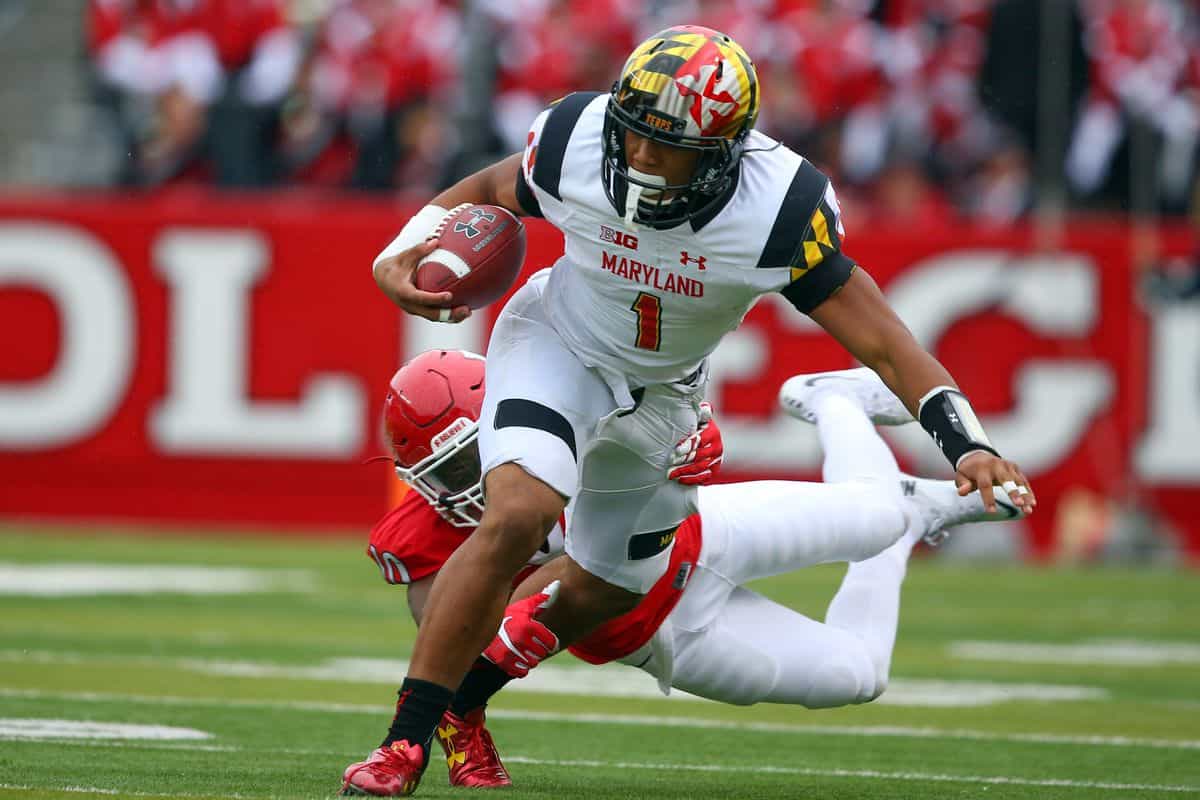 2018 NFL Mock Draft, Panthers: D.J. Moore, WR, Maryland
The Panthers let Ted Ginn walk after last year and traded away Kelvin Benjamin. They have some excellent young talent including Funchess, McCaffrey, and Curtis Samuel, but could use help at wide receiver.  This is a good year to get WR's in the next few rounds, and the Panthers have a more pressing need in their secondary. D.J. Moore is everything you want on and off the field.
Draft Scenarios: The Panthers have a lot of talent, but there are a few position groups that haven't quite yet gelled yet. More than anywhere else, that is in the secondary. They have some good young players, but could use an elite rookie to push the young veterans. They have a big need at TE as well, with the top prospects on the board.
Other Possibilities: Courtland Sutton, Jaire Alexander, Hayden Hurst, Josh Jackson, Dallas Goedert
Tennessee Titans Books | Tennessee Titans Fan Shop
Team Needs: DE, ILB, S

2018 NFL Mock Draft, Titans: Rashaan Evans, ILB, Alabama
The Titans first addressed their offensive line and their run game. They then added a QB, wide receivers and secondary players. They seem to have a plan and methodically are sticking to it, building up a team that is steadily improving. They still could use some talent in the secondary, but at this stage, they can approach the draft in a less specific manner, and look to add the most talented player available, although they are probably going to lean toward defense.
Draft Scenarios: Mike Vrabel is working to build the Titans defense in the image of the Patriots, and that means linebackers are the first priority. Smart, versatile players will be at a premium, so look for Tennessee to seek out players like Evans and Micah Kiser in later rounds. This should be a defense-heavy draft for the Titans as they will want to get a few core pieces in place for this defense.
Other Possibilities: Justin Reid, Lorenzo Carter, Leighton Vander Esch, Harold Landry

Atlanta Falcons Books | Atlanta Falcons Fan Shop
Team Needs: DT, TE, WR, OG

2018 NFL Mock Draft, Falcons: Frank Ragnow, OG/C, Arkansas
As much as the offense has sputtered this year, and Steve Sarkisian has taken a lot of the blame, people forget that Kyle Shanahan went through the same thing in his first year with Atlanta. It was still a puzzling hire that disrupted a system that was working, but what is done is done.
Draft Scenarios: In the second year with a new OC, the Falcons should make some big strides on offense. One issue that just keeps being an issue is in the middle of the defense. This does not mean they need to reach for a DT, but that should be an early round pick. They have two great RB's and a franchise QB, so getting the running game to the next level will help create the balance they have been seeking in the last year. There are a number of excellent guards that are worthy of first round picks. and the Falcons could be in an ideal spot to get one here.
Other Possibilities: Maurice Hurst, Taven Bryan, Hayden Hurst, D.J. Moore, Christian Kirk, Courtland Sutton, Dallas Goedert

New Orleans Saints Books | New Orleans Saints Fan Shop
Team Needs: TE, QB, C, DE, CB

2018 NFL Mock Draft, Saints: Hayden Hurst, TE, South Carolina
The Saints defense developed much quicker than most people expected, and was one of the surprises of last year. The offense is turning into something more balanced, with an effective run game that they have been missing for years. They didn't land Graham, but can find a very talented move tight end early in this draft.
Draft Scenarios: There is some talk about Lamar Jackson being a great fit here for the Saints, but that doesn't seem likely. He is not going to be taken as a QB by the Saints and get any reps in practice, let alone a game. He would be an exciting pick as an offensive weapon, but it appears he and his mother have shut that down. More than any other pick in the first round, the Saints appear to be in a perfect position to get a top player that perfectly fits a need in a tight end. They tried in free agency, but it didn't work out, but sitting at the end of the first round they will be in a perfect position to grab one of the top TE's, adding another dimension to their offense.
Other Possibilities: Dallas Goedert, James Daniels, Connor Williams, Taven Bryan, Isaiah Wynn

Pittsburgh Steelers Books | Pittsburgh Steelers Fan Shop
Team Needs: ILB, QB, TE, K, P

2018 NFL Mock Draft, Steelers: Leighton Vander Esch, ILB, Boise State
A team like the Steelers are constantly drafting linebackers, and this year will be no different. However, this year is quite a bit different as they lost one of their best players on defense, and the key linebacker in their defense. They might consider Mason Rudolph here as well, but they could look down the line at teams drafting after them, and should feel comfortable they can get a QB that they like very much at the end of the 2nd round.
Draft Scenarios: What goes for the Saints being in a perfect position for a position of need goes for the Steelers as well. They have a glaring hole at ILB, and how supply meets demand they should find equilibrium here with a choice of several excellent prospects. Yes, they will need to get a QB for the future, but they are a team in contention and need a few players now that can help them win.
Other Possibilities: Hayden Hurst, Dallas Goedert, Rashaan Evans

Jacksonville Jaguars Books | Jacksonville Jaguars Fan Shop
Team Needs: OLB, QB, TE, WR

2018 NFL Mock Draft, Jaguars: Da'Ron Payne, DT, Alabama
The Jaguars are winning with exceptional defense, and a power run game. They brought back their struggling QB, and added the top guard in free agency, while allowing their most talented WR to walk. They continue to add to their talented defense by adding a relentless defensive tackle.
Draft Scenarios: Of all of the places where Lamar Jackson could land if going in the first round, it appears Jacksonville is the perfect fit. For all of the analysis that we provide in our article on Lamar Jackson and what position he should play in the NFL, teams follow their own plan. We don't think he is a strong passer, but he is any worse than Blake Bortles? No. He is a better runner than Blake Bortles, and Lamar Jackson seems like a great person and a hard worker, which both appear would be an upgrade at the QB position. This is the spot for Lamar Jackson if there is one in this draft. However, the front office might not take that approach, so watch for them to continue to add to their positions of strength… defensive and offensive line.
Other Possibilities: Lamar Jackson, Connor Williams, Courtland Sutton, Christian Kirk
Minnesota Vikings Books | Minnesota Vikings Fan Shop
Team Needs: OG, OLB, CB, ILB

2018 NFL Mock Draft, Vikings: James Daniels, C/OG, Iowa
The Vikings very early on under Zimmer concentrated on being an elite defensive team, and it has paid off. The Vikings are going to be looking at a number of compensatory picks in the near future, and even added a versatile defensive tackle to go along with their new franchise QB. They will need a versatile offensive lineman, and James Daniels could be one of the perfect need to value picks in the draft for the Vikings here.
Draft Scenarios: The Vikings have had a really exceptional couple of years in free agency and the draft. They are in win-now, without kicking the can down the road, which is not easy to do. They have won with defense, but their offense has done a nice job of showing balance in the run / pass attack. They have added their big pieces in free agency, and adding an offensive line prospect that can play all three positions (James Daniels, Billy Price, Frank Ragnow) would allow them not to get stuck when there are injuries, which has derailed them a bit lately.
Other Possibilities: Isaiah Wynn, Billy Price, Lorenzo Carter, Josh Jackson

New England Patriots Books | New England Patriots Fan Shop
Team Needs: OT, CB, DE, QB

2018 NFL Mock Draft, Patriots: Josh Jackson, CB, Iowa
The Patriots made the move to trade Cooks to the Rams, and picked up this extra first round pick. Is it possible that just one or two wide receivers go in the first round? Very possibly. There is a large grouping of wide receivers at the top of this class, so teams may very well believe they can pass on a receiver in the first round and pick one up of equal quality in the next few rounds. The Patriots have a strong need at cornerback, and can wait and see what top corner prospect drops to them here.
Draft Scenarios: The Patriots are surely going to have to address their Gronk issue soon, so tight end will definitely be looked at early in the draft. What the Patriots will do with their second pick in the first round is anyone's guess. They could very possibly get an offer from another team looking to move into the end of round one to get that extra year on a QB rookie deal. Now let's say they stay here. In that scenarios, they might get out of their comfort zone and get one of two skill position players: wide receiver or tight end, but will probably stick to positions they value more like corner.
Other Possibilities: D.J. Moore, D.J. Chark, Courtland Sutton, Dallas Goedert, Hayden Hurst
Philadelphia Eagles Books | Philadelphia Eagles Fan Shop
Team Needs: OT, OLB, WR, TE, ILB

2018 NFL Mock Draft, Eagles: Dallas Goedert, TE, South Dakota State
The Eagles rolled the dice on some "prove it" one year contracts, and it ended up, for the most part, paying off. They are not burdened with a lot of bad contracts like the Giants are, and can approach the draft in a very flexible manner. They will need to start seriously considering developing a young left tackle, so as to have a painless transaction replacing their excellent, but aging Jason Peters. They will have to decide here between their top left tackle on the board and a huge need in TE. If one of the top two TE prospects are on the board, they will have a tough choice.
Draft Scenarios: The Eagles are in that great position to have problems associated with winning a Superbowl. As much as the draft is important for lesser teams, a team that just won the Superbowl and is up against the cap needs to have a great draft. That is because they need a few cheap starters. Somehow, they kept their offensive line intact, but don't look for them to take that risk again. They probably can afford to wait until their next pick to look at a developmental offensive lineman, and look at getting a player that can help them this year with their first pick.
Other Possibilities: Tyrell Crosby, Isaiah Wynn, Martinas Rankin, Connor Williams