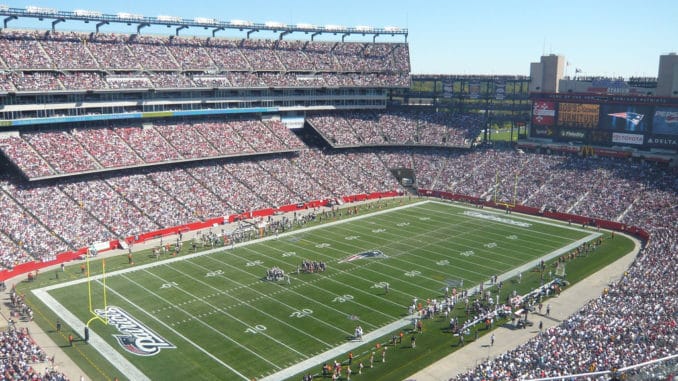 New England Patriots 2018 NFL Draft
New England Patriots 2018 mock drafts, last year draft recap, New England Patriots draft needs, 2018 draft trades.
GM: Bill Belichick (De facto)
Head Coach: Bill Belichick
Offensive Coordinator: Josh McDaniels
Defensive Coordinator: –
Offensive Scheme: Erhardt-Perkins
Defensive Scheme: 3-4, Multiple
2018 Estimated Cap Space
$13,966,667
NFL Offensive Rankings
Run: 10 Pass: 2 Total: 1
NFL Defensive Rankings
Run: 20 Pass: 30 Total: 29
2018 NFL Mock Drafts
New England Patriots 7 Round Mock Draft
DraftGeek's Mock Draft
New England Patriots Previous Draft
3/83 Derek Rivers OLB YOUNGSTOWN STATE
3/85 Antonio Garcia OT TROY
4/131 Deatrich Wise Jr. DE ARKANSAS
6/211 Conor McDermott OT UCLA
Post Draft Thoughts:

"The Patriots this year did most of their work in free agency.  However, even with only a limited number of picks they managed to get some very high quality players. Garcia showed during the draft process that he can compete against top-level talent, and with the Patriots he has time to spend a year learning better technique. McDermott's stock fell as shows put out film of Myles Garrett running through him early in the season, but is a great value in the 6th."
2018 NFL Draft
The undefeated season for the ages hasn't materialized, but the Patriots, with all of its high profile moving parts in the off season is starting to come together as the team we thought they could be. After seemingly missing on a few highly touted free agents (that haven't played that bad, just below expectations), the Pats could be expected to go back to concentrating on the draft as its primary element of team building.
Tom Brady hasn't had any major dropoff in play, which would have been understandable considering his age and the number of hits he has taken.  There has been a bit of a decrease in accuracy, but nothing that they can't scheme around or be alarmed about. Based on their history, they will most likely address the quarterback position in the draft again, and start developing another young potential replacement for Brady down the road. No team loves 12 personnel more than New England, so finding that dynamic tight end in the draft is always an option.
The big addition of Gilmore hasn't worked out as expected, and couple with the loss of Logan Ryan, they are in need of help at the cornerback spot. They have also not had an effective edge rusher for awhile, and will need to address that early in the draft. The lack of edge rush for the Patriots has had a cascading effect throughout the defense, and they have been shipping out players the last few years without any suitable replacement.
New England Patriots 2018 NFL Draft Needs
OT, CB, DE, QB