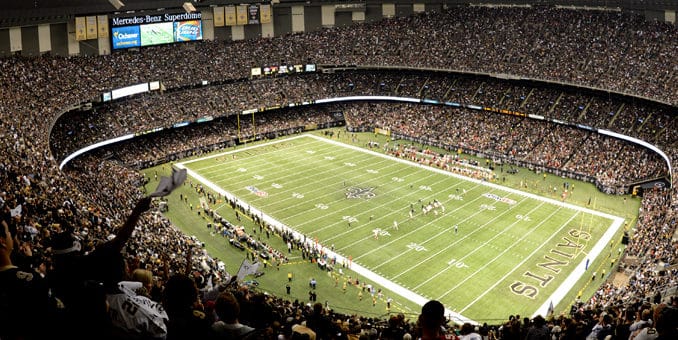 New Orleans Saints 2018 NFL Draft
New Orleans Saints 2018 mock drafts, last year draft recap, New Orleans Saints draft needs, 2018 draft trades.
GM: Mickey Loomis
Head Coach: Sean Payton
Offensive Coordinator: Pete Carmichael
Defensive Coordinator: Dennis Allen
Offensive Scheme: West Coast
Defensive Scheme: 4-3
NFL Offensive Rankings
Run: 5 Pass: 5 Total: 2
NFL Defensive Rankings
Run: 16 Pass: 15 Total: 17
2018 Estimated Cap Space
$2,317,073
2018 NFL Mock Drafts
New Orleans Saints 7 Round Mock Draft
DraftGeek's Mock Draft
New Orleans Saints Previous Draft
1/11 Marshon Lattimore CB OHIO STATE
1/32 Ryan Ramczyk OT WISCONSIN
2/42 Marcus Williams S UTAH
3/67 Alvin Kamara RB TENNESSEE
3/76 Alex Anzalone ILB FLORIDA
3/103 Trey Hendrickson DE FLORIDA ATLANTIC
6/196 Al-Quadin Muhammad DE MIAMI
Post Draft Thoughts:

"The Saints must have been high fiving as Lattimore fell to them in the first round. It was a dire need and they didn't have to move at all to get him. He was the only potential shut down corner in this draft and is a starter day 1. Ramczyk being available at the end of the first round was another surprise.  It wasn't their biggest need, but it is rare that you get quality tackles in the draft, and you have to take them when you can. Kamara falling to the third is a stunner, and the Saints continued to grab players that other teams missed on."
2018 NFL Draft
It isn't surprising that the Saints' defense has started to come together as a unit, but is surprising that it happened this quickly. Coming into the year, they definitely had much better talent at every level on defense, but so much of that talent was young and unproven.
If there is a talent void on their defense, it is at linebacker. They are having problems matchups created by offenses that utilize running backs and tight ends in the passing game, and could use two new starters there next year.
New Orleans has made much better personnel decisions lately, and they must make the tough decision to address the quarterback position now, and not wait until they absolutely are forced to find the QB of the future. If they can identify a quarterback that they feel they can groom for a year or two, it could help make a seemless transition for the future.
New Orleans Saints 2018 NFL Draft Needs
TE, QB, C, DE, CB