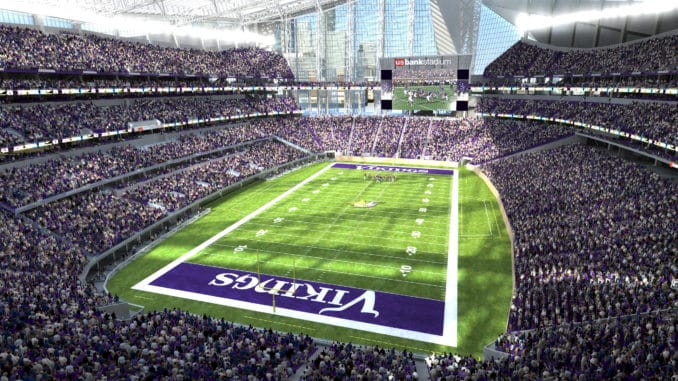 Minnesota Vikings 2018 NFL Draft
Minnesota Vikings 2018 mock drafts, last year draft recap, Minnesota Vikings draft needs, 2018 draft trades.
GM: Rick Spielman
Head Coach: Mike Zimmer
Offensive Coordinator: John DeFilippo
Defensive Coordinator: George Edwards
Offensive Scheme: West Coast
Defensive Scheme: 4-3, Attacking
NFL Offensive Rankings
Run: 7 Pass: 11 Total: 11
NFL Defensive Rankings
Run: 2 Pass: 2 Total: 1
2018 Estimated Cap Space
$21,673,005
2018 NFL Mock Drafts
Minnesota Vikings 7 Round Mock Draft
DraftGeek's Mock Draft
Minnesota Vikings Previous Draft
2/41 Dalvin Cook RB FLORIDA STATE
3/70 Pat Elflein C OHIO STATE
4/109 Jaleel Johnson DT IOWA
4/120 Ben Gedeon ILB MICHIGAN
5/170 Rodney Adams WR SOUTH FLORIDA
5/180 Danny Isidora G MIAMI
6/201 Bucky Hodges TE VIRGINIA TECH
7/219 Stacy Coley WR MIAMI
7/220 Ifeadi Odenigbo DE NORTHWESTERN
7/232 Elijah Lee OLB KANSAS STATE
7/245 Jack Tocho CB NC STATE
Post Draft Thoughts:

"The Vikings moved up to get some talent that they targeted, and believe they may have stabilized some problems that they had last year. Cook was arguably the best RB in the draft, and getting him at 41 is quite a value.  He is going to catch a lot of passes this year. Elflein provides them with the center of the future, and can play guard as well. Isidora was viewed as one of the safer offensive line prospects, and could fight his way into the starting lineup."
2018 NFL Draft
The Vikings really struck gold with additions to the offensive line that weren't necessarily coming off of stellar seasons with their previous teams. Doubts have been cast aside, as the offensive line has formed into a unit that has provided protection for the QB as well as has created lanes for whomever is running the ball. The line has played well, but they have also been lucky to not have had test the lack of depth of talent, and should start developing some young offensive line talent through the draft.
The defense, particularly the secondary is the strength of the Vikings team at this point, but the interior of the defensive line is aging. With quality players all around, getting that interior pass rush could take this defensive to even greater heights.
One major question surrounding Minnesota is who is going to be the quarterback next year. They have a pending free agent starter that they traded a top pick for, a budding star, albeit unproven, coming off a gruesome injury, and a designated backup QB that has performed admirably in reserve duty.
Minnesota Vikings 2018 NFL Draft Needs
OG, OLB, CB, ILB